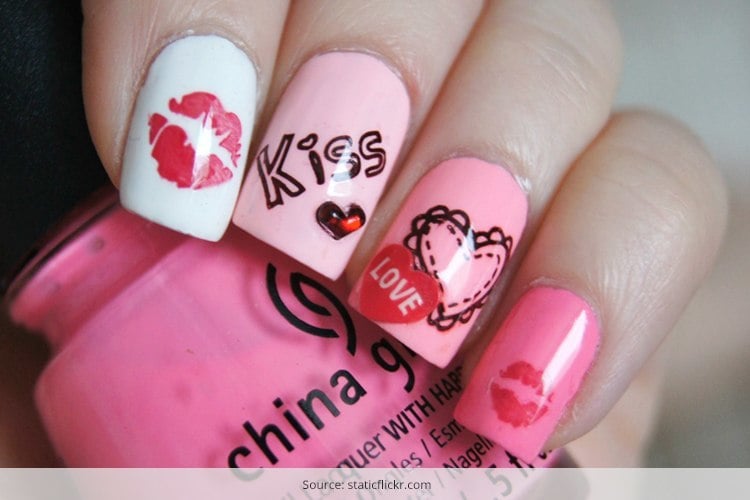 Love is all around. Between parents and kids and sibling love to love with pets, flowers, nature, gizmos, food, adventure, what not.
There is love coming on 14 February in pots and pots. With Valentine's Day knocking on the door, this one is going to be double exciting. Not just in the usual fare such as lipsticks, teddy bears, chocolates, and perfumes but something more colorful, naughty, fun-loving, and attention-grabbing.
[Also Read: Nail Art Ideas For Valentine's Day]
I am referring to kiss nail art which is ample evidence of the famous quote 'love is in the air'.
Kiss patterns are getting to be as popular as booking advanced movie shows or an expensive table for two. Which is why, more and more gals are interested in kiss nail art tutorial, kiss nail stickers and kiss nail art step by step.
Kiss Nail Designs
Kiss Nail Designs can be created by using stamping kits or freehand way. Or you can get water decals in kiss patterns which makes up as interesting kiss nail art ideas.
Here we get you some of the best and hottest kiss nail art through kiss nail art ideas. They are easy and simple nail art ideas that will not only floor you but make your dating partner fall heaven and heels in love with you.
Mono Colour Kiss Nails
Paint your finger nails in mono-red except for one nail which you need to keep it white. On this white base paint, use the blunt side of the toothpick of the nail art brush to create red kiss designs.
[Also Read: Party Nail Art Ideas]
The white background nail surrounded by red nails will stand out with the red kisses on it.
Duo Colour Kiss Nail Art
Stamping kits prove to be helpful for this kind of a kiss pattern. On a white base, having blood red or for that matter neon orange colours are worth trying out if you want to enjoy the full impact of Kiss Nail Designs.
[Also Read: Zebra Print Nails]
Mosaic Kiss Nail Designs
Isn't this design absolutely trendy for workplaces? There is not an iota of shout but a subtle mosaic pattern which can be created on your nails using the blunt side of a tooth pick.
All you need to do is keep the nail base paint in light color so that the kiss nails stand out and don't get lost.
Mickey And Minnie Kiss Nails
If you still belong to the teeny boppah age and wish to floor your college date, then doing it is easy. Just go for Mickey and Minnie Kiss Nails.
[Also Read: Nail Art]
The logic is simple. Mickey loves his girlfriend Minnie mouse. And if you are the Minnie, then you have to do something with your nails by following kiss nail art step by step to get the required love quotient.
Okay, on a serious note you need water decal designs of the characters Mickey and Minnie. Alternatively, you can also do it by using freehand painting.
Punk Kiss Font Nails
This kind of kiss nails might not look very girly, but it would nevertheless look sexy. You can try out Rhinestone font when it comes to Kiss Nail Designs.
As for the thumb, you can go ahead and draw scary faces like the one shown below or just leave it decorated with rhinestones.
Shimmery Kiss Nails
In this nail art on kisses, you need to get stamping plates and two nail polishes – shimmery silver and shimmery pink. Now get this design on your nails and wear it on the date night.
Shimmery Kiss Nails With Sequins
Go one step ahead in getting shimmery kiss nails by using stamping plates and special stamping nail polishes of shimmery silver and red. Then do sequins on one of your nails to jazz up the nail.
Hugs And Kisses Nails
This particular nail art for Valentine's Day is a little different from the ones shown above. Call it a symbolic nail art, this technique uses short forms and symbols such as XOXO to communicate love with Facebook buddies and friends on social networking sites.
[Also Read: Valentine's Day Outfit Ideas]
Having read this, we would like to know which Kiss Nail Designs are your favourite that you would like to use this Valentine's Day. No prizes, but!