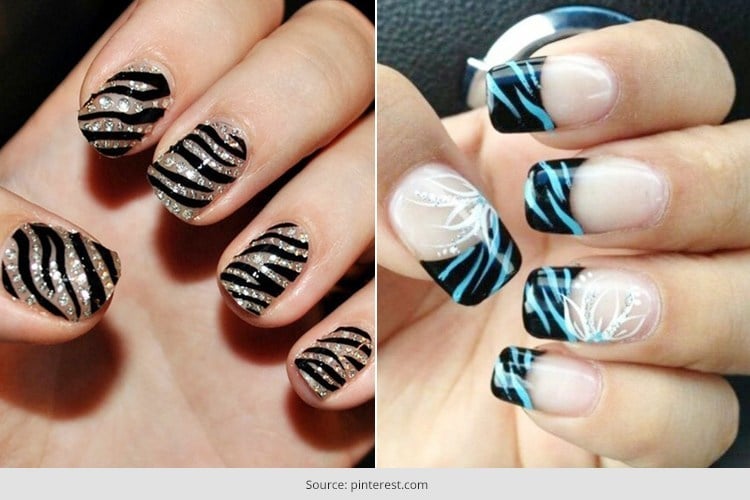 Animal breed you see is very beneficial. They love, guard and protect humans. Ah yes, they also rock feminine nails.
Am going to take you through the fantastic zebras. Not asking you to go and befriend them but what and how to paint Zebra Print Nails on your talons.
[Also Read: Nail Art Designs]
Trending Zebra Print Nails Designs
Though leopard and cheetah print are raring to go when it comes to animals in fashion, zebra print nails designs are next in attention. Hence your nails will look a little unique when you adopt zebra print nail art.
Since Zebras are found in adequate measure in Africa, their coat designs represent African fashion. And so black and white stripes speak out in full volume.
In the age of contemporary, you too can do something similar to your nails. Just add a bit of boldness and colour, and your nails will give you a fabulous wild look.
1. Zebra Print With A Twist Of Pink
With summers almost there, make your animal side stun everybody with this black and pink formula of zebra print nail art designs.
2. Zebra Print
Make your beachwear or weekend trips stand out with this lovely rush of blue entering into black Zebra Print Nails. Looks zebra-pretty totally.
3. Black And Red Mosaic
This zebra print nail art idea is a bit on the adventurous side. With a shot of black zebra print and red zebra stripes painted on acrylic nails, this combination surely looks super when worn with red cocktail dresses.
[Also Read: Long Nail Designs]
4. Pink Zebra Blast
All you girls with straight and lopsided tastes are going to love this zebra print nail art designs. It's got such a girly pink pattern in zebra nails going from top to half way through that it would make even boring days look cool and happening.
[sc:mediad]
5. Zebra To The Minimum
Those of you who have a colour rush going up your mind can opt for this multi-colored design to sport zebra nails. With just a single nail  polish painted in black and white zebra stripes and the others done in candy pink and silver, you are surely going to redefine nail wear.
[Also Read: Homemade Cuticle Oil]
6. Multi-Colored Zebra
Even the most boring of souls will wake up to this riot of color in zebra print nail art. Honestly and there is no denying!
7. Zebra Manicure
Give a twist to your regular manicure by adding a zebra print on the nails.
[Also Read: Striped Nail Art At]
8. Glittering Zebra Nail Art
For people who love all things shiny and blingy, this is a must try! Use a translucent glitter nail polish as the base and then add the zebra stripes carefully using a nail brush.
9. Polka With Zebra Nail Polish
Add a touch of uniqueness to your polka dots nail art by painting zebra print on one nail. Use your imagination and come up with different color combinations rather than the same old black and white.
[Also Read: Cheetah Print Nails]
10. Zebra With Cheetah
Show your animal love with this amazing combination of cheetah print and zebra print nail art. We assure you that this will grab a lot of eyeballs.
11. Neon It Up
Neon being the current flavor of the month is one trend that you cannot miss. Pair it up with zebra nail polish and see the magic on your nails! Just follow these 2 steps to get this zebra print on your nails. First, use a neon color to paint the base of your nail. Once it's dry, add the zebra prints using a black nail polish. That's it!
[Also Read: Long Lasting Manicure]
12. Zebra Print Toenail Design
Don't just limit this magnificent nail art to your fingers. Get creative and have this zebra print on your toenails. Again, the design options are limitless. Just let your imagination take over and come up with beautiful zebra print toenail designs.
Putting On Zebra Nails
While there are unlimited options in doing zebra print nails, you need to have a good nail art brush (not your regular one) and steady hand to go about painting zebras on nails.
Horizontal, vertical, diagonal, choose a pattern whichever looks good on your nails and to your choice.
If you are high on imagination, make a horizontal zebra pattern in which the stripes are V and going from smaller to larger.
Remember the zebra stripes are more on the elongated side and a bit wavy. Only then would they look truly like the actual zebra stripes. To be able to paint your nails with zebra pattern in a perfect manner, practice drawing them on a piece of paper.
[Also Read: Gold And Black Nail Art Designs]
Have a look at the zebra print nail art tutorial. In your free time, practise it at home so that when you step outside you are zebra-ready.
Step 1 – Collect supplies
First arrange for nail polish remover, base coat, colored nail polish, acrylic paint and a nail art brush. Make sure the nail art brush is thin and perfect.
Step 2 – Apply base coat
Start applying a base coat. This will protect your nails from damage and make the manicure last longer. Wait for the base coat to dry up completely.
Step 3 – Apply base color
The base color in zebra print nails can be simple white to neon pink to even glitter nail polish. Let it dry for about 5 minutes.
Step 4 – Paint stripes
Do this by drawing a curved shape on nails in V or Z pattern. Use the same pattern for the rest of the nail. If you want, you can also paint irregular or vertical stripes starting from one side of the nail and then from the opposite side.
[Also Read: Minnie Mouse Nails]
Step 5 – Finish with Glossy topcoat
Put two coats of glossy top coat for the zebra nails to stay longer lasting. You can also add glitter in between the stripes to make your zebra print nails designs more radiant.
Drop us a line and tell us which of the Zebra Print Nails you are planning to go for office and partywear.