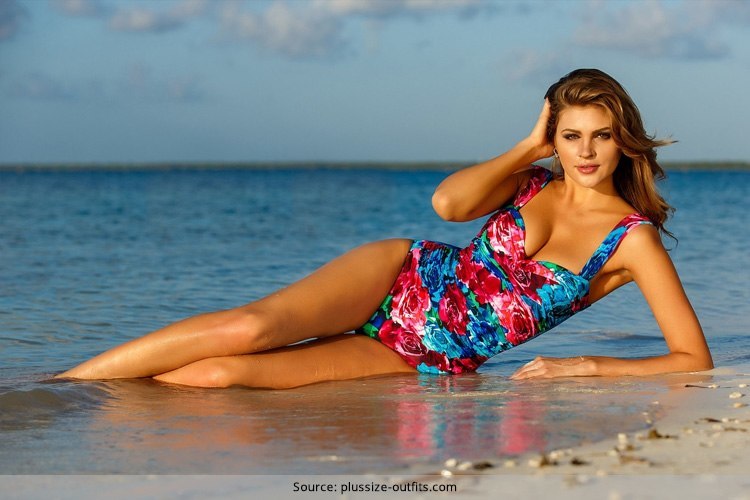 There are so many tags a woman has to live with – curvy, athletic, pear shaped, large busted, small busted, plus those with a tummy they prefer to hide. Choosing a swimsuit becomes a tall and confusing task. But there are best swimsuit brands that come in flattering fabrics and clever cuts which make picking best swimsuit for your body type easy and time-saving.
Best Swimsuit For Your Body Type
I take you through types of swimsuits, and best swimsuit brands 2016 you can count on this summer. Happy deciding on best swimsuit for your body type!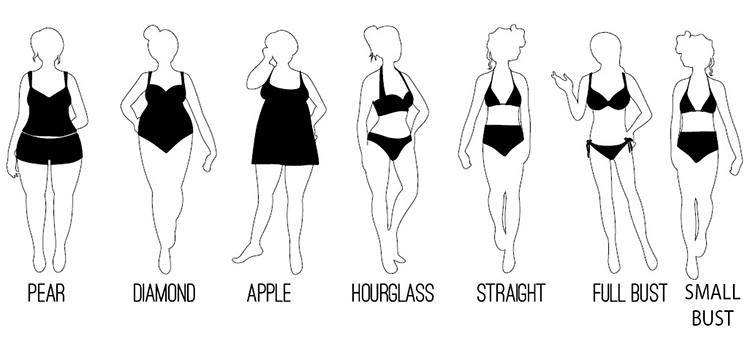 Common Body Types For Swimsuit Selection
Need the perfect swimsuit for your body type? It is important to know your body shape first before you decide on best swimsuit brands.
1. Pear Shaped
This means your hips and buttocks are wider than the chest and shoulders – something like Beyonce, J Lopez, and Jennifer Hewitt.
[Also Read: Popular Swimsuit Trends]
What You Need
Is a swimsuit that brings emphasis on the top portion of your body and downplays the bottom. This will help make your body shape look balanced and get you adequate coverage for your bottom half.
Tips And Tricks
Emphasis on the top by going for halter, string or cleavage revealing.
Look for a bottom that falls just below the largest part of the upper leg.
Avoid buying boyshorts, or thick-banded bottoms or the ones with huge and loud print. The drawback with them is that the extra fabric in it will draw attention to the hip area you want to hide.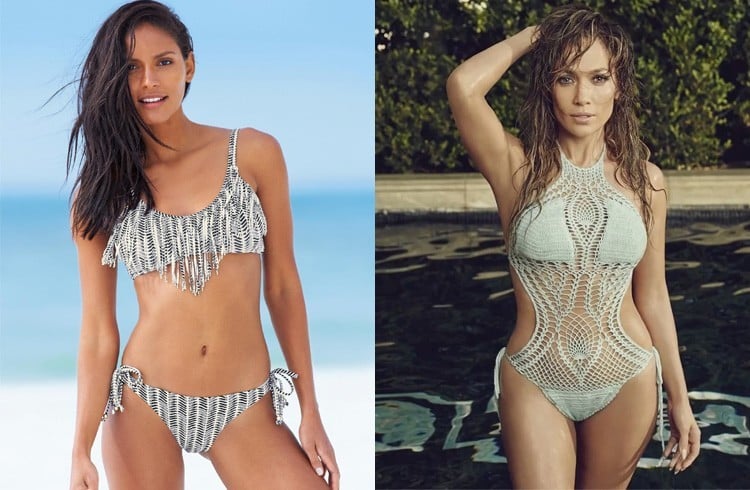 2. Apple Shaped
This body shape is contrary to the pear shape. Having an apple body type means the upper part of your body carries more weight than the lower part, which means broad shoulders, larger bust and smaller waist and hips.
What You Need
Is to draw attention to your bottoms, and not the chest.
Tips And Tricks
Go for tops that have flattering cuts.
Say no to tube tops.
[Also Read: Swimsuits that look Best on Women with Small Breast]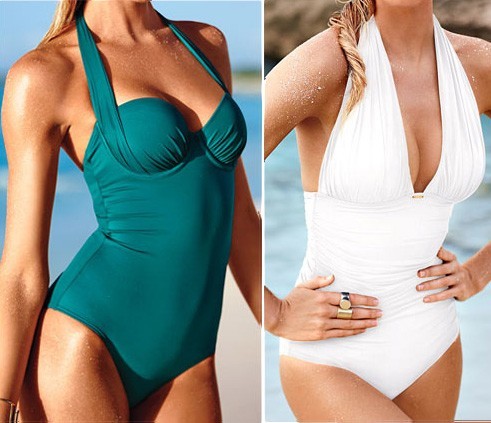 3. Large Bust
Don't feel morose thinking you will end up drawing unnecessary attention given your large chest size on the likes of Kate Perry and Sofia Vergara. Choose the right top if you want to escape the limelight.
What You Need
Are tops that don't come in V-cut. Tube tops would be perfect. At the end of the day, you need to find a top that supports your bust line, not reveal and over reveal.
Tips And Tricks
Go for swimsuits that come with underwire and adjustable straps since they would provide you the extra bust support. Thicker straps will provide you more support.
Molded cups give you the extra support.
[Also Read: Types Of Camisoles]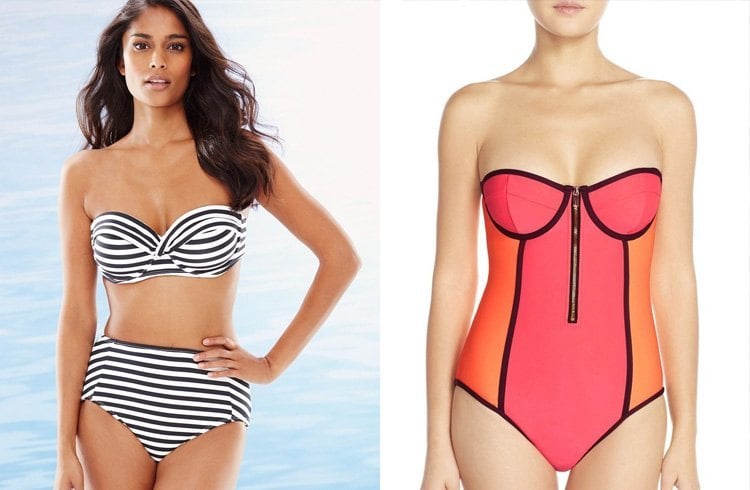 4. Small Bust
Most of the Asian women have small chest. No matter how flat your belly is or how curvy your body, a small busted lady wouldn't be half as sexy as a Brazilian or Mexican counterpart. It's a challenge to make small-busted women look a bit bigger.
What You Need
Go for V-cut tops that push your breasts or bikini tops that bring volume on the top.
Tips And Tricks
Printed tops would be a big boost to your assets on top.
Even adding ruffles or fringe, bows at the bust line or triangle shaped tops would look nice.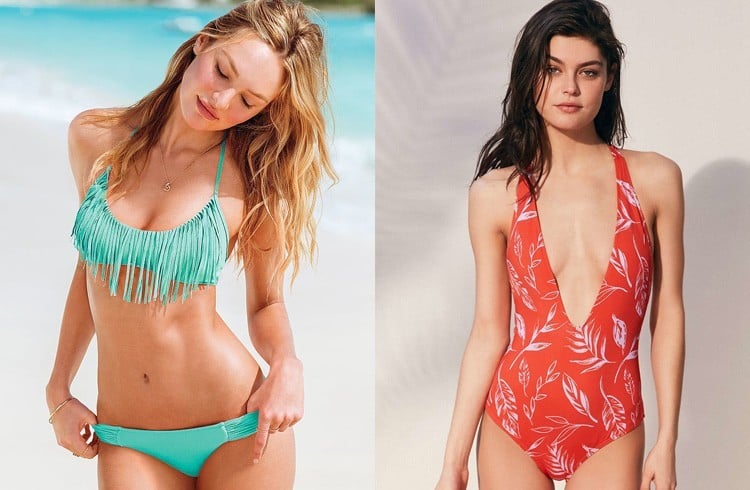 5. Athletic Shaped
This body shape boasts of straight body composition, the one with fewer curves. Example is Cameron Diaz.
What You Need
Is to highlight your curves by choosing styles that flaunt your body frame.
Tips And Tricks
Go for tops and bottoms that have bold prints, ruffles, and embellishments. This will help add the required feminine flair and will give the appearance of more curve at the top and bottom.
One-pieces and monokinis will help create fabulous curves.
Make sure the swimsuit bottom is smaller as that will give a fuller and curvier hipline.
You can also go for tie-side bikini bottoms.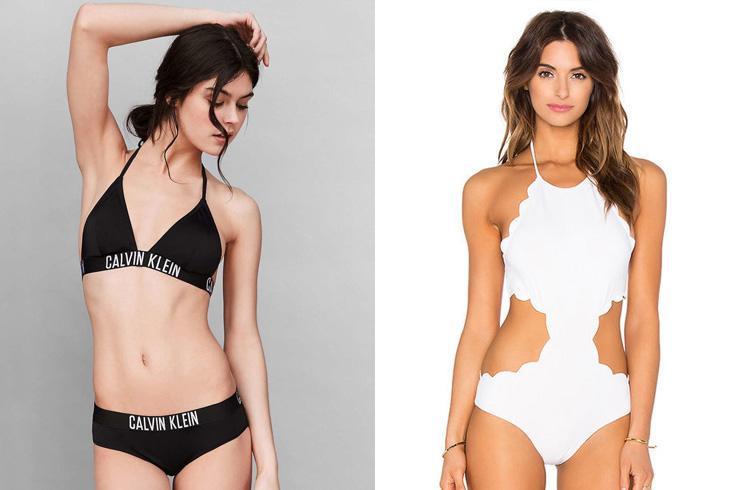 6. Curvy
With full bust, hips, thighs, and butt like Christina Hendricks, or Kim Kardashian, looking curvy comes naturally to you.
[Also Read: Haute Bikini Styles To Stir The Hotness Up This Summer]
What You Need
You need to be clear in mind how much to highlight your curves since you already have one.
Tips And Tricks
Go for asymmetrical swimsuits that draw attention towards your neckline.
Color blocking can help highlight your body shape pretty well, so think high waists and boxy halter tops.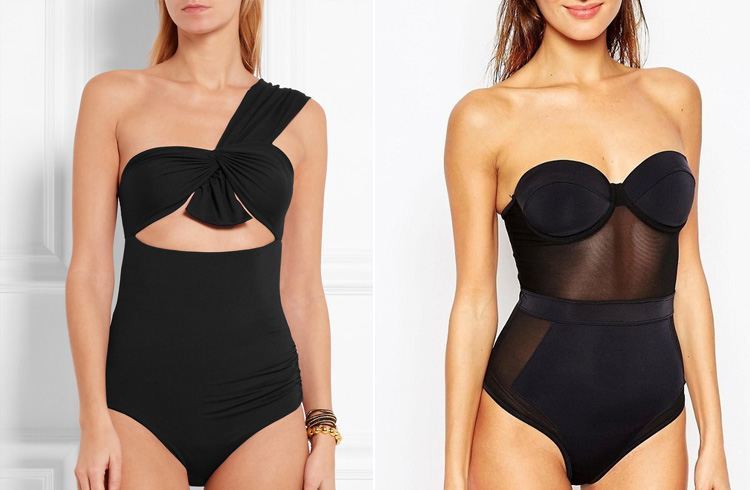 [sc:mediad]
7. Tummy Concealing
Since your body built is more on the apple shape, you need to carry your weight in your middle.
What You Need
One-piece and two-piece suits are there that will help smoothen out your middle part.
Tips And Tricks
Try on high-waist retro-inspired suit. They will help cover up the abdomen.
Shirring is a great idea as this gathered fabric is helpful in hiding bulges and creating a definition in the waist area.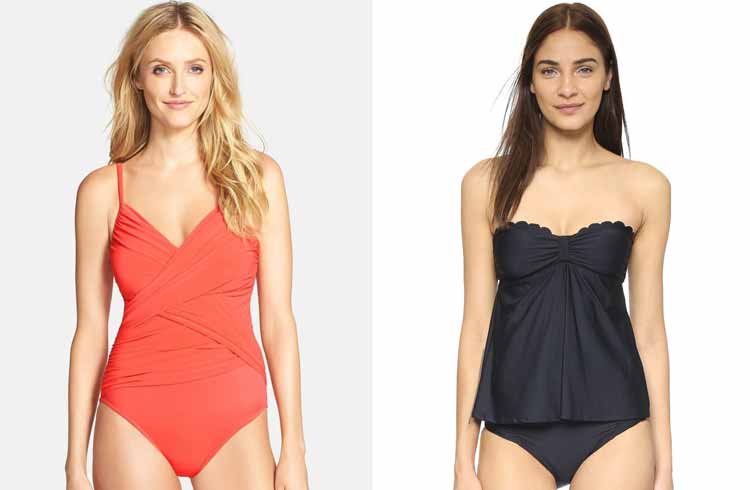 Talking of best swimsuit brands 2016, there are many popular labels. For instance, Zimmermann, Tori Praver, Mara Hoffman, Acacia, Gottex, Mikoh, Marysia, Kiini. You need to see your budget and brand preference to close in on your selection.
Now that you have a fair idea of best swimsuit brands, drop in a line or go over the roof top and tell us the types of swimsuits and best swimsuit brands 2016 that you would like to shop for.
Images Source: popsugar.com, pinterest.com