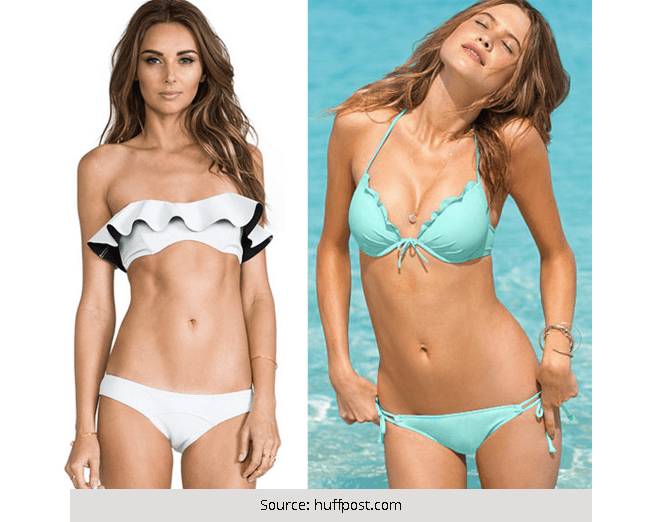 There is a constant struggle in the mind of a flat chest woman as which bikini designs will accentuate her figure more and hide her flaws. Knowing how to camouflage your drawbacks will do wonders for you. Zeroing down to the best bikini suit for your body type will no longer seem like a task. Discover and introduce yourself to the new way of choosing the perfect swimsuit for yourself.
Turn of events seems inevitable and hence offers you easier leeway to believe that indeed there are bathing suits designed for your small breasts as well.
You must have had moments of frustrations looking out for the best swimsuit for yourself and all the inadequate information therein and the outdated catalogue of swimsuits must have bugged you immensely. Hitherto to what's been laid upon, let's check out the Top 5 best swimsuits for all you small breast women out there.
1. Ruffled Swimsuit
The Ruffled swimsuit is awe inspiring and conceals your small humble breasts making it look curvaceous. It gives away the illusion that you indeed have a larger breast. Wearing ruffles also distracts your onlooker's attention to other things making you look busier up there. For all those women who need help in this department remember that wearing the ruffled swimsuit will bring on your curves like never before. And besides, a little mystery here and there keeps a man ticking.
2. Scalloped Swimsuit
You cannot rely on your ever dependable cups forever. Sometimes you have to let go of the comfort and security that padded swimsuits give you. That's why you have a scallop bikini top to help you shed all your inhibitions and give you the thunderous appeal. The scallop bikini top also has the right feminine appeal making your docile looking boobs look not so submissive to anything. Scalloped swimsuits are big this season. It illustrates just the right amount of dose for skin show.
3. Caged cutout Swimsuit
You may consider yourself lucky at this juncture as caged cut-out swimsuits are perfect just for itty bitty breast. Heavy chest women need to steer clear of this kind of designs. The caged cutout swimsuits are figure flattering and enhance your chest. Let loose sometimes and embrace this sexy suit, after all a little bit of fun element never harms anyone.
[Also Read: Popular Swimsuit Trends]
4. Strapless Top Bikini
Don't live in the wrong notion that strapless swimsuits are meant just for women with a larger chest. Women with smaller bust line can also opt to go strapless. Just make sure that you do not go for a rectangular bandeau designed top. The image above is a perfect exemplification of the perfect swimsuit for all the flat chest women. It gives you enough support for all your limitations. The strapless swimsuit helps you to fake and give out the wrong notion of what you don't possess in actual terms. And flaunt what you already have with an extra amount of scene stealing tricks here and there.
5. One shoulder Bikini
When you already own a body that does not have any heavy duty on the upper side then you sure can keep it busy by experimenting it with so many different designs. Like the one shoulder swimsuit shown here. The one shoulder bikini makes your posture look corrected. It gives you the right amount of support and gives your breasts the lift which you solely need. It will forever be your inspiration to work out right to slip into this ever desirable two-piece.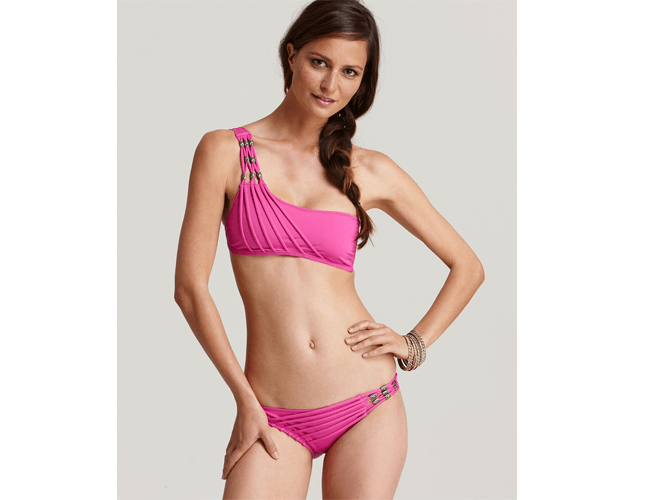 I hope you have already won half your battle after reading these quick tips. It is tough for anyone to choose the best swimsuit for themselves. And for women with smaller breasts, it is even a bigger issue. Don't be bikini conscious anymore when you have all the better options than anyone else. So why should you be left behind?