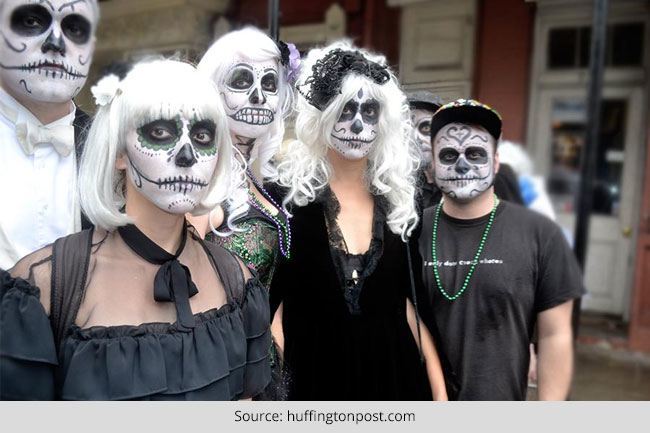 Halloween may be more famous in the West but the trend has slowly been catching up in India. It is popularly known as All Hallows Eve too. It is celebrated every year on October 31. Usually costume parties are organized and people muddle their heads with so many cool ideas which we will talk to you about. But first let me brief you about Halloween a little more.
What is Halloween?
Halloween is linked with intriguing customs, traditions and legends. Coupled with ghoulish and gothic costumes, scary terrifying party themes, magical spells and scrumptious recipe meals sum up this festival. Adults and children alike come together to celebrate this occasion.
[Also Read: Makeup for Halloween]
During Halloween people usually organize themed house parties where everybody shows up in their chosen attire. Young people love to let their guards down. In recent years Indians have started embracing this western culture and they do not mind making pompous choices. Options are varied and people adopt their own way to celebrate the occasion. In India, people celebrate in a more sober way owing to the customs and culture.
This time you can unleash your inner spirit and get more creative. We are here to help you do the same. We will present to you some cool ideas for Halloween for you to choose and this time it is not just limited for the ladies out there. This time the ideas will extend to your boyfriend, to your friends and family alike.
Like the old saying that goes, 'ladies first', we cannot argue more with that so we will start off with some awesome Halloween costume ideas especially meant for women.
Halloween costume ideas for women
1. Irene Adler character get-up in Sherlock Holmes
Halloween is synonymous with dark vamp character costumes. You can take inspiration from the image above even though it is not the best example of a vampire image you had in mind. We wanted to crack that concept. Seen here in the image is Rachel McAdams wearing a velvety Egyptian blue dress with the same touch of blue velvet gloves with an Adler's hat to match.
2. Fairy Tale Inspired Outfit
We grew up idolizing fairy tale characters. This Halloween try and incorporate your old dreams into reality. Gear up like your favourite fairy-tale character. It will unleash your creative playful side too. Play up your look by opting for punchier outfit ideas like the one above.
3. Cat Woman Outfits
No Halloween occasion is completed without a dark wild outfit. This is the perfect outfit for all the women. A cat woman get-up has been adapted on most Halloween occasions. The catchy outfit with the ritzy full legging boots scores brownie points in the fashion department. The eye mask brings in all the rage. This outfit is rakish, smart and totally upscale. Accessorize with funky ringlets and Goth makeup to finish off.
Homemade Halloween costume ideas
1. How to make a bat costume from home
To make a batman inspired costume for Halloween, you will need a big black umbrella. Rip the umbrella apart after unscrewing the top cap. Now find the twisty tie wires and using a wrench unthread the wire from the spines. Doing this releases the handle. Use wire cutter to remove all the side spines. Cut the umbrella into half with scissors. This will give the illusion of the bat wings. Cut off if there are any wires poking out. Now sew it alongside your black costume using black thread. Continue sewing from one end until you reach the back of the costume.
2. How to make a bath buff costume
Bath puff costume sounds crazy but it is innovative anyways. For this you need to visit a fabric store to buy some tulle and group it all together. According to your comfort, you can choose to wear shorts with a tank top, or a tube dress or simply a t-shirt underneath. Pin it all up and sew it together with your inner outfit. Introduce your friends with this cool idea and let your hair down.
3. How to get the Audrey Hepburn Look
Everyone loves style icons like Marilyn Monroe and Audrey Hepburn. Millions of women have tried adapting their style. This Halloween you can try and turn your magical thoughts into reality. Audrey Hepburn's character in Breakfast at Tiffany will be just right for the big occasion. If you already own an LBD then you are lucky. This is when your little black dress comes into handy. To complete the look you will need a small tiara, black gloves to match, a cigarette holder, a pearl necklace and black shoes.
Halloween costume ideas for couples
1. Shrek and Fiona
Isn't this a lovely concept with you and your partner slipping into the role of Shrek and Princess Fiona? If you are prepared for some heavy green makeup then you should give it a try. For getting the Shrek look perfect, use a bald cap. Ransack your wardrobe for the costumes and mix and match. For making the green ears, I suggest you use wired ribbons. For Princess Fiona look, you will need a hair spray to colour your hair red. Use a small tiara if you would like to put on more accessories.
2. Dead Groom and Bride
The scarier the Halloween costume is, the more better it will be. Playing the role of a dead groom and bride would be perfect and be synonymous keeping the Halloween theme in mind. Go for an all black costume. The ladies can also use a white wedding dress. For your makeup you will need pale white facial powder. If you are willing to push the envelope, you can use white face paint to add more drama. Use heavy black eye shadow and black paint to define your image more. This is one night you won't be getting nasty glares for looking evil and wicked.
Family Halloween costume ideas
1. The Band KISS getup
For this getup you might need to give your folks a little extra prodding to do it. If they are cool with the idea, go for it without giving yourself any second thoughts. You can take inspiration from the numerous styles that the band once had. They were famous for their face paints and stage costumes. Their make and costumes were inspired from comic books style characters like The Star Child, The Demon, The Spaceman, The Cat, The Fox and The Ankh Warrior.
2. Super Heroes
You and your family can adapt the famous superheroes this Halloween 2014. It will be fun for all to dress up in their favorite superhero costume. Your folks can play the role of Superman and Superwoman respectively. Use your imagination of who you want to be. Other adaptations like Wonder Woman and Captain America would also be wonderful.
3. Teenage Mutant Ninja Turtles
Since the movie has recently hit the theatres, it would also be trend setting if your family engages in some real Ninja stuff. If you are a family of four, it would be all the more perfect since the Teenage Mutant Ninja turtles comprise of four characters- Leonardo, Michelangelo, Raphael and Donatello. It would be fun and exciting to watch your family in some real ninja getup.
4. TV Show Munsters Characters
Dead ghastly characters are much adapted by people during Halloween. Take inspirations from TV show characters like The Addams Family or the Munsters. The image below is of a family adapting the characters of Munsters on Halloween.
Indian Halloween costumes
1. Indo Western Wear
This is perfect for all the Indian Women out there. The waist cincher worn above the sari is a cool innovation. The dark coloured outfits along with the dark makeup make it perfect for Halloween occasion. Finish it up with a bowler or a Lincoln Hat like the one shown. Wear laced up ankle boots to look more dramatic.
2. Little Red Riding Hood Inspired Costume
For this you will just need to find that perfect red dress. You can also make use of a red kurta or a red top if you do not want to go for a full length getup. Play the modern role of this classic fairytale character.
Halloween costumes for young girls
1. Candy outfit
This is for all the young girls. It is simple to attain this look. Just take a plain sweater preferably one in black or any other dark colour. Tie a big red bow around your neck. Use a white and red cloth to make the hat.
2. The Addams Family character Wednesday
Essaying the role of Wednesday from The Addams Family would be just right for that Halloween night. You will need a long sleeved and full length black dress and with a white collar. You can sew the collar yourself too. You need to braid your hair and apply white powder all over for getting that pale look.
Share these ideas around with your friends and loved ones. Tell us what idea you are trying this Halloween Fashion.