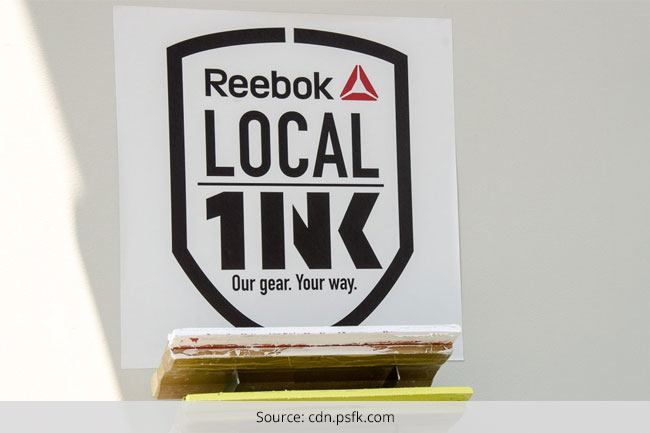 Reebok has been a major fitness brand for long time now and they choose to concentrate only on that. Even though it is an American-inspired global trend, it has gained success in Indian market as well. Since Indians have become equally conscious about being fit and active, sports brands have become a big hit in India too.
Tracing back into their history, Reebok has always focused on new comfort innovations for people. Thus, even if people are doing their daily runs or playing sports, the Reebok sports gears do not disappoint them.
Reebok dedicates to make fun products unlike other sports brands leaving people with a plethora of options to choose from. Their slogan Fit for Life surely does spark and rub inspiration into people.
As I mentioned earlier, Reebok is strongly been placed in Indian markets. There are so many Reebok products that have been instantly picked up by the people no sooner did it hit the market. The exclusive "Reebok Originals" showrooms that have recently opened in the cities have already created a buzz among the people.
Now, let me introduce you to the top five categories of Reebok products in India.
1. Reebok Sports Shoes
People ought to remember the difference between running shoes, training shoes, walking shoes and even dancing shoes. And the glorious thing about Reebok brand is that it introduces you to all of these. Reebok introduces special inbuilt features in all of their sports shoes so that you feel light and comfortable even if you are sweating it out. They have designed the running shoes from back to front just like the way our foot moves.
Some people make a mistake of running in walking shoes. The brand has designed the walking shoes a little differently. These walking shoes have special features like extra cushion levels. The good thing about this shoe is that it is designed for the way our foot hits the ground.
The training shoes can be put to use when you are rigorously training in the gym. The sole of the shoe has a flat coverage rather than having extra cushions so that the foot is closer to the ground. It brings in more stability and balance.
And lastly there are the dancing shoes. As dancing makes room for many movements in and around, this special shoe have a special zonal point on the forefoot so that you spin around comfortably. The shoe has a better grip over the others and allows better flexibility.
2. Reebok Yoga Apparel & Accessories
As mentioned in the Bhagwad Gita
"Yoga is the journey of the self, through the self, to the self."
Yoga in some way or another has become a part of everyone's routine exercise life. Be it in the form of asanas or just an intense breathing technique, we have adopted to yoga to relieve ourselves from the stress.
Reebok Yoga accessories range from the yoga mats to yoga tank tops or comfortable exercise bras. Yoga duffle bag is also available in smart colors with a provision to hold the mat too. Sweater pants, leggings and capris are also an important investment to let your body twist and turn with all the asana exercises.
3. Women's Accessories
Reebok has interestingly launched so many accessories for women which is rare to get from any other sports brand. But Reebok believes in delivering nothing but the best for everyone. You can get to choose a plethora of options from their headbands, wrist bands, bags and water bottles. They have it all designed keeping your best interest in mind.
For those who are into yoga and fitness, also have an option to store the yoga mats. This makes it easy to adopt and most useful too.
4. Fragrances
Reebok have launched many fragrances ranging from body sprays to perfumes. They have an amazing range of eau de toilette's that are mostly produced from nature's distinctive aroma for a feminine feel. It is perfect for women who are always hitting the gym. It is enthused from violets, pineapple and jasmine to name a few. For those of you who love a sporty smell Reebok Woman Reebounce Eau De Parfum will be perfect.
5. Kids Shoes
Reebok has gone out of its way and launched kids wear to their line of clothing as well. They have introduced some cool range of kid's shoes that are just as comfortable and trendy as any other Reebok sports shoes. You can check out the huge collectibles of kids Reebok Classics as well. This sports shoe is iconic as its style never fades and is an all time favorite. It is most comfortable for its extra soft leather upper.
Recently Miranda Kerr posted her photo on Instagram. As per dailymail.co.uk
'Love my Skyscape shoes! Here's a peek of my new campaign @Reebok': Last month, the star gave a glimpse of her new Reebok campaign, the sexy TV ad for which recently debuted showing the stunning Aussie stripping down to a pair of racy black knickers
So you see why Reebok follows a different pathway compared to other sports brand. They are definitely an innovative brand and are always on the go to bring out more products to suit the people.