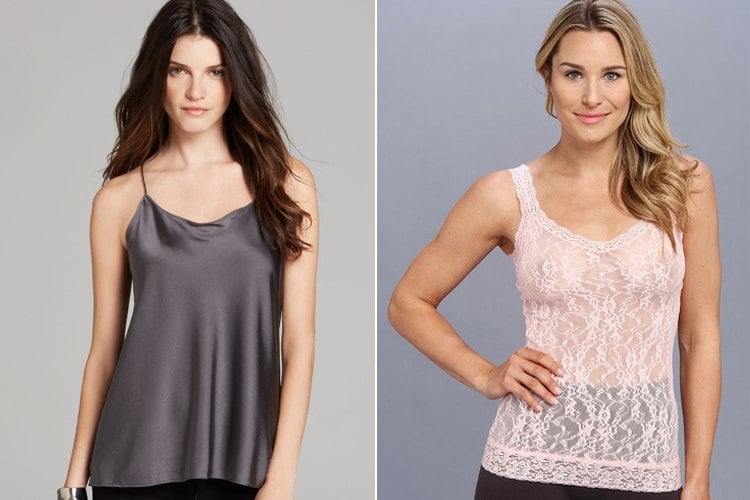 A camisole is one of the most versatile pieces of clothing and a staple that you are sure to find in the wardrobe of any woman. Camisoles, also known as camis, have earned their place by doing a double duty. This garment can be used to layer underneath a sweater, jacket, low-cut tops or shirts and it works very well even on its own. Typically they have "spaghetti" straps and they can be worn over or without a brassiere.
Camisoles are very fashionable and at the same time, serve a multitude of purposes. From strappy, embellished ones to supportive, skin-coloured camisoles, these sleeveless garments come in many different styles and lengths. They normally extend down to the waist but sometimes expose the midriff or cover the entire pelvic region.
[Also Read: How to Style a Camisole in 10 Different Ways]
There isn't just a single style of this staple; there are various types of camisoles available in the market that vary in their colour, fabric, style and even purpose!
Camisoles For Women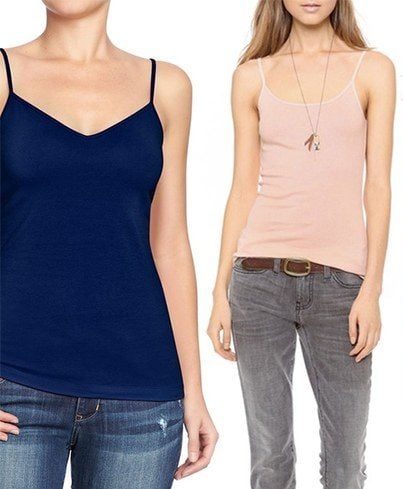 1. Body-hugging Camisoles
Camisoles made of soft cotton or stretchable materials such as spandex, nylon, etc., are body hugging and among the most common camisoles for women.
2. Cotton Camisoles
Cotton camisoles are very soft and let your skin breathe, so they are most preferred for everyday wear, especially during summer. In fact, for many women this is the choice for additional comfort and style while working out.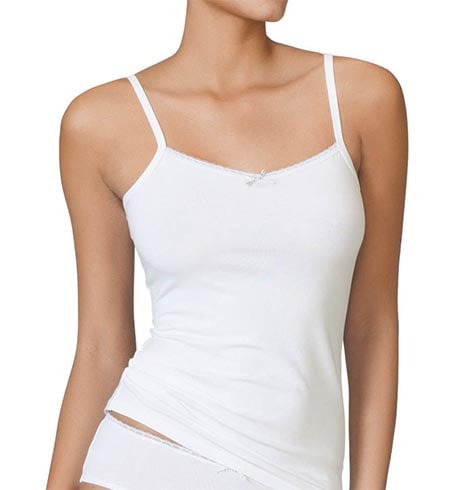 Available in numerous colours, these camisoles can be worn under a sheer top or dress when you don't want a lacy camisole's texture to be visible underneath your clothes.
[sc:mediad]
3. Silk Camisole
Silk camisoles feel really great against skin and exude elegance and femininity. They are designed to be sensual and comfortable.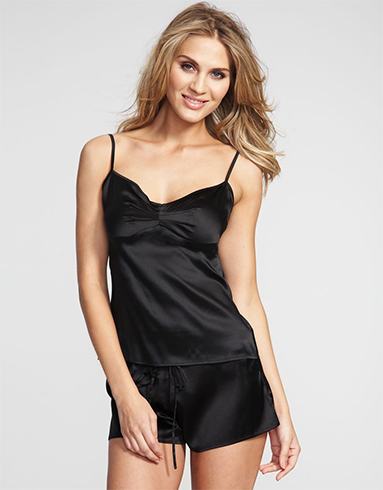 A silk camisole is preferred by many women for comfortable nightwear. It is very soft and silky which keeps you super comfy and ensures that you always get a good night's sleep.
It also looks stunning on its own as a fancy top. It is perhaps the best thing to wear without anything on top of it. On the other hand if you'd rather layer your outfit, silk camis underneath a sweater feel very warm and comfortable, like a cocoon you wouldn't want to come out of. And a formal jacket or blazer worn over a silk cami looks very chic.
4. Lace Camisoles
Lace camisoles are a must-have in a woman's closet. Be it full lace camisoles or lace trimmed camis, they look very sexy and perfectly complement when paired with a low-cut sweater or top.
A lace camisole is a classic that can add elegance and a feminine touch to any outfit. Available in many neutral shades, they can be teamed up with different tops and dresses.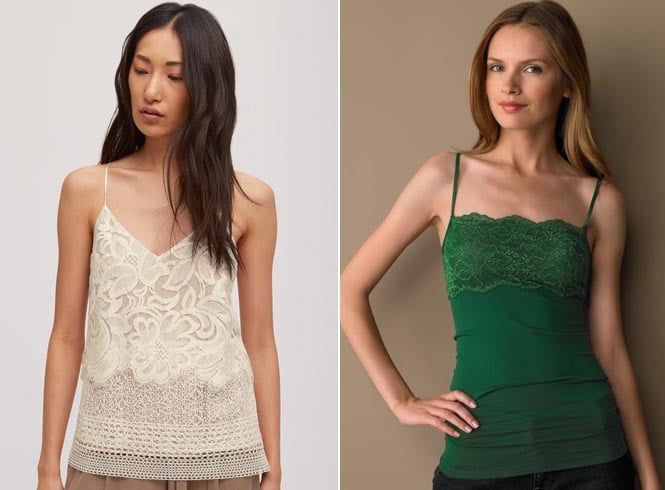 5. Camisole Bras
A bra camisole comes with an inbuilt bra, eliminating the need for you to wear one separately. This inner-wear can also be worn as an outerwear, on its own or by layering it under a jacket.
It can be short, leaving the midriff bare or long like a chemise. Some bra camisoles have an underwire built-in for more support. They come in different cup sizes and have many padding options. They are available in nude colours that blend with your skin tone for a more seamless look.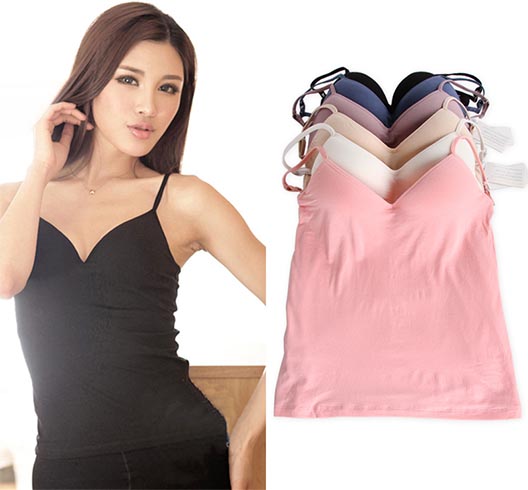 Camisole bras also come with embellishments such as sequins, bead work and crystals and are made up of finer fabrics such as satin and silk to suit special occasions and add a luxurious feel.
6. Shape Wear
Shape wear camisoles provide support to wearers and help shape the body, smoothing out any bulges or unwanted flaws. Made with stretchable fabric, they help provide confidence and comfort as they have a slimming effect. Specially constructed for maximum support, they provide a flattering look.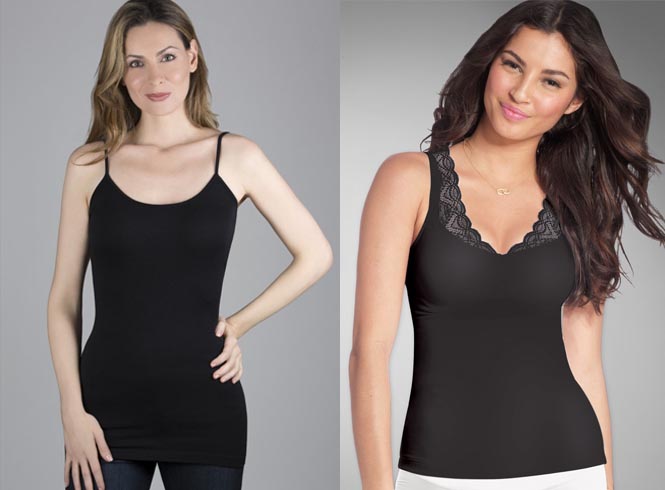 7. Plus Size Camisoles
Plus size camisoles are also available for women who are on the heavier side. They help hide bulges and give a leaner silhouette with a more balanced look.
This type of camisole also includes an in-built bra for firmness and support. Most women these days prefer wearing a shape-wear under their dresses and formal outfits for a slim, flattering and toned figure.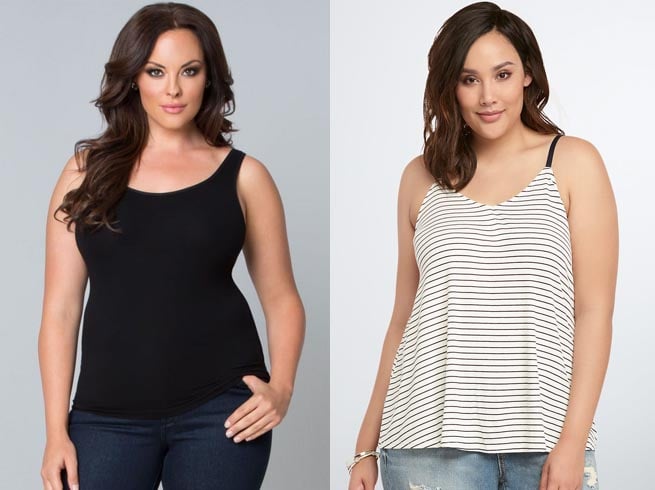 8. Camisole Tops
Trendy and fashionable camisole tops look youthful and chic. They are perfect for a brunch or casual day outing with friends. With plunging neck lines and stringy backs and crop tops, cami tops are a rage among young women right now.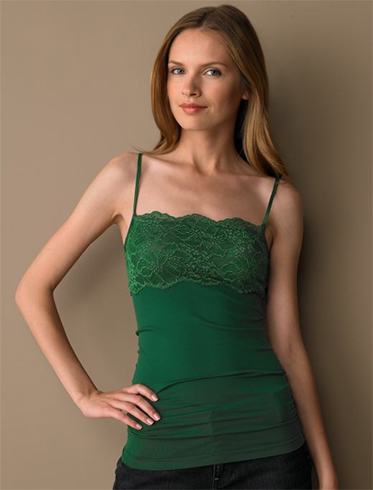 Delicate and stylish yet very functional, camisoles help shape and support your curves, giving you a smooth silhouette. Layering is very much in vogue these days and camisoles are also a great way to help you accentuate your look.
Do you think camisoles are the new trendsetters? Let us know your thoughts in the comments below.
Images Source: pinterest.com, lyst.com