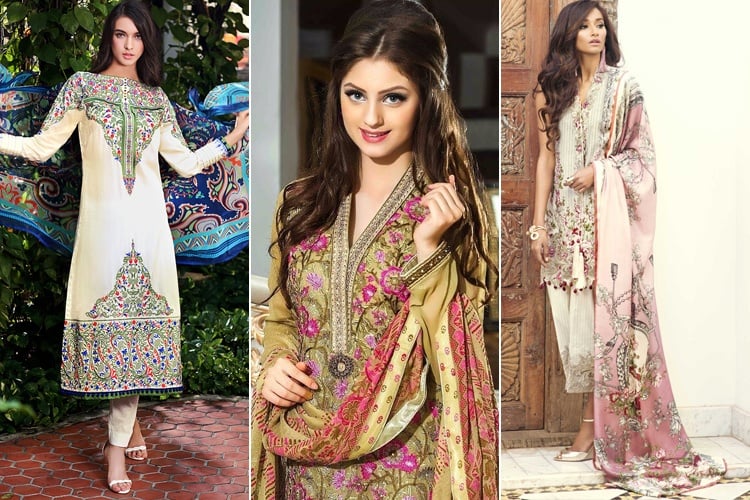 You've seen a certain ensemble and fell in love with it probably. Lo and behold, you just cannot wear it, because the summers are so harsh and you perspire. Sigh! Wish there were summer fabrics and sweat proof shirts that could save the day, you think.
Five Amazing Summer Fabrics For The High Sweating Divas
Well your thoughts are manifested, because we are here to tell you more about the five best and worst summer fabrics which you can and cannot wear while the harsh Indian summers are on. Please take a look and be well-informed.
[Also Read: Fabrics For Every Body Type]
Linen
Quite airy and breathable, this fabric is best suited for the summers. Bred from the flax plant, linum and woven in segmented strands, the textiles are bespoke in comfort and couture. One of the best summer fabrics to wear!
Cotton
Pure cotton is puritan for people for whom sweat is antagonistic. Being foremost in and allowing air to sweep through the porous strands, the textiles woven make it an exquisite experience for the person wearing it.
Faux Georgette
Manufactured synthetically from nylon, rayon and polyester, faux georgette is an option worth exploring for the souls brazen by sweat. Being is lighter, cheaper and much more apt to resist the body from sweating and dampening the fabric, this fabric is a worthwhile option.
Light Silk
Being a fabric favorite to many and a fabric that's an all rounder in terms of comfort and fashion, it helps us regulate our body temperature, maintaining homeostasis. And being hypo allergic, it helps us reduce allergy by repelling dust mites and such.
Rayon
Like any of the natural fibers, this fiber is also good for comfort even though this is a synthetic fiber. The silkiness of the fiber makes it a favorite for the commoners and the fashionistas alike. Plus being breathable and airy, the ones with a lot of sweaty tendencies can opt for this.
Five Fabrics That You Should Not Wear At All While The Summers Are On
Jute
Among the few fibers that must be avoided, Jute is foremost. The textiles woven is compact and complex and gives very less ventilation and pores for the sweat to dry or makes the textile breathable.
Velvet
No matter how fancy and elegant and classy they look on the body, it's a complete no no for the ones burdened with sweating a little more than normal. Being very coarse and tightly woven, gives very less space for us to move about and be comfortable in it.
Polyester
A synthetic fiber to be avoided like always during summers or any time that's apt for sweaty people to get stained in sweat. Being very strong and very complex and being very closely stranded it is unsuitable. Hence one of the best heated clothing fabric for winters, but horrible for summers!
[sc:mediad]
Georgette
A rich fiber that needs s to be worked on with other fibers for a complete textile, and this makes it a bad option for summers and a perfect option for sweats.
Flannel
Flannel is a mixed fabric comprising wool, synthetic fibers and cotton. This makes it soft but it becomes very bad option for the summers because it doesn't allow the body to breathe and makes the body perspire. Flannel is not the best fabric for summer, period!
We hope this information on summer sweat proof shirts, sweat resistant clothes, comes in handy. In addition to that, we encourage you to read up on information such as fabrics that have the best wicking material and sweat fabric or breathable fabrics which would make it easier for you to check which clothing fabrics are best to wear.