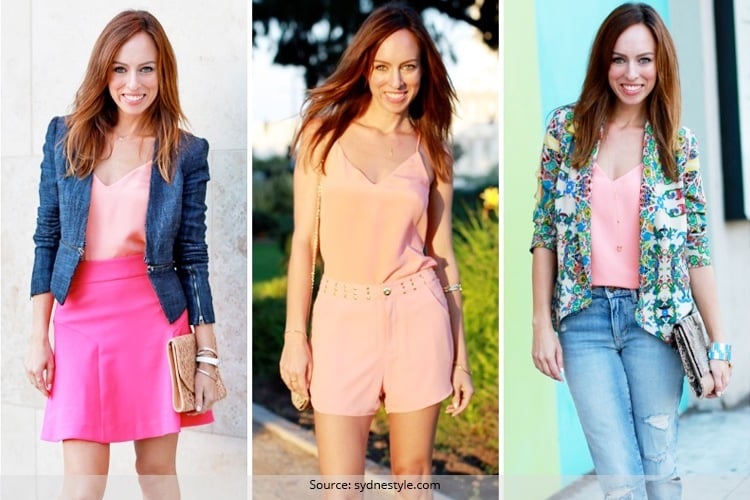 The easy, breezy and super comfy camisole is every PYTs friend. With the onslaught of summer months in our country, and temperatures not taking the name of retreating, who has the inclination to dress up in tops and tees, thick and uncomfortable. Add to that the humidity and the dust, the grime and the perspiration, our skin erupts into rashes and all hell breaks loose. If you have camisoles in your wardrobe and would like to wear them pretty, here are ten ways to style the humble garment and to make a statement too!
[Also Read: Ditch Those Jeans: Top Alternatives for Jeans This Summer]
Coffee with the girls
Who has the time or the inclination to wear those heavy fabrics, when a camisole with dark denims or black dress pants can do the trick!
Out on a date
Hello fashionista, we see you in that loose camisole top and ripped jeans. When worn with booties or heels, your date would be left speechless. Throw on a thin summer coat in a dark shade, should you feel a little conscious of prying eyes around!
[Also Read: Dresses Worn With Leggings]
Boho chic movie chick
Planning an evening out with someone special, maybe a movie for the moments ahead? Have fun wearing a bohemian camisole and jeans, leaving your hair loose and with a statement necklace (if you want).
[Also Read: The Kimono – Fashion Hit for the Indian Summer]
To the bar and back
Dressing up for the bar while the summer months are on can be an inconsistent affair. You'd surely be drinking and maybe burning the floor with your moves too. The comfort factor and style should be well pronounced. Hence a chic satin laced camisole with denims does the part!
A birthday celebration
Make a splash and create a statement with sheer tops over your camisole and hot pants in metallic tones. Your heels should be the same metallic shade and tone as your camisole, to bring on the burlesque sexy diva touch!
[Also Read: Top 5 Summer Layering Ideas We Are Currently Loving]
Out to the mall
Shopping is fun when you know where to go and buy or pick what you want. And the experience is enhanced when you are dressed comfortably, sans the effort of looking cool. A floral camisole top, a statement neckpiece and a black sheer coat with dark leggings would be best to wear!
Friday chic dressing
Work calls and deadlines play havoc. And with all that, who has the time to doll up. But with a camisole handy, wear your khaki trench coat and a pair of white trousers or jeans, and you are ready to enter the boardroom meetings with utmost glam and style!
To church and back
The humble white camisole when paired with a metallic sheen pencil skirt, along with heels for the feet, can make you look like a million bucks at church this Sunday! Alleluia to that!
[sc:mediad]
The blue nightingale
A sheer blue skirt for the bottom when paired with a sexy blue camisole for the top, can make heads turn wherever you go!
Big girls love their camisoles too
Black opaque leggings for the bottom and an oversized silk or satin camisole in striking shades for the top, with a summer short coat for cover, why not? Camisoles are for all shapes and sizes, and plus size girls know how to flaunt their beauty the best!
Here were ten chic and trendy ways we found for you to wear your camisoles of silk or satin in. Do let us know your ideas and inspiration too, with regard to dolling up in camisoles. Have fun and beat the heat in style, and when you have a camisole, there's nothing to worry about!