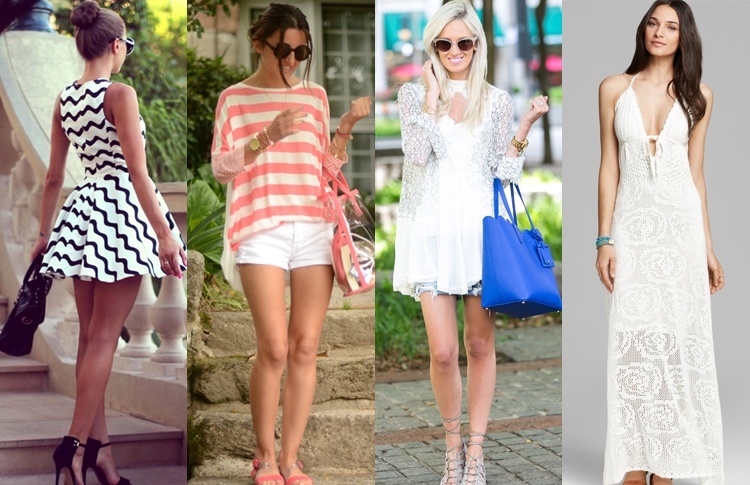 With summers at its peak, the dust and grime, sweat and humidity does take a toll on our bodies- our skin especially. Women and girls, it's time to love yourselves a little more than the usual, ditch those jeans. While we often have more than a pair or two of the chic denims spanning our closets, we have to remember that comfy as they are, the fabric doesn't allow our skin to breathe. When there are ten chic and trendy options out there to doll up in, for work and play, you really don't want to torture your lovely legs wearing jeans! Read on and get fashion high as the temperatures soar!
[Also Read: How To Stretch Jeans]
Cropped pants for all
Wear them with heels, wear them with crop tops, a floral top, sheer tops or plain kurtis – your body would breathe easy, especially your legs. Cropped pants are made of lightweight fabrics and can stretch easily, giving you style and comfort too.
Long flowing slit skirts
A little sexiness to notch up the haute-heat, why not! A solid coloured slit skirt that flows long with a netted off-shoulder top, and a purse; quite minimal but perfect to carry on a summer look. Summers allow you to go all bohemian and chic, and when you have the legs to flaunt, go right ahead and make a statement!
[Also Read: Celebrities in a Jolie Slit]
A little off-beat with a frock
Printed and patterned frocks in 2015 are bringing back the oomph factor like never before. Grab one with graphic prints for the complete look, tie up your hair or let it fall loose, and hold your satchel in style, while you strut in those heels.
Cute and simple
A bright shirt in cotton over a low V neck tee inside and hot pants for the legs, quite sassy and grabs eyeballs for sure. Wear them with heels for the legs or jute sandals to let the feet breathe, and accessorize with two or three statement neckpieces.
[Also Read: Fashionable Combinations with Shorts]
Crop top and a printed pencil skirt
Easy to wear and sexy to flaunt, quite manageable when the heat out there is unbearable, wear a white crop top and pair it with a sensual pencil skirt below. Quite chic and hot we say, and the men would swoon over the summer look too!
[Also Read: Wear Lace this Summer]
Icy maxi dress
Ready for the pool party but don't want to show too much skin, because of the harmful UV rays of the sun? Choose an ice maxi dress – white keeps the body cool and you looking hot, with plenty of air circulation sans the accumulation of sweat and grime.
[sc:mediad]
Shorts and the kuka tunic
A white crochet kuka tunic with trendy shorts, look so summerish and cool, especially with a big hat worn. Complete the look with a sling back in rainbow colours and for the feet, wear sandals or slip-ons.
For a fabulousdate or an event
A pretty flower ivory lace dress would make him fall weak in his knees. The lace dress allows you to be yourself, comfy and cool while the two of you dine under the moonlit night. Strike a pose with sling-backs for the feet; it is a special occasion or moment, after all.
Long Crochet Maxi Skirts
Bringing back the 70s fashion like never before, and taking a cue from the good old days of the flower power sagas, the crochet long maxi skirt with bobby-knotted-shirts are a must-have this season.
Floral pants and a camisole top
Bring back what our divas wore the most while the 80s bid goodbye and the 90s said HELLO! A camisole top in neutral colours preferably with floral pants for the summers- a dance of colours on the legs didn't kill anyone till date!
Summers are here
The heats maybe making you shy off from social events and do's, but when you've been told the alternatives to wearing anything but jeans, why stay home? If you have ideas to share, write in and we shall hear you out!