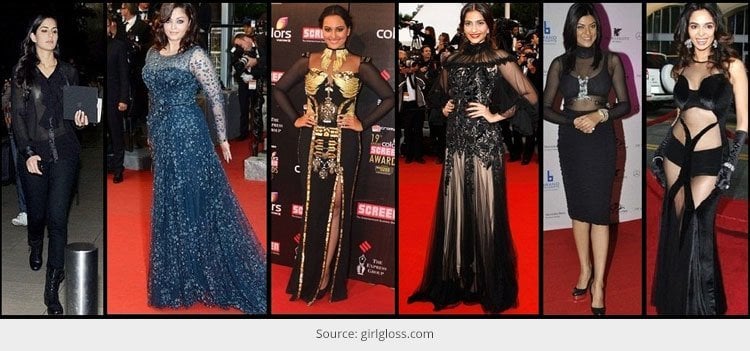 And you thought fashion-forward stars always stayed ahead? You will be disappointed. If there have been fashion highs, there have been fashion faux pas as well on the celeb front.
There have been many fashion disasters scored by Hollywood and Bollywood celebrities, not just on their sense of dressing but on their hairstyle front too. So many unkempt hairstyles have been sported in the fashion runway and movies that one would lose count of them. 'Hair' are some beauty icons whose hairdressers might have been sleeping while doing this hairstyle for their clients, it seems.
[Also Read: Celebrity Hairstyles That Are Inspiring us This Summer]
Sarah Jessica Parker
Blue looks electrifying on Jessica but can the same be said of her bouffant hair style? Noooooo! Jessy, you need to have a good hair day, so please improve upon your hair style.
Macy Gray
The American R&B and singer-songwriter and actress that Macy is, how could she get her dishevelled hair come in front of her vocals? Macy your "I Try" is badly needed in your hair grooming.
Ameesha Patel
She is a star who rocked with her pizzazz look in Kaho Na Pyaar Hai way back in the year 2000. Naturally, the expectations of the audience went up. Style doesn't say for long. Take a look at her skull-print tee dress teamed up with almost porn like pantyhose and a shredded crop top. Top it all, the ruffled unkempt hair. Looks ugh, what say?
[Also Read: 12 Must – Try Celebrity Hairstyles]
Mallika Sherawat
Would you call this picture of the sex symbol 'lovely' or 'ugly'? While males might have some other opinion about it, this is the most shocking attire worn by Mallika Sherawat who shot to instant stardom dancing to Bheege Hoth Tere song in the film Murder. Mallika might have made it to the Cannes but this starlet looks a total disaster with this hair do. Desi babe needs to do her do hair badly before she thinks of going to Cannes next year.
Kangana Ranaut
Hats off to this 'Queen' whose recent movie "tanu weds manu returns" has been declared a box office hit by crossing Rs 100 crore in ticket sales. Should we applaud her hair style too? Nah….it takes you back to the films of yesteryears…you know the Asha Parekh or Sadhana type with long and boring hair styles. Can someone explain whether Kangana's hair style in this picture is all about curly fringes or messy hair?
[sc:mediad]
Rani Mukherji
The Kuch Kuch Hota Hai star fails to impress with the wig of sorts she wore for the film Ta Ra Rum Pum. Rani, give it a thought, puhlease!
Preity Zinta
What can you expect from this bubbly lady with dimpled cheeks? Loads of fun and cheer. But that doesn't come about in this hair style sported by Preity Zinta in her film Armaan where she starred opposite the charismatic actor Anil Kapoor. Tsk tsk!
[Also Read: Top 4 Half Up Half Down Wedding Hairstyles]
Anushka Sharma
Okay, we all know her love for cricketer Virat Kohli but how much does that justify her hair fringes in the picture? 'Oh gawd' is the thought blurp which will come out looking at this hairdo of hers. Anushkha might have come a long way in her acting skills, but she needs to do something drastically about her hair department too, what say?
Karisma Kapoor
How could you do this Lolo? We are not talking about your going missing in signing up films but your infamous hairdo that you sported in the film Andaz Apna Apna. Please don't make this mistake next time, sweetie.
All of us have a bad hair day off and on. But if you find untidy and ruffled up hairstyles on Indian and international celebrities, wouldn't your heart bleed? Let us know how you feel of the same.