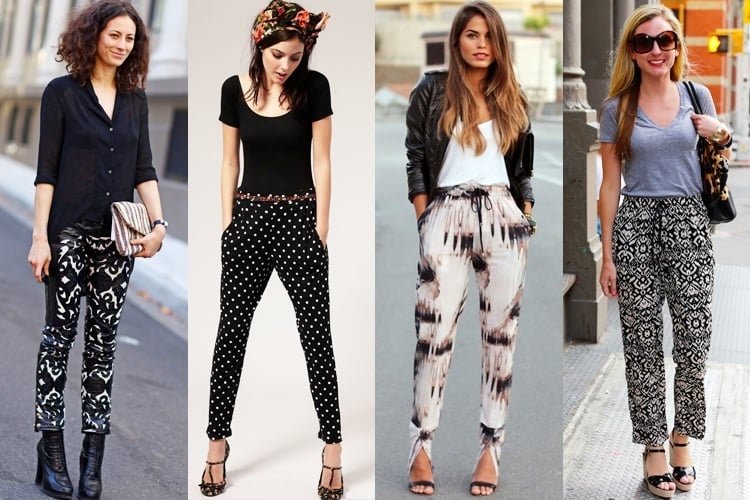 It's time to ditch your boring jeans and opt for some patterned pants instead. From checks and stripes to polka dots, floral patterns and Aztec designs patterned pants are available in so many fun prints and colours. So give your plain jeans and trousers a break and take the plunge into the world of patterned pants.
The very first hurdle that bewilders most women when faced with styling their patterned pants is what they should pair it with. If you are unsure as to what you should wear with your patterned pants, then read on to our styling ideas to get a better understanding of what combinations will work.
Wear Them with Denim Tops
One of the best things about a pair of jeans is that you can wear pretty much any top with it. It's time now to turn the tables and do the same when it comes to your patterned pants. Instead of stressing over what to wear with your patterned pants, simply pair with a denim top. The plain denim balances out the prints in the pants and makes for a very casual look.
Pair Them with Solids
Wearing prints with your patterned pants can be quite a challenge. So, to be on the safer side, opt for solid coloured tops to pair with your pants. The solid colour will provide some relief from the pattern and help make your outfit more aesthetically pleasing.
[Also Read: Flared Pants Are Back With a Bang]
Wear Them with Crop Tops
Don't ask us what it is about the crop-top-with-patterned-pants combo that creates magic. All we know is that this combination so totally works and you should definitely give it a try.
[sc:mediad]
Experiment with Textures
Bring textures into play by pairing your pants with fabrics such as woollen or leather. You can pair your patterned pants with a sweater for an awesome autumn/winter look. Pairing your pants with a leather jacket is another cool look that you can wear year round. The different textures give your outfit more dimension and add interest to your ensemble.
Match a Colour
Pick a colour from the print on your patterned pants and find a matching top. Matching colour is an easy way to make sure you look well put together.
[Also Read: How to Wear Pink Denims: Get your Spring Look On!]
Go Rogue
Just go rogue and pick a random bright colour to wear with your patterned pants. The shocking and unexpected dash of colour will make your outfit pop and create an ensemble that is eye-catching and super stylish. Now this is what we call ''fashion-forward''.
Play It Safe with Black And White
You just cannot go wrong with this combination. If you're not very keen on working with a lot of colours, ditch them and opt for a black and white combination. This time tested combination will give you a very classy look while still being relatively understated.
[Also Read: How To Wear Drapey Pants]
Now that you have an idea about how to style patterned pants, why not give them a try? They are so much more fun that plain trousers and will add a lot of drama to your look. So do give them a try. If you're still a little apprehensive you can always start small with a polka dot or checked trousers and then once you get the hang of it, move on to more adventurous designs and patterns. As for the colours, the more colours the better we say, but you can always tone it down and stick to pastels to keep the colours subdued if that's your preference. It is all up to you, so go ahead and style your patterned pants any which way you want.