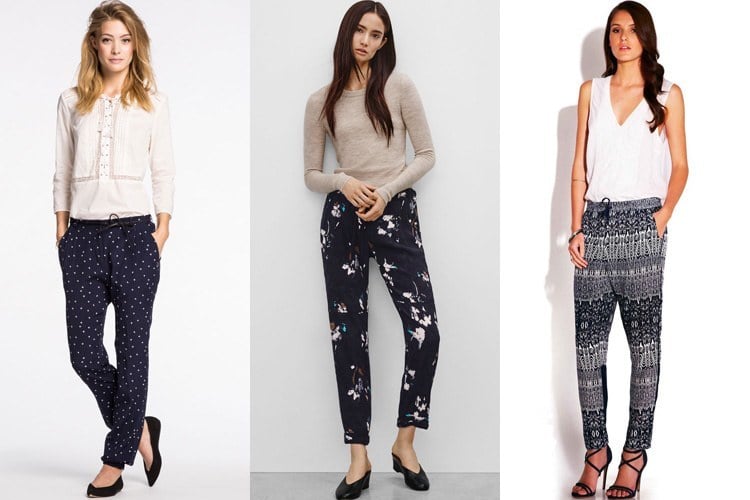 Want to look edgy and fashionable, yet breathe easy in your clothes? Opt for the trending drapey pants, ideal for the comfort quotient they offer. These wide cut pants have enough leg space for you to dwell in the easy luxury they have to offer. So here are top 10 Do's and Don'ts on how to wear drapey pants!
[Also Read: How to Style Patterned Pants]
10 Fashion Rules: How To Wear Drapey Pants
But beware! With smallest of styling mistake you can look like a pear wrapped in a napkin! These drapey pants come with a broad cut on the upper part and may look like pajamas from the bottom if not paired right.
[Also Read: How To Wear A Sweater]
1. Drapey pants don't depend on the size. Too small size of these pants can look bad or tear at the seams as their material is usually non-stretchable ones. Thus, it is best to buy one size bigger than your fit, so as to enhance the comfort quotient and flaunt the draping effect. You may have to experiment in more places than one to find the drape pants that flatter your shape.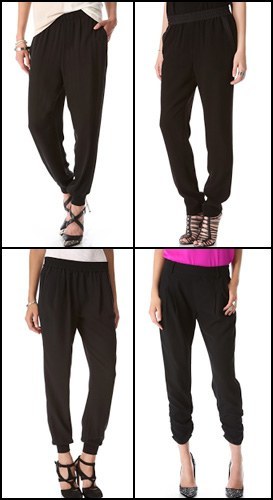 2. Always wear patterned drapey pants as they not only make you look stylish and good but also hide the lumps and bumps in your figure. You can wear dark patterned bottoms as they draw attention to the lower half of your figure and make you look sleek and cool. Team them with solid coloured tops or layer them sweater or jackets for a sophisticated appeal.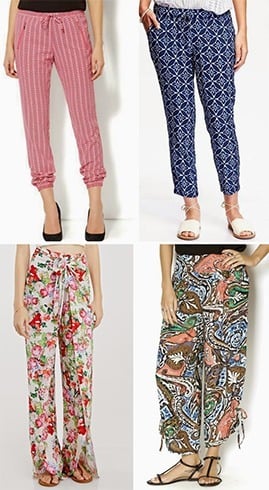 3. Drapey pants help to hide the pear shape at the top of your legs. Since these pants are drapey on the hips you also need to make your shoulders look proportioned to it by wearing blazer tops. If you are short do wear heels or the looks goes wasted.
[Also Read: What To Wear Under Yoga Pants]
4. To wear a drapey pant look classy get your rest of the look right. Team it up with a casual tank top, a pair of gorgeous gladiators and a stylish tote. Layer it with a chambray or a denim jacket for heightened fashion appeal. However, if you line it up with a graphic tee and flip-flops onlookers would think you have come write from a pajama party! Not only would it look shabby people will contemplate that you have not even bothered to get dressed.
5. Drapey pants have the potential to add unnecessary bulk to the body and by countering it with the length you can annul the look of fullness. So if you are short, you will need to add some height to balance out the bloated look. A wedge or stack heel would be a great solution because they lengthen the body and nullify the fullness these pants bring.
[Also Read: Flared Pants Are Back With a Bang]
6. Though these wider cut pants offer enhanced comfort, but if you pair them with loose tunics to further enhance the comfort quotient or to hide your lumps. You are making a grave fashion mistake and might end up looking blobby! So add a waist belt to embrace ease but not cut out style. Adding a belt to the waist on the top of a loose cotton shirt can add a shape to your figure making you look more structured.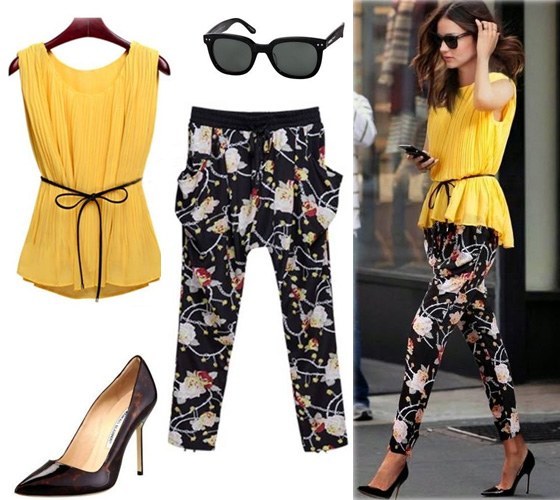 7. Don't let the bottom of the pant fold over or drape. If the pants are too lengthy hem them and add elastic banding so that they hit the ankle. The length should have a long, uninterrupted line with the hem still visible. This makes these drapey pants look good and stylish.
[sc:mediad]
8. By tucking or half-tucking your blouse or top enhance your drapey pant looks. Unlike the skinny jean which settles at the waist or navel, these drapey pant settle at the narrowest part of your natural waist. Wearing a blouse or top tucked in, with a slight drape, gives the hourglass shaped figure all die for.
9. Don't wear chunky shoes with these drapey pants but instead go for dainty sandals which look good and make you feel good too. Nice shoes like pencil heels and wedges add chic to the look and make you appear sensuous too.
10. Always remember to check out the back view. The higher waist creates a different look from the back. If you fear that you will look long bottomed, pair your drapey pant with a tucked blouse and a vest or blazer that goes below the waist to visually provide proper proportion to the your figure.
[Also Read: How to Wear Dhoti Pants This Summer]
Drapey pants are not just for casual outings. If you love the enhanced ease factor the pants offer you can comfortably style them for an evening meeting or even dinner dates. Instantly elevate the look of drapey pants with novel tops, stylish totes and chic wedges. Accessorize them right with hoops, stud earrings, statement neck-pieces and trendy waist belts. Voila! You are good to attend even fashion runways depending on the modifications you make and poise you carry them with!