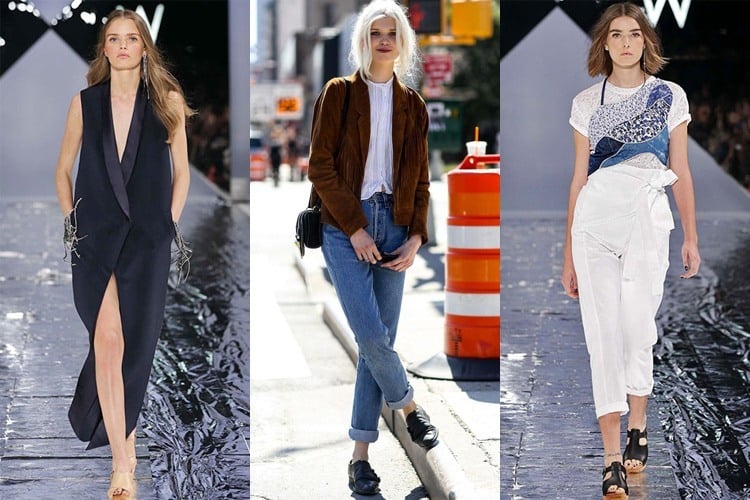 We've been talking a lot about the fashion weeks in India and the western counterparts, and not mentioning Australia as a prime hotspot for fashion- a sin committed. To seek inspiration and to make the streets of India a haute platform, we would today want to focus on chic trends from spring fashion 2016 Australia. Join us as we explore what the fashion weeks of spring fashion 2016 Australia have been all about; some trends which we think should make an easy entry into the Indian markets and soon!
[Also Read: Hair Color Trends For Spring 2016]
Delectable Australian Fashion Week 2016 Trends To Steal
The prêt-a-porter or ready to wear collection by eminent Australian designers seemed to have touched the hearts and souls of fashionistas worldwide. Keeping in mind the hot sunny and the extreme cold climes, spring is a season when Australia is in full bloom, making it apt for light colours to rule the fashion world.
Cut Out Tops With Monotone Themes
Ditch those boyfriend shorts for they no longer are needed, not when you have cut out tops with monotone themes for cover over your shirts.
Loose Flowing Knee Slit Jumpsuits
An all-white white ensemble can be a pretty affair to deal with, and especially when a combination of a jumpsuit and shirt tops meet. Perfect for the party season all through spring in India, an all white jumpsuit-white-shirt one piece combo couture is what you need!
Oversized Monochromes
While Mother Nature is resplendent in colours running amok, down under the scene is that of a balanced look. Monochromatic looks make a comeback for spring fashion 2016 Australia. This time though it's more on street style with a luxe touch- an oversized top in dark bluish grays with flare pants for the bottoms.
Scintillating Graphic Prints
Models showcased the collection of various eminent names wearing astounding graphic tops paired with solid colored pants, dress pants, skinnies and palazzos to the ankle.
Plunging Dark Necklines
Spring time and the summer breeze, they mix and call for relief. Plunging necklines too have come back with a furious daring touch, and you can pair them with almost anything you choose to dress in.
Maxi Styled Skirts Are Making a Comeback
A blast from the retro past, more on the lines of what we saw our leading ladies and celebrities wear during the 70s- maxi styled skirts in bold stripes and light hues are making a comeback.
Pin Striped Collar Shirts
The best thing about pin striped collar shirts is that they can be worn and paired with just about anything. From skinnies to dress pants, skirts to skorts, jeggings to leggings and even with an ethnic ensemble for that quirky touch- Australian fashion trends show us more.
Cuffed Denims
Cuffed denims rolled to the ankle, white shirts and suede summer jackets have been bombing the fashion scene around. Perfect for a casual coffee moment with the gal pals, this is a style that is laid back and so apt for the Indian lass who loves her coffee quite inhibited.
[Also Read: Spring And Summers 2016]
[sc:mediad]
Strappy Trench Coats
Spring is when there is still a nip in the air, and before the raging summers take over, one can opt for strappy light colored and light weight trench coats to dress up in.
Bold Printed Maxi Skirts
Bold printed maxi skirts with large embossments when paired with solid colored shirts make a delicious fashion sight.
Long Flowing Flimsy Printed Ensembles
With plenty of sheer and net in fabrics doing the rounds, designers stop at nothing to make a statement. The long printed flowing one piece maxi skirt with a cropped jacket does justice for the fashionista who likes to wear her attitude too cool.
As Seen At The Mercedes-Benz Australian Fashion Week 2016
Whites on blues, blues on black, jumpsuits, tracks, dress pants, cropped tops, strappy numbers et al, the MBAFW SS16 was a riot of mouthwatering styles and designs or the top most looks for us PYTs in India to be inspired about.
[Also Read: 2016 Fashion Trends With Minimalistic Fashion Ideas]
We hope these 2016 spring fashion trends from down under make it soon into the Indian domain, but if they don't, you could now use these Australian fashion trends for inspiration and brighten up the streets and towns!