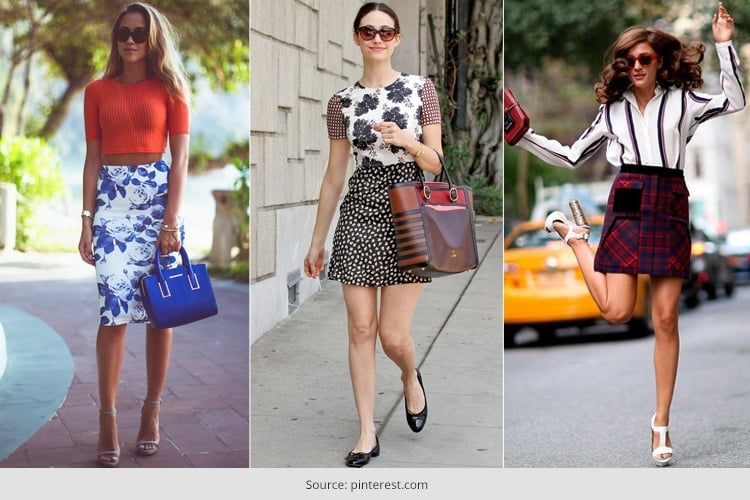 The woolens have been tucked away and the shawls dry cleaned and stored. It is now time for us to flaunt colors like never before. Prints, patterns, stripes and a myriad range of raging shades to commemorate the 80s and the 90s, when mix and match street fashion was the norm. Here is a couple of very trendy mix and match street fashion ideas for you to emulate keeping in mind the Indian climes, attitude and personalities.
[Also Read: Rules For Mixing and Matching Prints and Patterns]
Mix And Match Clothing For a Happy You
Says who Monday blues cannot be beaten at work? Well you can look a billion bucks wearing a printed scarf on the neck with a monotone fashionable garment. Become Meryl Street or Anna Wintour at work, and flaunt your bold yet monotone style with a leaf taken out of the mix and match street fashion trends.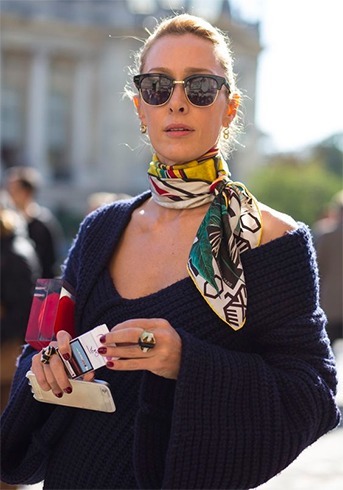 Off to the coffee date he's been calling you to? Here is a style that speaks of your sassy nature, with prints and psychedelic motifs to play with. What we love here is the blend of cool tone colors in printed floral touches and psychedelic motifs that blend well with the shades.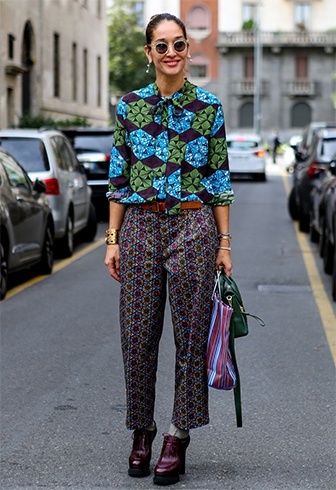 If it is still nippy where you stay, a horizontal striped long coat with block checked pants would be an haute fashion statement to make. Be the diva on the streets and grab more than just eyeballs, because, you never know who's silently watching your moves.
[Also Read: Italian Style Women's Fashion]

Girls night out this weekend and don't know what to wear, here's a cue from the mix and match clothing book of fashion, where a floral top with lace sleeves sits pretty with a polka dotted flair skirt. Heels for the feet are a must, along with a leather handbag in neutral tones.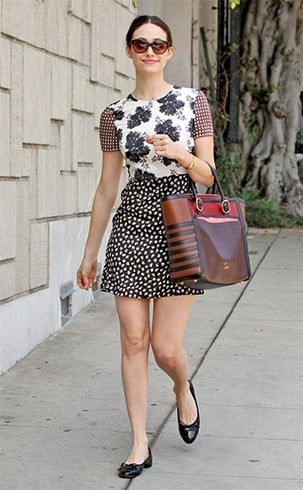 Polka dotted long tees with a short floral touched skirt can look as cool as a fashion mix when you know how to style it right. Dark shades for the eyes, a pink handbag and nude lace sandals for the feet make the look come as complete.
[Also Read: How to Wear Polka Dots]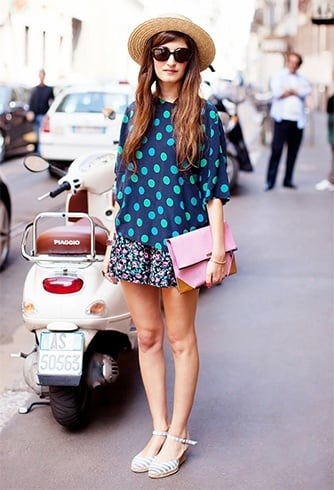 Power dressing at work with mix and match styles can be done too. A long sleeved round neck top in blue matched with jet black midi skirts and heels for the feet brings about an ooh la la touch for the office wear!
[sc:mediad]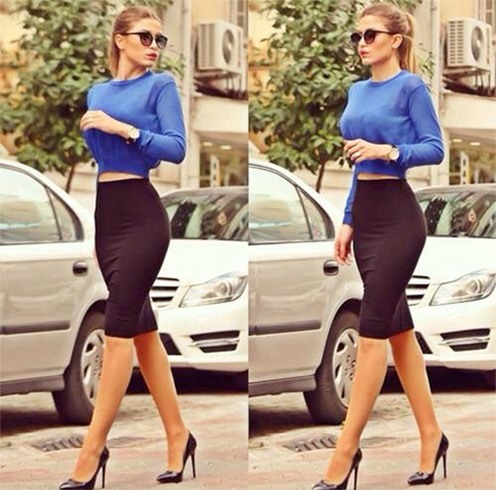 Printed long skirts with crisp shirts, a reminiscent of the days in the 80s; wear this look for an evening out with MIL or maybe with your friends, and you cannot but wait for the compliments to pour through. Quirk it up a bit with a long sling bag for company and chunky footwear!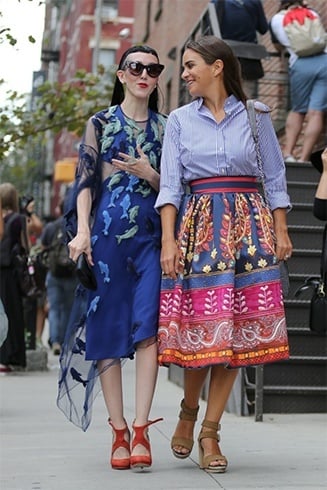 A floral toile shirt with a plaid midi skirt looks perfect for work and for play. You decide the look as to where you would want to flaunt the same, and wear it with confidence to make heads turn!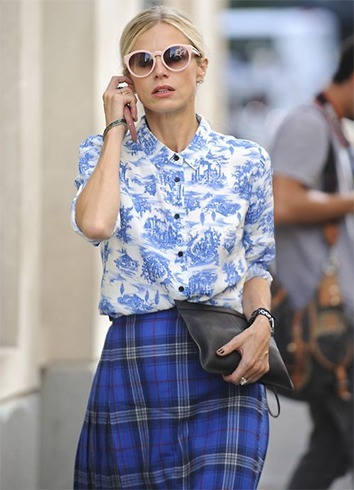 Floral flair skirts and a horizontal striped top, with a sling bag for company and heels for the feet; seems to be an apt and a very chic way to make a fashion statement when partying out with the girls over the weekend. Bar hoppers and pub lovers should make way for the diva!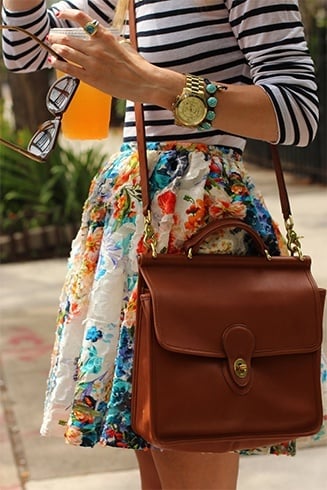 Striped and plaid mixes are the next best thing to fashion statements on the street it seems, across the globe. We can emulate the look for work on Fridays or maybe at client meets too; the choice is yours and you shall not go wrong with this statement.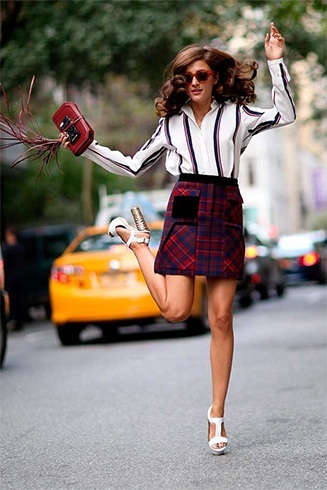 A little radiant touch for the office after work parties by the pool or on the beach is a must. This is why wearing a bright colored top with a floral midi skirt would be an apt way to flaunt a sassy yet seductive fashion statement.
[Also Read: Accessorize The Floral Dress]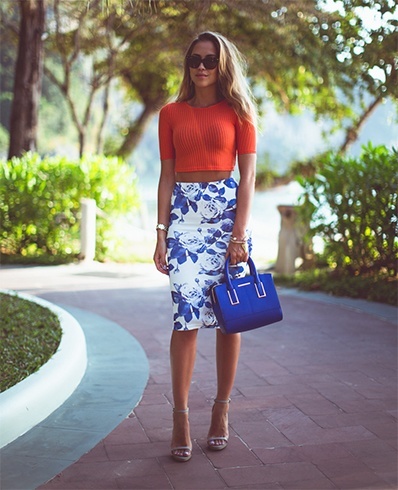 Off to attend and begin a new semester at college, you could wear a large printed top in warm tones with a plaid skirt to the ankles in cool tones. Heels for the feet are a must, but if you want more comfort while attending college, wear shoes, converse tracks or boots!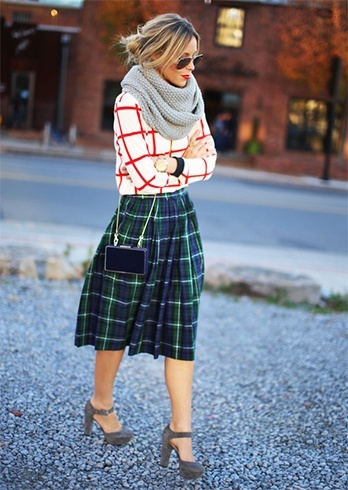 Be bold, quirky, and sassy and show your love for all things big with large circled patterns on the mini skirt, floral prints for the chunky top and a sassy bright long coat.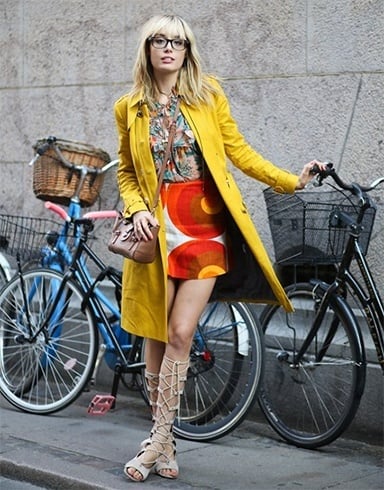 Did you love our mix match clothing ideas? Do send us your suggestions and comments on the various mix and match street fashion clothing we've shown, and share your inspirational talks too!