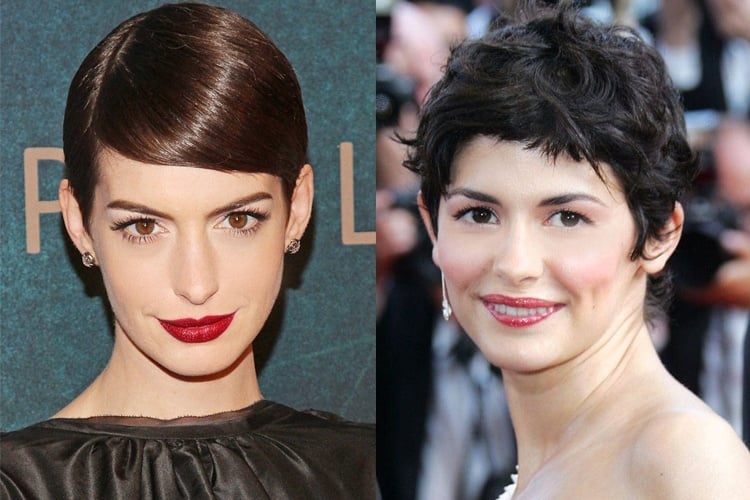 From Rihanna to Halle Berry, Emma Watson to our own bong beauty Swastika Mukherjee, our leading ladies across silver screen have shown us the haute trends of pixie hairdos and pixie haircuts.
[Also Read: How To Grow Out A Pixie]
Having said that, it is time for us ladies to think short, with our hair and to flaunt that videsi style with utmost Indian grace and charm!
Should you want a new look to flaunt for the festival season, check out the celebrities we have found who don the pixie haircuts with aplomb and utmost fashionable style. Here are your choices with the versatile pixie haircuts to choose from.
Hairstyles For Pixie Cuts
Pixie cuts have been a rage since the beginning of this year. You could also call it as the hairstyle of the year, as different and varied hairstyles for pixie cuts were seen flaunted by the celebrities, both, Hollywood and Bollywood.
Rihanna
Rihanna shows us how you could break away from the stereotype pixie haircuts, which mostly are worn as ruffled or spiked or maybe the side-sweep. Doll up in whatever you want this festive season, keeping the pixie look sleek and edgy!
Scarlet Johansson
Taking a cue from the messy and ruffled tones of the pixie hairdo, you could try having a soft touch to the out-of-bed look Quite short and not-so-in-place for a summerish feel this festive season. One of the best Pixie Haircuts, so easy to manage and as seen on celebrity Scarlet Johansson!
Michelle Williams
Subtle, sweet and the very boyish look brought forth, should you want a no-nonsense look and an easy to manage hairdo, the school-boy number for the locks this festive season is what you should opt for.
Anne Hathaway
Celebrity actress and human rights campaigner at the UN, Anne Hathaway shows us the true meaning of being sleek and trendy with short pixie hairdos, side-swept!
[Also Read: Celebrity Hair Disasters]
Emma Watson
Could we miss out on the famous pixie hairdo of Emma Watson? That would be a sin if we did, and the look is so manageable, making rushing to work on any given day, cakewalk!
Miley Cyrus
Miley may have sung and twerked around to make a statement, loud and clear. But what actually caught the fancy of many was her chic pixie hairdo! Try wearing the very androgyny hairdo, and match it with your Indian ethnic wear this Diwali!
Kelly Osborne
Spinning a yarn now and then, Kelly is always in the limelight and the news for every right fashionable reason. An epitome of woman power and sisterhood, she shows us how to wear one of the very daring hairstyles for pixie cuts – the yearn braided shaved look!
Keira Knightley
Keira keeps it glossy, short and with bangs falling over her forehead and the sides. A look that goes down very well with formal and semi-casual occasions, and can be paired with Indian wear to indo-western numbers too.
[sc:mediad]
Mia Farrow
We really can't put a finger on tagging this cute pixie hairdo, but Mia Farrow sure looks every bit innocent and sensual at the same time.
Katie Holmes
Like it short, set and sleek. Try the look on a side-swept note when dressing the hair the pixie way this festive season. Bright red lips, minimal makeup and a pixie set hairdo, make heads turn wherever you go!
Cindy Crawford
A very old archived picture we found, when Cindy Crawford (supermodel and celebrity actress) wore her pixie look to stun the world in the 90s. Seek inspiration from the same!
Beyonce
Beyonce wanted to know what it would be living like a boy, and she sang the song 'If I were a boy" to commemorate the same. Not stopping at that, Beyonce, known for her gorgeous blonde curls or sleek poker straight tresses, donned a pixie school boy look for one of her shoots!
[Also Read: Pretty Curly Hairstyles For Women]
Victoria Beckham
Victoria or Posh Spice shows us how to be elegant and the favorite of PAGE 3, with a simple black headband and a ruffled pixie hairdo!
Zendaya
Singer Zendaya on the red carpet at a Grammy Award Saga, made shutterbugs go berserk and bonkers not only because of her signature red lips and haute designer wear she sported at the event, but also because of a ravishing and very chic pixie cuts hairstyle she flaunted at the show!
Jennifer Hudson
Jennifer shows the girls from the hood and all over the world, what it means to be haute, hot, trendy and with real curves to flaunt, wearing one of the cutest pixie cut hairstyles ever!
Here were a couple of international celebrities showing us PYTs how to wear the pixie look this festival season. Should you have inspirations on Short Hairstyles for Women to share with us, do write in!