A floral dress is a reminder of cool summer breeze and fragrant spring blossom. A cute floral dress or a floral skirt or even a floral jacket is enough to make you look beautiful.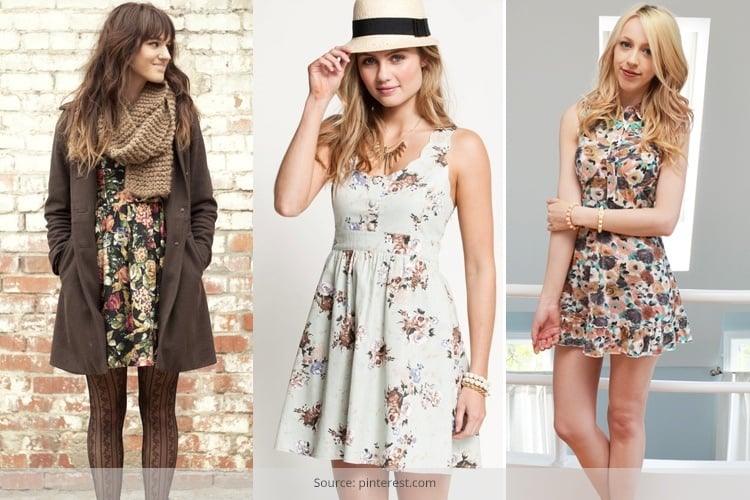 Floral print outfits are on its own so attractive that accessorizing a floral dress is a bit difficult. If you choose a lot of floral and colourful accessories, you can end up looking a big flower pot. Floral dress accessories should be very subtle and simple. The whole idea is to let the dress do all the talking.
[Also Read: Spring Fever 2016]
LET US SHARE WITH YOU SOME TRICKS ON HOW TO ACCESSORIZE FLORAL DRESS
Floral dresses are essence of feminine charm. If not many but at least there will be one floral outfit in a woman's wardrobe. From what kind of jewellery to wear with a floral dress to the right kind of shoes, it is necessary to know it all.
Check out some of the best accessories to wear with a floral outfit
What Jewelry to Wear With a Floral Dress – The Jewellery Dilemma:
Floral dresses are often very colourful and opting for colourful jewellery will overload your look. The definition for jewellery in case of a floral dress should be cute and delicate. Don't even think of wearing a statement jewellery piece, it will take away all the appeal of your wonderful dress. A simple chain with a pendant, which is again very delicate, looks wonderful. In most cases, silver colour will look alluring. For earrings also choose studs or small tops to complete the look.
You can add bracelets which are subtle and complementing the look. You might also decide on giving a miss to necklace or bracelet and simply wear drop earrings. The simpler your jewellery the more beautiful you look.
[Also Read: Go Crazy With Floral Accessories]
The Shoe Predicament
When you choose shoes for your floral dress refrain from wearing floral print shoes. Matching your shoes and your outfit is not a good idea altogether. We suggest you to opt for nude sandals, stilettos or wedges. If there is any colour in your outfit you want to match it with then choose a sober colour. Even a black or white shoe can also look good.
[sc:mediad]
When your floral outfit has light designs and colour, you can opt for similar kind of shoes but make sure that they are not too big or over covering your legs.
[Also Read: Floral Shoes In Every Style]
The Belt and The Baggage
Belt is an excellent accessory for short and medium length floral dresses. The belts need to be thin and striking. Mostly, the colour of your belt should be same as the prominent colour of your dress and the one which is used less in your dress. However, when your dress has only two colours you can opt for a totally different colour. For instance, a black and white floral dress can have a bold red belt.
The same formula applies to your handbags, clutches and purse. Go contrast till it does not make you look colourful. When you are confused regarding the colour of your dress then it makes sense to go for solid neutral colours like beige, black or blue. Even white is a perennial solution for any handbag conundrum.
These will be some of the best accessories to wear with a floral dress.
The Additional Accessories
A floral dress and a hat are like made for each other pair. Truly a beautiful ivory or light coloured hat looks fabulous on your floral dress. Apart from making a style statement, your hat will help you to shunt the harsh sun.
And how can we forget a scarf. When you wear a floral dress in winter, scarf becomes your must-have accessory. Be careful while choosing a scarf; scarf with a design or flower print is a big no-no. Opt for plain or self-designed ones for that elegant and chic look.
[Also Read: Floral Crowns For Every Occasion]
Improve your floral dress fashion quotient with these accessory ideas. Keep blooming and shinning in your floral dress…