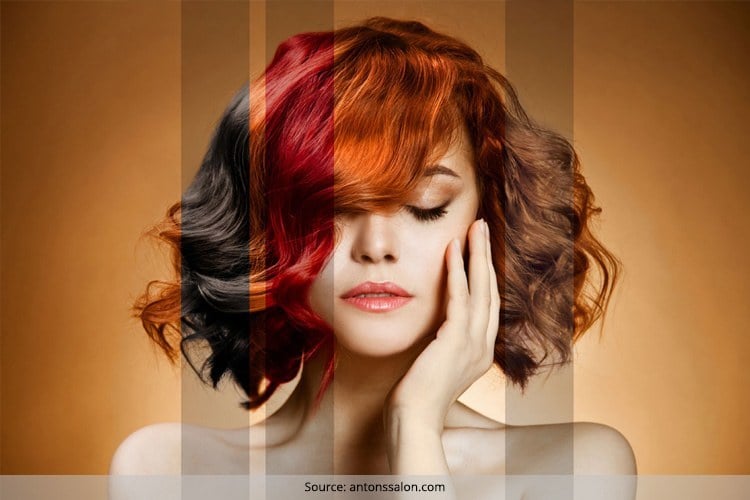 Before you rush to the parlor or DIY with hair colours, let's take a look at the hair color trends for spring 2016 wise, to be in vogue and to know the right from the wrong. Our aim to make the world a glamorous place, where lobster and carrot top hairdos aren't the norm, when it comes to colors for the hair.
[Also Read: 7 Instagramy Hair Color Ideas For Long Hair]
2016 Fall Hair Color Trends
Make a statement, unique and astounding with 2016 fall hair color trends, we would like to show you today. Take a look!
1. The Dip Dyed Hair Sagas
The saga of dip and dye has come through and this is the age where one doesn't want to go global or have streaks any longer. Hence dip-dye hairdos are in, with colours ranging from pinks to pretty purples, yellows to burnt orange and more, hair color trends spring 2016 couldn't have been better.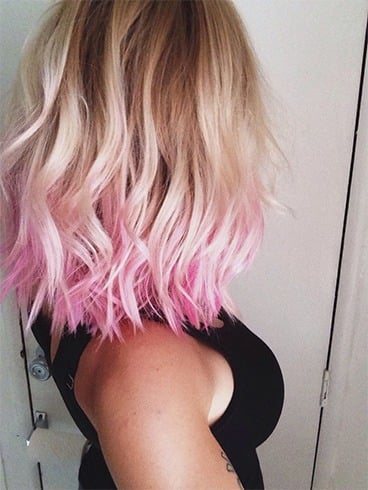 2. Purple And Black
Mystical and superfluous as well, the purple and black combo when it comes to coloring the hair can be worn at work or at play, sans the eyebrows being raised. A gentle touch of purple amidst the foliage of thick black hair, or maybe a flowing ombre touch of purple on the ends of the hair, is what 2016 shows us as a trend.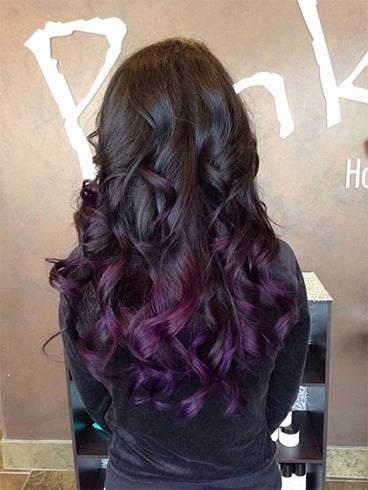 3. A Gentle Touch Of Baby Blue Right On The Ends
2016 seems to make it happen only through gentle baby touches, and this time with baby blue. Who wouldn't like a royal touch of blue on them, but when it comes to the hair, one needs to be meticulous about the shade- warmer skin tones work better with the blue 2016 fall hair color trends.
[Also Read: Granny Hair Trend]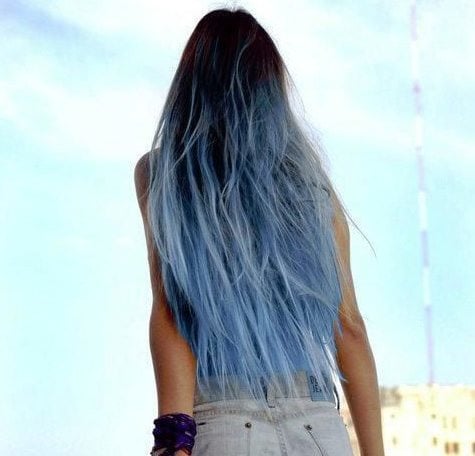 4. Go Bronde And Not Blonde
Bronde is the new blonde, blondes are passé. And this is a colour trend for the brunette to the redheads out there who want to make a splash with their new hair colour. A mix of bronze brown and copper red, your parlor lady would be best to inform you if it suits your cool skin tone or not.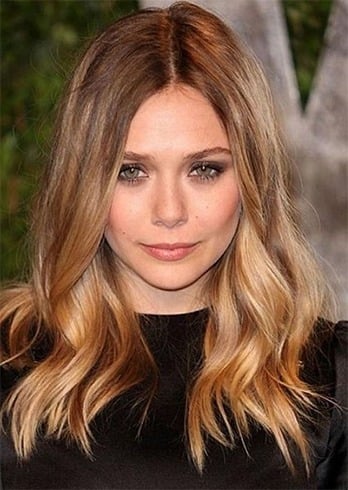 5. Ronze Is The New Bronze
Slight touches of deep royal blue to the ends of the long brown hair, creates the RONZE effect. Rihanna (celebrity singer) shows us how to best wear your hair the RONZE way. Not too much of fanfare, but noticeable no doubt when the subject is close enough.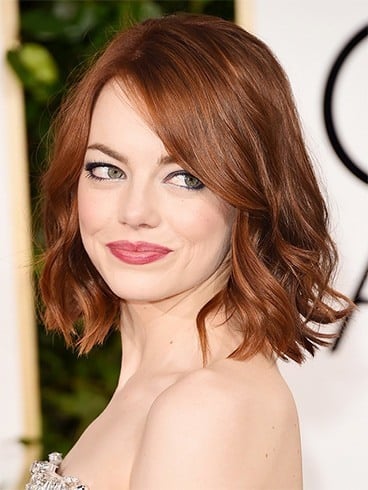 6. Warm Amber Tones
For girls with natural brunette hair and tan skin, warm amber tones are the in-thing for 2016. Skin tone complimented, bringing in the glow is as easy as baking an apple pie using warm amber tones.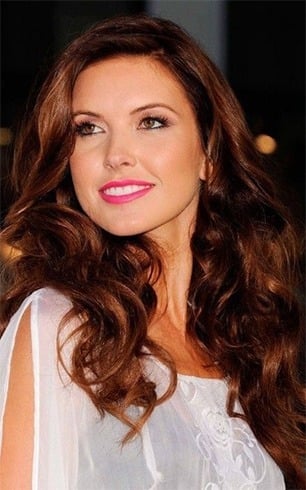 7. Babylights For 2016
Heard of highlights? Let's say that's a trend gone away, so now we have BABYLIGHTS ruling the spring 2016 hair color trends chart. Fine strands of hair are taken and wrapped in a mesh, and colours ranging from red wines to copper bronze, pinks to yellows or even the black on gray tones are used for a multi-dimensional look.
[Also Read: Ideas For Hair Color]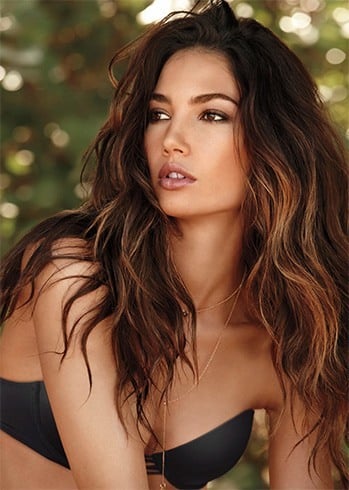 [sc:mediad]
8. The Butterscotch Blonde Underside
For girls with dark long hair of any shade, a tone lower to that would be a trendy way to colour the undersides! Brown with butterscotch blonde shades for example is one of the many ways to glam up in 2016.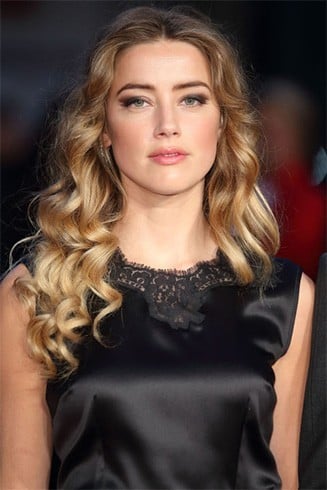 9. The Bright Underside Tones
Glam it up much on the same lines as the butterscotch blonde underside, but this time with a twist of colours shiny and bright.
[Also Read: Temporary Ways to Color Your Hair]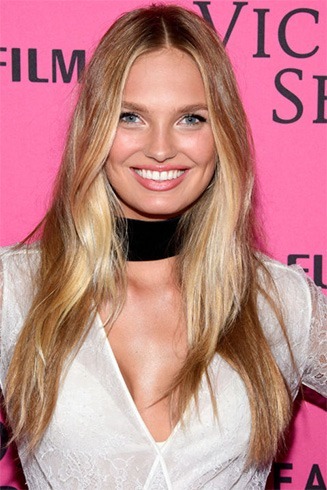 10. Violet Blacks
You don't have to be MARGE SIMPSON to sport this one, but the violet blackish blue hair is a rage for 2016 already. The look is subtle but not as a global one, rather as a underside or an ombre feel.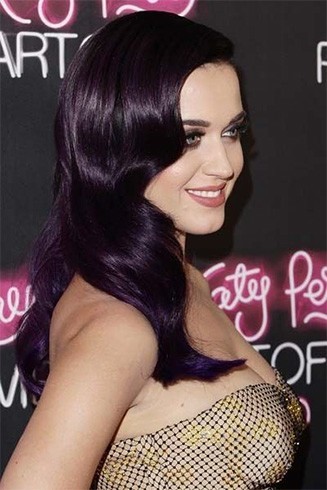 11. Bronze Ombre
If you are not really into high maintenance hues, then you could try out the bronze ombre which is essentially selecting two or three lighter colors with your natural dark shade. Make sure the dark strands are in the middle and the lighter ones are around the face and on the ends. This is an ideal hair color idea for long hair.
http://ell.h-cdn.co/assets/16/16/480×571/gallery-1460990630-gettyimages-512777906.jpg
12.Smokey Lilac
If you fancy a mysterious, unnatural shade then this hair color trend 2016 is worth a try. The hair color starts off from a deep grayish purple and winds down to a foggy lavender. Termed as the smokey lilac hair color, this will definitely add an aura of mystery to your look.
http://ghk.h-cdn.co/assets/16/26/480×577/gallery-1467306846-smoky-lilac-hair-color.png
13.Watermelon Hair
This hair color idea is sure to get you all excited. Go bold and color your hair in the shades of a watermelon. Combine the green and pink colors aesthetically and show the world some watermelon love. This is an ideal hair color idea for short hair as well as long hair. So try it out and prepare for all the head turns!
http://ghk.h-cdn.co/assets/16/23/480×476/gallery-1465313422-screen-shot-2016-06-07-at-113010-am.png
14.Rose Gold
This hair color trend 2016 is already a massive hit on Instagram and would be the perfect color to flaunt during the vibrant spring time. A combination of red, pink and blonde, it gives off a very shimmery look thereby replacing your need for any blingy accessories. With a lot of celebs like Emma Roberts flaunting this hair color, it should be added in your bucket list too.
http://ghk.h-cdn.co/assets/16/16/480×540/gallery-1461273064-rose-gold-hair.jpg
15.Vibrant Auburn
Isn't spring all about showing off your vibrant side – be it clothes, accessories or your hair color! Check out how elegant and stylish Emma Stone looks while showing off her vibrant auburn hair color. This hair color idea for short hair will surely cause a ripple and if you want to bring your A game, then this is the ideal hair color for you.
http://cos.h-cdn.co/assets/15/07/480×720/cos-spring-hair-color-trends-emma-stone.jpg
Here were 15 of the many Hair Color Ideas for 2016 that we found for you and which were being talked about a lot. We would still encourage you to speak to your parlor lady for the best Hair Color Ideas for 2016 and do a small patch test to see what the outcome would be like.
Happy coloring!