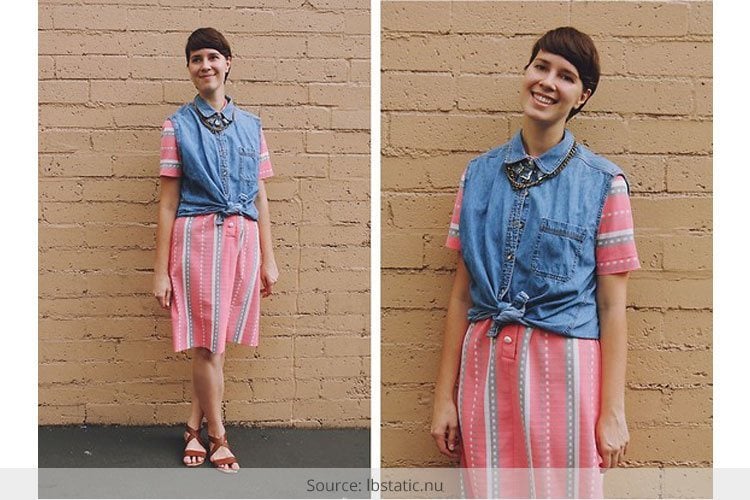 Summers are finally upon us and how! This scorching heat calls for just making shorts and tees our staples, but hang in there. Because today, we are going to tell you how you can ace the art of tailored vests and statement jackets while keeping in tune with season's temperature changes. And no, we are not talking about feeling hot ideas, but looking hotter ones. Excited already? Come on board…
[Also Read: Summer Dressing Styles for Office]
1. Nude heels, skinnies and a white tee
All of us for sure would have white crop tops or tees, a pair of skinny denims and boots at home. It's time to play magical Godmother for yourself. Grab an overall flimsy coat made of sheer or cotton as well. Pair your skinnies with the white crop top, and slip into those boots- we prefer ankle length boots for the kick-ass touch. If the climes allow, throw on an oversized flimsy coat or a shirt in sheer for cover. A statement necklace to add a little bling and glamour too, while allowing your hair loose for the summer-evening breeze as well- you are ready to hit the evening out with your girls!
2. The wonders of a camisole top with a black skirt and feather earrings
Just invited for a friends birthday bash and you now are wondering what to wear? Let's take a look at the wardrobe, shall we. Most of us would have something smart and formal, considering the workforce clothing etiquette we follow these days. A camisole top with a black skirt, and if the climes allow, a structured coat in a light colour would be perfect. Do dress the neck with a statement neckpiece and the ears with something rustic and nice. Complete the look with black pumps!
[Also Read: Summer Fashion – Get Your Wardrobe Summer-Ready!]
3. On a date with him tonight
Finally he's asked you out, and as usual has left you with no time to decide on what to wear. Worry not, look into the wardrobe and pull out the East Asian-inspired trend look, where you can liberally mix textures and colours. Layer a tibral-print kimono jacket over a knit skirt and crop top combination. Keep the rest of the out outfit minimalistic by carrying a cross-body satchel or a nice chunky purse, and wear your heels to add to the oomph factor.
[sc:mediad]
4. Attending your friend's baby shower
Baby showers are fun events, where the mother-to-be and her besties have a gala time. But this also leaves you wondering what to wear to a baby shower ceremony. There is plenty of food and drinks doing the rounds, and everyone would be dressed their best. With the climes too hot outside, you need to be comfy, cool and sexy too. A printed floral half-sleeve top with shrug on and denims and flat sandals for the feet- very minimal and easily found in any wardrobe does the trick. Doll up the ears with chandelier earrings or chunky studs!
5. Summer pool parties
Pool parties are fun and for that you don't necessarily need to shed your clothes- should you choose not to wear a two piece bikini. Here's a style right out from your wardrobe to indulge in. Denim shorts, a white low neck tee and a flimsy floral shirt for cover- sassy and cool you'd look, while others burn under the sun baring it all!
[Also Read: How to Wear a Camisole]
Do you have your own ideas on how to doll up even when you want to try layerings for summers? We are all ears. Hit us up in the comments section below.