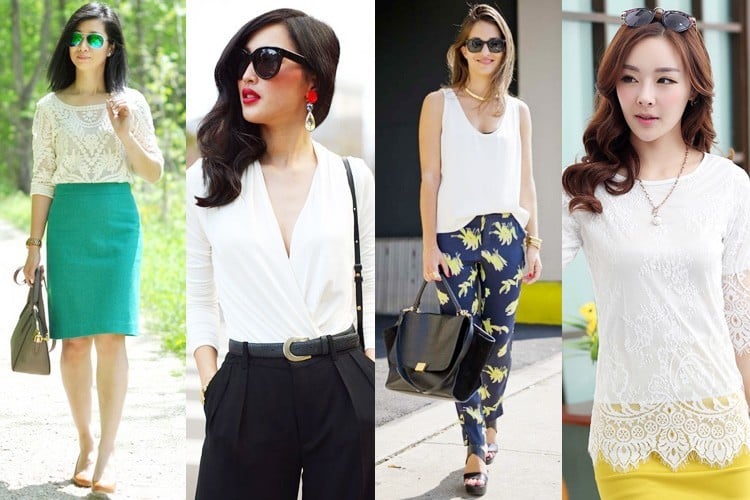 The sun is at its full blast. And there are simmering temperatures and uncomfortable days making life miserable. Does that hint a sorry figure for us at office? How can that be when there is a world of summer dressing styles waiting to be worn to the boardroom?
Let's shake up the 9-to-5 dress code in a unique way without compromising on style or comfort. Start thinking lightweight fabrics, printed pants and breezy silhouettes and see how you do the mundane jobs in style. Here we go reinventing Monday to Friday dressing that will help you put the best show at work.
[Also Read: How to Wear Dhoti Pants This Summer]
The Classic Look
It might look boring after some time but you can spruce it up by wearing a statement piece to add some pop of fun. Shoes, minimal jewellery, lips, watch and nails are all there to make your accessories shine through Monday blues.
The Sophisticated Look
This is relatively easy to go about. But you need to be trained in looking so. Enjoy fashion at its best and try to wear a statement piece at least that will make the impact. Super sexy heels, fashion blingy, classy pencil skirts and hats, leather, denim all of these will make you look a styled connoisseur. So by all means put on the fun quotient but in a measured way.
[Also Read: Summer Fashion – Get Your Wardrobe Summer-Ready]
The Casual Business Look
This one is about looking easy and versatile. Make your favourite pair of jeans or pencil skirt stand out with heels and an equally smart feminine top (it can vary from a silky blouse to a structured top), a blazer and a formal bag. Try not to look too much of business straight. Instead go play with fashion accessories such as shoes and bags depending on your job position.
Glamorous and Precise
This is a look for all you sexy women who rule the world in business matters. Choose bright lips, fabulously high heels and outfits that can last from 9 am to dinner cocktails. Go flaunt your costly perfumes, long trousers, statement gold necklace, luxe brands in watches, silky blouses and massive bags.
[Also Read: How to Dress This Summer – Summer Style Tips]
Pastels and Neutrals
Okay, summer is about sunshine and excess of it, but that shouldn't rub you of your brightest brights for work. Think neutrals (such as ivory, blush or gray) which would look chic, cool and clap-worthy in sweltering heat.
Chic it Is
Be street style-worthy. After all you are working in a professional cadre. Take the liberty to combine different style items. Experimentation with shapes and looks is a must-must. No harm wearing the heels, but don't shy away from wearing oxfords too.
[sc:mediad]
Edgy is appropriate
Go about adding a slight edge to any look you wish to sport and get away with it. This kind of style goes well with people who are in the creative department and have less of strict office attire to follow. This means you can announce your personality through boots, T-shirts, darker lips, nail-art. Just mix and match and it should be good to go!
Florals
Florals happen to be the best summertime staple for work wear. With options ranging from subtle to bright and bold, they add the zest and flexibility to your office attire.
Variety is in Colour
With summers around, it's time to bring out your boldest and most neon attire.
Bold is In
If you have had your fill of florals, then switch over to bright prints. Tribal is in as much as abstract. So stick to the classics such as shift dress or for that matter a pencil skirt and you will be good at being office appropriate!
Pattern Mixing
Mixing patterns helps you put up a new trendy face. This summer enjoy brighter and bolder patterns standing out on your fair skin. There are stripes, paisleys and polka dots to carry you through.
Here's hoping you are ready to face summer work days in absolute style and panache. Happy summer dressing!