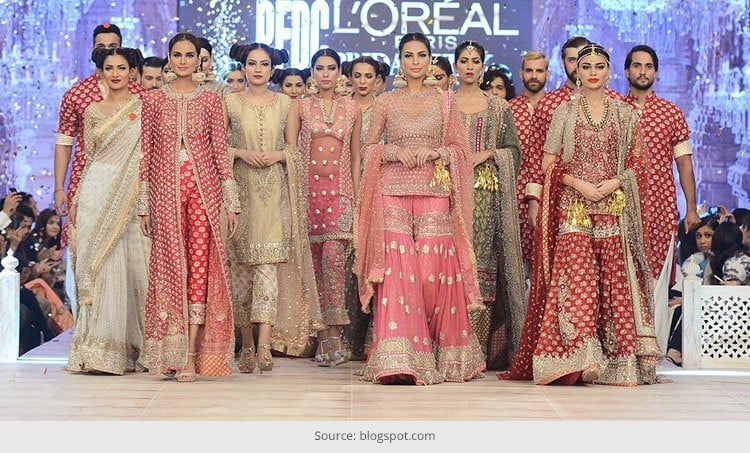 In the recent past, the fashion map of the globe has changed and now we have our equally fashionable neighbours making waves into the international fashion forums. Inroads are being made and the ramps abroad are burning with designs and accessories from Pakistan. There is a huge appeal for such fashion by international clientele across globe. Indian designers should take a cue from their Pakistani counterparts, especially to know how our neighbors have successfully climbed up the ladder. Here are 5 things we can learn from Pakistani Designers and their uber trendy fashion sense.
[Also Read:Pakistani Bridal Fashion Ideas That You Could Try]
Fifty Shades of Blingy Gold
Pakistani designers are going all out while breaking away from the conventional design norms. One gets to see the revival of infused designs bringing in a change, showcasing the heritage and cultural aspects of Pakistan. The patterns in gold zardozi used feely by the designers undoubtedly are attractive and unique, bright and tantalizing yet the prêt-a-porter niche. One cannot help but gauge at the how modern hemlines were flaunted, designers brought out short kurtas, a range of palazzo pants, gota patti along with metallic sequins and unique thread work ruled the ramps. Colours such as greens, blues, champagne, beige and cream ruled the ramp at the fashion week.
Value Added Garments: Nailing the East Meets West Fusion
Clients can be from any part of the globe, and in order to sell what one makes, designers from India need to dole out accessibility for their products. Value added garments are what the designers from Pakistan make to woo the world, not just the quintessential ghararas as one would imagine them to stitch. Pakistan fashionistas prefer the ramps to be flooded with western and the east meets west fusion. The embellishments too are not just traditional, but with a touch of westernization as well, which makes exports grow in leap and bounds. Hot favorites such as the Maang Tikaa and even the super-trendy yet ethnic Pasas and round Jhoomars made a splash. For men, there were chokers along with embellishments on the turbans and more.
[Also Read: Pakistani Ethnic Trends]
The Riot of Colours and Straight-Line Finesse
Pakistan fashion designers have realized that looking below the surface makes good business sense. Tapping the rage and love of fashion inspired by art, culture, heritage etc, Pakitani designers master the art of presenting luxurious yet affordable clothing, and mostly wearable semi-formal and formal clothes. Even the chic trends this time by eminent designers from Pakistan showed off clothes and embellishments with ornaments, semi-precious stones, fine needle work and all of which brought a welcome change than to have a stereotypical 'eastern wear' in many shades, colours, styles and lengths strutting the ramp. Red as in the past didn't come out as a ruler this time, what did were other titillating colours for both genders, blues and greens especially. Designers focused on soft corners and well-defined cuts. They also brought about a dance of contrasting effects on the ramp, more than what was seen before.
[sc:mediad]
Tint of Innovation for the Globalised Men's Wear
Innovative designs and uber trendy creations made noise on the ramps, and the Pakistani fashion designers stole many hearts as well. The energy was strong and there was something very different this time, especially looking at the menswear and clothes for the uber trendy globalised male. With discipline and hard lessons learnt in the past, the designers from across the borders made clothes and garments fit for men and women of all age groups, not forgetting to bring in an amalgamation of ideas to the ramp too, and that was seen as well! Designer brought in a new lease of life in men fashion by showcasing a lot of longs sherwani capes, Bolero-styles, poncho jackets and collared blazers too.
[Also Read: Pakistani Style Salwar Suits]
Transition to Khaadi
The ramps abroad this time were flooded with 'khaadi' creations, and the platform was just right to burn and showoff. Pakistani fashion designers are very true and genuine in their creations using khaadi in many designs and forms. Blending and mixing chic accessories and embellishments with old world charm of khadi was the name of the game. Volumes and more of it, the material use was transparent and flowing. Exotica was at its best with gorgeous fabrics and embellishments thrown in.
The fashion scene in Pakistan has changed for the better and the designers from across the border are surely going places. Indian designers now have to pull up their socks and take note; either share best practices or up the ante, before fading into oblivion while the ramps burn around.