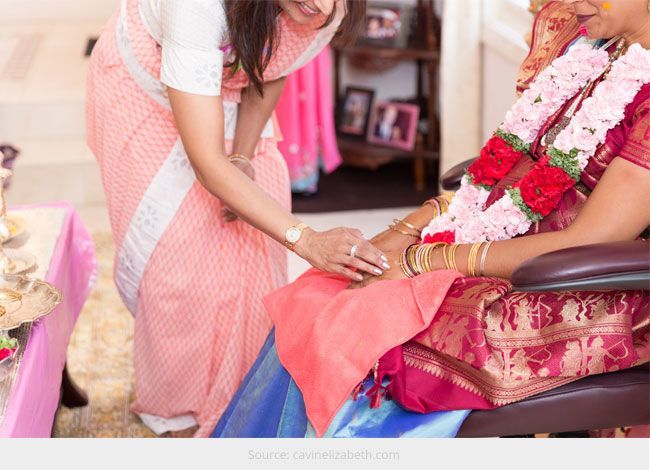 The occasion of Baby shower is a hot favourite, and the news of soon-to-be-born family member keeps up the family in high spirits. By tradition, it is held for the well being of the expecting mother and her child – in expectancy of the to-be-mom giving birth to a healthy baby. The Indian baby shower function is splendid and holds a lot of significance in Indian culture. Relatives and friends adorn themselves with jewellery and expensive clothes, put mehndi (henna) on their hands and sing and dance on traditional songs.
Traditionally, it is celebrated only by women. The mommy-to-be is adorned with jewellery, bangles, etc. and her lap is filled with gifts, fruits and sweets. In some family, the expecting mommy-to-be is daubed with special oils by the elderly women in the family. She is then dressed up in a special saree or lehenga and adorned with flower garlands. A puja is performed before the celebrations begin. The ceremony is celebrated with full enthusiasm, filled with singing, dancing and a fair amount of teasing and fun. Guests gets engaged in games such as guessing the gender of the baby by the size and shape of the pregnant mother's belly or creating a names list for the baby.
What to Wear to a Baby Shower
Baby shower ceremony is a memorable day, one that would be cherished for years to come. So make sure to dress appropriately for the occasion and the season, without compromising on your comfort. If you are wondering what to wear to your baby shower, here are some latest baby shower fashion tips and styles you need to know.
Dressing tips for baby shower
Wear clothes according to the weather and your health. You should select outfit like saree, lehenga or salwar kameez for the occasion, according to the weather. Heavily embroidered brocades or silks can prove to be very uncomfortable and should be avoided during the peak summer. If it is cold, wear enough to keep yourself warm.
Choose a light-weight fabric and avoid anything too heavy, as you will have to wear it for a considerable amount of time. Think about your comfort first.
Try not to wear too much jewellery or hair accessories or anything which pinches or makes you uncomfortable.
Having a theme for baby shower could be fun and interesting; it's up to you to opt for traditional or modern theme.
Do not go for high heels as they can leave you with lot of pain by the end of the function. Make sure that you pick up nice elegant flats that complement your outfit. Keep them simple which can look wonderful on your pedicured feet.
If it's a day ceremony then you can wear bright coloured and floral printed outfits. And for an evening occasion, you can wear dark and intense shades.
An auspicious colour like shades of red or yellow is considered good. But nowadays, you can try pastel and candy colours like orange and peach too.
Add an elegant accessory to the look such as – waist belt, hand harness etc.
Latest Indian wear for Baby shower
Baby shower is a big function for a to-be mother, and dressing up is a part of it, since you will be the guest of honour. Check out some of the interesting maternity fashion tips to follow on this special occasion.
Traditional and modern twisted outfits
Usually a sari or lehenga is chosen as an easy option for maternity wear. But nowadays, the availability of ethnic baby shower maternity dresses and custom sized clothing opens a variety of options for baby shower. So, let us look at what to wear to a baby shower.
[sc:mediad]
1) Sarees and Lehengas
Saree is the traditional dress of India, and there is no doubt, it makes for a perfect and classic choice for the occasion of baby shower. India is a mine for sarees; so many different states contribute to high quality unique sarees. Here's the list of few classic traditional saris perfect for baby shower:
Phulkari embroidered Saree
Bandej with Zardozi embroidered Saree
Banarasi Brocade Saree
Kanjeevaram Saree
Lehenga is the most demanded outfit. This astounding dress enhances the beauty and elegance. Lehengas are available in different style and patterns to go right with the body type. Light weight georgette lehenga is ideal for the occasion of baby shower. You can drape dupatta in different ways – like half sari, v-pallu or bong style.
2) Gharchola
The classic Gharchola is back in fashion. It is made in Red color, embellished with yellow and white dots, and is 5.5 metres in length & 46 inches in width. This saree makes any ritual for that matter, a scenic and picturesque occasion. You can get your original sari re-done into a more modern gharchola, or for more traditional look you can buy one. Bhandani work is the traditional design for these ceremonies, and is typically worn by the family. You can also choose vibrant colours and something more modern like draping a full net sari with a fancy, shiny chaniyo (under skirt) in a gharchola style.
3) Pakistani Suits and Anarkalis
Pakistani style salwar suits are not detained to a particular fashion style. The variety of cuts, lengths and material only add to the versatility of wearing such outfit. There is option of wearing anarkali suit with bell sleeves and a cinched waist or a fully embroidered loose fitted long kurta with salwar pants, to give it a casual, more roomy and comfortable look, while keeping the traditional charm. Also the pants have different lengths – above the ankle length, or flared ankles with a cut. You can also choose more comfortable option of palazzo. Add a modern embroidered jacket for the winter season.