What can be the most challenging job for an urban mom-to-be, besides looking after herself and the growing new life inside her womb? Maternity fashion, I would say.
Pregnancy can be a test at times because the woman is faced with a tricky question on how to conceal her bump.
Gone are the days when preggies had to hide their bump. In today's context, they are very much showing it with pride. Would loose boho dresses be good or should she flaunt her pride through form-fitting clothes? What dresses should be worn for evening wear? How impressive are plus size maternity clothes? Are there any designer maternity clothes apart from cute maternity clothes? So you see, the trend shift in maternity wear is making it all the more exciting.
Maternity Fashion Tips Listed Below
I would say the shortest and easiest way to get inspired is read the maternity fashion tips listed below. This way, you will be able to get a fresh perspective of trendy maternity clothes, fashionable maternity wear and maternity party wear.
Asymmetrical Hemlines
The high-low look has made its impact on the fashion streets to runways. And you thought it was not to be as far as trendy maternity wear goes? Nah!
The easy-breezy look one gets by sporting asymmetrical hemlines is a sort of high as far as stylish maternity clothes go.
Considering the shorter hemline in the front, it gives your tummy far more room to rest and breathe, which is the need of the hour. And when you pair it with leggings and booties, you are sure to make maternity fashion look admirable in every way.
Color Blocking
An expression of trendy maternity clothes, color blocking is the go-to fashion code for preggie women. Make sure you don't grab any color blocking item. Instead, look around for tops where the color change you seek is higher up on the body rather than the lower which shows the larger part of your bump. Let the top take center-stage, while you keep the rest of your attire simple.
[sc:mediad]
Chunky Accessories
If you want to divert attention from your bulging stomach, put on a flashy bold necklace. A thick gold chain or bright statement piece will help you put on a casual look as a part of maternity fashion tips.
A Belt On Your Bump
Often during pregnancy, moms-to-be feel their waistline getting disappeared. You can still create the illusion of a waist by putting a thin belt over your dress, above your belly. This will help showcase your lovely bump. But make sure the belt isn't so close that it makes you panting for air.
[Also Read: Summer Pregnancy Outfit Ideas]
Wearing Black Head-to-Toe
In the midst of third trimester, pregnant ladies would surely want to conceal their baby bump. And choosing black as the colour of dressing from head to toe helps. Given the black, if you are feeling too dark, grab a bright colored clutch to break the black monotony.
Looking Casual Helps
On the weekends, put on a comfy t-shirt and skinny jeans. In winters, match it with an infinity scarf. Make sure that the circle scarf stays higher on your neck and doesn't end up adding a layer on your belly. Go for a lighter fabric
Stick To Stripes
Horizontal stripes are a hit when it comes to maternity fashion. So choose a wider stripe before showing off your belly.
Layer It Up
Whether it is a flowing cape or an open button-up trench coat, it shows trendy maternity wear in full bloom.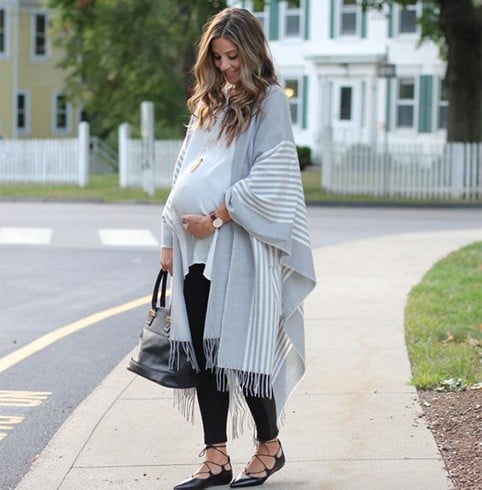 Jumpsuit Time
Talk of designer maternity clothes and the biggest trend which makes fashionable maternity wear is the jumpsuit. With the loose fit around the mid section a la Kim Kardashian style, it will make you look feeling amazing day and night.
[Also Read: Maternity Fashion]
I hope you were impressed with the maternity fashion tips. Feel free to share and add your views on trendy maternity clothes.