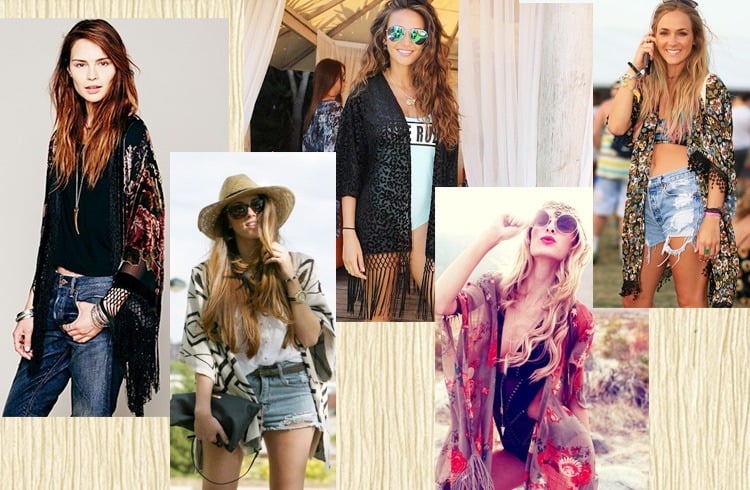 No, it's not the conventional kurta pyjama, skirt or capris that we are talking of when it comes to summer fashion for girls. It's something cooler and lighter than a denim jacket. It's chicer and casual than a blazer and it works all day long. Moreover, it's super to carry it in a suitcase when you want to go for a holiday break.
It's Kimono – one of the hottest looks to wear this summer season.
Kimonos come in various lengths and designs and can be worn with almost any attire of yours. It is also the best outfit accessory to wear when you feel like flaunting something on your shoulders. Call it a loose fitting garment; kimono is a must-have for the sun seeking girls.
Kimonos are about versatility as they can be worn as a jacket, a lightweight cover up, over a pencil skirt, over jeans or a pair of shorts.
How to rock in a Kimono?
Like we said earlier, a kimono is a loose fitting garment that's virtually a 'throw on' over your shoulders. There is no need to tie it, pin tuck it, or do anything in the conventional dressing style.
This is one reason why kimonos look best when worn over shorts, skirts, tank tops, swimsuits, or for that matter anything that you want to go and rock in on a summer night or day. Just drape it as a cover up if you have slender shoulders or slim figures. In short, kimono brings a bit of retro style and colour to the otherwise boring way of dressing up.
Kimono styles for the fashion Lass
Feminine and romantic, kimonos come in a wide range of styles. They can either be floral or leopard in print, cropped to floor-length in size and can work with virtually any outfit.
Look
Kimono is just apt for giving you a boho look and feel. Just dress as simply as you can – plain shorts, paired with an ordinary crop top. Then throw over a floral kimono and bingo you rock! If you want to add some fancy, then go ahead and wear chunky bracelets or mono rings. This look would be kinda perfect for a rock festival or even when you want to go street shopping in the lanes and bylanes of flea markets.
[Also Read: The Bohemian Style Trend]
[sc:mediad]
Pool Party
Now get ready to put some fire in a resort pool when you dress up in kimonos. This look is apt for the pool or beach, whichever. Wrap your kimono over your swimsuit after you've taken a dip in the pool. The best part about it is that it helps in minimising sunburn too.
Celebrate the Length
Kimonos come in a wide variety of options – cropped, mid-length to full length. So depending on the mood and occasion, you can turn your average outfit into a spectacular one.
[Also Read: How To Wear Kimono]
A long kimono is best for tall girls. If you are short in length, then wear a pair of heels as cheat sheet.
Garment Pairing of Kimono
Kimonos make a lovely topper when teamed up with wardrobe musts. Check out some.
With Jeans
When paired with skinny jeans, kimono gives a dressier and more polished look. Wear it to get a 70s style.
With Skirt
This sounds interesting as a kimono is a turn on when paired with pencil skirt. You can also wear a long kimono with a maxi skirt.
With Leggings
It's a great pairing between a kimono and shiny black leggings. Try them out.
[Also Read: How to wear Black Leggings]
Now give the kimono a go-ahead. It is pretty fabulous, attention-seeking and every bit contemporary. Throw them over your sexy shorts, or layer it up over a dress to enjoy a laid-back evening look. Kimono is the perfect staple for summer wardrobe. Wear it or gift it!