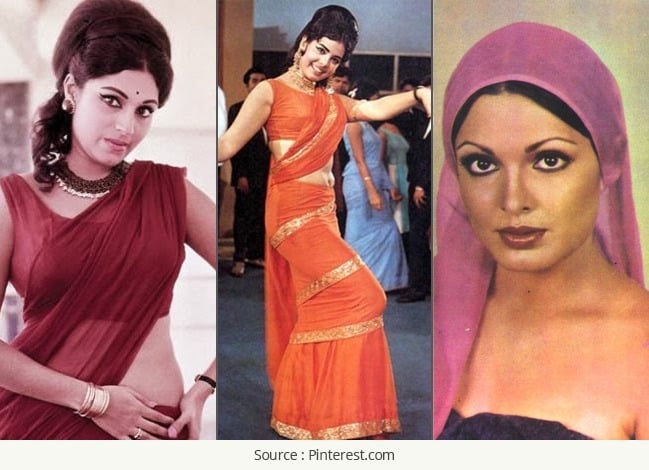 Bollywood in 70's was all about retro! With the movies like "Hare Rama Hare Krishna", "Trishul", "Maha Chor", "Yaadon Ki Baraat" promoted the retro look, which later became a rage among girls to slip into one. Bell-bottoms, bouffant retro hairstyles, over-sized glasses, fitted suits and bandanas were some of the popular trends in the 1970's.  But who got these trends popular in Bollywood?
[Also Read: Victorian Era Fashion]
Fashion Lady lists down the top five Bollywood fashionistas of 70's.
1. Zeenat Aman
Former "Miss Asia Pacific", Zeenat Aman changed the rules of how the Bollywood actresses used to be conservatively dressed through brave costuming in her films. Beside actresses cladding in sarees, imposing a good woman look, Zeenat went on to wear deep 'V' necklines and bold silhouettes like her long, slit skirts. She was the one who started the trend for beauty pageants winners to choose Bollywood films as their next step of fame.
Zeenat Aman is best known for her role in "Satyam Shivam Sundaram", however her 'hippies' role in "Hare Rama Hare Krishna" and free-spirited act in "Yaadon Ki Baraat" defined a new rebellious idea of woman with western values in Bollywood.
She also popularized headgears like the contrasting one she wore in "Ali Baba Aur Chalis Chor". Bandanas was her favourite accessory, which added quirkiness to her looks. She also liked to wear it off screen. Her headband in the film "Samraat" added a charm to her evening gown. Women started following her style after the release of the film.
2. Parveen Babi
The bold, the beautiful and the bohemian was the how her fans used to describe her. Parveen Babi used to be considered one of the most glamorous actress of 70s.  Her voluptuous curves and long silky hairs won her many male admirers. She too loved to spoke bandanas with élan and played a major role in popularizing the look among Indian females. In the movie "Aahutee", she first pepped up her sequined look with the help of bandana as an accessory.
Since 70's was an era when actresses were not too comfortable with the skin show, the heroines like Zeenat Aman, Parveen Babi and Sharmila Tagore went on to don bikini on the screen. Likewise, Parveen Babi happened to become an overnight sensation with her bikini number in the film "Yeh Nazdeekiyan".
According to Wikipedia, designer Manish Malhotra says –
Parveen Babi brought minimalism into fashion. She was always impeccable, not overdoing it even once.
Parveen delivered a number of hit films like Deewar, Namak Halal, Amar Akbar Anthony and Shaan etc. but it was her films like "Mr. Aashiq Mera Naam" and "Razia Sultan" that got her into the limelight in the fashion industry and shimmering traditional accessories got ever popular in the era.
3. Sharmila Tagore
Bollywood actress Kareena Kapoor in one of her interview talked about her style inspiration.
[sc:mediad]
I like my mother-in-law Sharmilaji's dressing sense, both on and off screen. She is just brilliant. 
Yesteryear actress Sharmila Tagore have always been known for aesthetical fashion sense. When she began her career, she got famous among fashionistas for her eclectic sartorial taste. Remember, she wore the bikini for her film "An Evening in Paris" in 1967, raising many eyebrows among armchair critics.  In the same film, she donned body-hugging suits exposing her curvaceous figure.
However, her bouffant hairstyles, arched eyebrows and Cleopatra-like winged eyeliner put her in the glamorous image. She was made to wear knotted blouses in Yash Chopra's film "Waqt", which later became style-sensation among her female fans.
In an interview with Deccan Chronicle, she said –
 I remember my knotted blouses in Waqt directed by Yash Chopra, which made me feel quite gawkish then, but now I realise they translated into wearable trends.
She chose to bring transformation in her wardrobe after she got married to the Nawab of Pataudi. Her style became more of refined and sophisticated. A well-fitted and sexy blouses teamed with beautiful sarees became her staple style.
Even today, she has carried a simple and elegant style consisting of pastel chiffon sarees that she adorns with élan. One statement jewellery is her favourite accessory.
4. Neetu Singh
For yesteryear actress and the mother of current sensation Ranbir Kapoor, Neetu Singh aka Neetu Kapoor, the retro and bohemian was the word in 70's! It was the actress whose style presence inspired the 70's Bohemian look. People remember her as the one wearing bell-bottoms, palazzos or flared pants, wide-legged, high waist trousers in many of her films in the decade. She did number of movies like "Rafoo Chakkar", "Khel Khel Mein", "Amar Akbar Anthony" and "Doosra Aadmi", "Do Dooni Chaar" and "Jab Tak Hai Jaan". Even though she was pretty much actively doing roles in her childhood, her career as a lead heroine did not last beyond 70's after she got married to Rishi Kapoor and refused to work post that.
But Neetu Kapoor is yet known as a style diva even in her oldies. Liveliness and fun-loving how she is and how her wardrobe depicts.
5. Mumtaz
Bombshell of the 70's, Mumtaz was a stunning actress with impeccable acting skills and sartorial sense. She could just wear a plain white sari throughout a movie and yet leave the audience aww for her.
Ever popular "Mumtaz Saree" was named after her. However, celebrated and veteran costume designer Bhanu Athaiya created this special layered saree drape that later became famous after Mumtaz worn it in her film.
With her playful eyes, sensuous pout and curvy figure, Mumtaz gave her contemporary actresses a run for their money in 70's.
Which among these five have been your fashion icons? I personally love Neetu Singh. Who is yours?