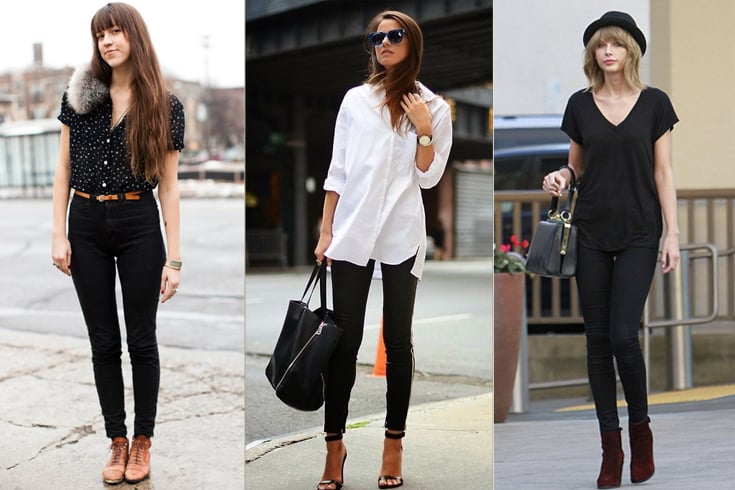 Black leggings have found a place in most of our wardrobes. These are the most comfortable and easy to style apparels that have almost come in par with the age-old denim.
But I must say that I don't see complete justice being done to this stylish apparel. I often notice women wearing these with either a kurti, tunic or a long top. But did you know you could style them in more number of ways than just these 3? So, before getting to the styling, let's see a set of rules on how to and how not to wear leggings.
How to Wear Black Leggings:
Rule 1: Leggings are NOT pants. Their ability to blend into fashion is so easy, that women often mistake them for pants and even office wear. Do not do so. There are black legging trousers, but those are tights and of a thicker material. Use them as substitutes for pants, if at all.
Rule 2: Mix and match leggings with everything. It is so versatile, that you have plenty of options. Ankle boots are a hot option for the winter, quite literally.
Rule 3: Long tops can rock your leggings. Being the thin material that leggings are made of, long tops are always a safe option as they can cover your buttocks.
Rule 4 : Leggings should always be ankle length. Nothing even an inch above that, making it look like a silhouette.
Rule 5 : Wash your leggings as regularly as possible. Regular wear causes it to expand and tear. So washing it regularly gets it back to equilibrium.
Wear them the right way, but styling plays an equally important role, so I have put together an infographic for you to get inspired and learn how to wear black leggings in different ways and styles. Just one legging and you can style them in 10 different ways!

What to Wear With Black Leggings:
1. With a Hot Mini Skirt on cold and chill days, to add style to the ensemble, wear a mini skirt or a short denim skirt over black legging pants to show off your sexy legs.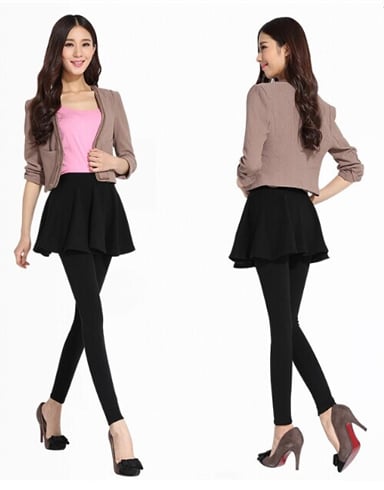 2. Uncomfortable wearing a short dress? Style it with a pair of black legging trousers underneath it and add structure to the overall look by wearing a smart well – fitted blazer.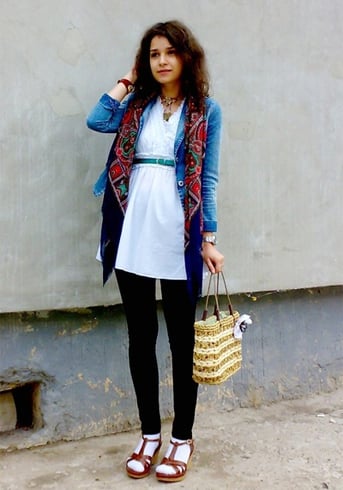 3. The layering of tops also works with black leather leggings. Make sure you don't look like a black beauty but add in a bold colur with accessories or shoes to stand out from the crowd.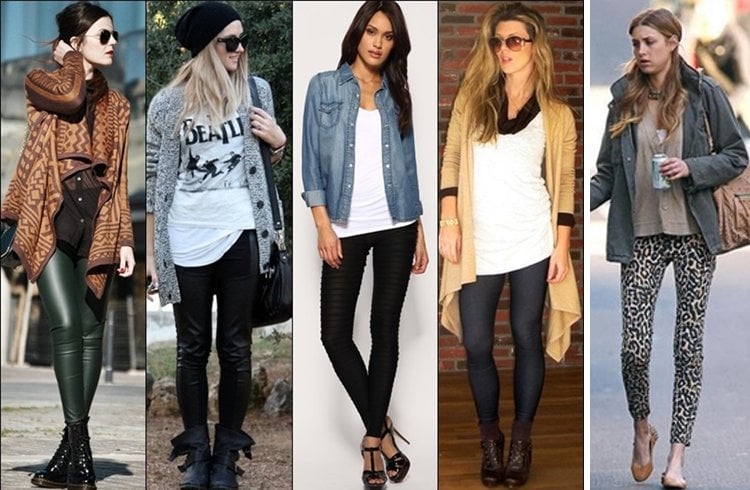 4. Oversized sweater, leggings and a stylish handbag – A perfect college outfit! A plain sweater could be teamed with black patterned leggings.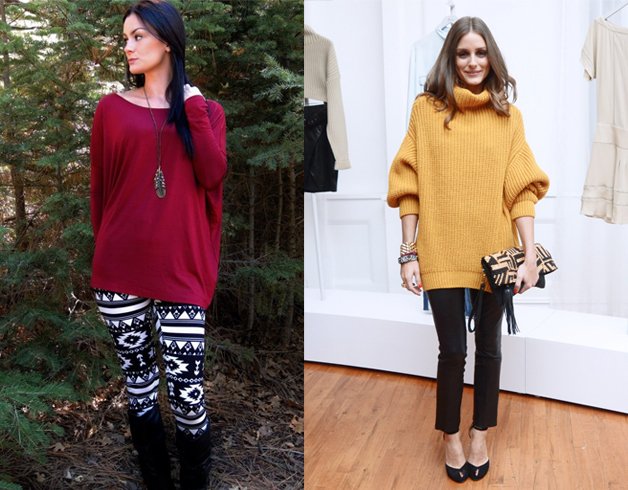 5. Heading to the gym? Got a yoga class after work? Pulling on a pair of leggings and a tee will make you look sexy at the gym.

6. Wear leggings with faded denim shorts when you go for a walk in the park or to the movies in the evenings.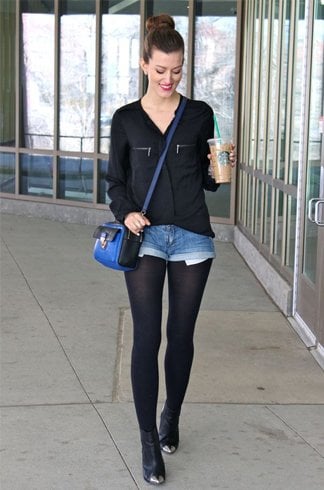 7. If you either follow latest trends and fashion tips or are a die-hard fan of our blog, you'll know that peplums are in vogue lately. Not only do they speak class, but also shows off your perfect curves. Wear these dresses and peplum tops with leather leggings on a date night to look hot and sexy.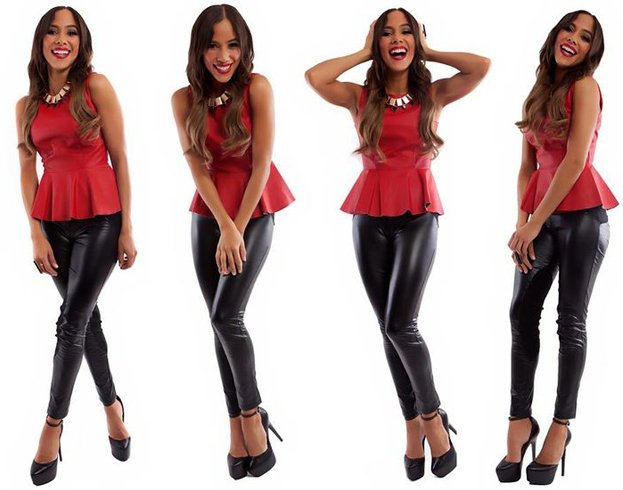 8. Got a board room meeting to attend? Wear these with trench coats and ankle boots! Phew! You are sure to make an impact!
[sc:mediad]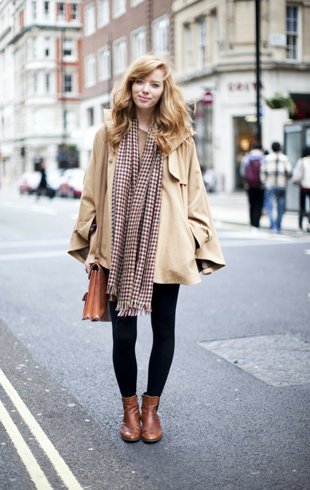 9. Wear leggings with animal print tops or pain white tops with neon statements accessories. There is no stopping now.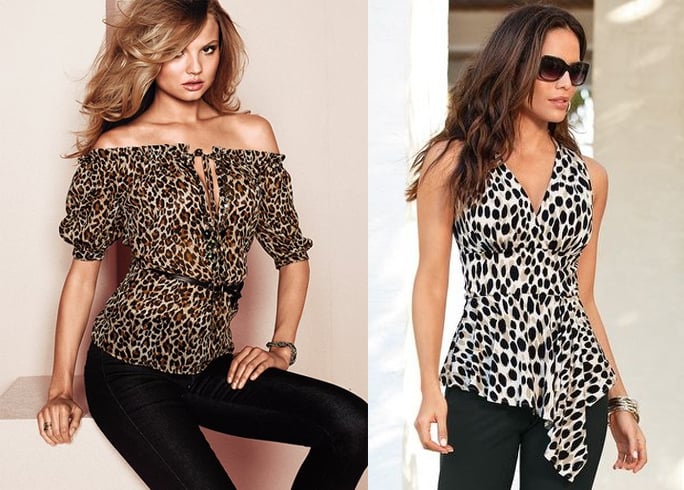 10. Black leggings match metallic shades. Color match them with both envelope clutch bags and sequin tops to make a glittering statement! I'm sure you will never ask yourself, what to wear with black leggings anymore. Even black floral leggings work the trick here.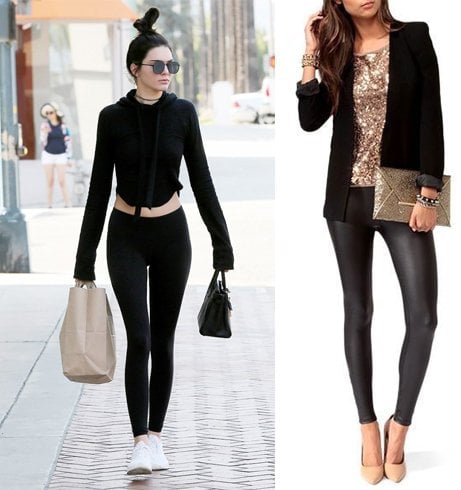 Now that you have seen how many things you can wear with black leggings and how versatile this garment is, don't just stick to your basic styles with the black leggings. Get up and explore the fashion ideas and trends.
Images Source: Pinterest