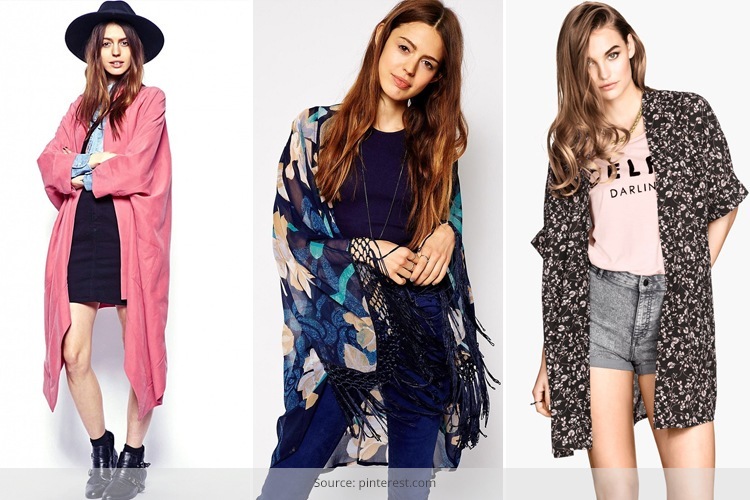 This beautiful fashion garment from the 'Land of the Rising Sun' has an open front, three–quarter sleeves, airy woven fabric with printed pattern on it and no buttons at all.
There aren't any prizes for guessing this absolute charmer. It is very much 'Kimono', a cute and pretty looking ultra-feminine dress worn by the Japanese ladies and of late the Indian ones too.
The Japanese Kimono Dress
A Kimono is very near to a cape as far as style goes. It's absolutely loose and airy and is a flowy cover up which strikes a new impressive statement.
Kimono Prints
Kimono comes in floral to abstract, paisley and aztec prints, and a range of experimental colours, lengths, fabrics. There is embroidery, fringe and tassel thrown in to give it a new identity.
Kimono Fabrics
Though Kimono is a year-round beautiful flowy garment, there are other fabrics too to give it a trendy and seasonal look. Chiffon and silk are the ones that make kimono feel comfortable and lightweight in summers and spring.
Come fall season, wool kimono is a good pick to keep you cosy and cute. Of late, variations have cropped up in kimono length – you can choose between mid to floor length options, depending on the occasion and mood.
In short, kimono is an amazing clothing piece for the bohemian lovers that capture your free-spirited vibe.
The Practice of Wearing a Kimono
Kimono traditionally means "thing to wear" (ki is equal to "wear" and mono" is equal to "thing").
In these full-length robes, the apparel (Japanese kimono dress) is meant to be wrapped around your body. The left side needs to be on the right and secured by an obi which is tied at the back. You must have seen Sumo wrestlers. They too are seen wearing a kimono. It is a traditional Japanese dress to be worn whenever you are appearing in public.
[sc:mediad]
What Are The Other Things You Should You Wear With A Kimono Dress?
Well there are casual tops and cute traditional looking footwear (called geta or zōri) and split-tie socks (tabi).
In short, Kimonos has everything worthwhile for the fashionistas of today who want to try out something beautiful, new and out of the ordinary.
[Also Read: Kaftans That You Must Own!]
Where Can You Wear A Kimono?
Kimono costumes are beautiful, bright and colourful. You can wear it for the brunch or the evening party and at the same look elegant.
But if you are a fashion maverick you can wear a kimono before you hit the bar or a music fest. There is no harm in wearing this cutesy pop to your interview. It will add a fresh new perspective to you. And it's an honest promise!
How To Wear Kimono
The traditional clothing Kimono can be worn in trendy chiffon to cute paisley prints. But whatever fabric you chose for a Kimono, it complements your jeans, tee, pencil skirt and a camisole perfectly well. The pairing diversity of a kimono is unbelievable.
A Kimono can be paired in multiple ways. Here are the other fashion complementary outfits that would gel well with a kimono:
1. Simple looking white tee, skinny jeans/ shorts and heels. This is apt for a girls' night out look.
2. For a comfy looking summer look, you can wear a dress or romper and wedges on foot.
3. To get a causal look, balance off kimonos with shorts, simple tee, and sandals.
4. To welcome the fall, wear a kimono with flare jeans, tee, and boots.
[Also Read: Fall Fashion Trends]
If you are of the lot who loves to pick anything fresh and exclusive on the fashion radar, then a Kimono fashion is for you definitely need to try. Drop in a line when you have picked up a Kimono from the fashion streets. Try it out and be the sassy muse!