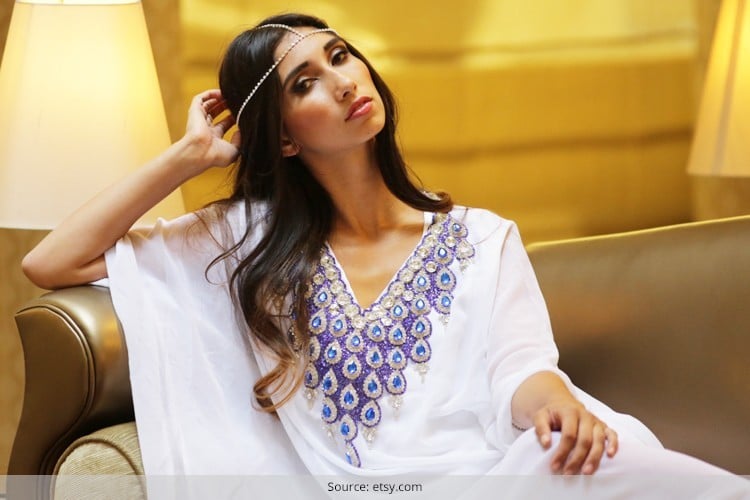 The best thing about the Indian summers and climes is that we can if we want, make fashion statements galore. If you aren't wiling to wear a saree or a cotton salwar suit, trousers or maybe long flowing skirts, you can still wear something you like and be a diva in street style too. Elegance for sure and with a touch of sensuality, think of long sleeved kaftans while the humidity out there hangs about. kaftans are cool, versatile and can be paired with anything, and for any occasion that too. Here are ten chic ones with ideas to use, and we would leave the styling to you for decipher needs.
[Also Read: International Fashion Trends That You Should Get Your Hands On ASAP]
Patterned Short Kaftans
The cute and sensual short kaftans can be worn to work, to college or just about at home, we leave that to you. A patterned kaftan is apt to wear with shorts, capris, leggings, dress pants, and with short skirts or flair skirts too.
Morrocan Jellaba
The Morrocan Jellaba is a grand long-sleeve kaftan dress that finds its place with special events, cocktail parties and red carpet moments, should you be invited to one. Wear it over a salwar suit, an anarkali or even with western wear for flair and grand touches, and a fashion statement for sure would come through!
Graphic Kaftans
Dark and with graphic prints, let the audience wonder if the kaftan you chose is a long maxi skirt or a kaftan alone. Perfect to wear with loose trousers inside or just the ensemble alone, a pair of heels would make you look tall and slim in them!
Kimono Styled Maxi Kaftans
Much of the styles these days with kaftans are a cross over from maxis to the Greek ensembles. A kaftan on the same lines and in one colour from top to toe, and a sling in the middle for the waist, brings out a Goddess touch for evening parties!
[Also Read: The Kimono – Fashion Hit for the Indian Summer]
Kaftans From Oscar de la Renta 2013
Dress it up like Oscar, in a haute black and with embroidery to flaunt, a kaftan so seamless and neat with a daring cut touch from top to toe in the middle. Sure ways to make heads turn at the cocktail event, when you wear your heels and minimal bling!
[sc:mediad]
Cleobella Chick
Kaftans by Cleobella have a bohemian look, feel and touch to them. With tribal prints to its name and very versatile to wear for any reason and season, the cotton fabric keeps the summers away from your skin.
Crafted Floral Kaftans
Perfect to wear for a cocktail party or maybe for dinners at the MIL's home, where you would need to dress and impress. Keeping the floral touches intact and with plenty of sash at the waist, get your haute touch on in the mind blowing and very elegant kaftan, which resembles a kimono!
A Sensual Night Ahead
Bring on a little more sexy moves and the right kaftan to wear, satin or silk wit front buttons at play, and in pastel shades that too. He would be floored with your haute hotness, and for sure wouldn't want the night to end too soon!
[Also Read: Street Styles & Fashion Trends for Women]
Winter Wedding Receptions
Dressing up for the BFF's wedding reception isn't a toughie, and if it is winters, you need to have a little covering that keeps you warm and toasty. But what about the grand ensemble you'd be wearing? Wouldn't it be covered and no ways for you to flaunt? Think of the morrocan cotton kaftan for layers!
The Chic Homemaker
So what if you have to work for home and be at home, you could still look chic wearing a soft satin crepe or a chiffon kaftan with patterns?
Loved them all, didn't you? Do you have other styles of kaftans to tell us about? Write into us and let us know!