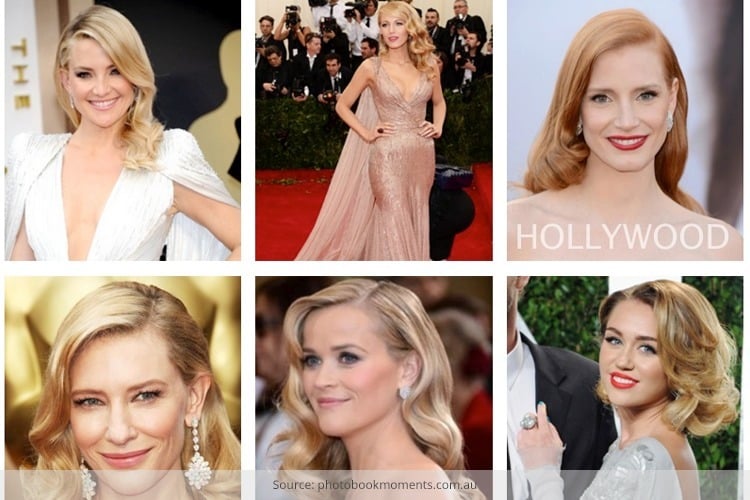 They say Blondes have all the fun. But how true is this adage? For ages, the blondes in Hollywood have been regarded as the bombshells, the beauties and the most sought after actresses. Even now, blonde beauties are in abundance in the industry. What is it that makes these blondes so special, so beautiful? Let's find out more about the most iconic blonde Hollywood stars.
Marilyn Monroe
She was the Hollywood's most iconic blondes of all times and also the most gorgeous of them all. As she bounced her platinum tresses, men over TV and in reality lost their minds over her. But the most shocking trivia about this blonde bombshell is that she was never blonde! Marilyn actually had dark brown locks and she dyed her hair to blonde after someone said that 'Gentlemen prefer blondes'. The good thing is, she looked gorgeous in it and she will always be remembered for her beautiful locks.
[Also Read: Hollywood Celebs Who Have Emulated the Iconic Marilyn Monroe]
Brigitte Bardot
She is scandalous and ever since her appearance in the 1950s, she has courted scandal like it was a boy next door. Touted as the most beautiful woman in the world, she left the silver screen in 1973, but her charm has never left allure. She had always been a master of her own, and has never shied away from controversy. Her blonde hair will forever be remembered.
Twiggy
The leggy lass, has never been forgotten. With her side-swept pixie locks and her doe eyes, she was the definition of the swinging sixties. She has always been the pin up for the sixties and has spent most of her career as a blonde, though she was not naturally one. It was in her rebellious ninth grade that she decided to go platinum and ever since then, she has never turned black!
Madonna
The Material Girl has always been a front runner when it came to fashion and bleached hair. One of the hottest blondes, her locks have featured in almost all her songs and though it has stayed the same everywhere, her style has evolved over time. She has reinvented herself many a time in the span of her career, but she has always stayed the same blonde girl at heart.
[Also Read: Hollywood Beauty Secrets Unveiled]
Scarlett Johansson
The 29-year old blonde has always been known for her gorgeous hair and pouty lips. The tiny framed actress had always loved superheroes and was even the inspiration for Katy Perry's song-I kissed a girl! Not just a song, but she was also the inspiration behind a character in Looney Toons! Talk about coverage and reach!
[sc:mediad]
Blake Lively
Besides being married to the handsome hunk Ryan Reynolds, Blake Lively has also been known as one of the youngest and the most successful blondes of all times. From her gorgeous beachy waves to her perfect looking locks on the red carpet, Blake really knows how to sashay down in style. Her blonde hair has always been the cynosure of all eyes and even in Gossip Girl, she couldn't be known better without her locks.
Reese Witherspoon
The classic girl next door has always been America's sweetheart. Her hair has always been glowing and this is what makes her stand out amongst the crowd. Witherspoon has been known for her beautiful blonde hair and also her good performances in even the most mundane movies. Her bangs or her poker straight hair has always looked good no matter what the occasion!
[Also Read: Hollywood Celebs Who Look Extremely Gorgeous in Indian Wear]
Hollywood's most iconic blondes have always turned heads-on the red carpets and on the streets. Let's give a round of applause to one and all!