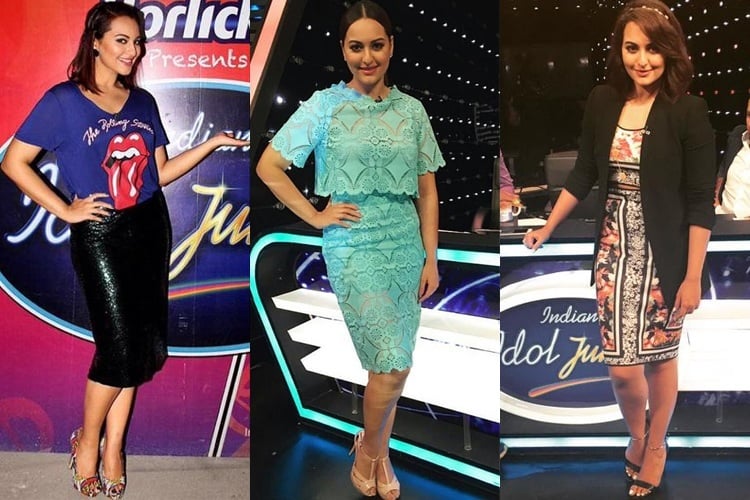 Time and again Sonakshi Sinka aka @AsliSona has proved us how magnificent and brilliant she is. She has a unique sense of style and just loves to flaunt it at every chance that she gets! We kinda dig her style!
There were times when she made certain things popular and one of the things that she revolutionized was loving thy self! All it took for her was to get comfortable in her own skin, show the world her brilliant styling capabilities and then, sit back and relax!
She isn't your everyday celebrity. She is the kind that makes you question the blatant lies that society teaches you. She is no way a rebel, but a subtle reminder to us that we are perfect the way we are.
[Also Read: Fall in Love with Your Body – Love Thyself First]
With so many fabulous fashion moments that Sonakshi had, she time and again reinforced the fact – love thy self!
Let's take a look at what she's been up to off-late –
Besides, we are all aware that she's on the panel of judges on Indian Idol right?
In Nikhil Thampi
During her initial days as a judge, Sona wore a beautiful olive green sheath dress by Nikhil Thampi and teamed it up with jewellery from Outhouse. Her bob was made to perfection in wavy curls and she had her standard wing liner on! Metallic golden pumps finished her look.
In Forever 21
When Sonakshi was feeling a bit quirky, she wore a funky tee shirt from Forever 21 and teamed it up with a sequined skirt from Dorothy Perkins. Helping her finish her look were Pheddies pumps and on fleek makeup!!
[sc:mediad]
Madison
On another episode of Indian Idol, Sonakshi Sinha was spotted in lace separates by Madison which she teamed up with Pheddies heels. Understated makeup and a sleek knot finished her look. Do you like it? We are fans!!
Geisha Designs
For yet another episode of Indian Idol, Ms Sinha opted for a dress by Geisha Designs and finished it off with dull gold peep toes. She was also wearing jewellery by Ra Abta from Rahul but what we really loved is how she painted her toe nails dark! Her updo with fringe benefits was amazing as well!
Clover Canyon
Sonakshi Sinha wore another pair of separates by Clover Canyon while on Indian Idol. We love how she styled her dress with an oversized blazer and wore black wedges with delicate anklets.
P.S – Can you spot her head gear? It's by Ra Abta. #Sigh! #SoPretty!!
With so many amazing looks of her, we are just speechless! At the end of the day, what can we say? We are in love with her personality and style!