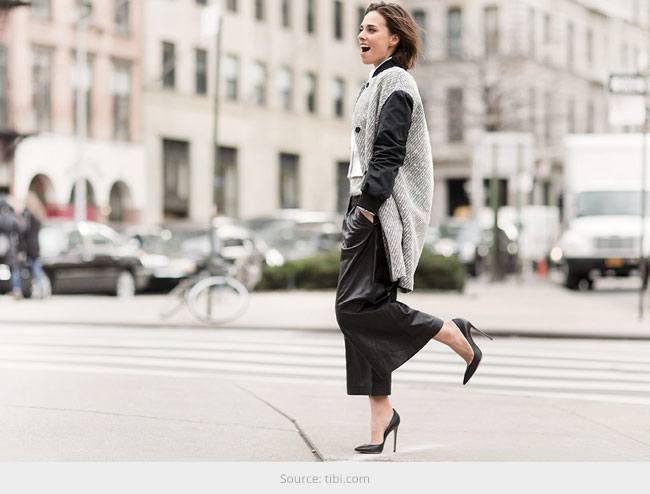 If you love fashion and are always on the lookout for the current trends that you can try out, then this article will be a definite treat for you. We bring you international trends that are all the rage right now. You can get experimental and give the trends your own personal twist or you can get inspired by them and reproduce the looks just as they are.
There have been a lot of trends in recent times that have managed to bring fashion and comfort together. This is an impressive feat as we all know that more often than not fashion comes at the expense of comfort. So when trends pop up that are both fashionable and comfortable, then it's cause for celebration. We give you three such international fashion trends here – the shirt dress, the high-waist pants, and the culottes.
Shirt Dress
A shirt dress is exactly that – a shirt worn as a dress. It is one of the most comfortable and laidback trends to have swept through Hollywood circles in recent times. From Rihanna to Heidi Klum to Vanessa Hudgens, Hollwood celebrities have embraced the trend with open arms. And why wouldn't they? All you need to rock this look is a nice oversized shirt and a belt. Which means not only is this an easy to replicate look, but it is also easy on your wallet. There are many cool ways to style your shirt dress. If you can ''borrow'' your boyfriend's shirt, you wouldn't have to spend a penny at all to nail this trend. Can it get any more awesome than that? Denim shirts, checked shirts and plain solid coloured shirts work best for this look.
High-Waist Pants
Fashion is all about recycling old trends and bringing them back into fashion. This has been the case with high-waist pants. They were the heights of fashion in the 80s, with everybody wearing them. Then they were shunned in favour of low-rise jeans and that was thought to be the end of them. But surprise surprise, high-waist pants are back in fashion and are taking over the runways and streets. So what you waiting for? Jump on the high-waist pants bandwagon and get rolling! There are so many versions of them from high-waist jeans to high-waist formal trousers to high-waist shorts. All you need to do now is to pick your favourite look and go shopping for it.
[sc:mediad]
[Also Read: How to Find the Perfect Jeans that Suits Your Body Type]
Culottes
Another fashion trend making a comeback is the Culottes. This was a popular fashion in 1960s and disappeared without a trace since then. But they are back with a bang now! They are wonderfully contemporary piece of clothing that will give a very modern edge to your look. They are slightly similar to Palazzo pants in that they are pants with wide loose legs that allow for easy movement and are super comfortable. The length is where they differ from Palazzos as Culottes are much shorter, just hitting the calves. You can get creative and adopt them for different looks from casual to formals to even party wear. There is no hard and fast rules when it comes to pairing your Culottes. This means that you can wear them with anything that catches your fancy – t-shirts, sweaters, blazers, shirts, tank tops, crop tops, whatever works for you.
It can take a while for international fashion trends to hit the Indian market. So why wait for it? Why not jump into it and be the trendsetter amongst your friends. Being on top of the fashion trends is quite essential if you're into fashion. Knowing about international trends means that you can try them out, see if you like them, and then go about evolving your very own personal style inspired from those trends.