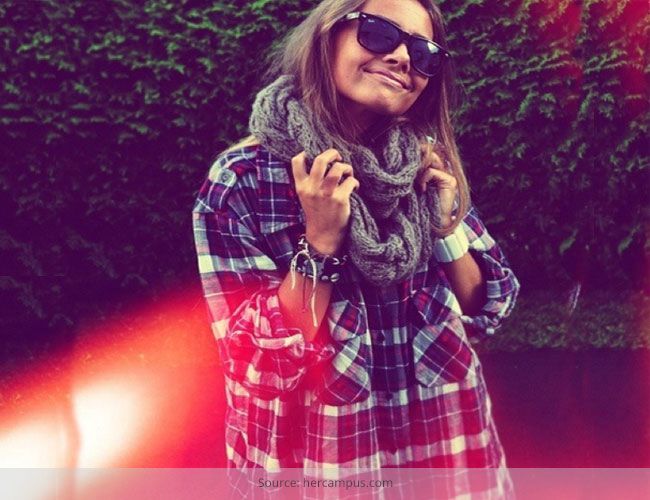 There is something so sexy with the humble flannel shirt; we simply cannot put a finger on pertaining the X Factor. Sun washed, rustic, vintage and so femme fatale at the same time; heaven bless the inventor of flannel shirts, we need to get us some and soon! And, before tha, lets see how to style a flannel.
Womens Flannel Outfits & Styles
Wondering how to wear your flannels? Here are a few ideas on dolling up to look Haute and cool at the same time; priceless ideas and awesome feel!
For a girls night out
Partying with the girls and that too in summers! You need to stay cool and comfortable, while burning the streets by the night. Check out this style; cool and chic- eyeballs would be grabbed for sure with this versatile look.
Friday dressing
With opaque leggings or skinnies, a crop top or loose halter-necks; your choice girl! Throw on a flannel shirt if the climes are too nippy on Friday morning. Keep the accessories to the minimum and wear boots to steal the show.
Out for a movie
Says who you cannot dress up to watch the latest blockbuster at the nearest movie hall? A girl has to do what she has to do, and she would wait for no one's approval. Wear a statement necklace with a nice tank top and denims for the bottoms with heels. Throw on your flannel shirt, nice and crisp- you are ready to steal the limelight!
[Also Read: Different Ways to Style the Statement Necklaces]
Flannel scarf
Too cold out there when boyfriend calls for coffee to go visit him? Make no more excuses, and dress to impress- with a flannel scarf!
Wear it like the lumberjacks
Do what Miley Cyrus did not so long ago. A simple tunic frock in white, with a statement necklace and chandelier earrings, canvas shoes for the feet and hair all into a bun- the flannel shirt was over them all and she was the shutterbugs favourite that evening!
Layering for the evening tea
With a black cocktail evening wear, minimal accessories and high boots, the flannel shirt when thrown over the evening ensemble, brings about an oomph factor that cannot be described in words. Try it!
[sc:mediad]
[Also Read: Look Stylish in Layers]
The mood's so rompy
Chic and cool, comfy enough to beat the summer heat, a grey romper with the flannel shirt and grey boots to go along with; so classy and elegant we say!
Biker chick meets flannel
Wear it like a biker, with a dark leather jacket above. True biker chicks wear their accessories like a pro, and do not forget those boots, better still, wear those heels and show the men who the real boss around is!
[Also Read: Different Ways to Style the Leather Jackets]
Redefining the tunic
A dark grey shaded tunic below for the evening with a statement necklace, and boots or heels for the feet, your choice. Throw over the tunic the flannel shirt and belt it on the midriff. Be ready for the accolades to pour in!
Madonna's virgin
Remember the song "Like a Virgin" by Madonna? Well the flannel can help you become her for the day; maybe you should do this for your big DAY!
Now come on girls, show us some style! For sure your minds are all too creative and there would be more styles to flaunt with the rustic humble sexy flannel shirt. Hurry up and write in to us, the men are catching up soon- HARRY STYLES for sure is a dapper boy in flannels, but we girls can do better, isn't it?