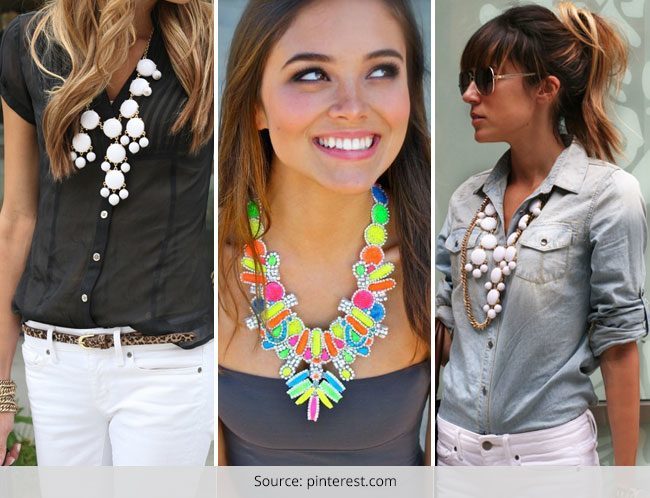 Fashion is all about experimentation and reinvention. Styling a maxi dress so that it looks different each time, accessorizing your look with bold accessories or jazzing it up with a statement necklace. Possibilities are endless! Nothing spells fashion better than a statement necklace this season. A statement necklace can instantly transform any outfit from drab to fab.
Team up your baubles with a Chambray shirt and Blue denim to add just the right amount of glitz, wear it with a skater dress to add to its minimalistic bodice or pair up your Jadau necklace with a maxi for that Indo western look. There are different ways in which you can style your necklace.
Let us look in to the ways in which we can incorporate it into our wardrobe.
Did you know?
Elizabeth Taylor's fabulous La Peregrina pearl bauble was sold for a whopping $11 Million surpassing its estimated price of $2 Dollars.
Casual chic: Going out for a casual dinner with friends? Or a shopping trip with girlies? Include statement necklace to brighten up even your most basic outfit. For a brunch or a shopping trip with girlies, pair a chunky neon number with basic white round neck tee and dark blue denim. Complete the look with tan colour loafers or oxfords and you are set to go! Pair up with Skater dress and oxfords to exude casual chic vibe.
Dressy much? With the upcoming festive season, pair a Jadau statement necklace with a strapless maxi dress, for that formal yet classy look. Complete it with a severe pony tail and minimal makeup to draw all the attention to these beauties. If you are going traditional, remember to keep rest of your outfit simple. Nothing exudes more elegance than a plain Chiffon sari with a Jadau necklace in pearls. Team with it up with a nude or silver stilettos and you are good to go!
LBD and statement necklace: Every fashionista worth her salt swears by her LBD. It is easy to dress up and something you can never go wrong with. Couple it up with a silver or gold chain necklace and sky high stilettos for that perfect evening date look, or wear it with chunky necklace in bright hues and sneakers to dress it down.
Include it in your work wardrobe: Now, we at Fashion Lady, love statement necklace so much so that it we try to incorporate in our every look. When it comes to work wear most of us refrain from wearing statement necklace for the fear of looking too decked up. What if we told you, you can still include it in your everyday work outfit without going over-board. Bring out those pearl string necklace with Chiffon shirts and skirts to add an instant punch to your outfit. Wear a bejeweled number, with Grey chinos and a navy Blue jacket and you are all set for a board meeting or a power lunch with the client.
Dress up your old denims: We all swear by our denims. Stone washed, torn, or classic Blue, we love them all. Break the monotony of all denim look with a Bubble necklace in bright hues. My personal favorite is, ripped off jeans, tan ankle booties, a plain V neck tee and a chunky stone necklace. Perfect for those lazy outings with friends!
Now let's see how some of our Bollywood divas paired their statement necklace with:
[Also Read: Washer Necklace Tutorial]
Who wears this trend better than Bollywood's own fashionista? Sonam Kapoor has worn her uncut stone statement necklace with a 3/4 blouse and a simple sari here. Notice how she has kept her makeup natural, and avoided wearing any other jewelry to bring focus on the piece.
Leggy lass- Deepika Padukone chose to accessorize her simple Black and White maxi with layered Gold statement necklace to elevate her outfit.
Let's look at some more celebrities in Statement Necklaces.
We'll leave you with more styling ideas to inspire from.
So, go ahead and experiment with them, and make your own style statement.