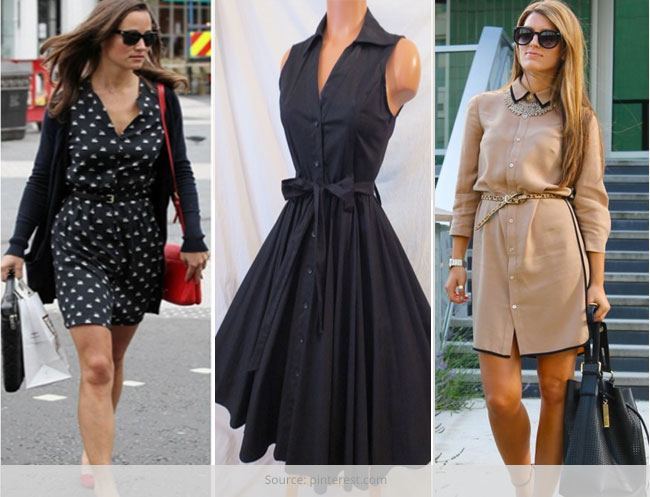 Shirt dresses gives you a very relaxed yet fashionable look, they look perfect on triangle and rectangle shaped ladies. A shirt dress is a beautiful piece of clothing which can be used in any season. Moreover these dresses are not very expensive and you can flaunt them on various casual or formal occasions.
A shirt dress is a versatile piece of clothing for any style savvy girl but if you are bored of wearing your shirt dress one way, check-out these 10 cool ways of styling your shirt dress!
1. Pick a loose-fitting shirt dress
Try a loose fitting shirt dress, it not only looks nice but it's very relaxing too. A loose fitting shirt doesn't have to be oversized or baggy. Basically, you need to pick a shirt dress with extra comfortable cut that gives you enough scope for the easy movements of your body. Remember if you choose a shirt dress with buttons down the front, a tight fitting dress will make them to pop, and I am sure that's not a nice thing at all!
2. Wear heels according to your shirtdress length
Never forget to follow the rule that the shorter the shirt dress, the lower the heel; this rule is mainly applicable in the day-time. If you want to look modern and sophisticated with your knee-length shirt dress, spice it up with high heels, but if you are going to sport a small shirt dress, don't wear heels as it will spoil the whole look. However mini dress with matching flats will make you look more stylish.
3. Cinch your waist-line
Nowadays, shapeless shirt dresses are also getting popular but they can swamp your beautiful figure. If you want to overcome this problem, simply cinch in your waist-line using a trendy belt or a cute fabric tie. This simple and easy trick will help you draw attention to your waist-line efficiently. You can also experiment with various types of belts and fabric ties to make your look extra smart and trendy.
4. Choose a shirt dress with fuller skirt
Some of the latest shirt dresses come with cuts that make these dresses look uneven. Especially if you have a pear-like body shape, the bottom part of your shirt dress might cling to your hips and thighs. So try to pick a shirt dress with a fuller skirt, it will make your lower part look more flattering.
5. Printed shirt dresses make a big difference
A simple and basic shirt dress look very smart and multipurpose too, but if you are interesting in adding an oomph factor to your shirt dress then pick one with beautiful prints and patterns.
[sc:mediad]
Team up your printed shirt dress with more neutral or similar colour accessories.
6. Use fashionable accessories
Give a new life to your plain shirt dress by using fashionable accessories. You can make your shirt dress look more graceful by using a statement necklace or a cool wrist watch. Put on metallic sandals for a change, or if you want a more relaxed appearance then try comfy shoes.
7. Layer it up
Experiment with layering if you want to make your shirt dress look more attractive. For example you can wear an unbuttoned top of another outfit on it, or simply wear a petticoat underneath the skirt of your shirt dress to give some more volume to your skirt. These small changes and styling tips can make a big difference in your overall look.
8. Cotton vs silky shirt dresses
Experiment with different types of cotton shirt dresses; they give you a very athletic and informal look whereas silky and smooth fabrics give a more stylish and elegant feel.
9. Play it up with leather belts and chains
The overall look can be made more attractive if you simply change the self belt or fabric tie that comes along with a shirt dress; you can flaunt your perfect figure using these belts. Sport a shirt dress with leather belt, chain or a fabric belt.
10. Sport girlie shoes and bags
If the top portion of a shirt dress looks like a man's shirt, you can easily chuck out that masculine shell of a shirt dress using jewellery or angled shoes and bags.
Hope you enjoyed this post on shirt dress. Do share your views with us.