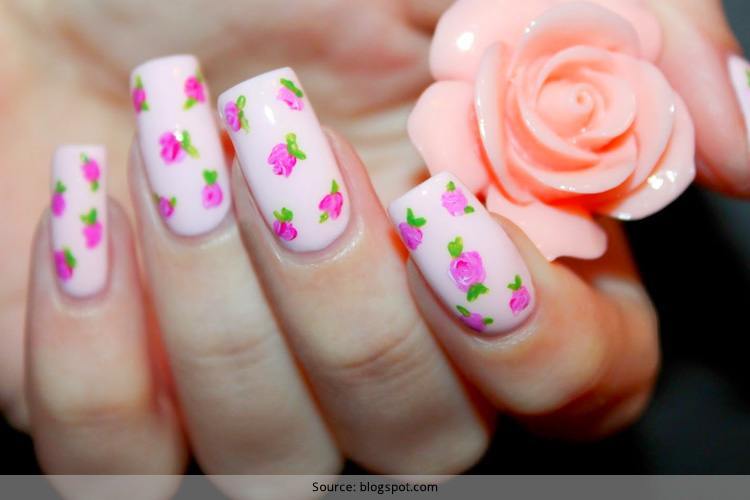 Yeah, some of you long for long hair whereas others have a fascination for shorter crop. Some of you have a longing for long skirts while some have short mid thigh skirts on their mind. Seems like the tussle between long and short in life is never ending, but you know what it still has its element of charm. So when you are in a mood to sport long nail designs, then you are on the right track.
[Also Read: Nail Art Trends 2016]
Nail Art Designs For Long Nails
Principally, long nail art designs are absolutely perfect and dedicated for special events. In fact, nail art designs for long nails have the substance in them to complement your evening costumes in a glamorous way. Whether it is classic black and white nails or different colored nail polishes, long nail designs have a certain magnetic charm about them.
Whenever you choose to opt for longer nails, it's better if you have them as fake nails, whether it is acrylic or silk wrap. All you will have to do is visit a nail specialist at your local salon or parlour.
Anyhow, let us check out what makes easy nail art designs for long nails tick. The pictures shown below would surely inspire you to pick long nail designs for beginners to your choice and occasion. Happy selecting haute long nail designs.
1. Try the below long nail design and flaunt your love for animals and glitter!
2. Paint your long nails with a bright nail polish as the base and add some swirls to it with a golden nail polish to get a perfect nail design for your long nails.
3. If you have long nails and wish to show off the current nail trends to your friends then you have to try the stiletto nail style. Paint those long beautiful nails in nude color and make then shine by adding crystals or rhinestones!
4. Try this simple pink and white combination for cute long nail designs.
5. Show your creativity to the world with those long acrylic nail designs. Use two or three different nail paints and let those swirls come to life on your long nails!
6. A very steady hand and a lot of patience will help you in achieving this nail art for your long nails. You can pick these embellishments from a nail art store.
7. This combination of dark blue nail paint and nude nail paint along with some golden stickers is the prefect look if you are aiming at cute long nail designs.
[Also Read: ballerina nail designs]
8. Whatever the season is, our love for polka never goes away right! Let your long nails stay in fashion by flashing those cute polka designs which are the perfect nail art for long fingers. You can try different color combinations.
9. To get the below long acrylic nail design, you can take the help of a nail artist. Let the artist turn your long nails into a beautiful canvas painting.
10. A great way to grab attention is to try out a long nail design where the design just covers half your nail from the tip. A very stylish and sophisticated look!
11. For people who believe in simplicity, try this simple nail art for your long nails. Get a dark shade and a light shade of the same color. First apply the lighter shade as a base and once it is dry, add a splash of the darker shade.
[Also Read: Blue Nail Designs]
12. Using rhinestones and crystals are one of the best nail designs for long nails as you can easily add them to any of the nail colors. Try these and shine at your parties!
Celebs And Their Long Nails
While some men find long nails hot, and some a put off, our Bollywood actresses have a fascination for long nail designs. Let us scan through the B-town divas who have a craving for long claws.
1. Kareena Kapoor
Whether it is red, golden or French Manicured, Bebo knows how to carry her long nails in style. Maybe Saif likes it, that's why. Anyhow, we are not complaining.
2. Zarine Khan
She knows how to carry off things in style, but her manicured hands seriously need some attention. Maybe she needs to devote time on how to grow her long nails.
[Also Read: Nail Art For You To Flaunt At Parties]
3. Sherlyn Chopra
Ooh…these long nail art designs on Sherlyn could well inspire a horror film. Maybe it's one of her tactics to keep bad guys at bay.
4. Karishma Kapoor
Don't you think Lolo is looking hotness personified? Her hair style, her sense of dressing, her finger rings, and handbag, and last but not the least her long nails put her in the fashion map.
5. Priyanka Chopra
Looks like it is the year of Piggy Chops. From Quantico, to Baywatch, and the announcement of Padmashri 2016 to be awarded to her, Priyanka is all over the news. What's also making her the centre of attention is her cool-looking black nail art screaming from her long nails.
[sc:mediad]
6. Bipasha Basu
The Bengali bombshell is not all over the newsprint because of her relationship with Karan Singh Grover but also her long and stylish nails.
7. Sonakshi Sinha
Don't you think our 'asli sona' is trying a bit too hard in showing off her long and sexy looking nails? Okay, we will allow that.
8. Malaika Arora Khan
The Chaiya Chaiya girl always knows how to keep her long nails in style. She simply looks adorable in these white painted long nails, which is a good expression of nail art designs for long nails.
[Also Read: Nail Art Designs]
9. Rani Mukherji
Now that she is Mrs. Chopra and a proud mother as well, she is still very much in the news for her long nude nails. Just confirms that she is the lover of long nail art designs.
Now that your nails will look great in no time with nail art designs for long nails, start painting them creatively and have a blast!
Drop us a line and tell us the long nail art designs that you wish to wear for your office or party occasions.