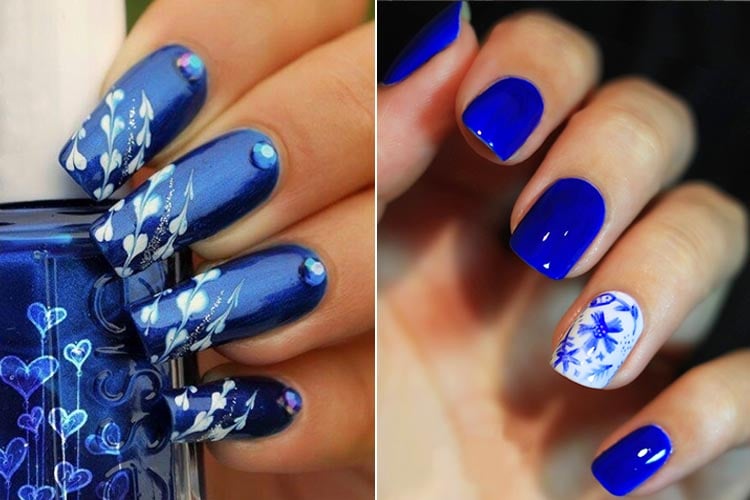 Is blue your spirit colour? Do you feel calm and at peace with blue around you? Well, if you nodded yes to both these questions, then we have the exact blue nail designs which will put you at ease. They say that blue actually calms you down and if you are a nail art lover, then this article is exactly for you!
We have some amazing blue nail art designs and in this article we will talk about all the different things you can do to have blue nail designs on your nails! So, let's get started!
[Also Read: Irresistible Long Nail Designs]
Royal Blue Nail Art Ideas
Let's start with the darkest hue in the spectrum- Royal Blue. If you don't shy away from dark colours, then these blue nail designs are just for you.
1. Electric Blue Geometric Nails
Yea, we never loved geometry when we were at school, but they can look scrumptious on nails! Take a look at this geometric design and pattern applied oh-so-carefully on these royal blue nails. If your geometry teacher doesn't love them, then tell her to give us a call!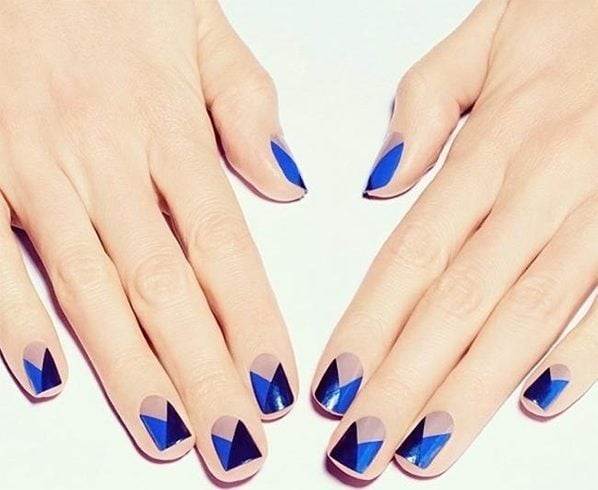 2. For That Animal Print Vibe
In the mood to get wild-we suggest you leave the jungle behind and follow this gorgeous nail design instead! Paint your nails with royal blue and divide it diametrically. Use a sparkly nail polish to make this divide. Now take white nail polish and apply it on the other half. Use a nail art pen and make those tiger stripes. RAWR!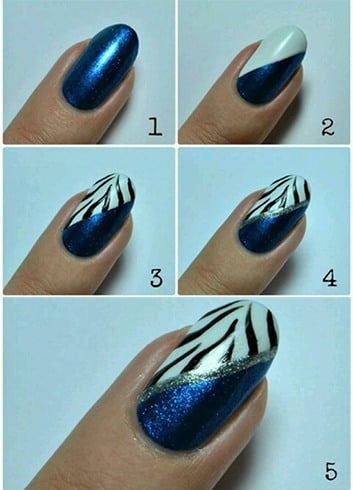 3. Dotted Beauty
Who doesn't love polka dots and when they are on your nails, they look even prettier! So much for retro vibes right? Apply a dark royal blue colour of your choice and take a nail art pen with which you can make the dots you want. Apply any colour you want and as many as you want! Use lighter hues for more visible blue nail designs.
[Also Read: Squoval Nails]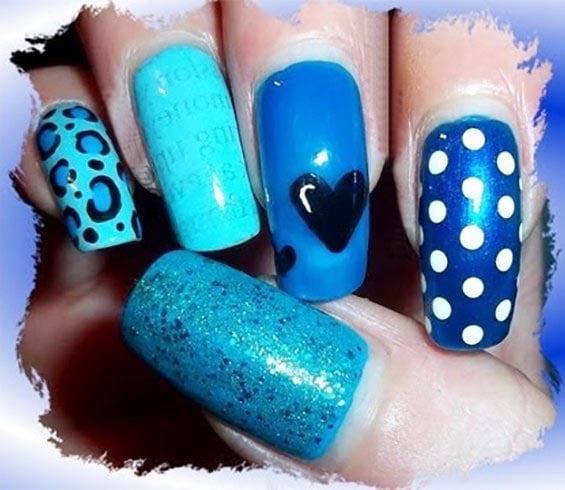 4. Dark Blue Nails And Designs
Royal blue is among the darkest blues in the spectrum of blue shades. If you are in the mood for something a little lighter than the royal blue nail designs, then dark blue is the colour for you. Even for dark blue you have many nail art design options. Let's have a look at some of them
[Also Read: Pokémon Go Nail Art]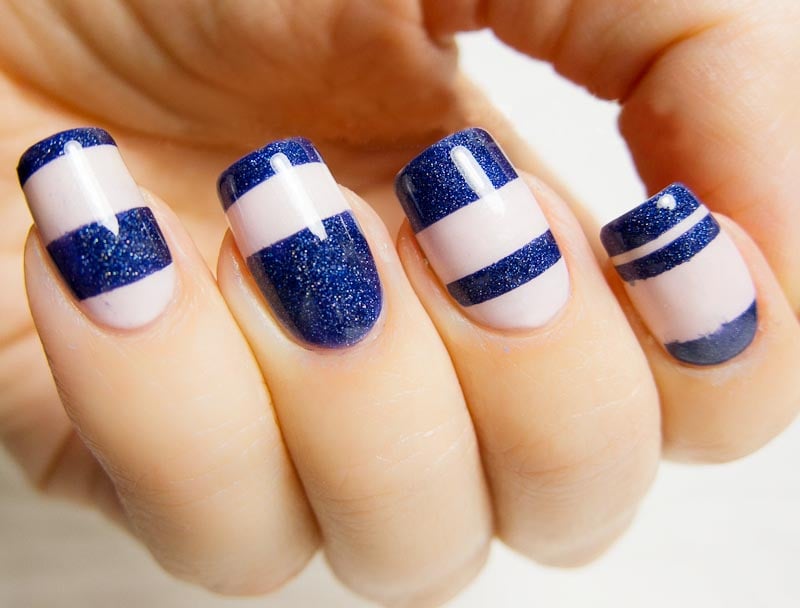 [Also Read: Trendy Stiletto Nail Designs]
5. Shimmery Love
If your love for shimmer is evident everywhere, then this nail design is perfect for you and also extremely classy. All you need to do is paint your nails with the blue you like and with a nail art pen, slightly draw a line in the middle. It's an extremely easy design and also easy to maintain. Looks classy and with the least of efforts!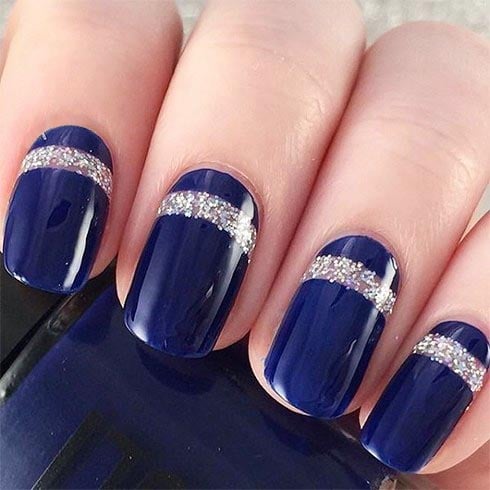 6. Blue Lady Bug Nails
For the nature lover in you, these nails would look perfect! Instead of the typical red and black ladybug colour combo, use a dark blue base coat and use a black nail art pen to draw tiny little dots on your nails. You can also paint some of your nails with shimmer to complete the look.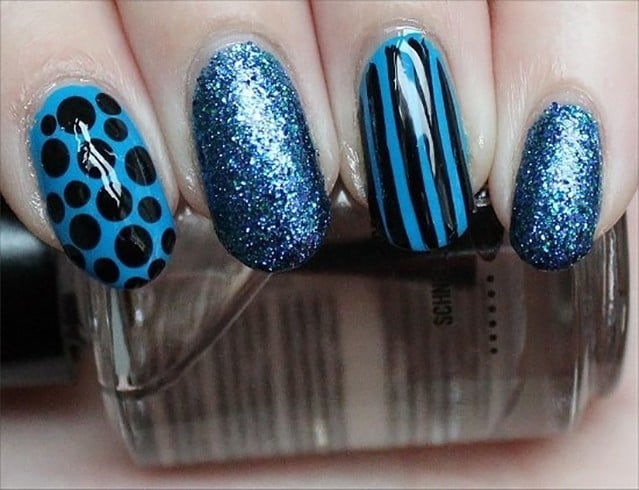 7. Heart-Shaped Blue Beauties
If you are a sucker for hearts, we give you this design to create some easy peasy nail design. One of the easier blue nail art for short nails, this one requires you to use your favorite blue colour and a white nail polish. Simply paint your nails blue and then use a toothpick to put two dots on your nails. Draw these dots very close to each other and use the toothpick to divide a line in the middle. Your hearts are done!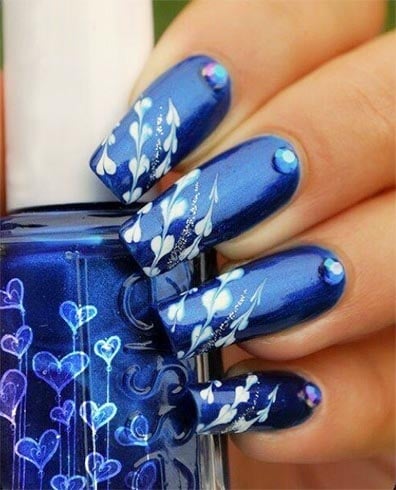 8. Light Blue Nails And Designs
The last hue in the blue spectrum, this colour looks especially very cool and calm. You can have tons of designs with these and florals look the best with them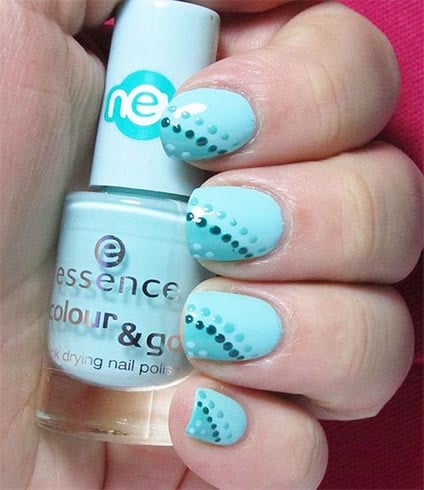 9. Floral Nail Design
Cute floral motifs on a blue background look perfect for a casual date or a day put with your girls. Draw your nails light blue and either stick blue flowers on them or draw a few. It's got a perfect summery feel to it!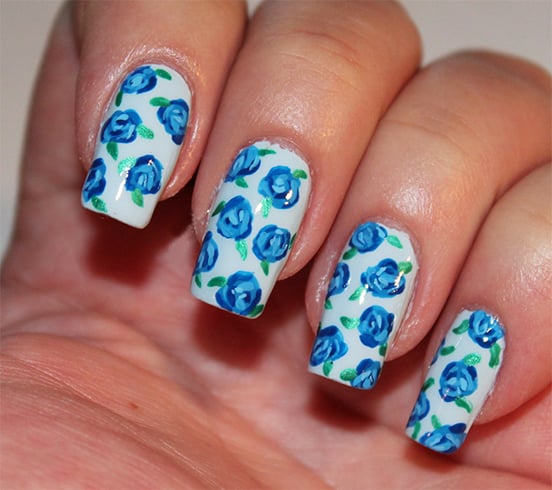 10. Elegant Blue Nail Design
Rock your formal party with this elegant washed out gradient blue nail design. Make your night sparkly with a touch of glitter and shimmer.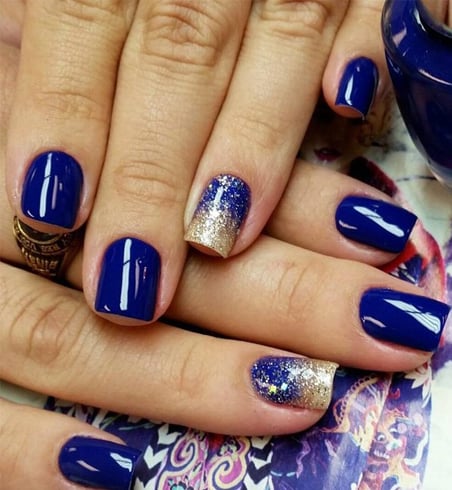 11. Simple Nail Art In Blue
For those of you who don't want anything too flashy or glittery, this simple nail art in blue will be perfect. Are you 'hearting' this blue nail design?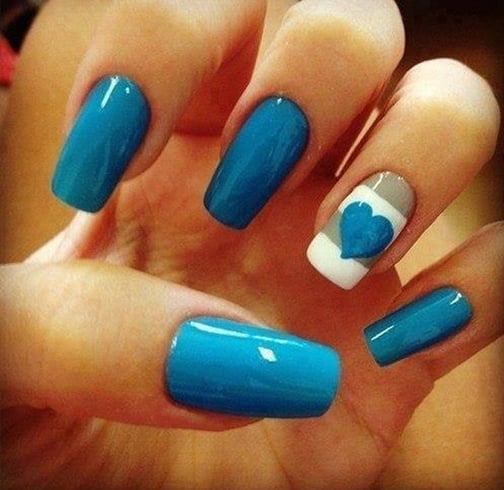 12. Navy Blue Nail Designs
Ahoy, sailor! Doesn't this navy blue nail design remind you of sailors, ships and sea?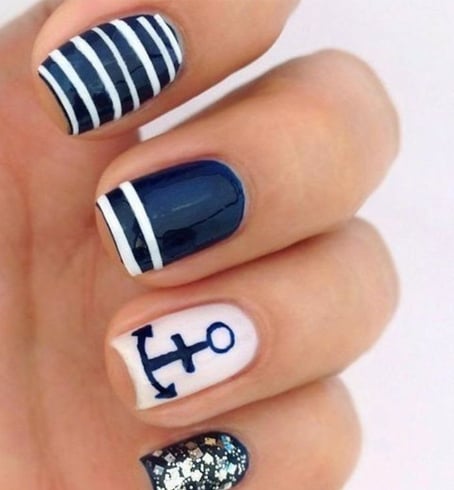 13. Shimmer And Shine
Not artistic enough to try out various nail art designs? Well, relax! This blue nail art has nothing to do with your artistic talents. Just apply two different shades of blue, silver nail polish and some shiny rhinestones.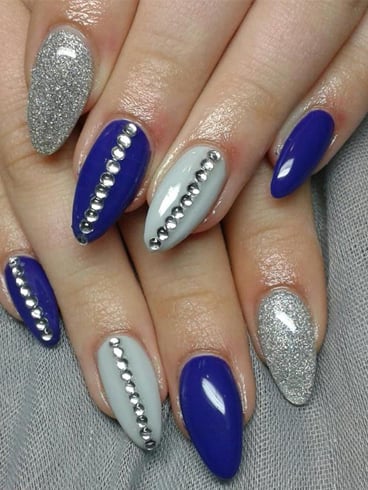 14. Midnight Scenes
This blue gel nail design is a great way to show off some midnight scenes on your fingernails. Perfect way to gaze at stars even during the day!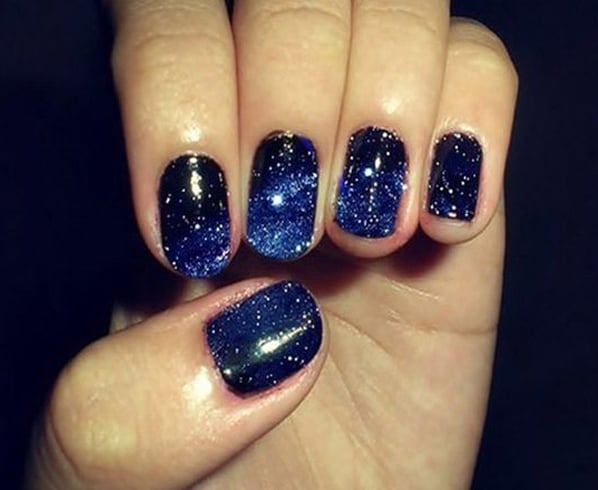 15. Love For Polka Dots
Polka dots are an all time favorite design and you can never get enough of painting your nails with this design. Here is a baby blue nail design to brighten up your day.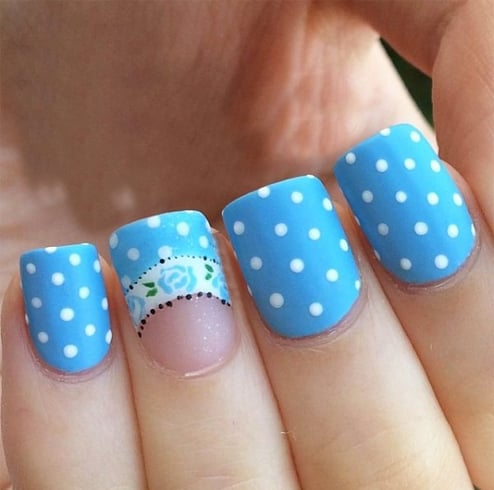 16. White And Blue Combination
Whether you are looking for dark blue nail designs or light blue, adding a touch of white elevates your nail design. Check out this stunning white and blue combination.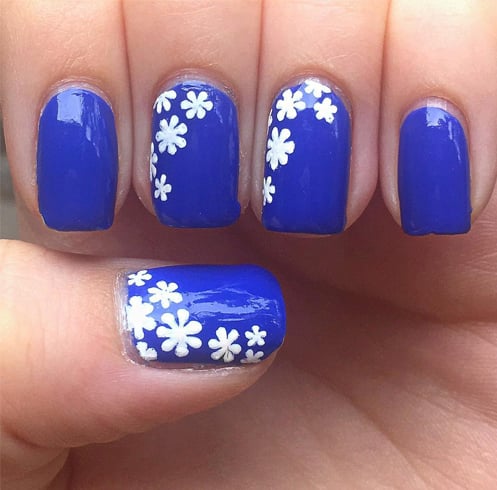 17. Blue Nail Design For Wedding
Here is a nail art design in blue that you can try out for your wedding. The cute little bow in blue seems like a great ides, isn't it?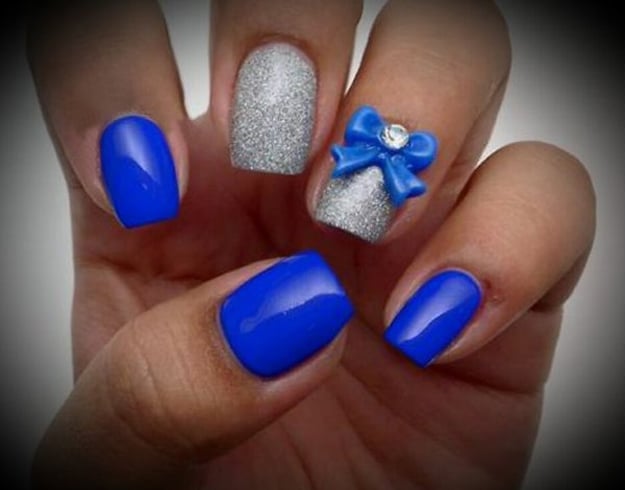 18. Blue Acrylic Nail Design
Acrylic nail designs are very much in trend. They look absolutely gorgeous and you can try a number of different acrylic nail designs. Take a look at this blue nail designs with acrylic nails.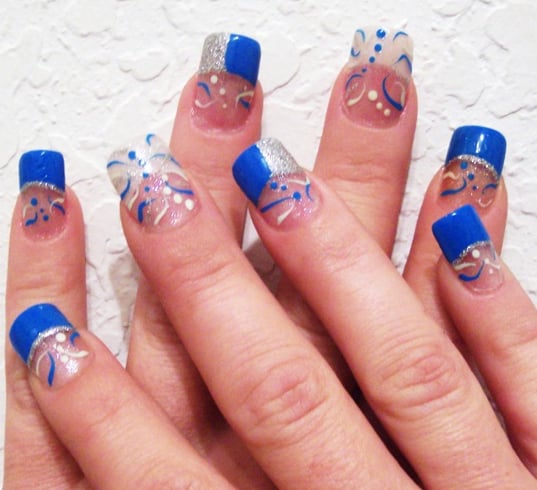 19. Matte Blue Nail Designs
Nail designs in matte blue look classy and elegant. Add few gold stickers to make your nail design shine brighter.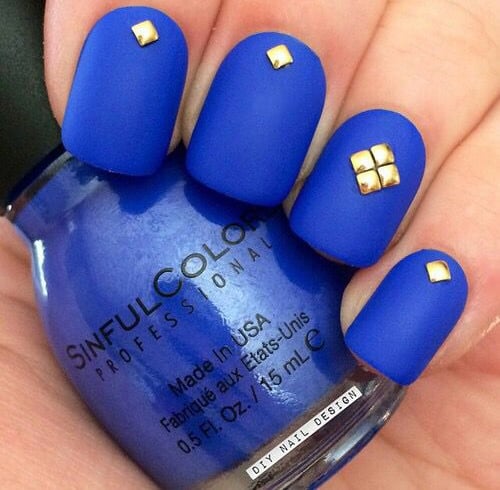 20. Blue Christmas Nail Design
Your fingernails are one of the best canvas to display some amazing Christmas nail designs. Start the Christmas festivities by painting snowman and snowflakes on your fingernails.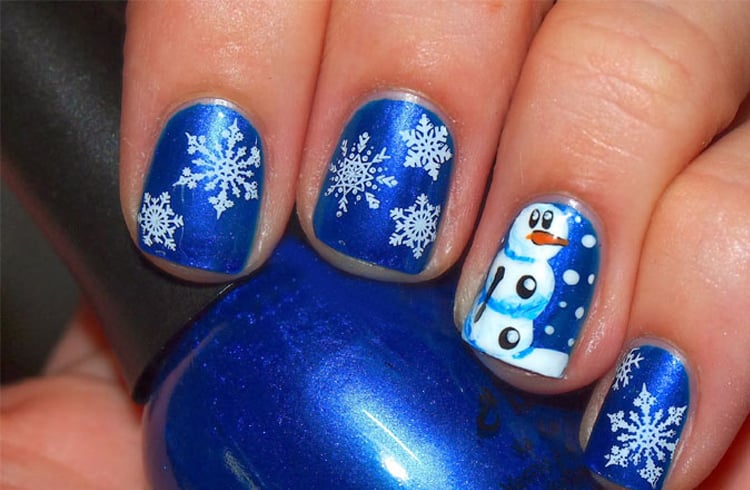 21. Gold Nail Designs With Blue
Adorning your blue nails with golden accessories can make for a great party look.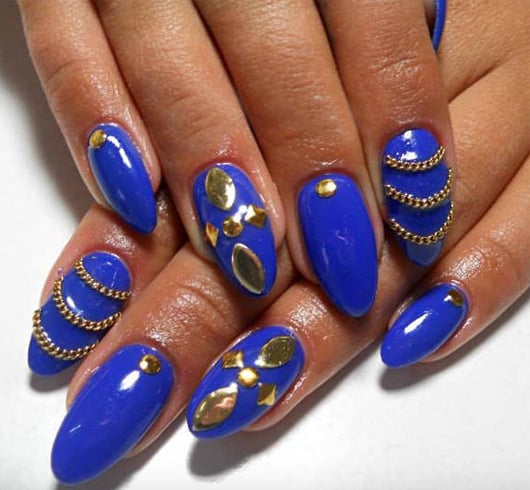 22. Light Blue Nail Art
Use a combination of white and light blue nail polish to create aztec prints on your fingernails.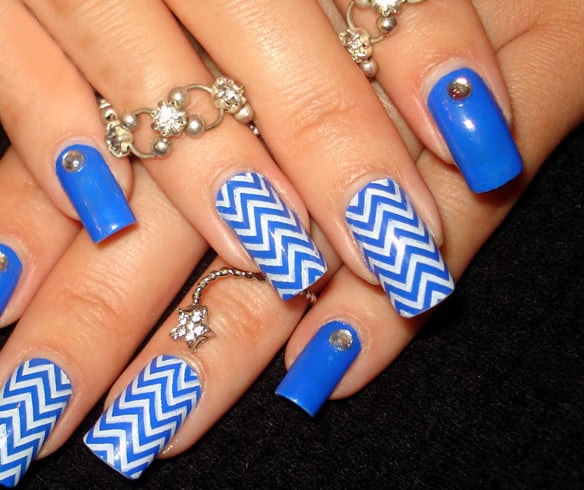 23. Something Fishy
Try this cute blue nail polish design on your daughter's fingernails. Add a dash of color to your blue nails by painting different colored fishes on them.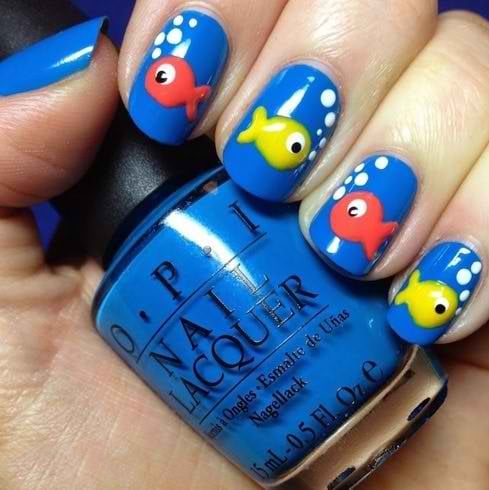 24. Baby Blue Acrylic Nail Designs
Check out this unique baby blue nail design. Instead of a snowman, you could also try the same design with different characters.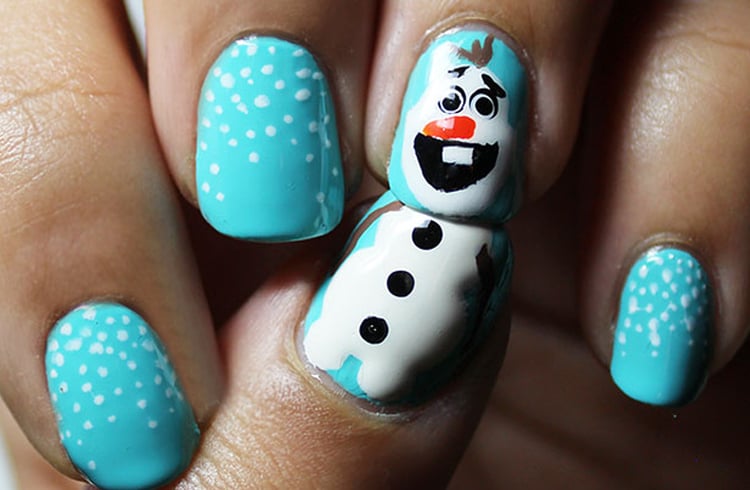 25. Midnight Blue Nail Art
Paint your nails with midnight blue nail polish and use yellow nail polish to draw minions.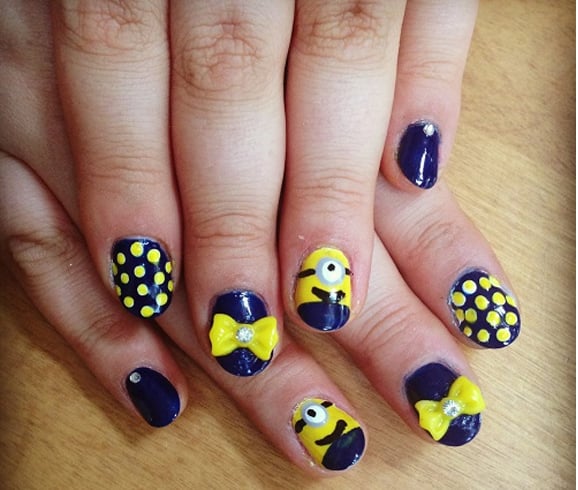 26. Zebra Print Nail Tips
Add a twist to your French manicure tips by trying out different blue nail design ideas like painting them with zebra prints.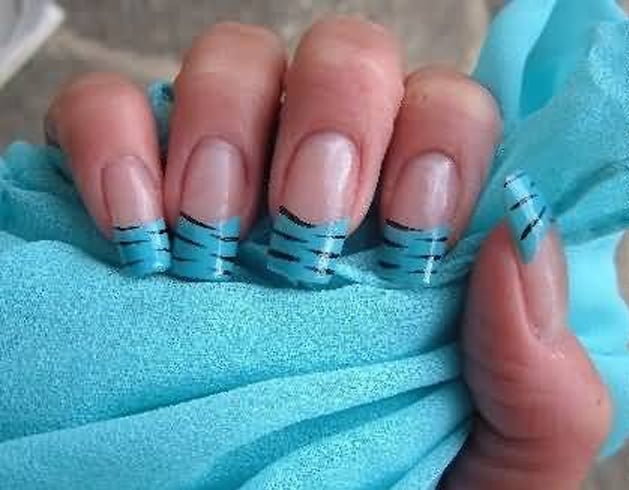 27. Unique Blue Nail Design Ideas
Enjoy your 4th of July festivities with this amazing blue nail art design.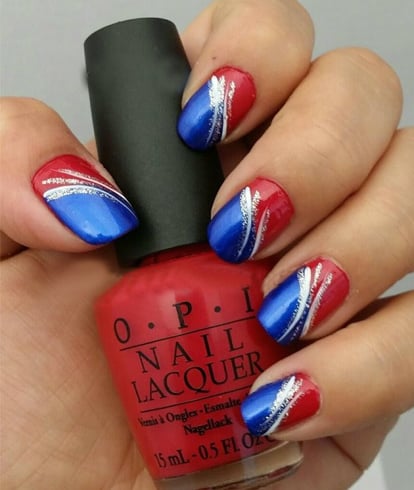 28. Christmas Blues
This Christmas skip the usual colors of red, white and green and opt for this beautiful blue and silver nail design.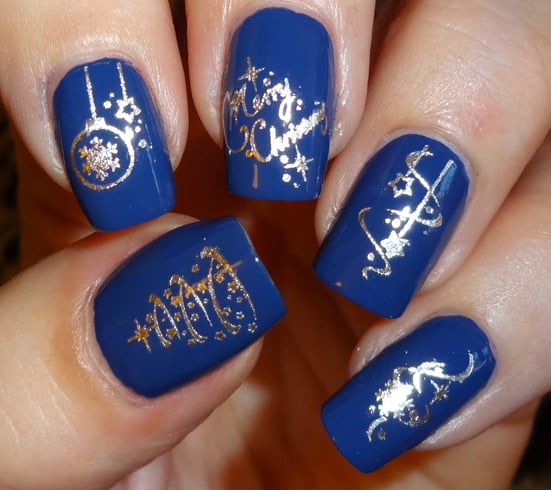 29. Flower Power
Flowers are without a doubt one of the most easiest and versatile designs that you can try on your fingernails. Take a look at the below blue nail art with flower design.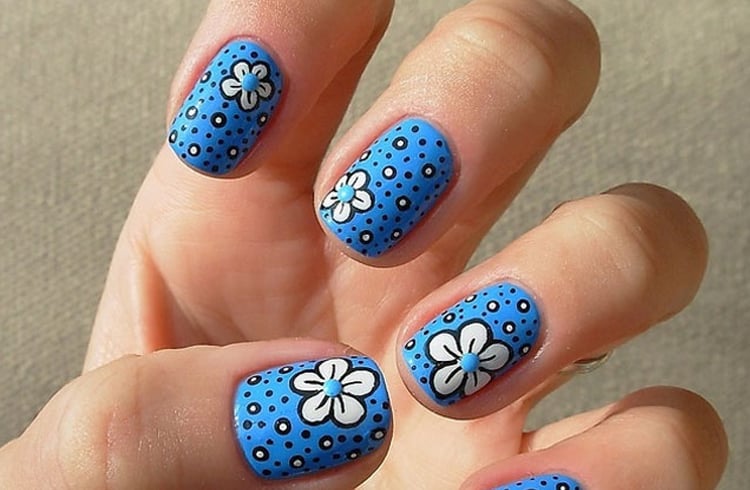 30. Patriotic Love
Show off your patriotism with this cool blue nail art design.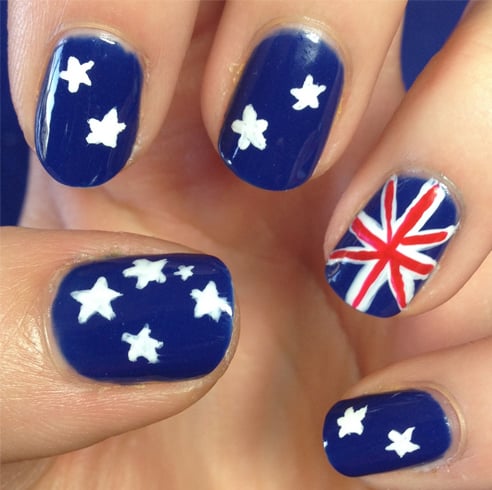 31. Cinderella Nail Design
How many time have we read about Cinderella and fallen in love with her? Well, show off that love with the exquisite light blue nail design.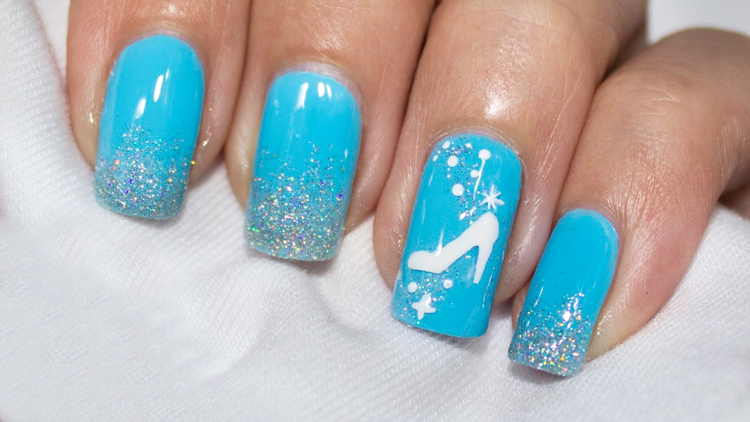 32. Disney Characters Nail Design
Flaunt your creativity with this Peter Pan nail design. The baby blue nail polish as base enhances the design.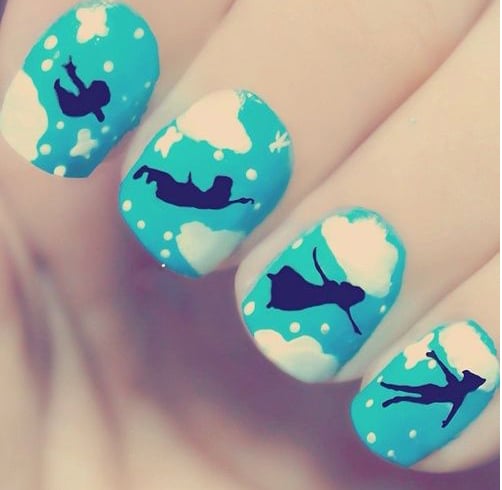 33. Evil Eye Nail Design
Paint your French manicure tips with a dark blue nail polish and an evil eye design on one nail in each hand.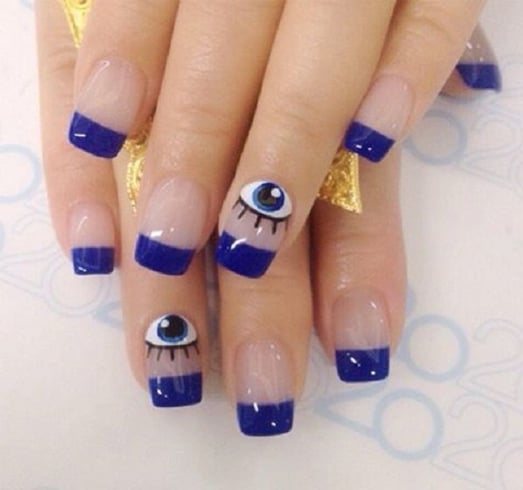 34. Contrasting Polka Dots
Tired of having the same old polka dot design? Upgrade your blue nail design with this contrasting polka dots nail art.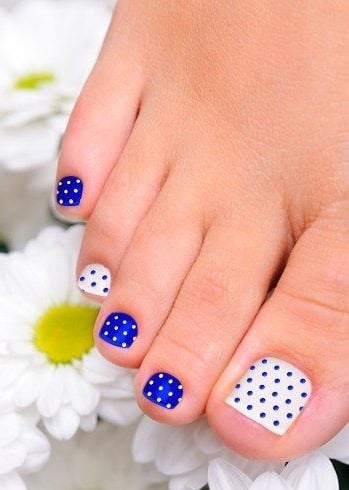 35. Tribal Nail Design
Tribal nail designs look amazing when done with the right colors. Take a look at this white, black and dark blue nail design.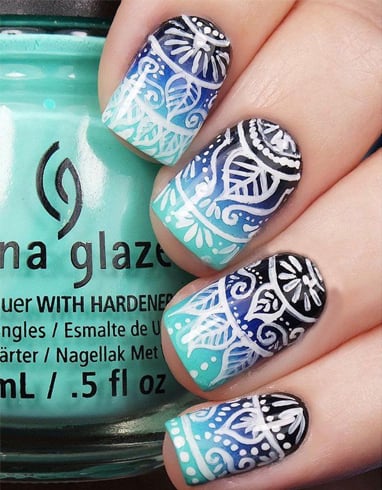 36. Indigo Blue Nail Art
Office going women can get this simple and elegant nail art done. Just use indigo blue nail polish as the base coat and a horizontal golden strip.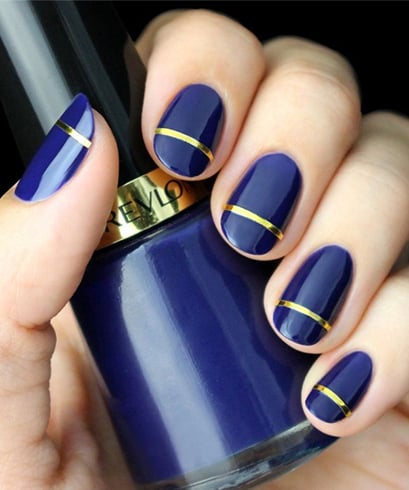 37. Light Blue Nail Designs For Kids
Light blue nail polish is one of the best shades to use for kids. Make it exciting for them by drawing some cute characters as well.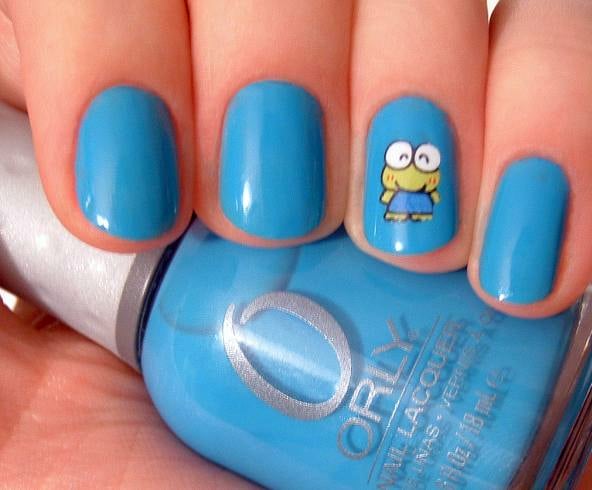 38. Glittery Blue Christmas Nail Art
As the name suggests, you would need a glittery blue nail polish. Add some snowflakes using white nail polish and your glittery blue Christmas nail art is ready.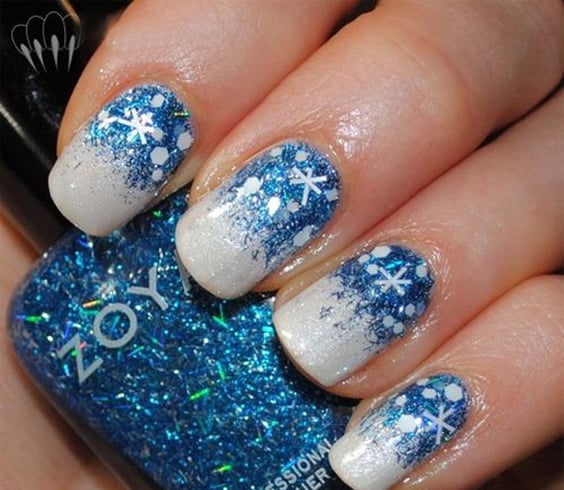 39. Abstract Blue Nail Design
Create your own unique blue acrylic nail design by painting abstract designs using a different hued color.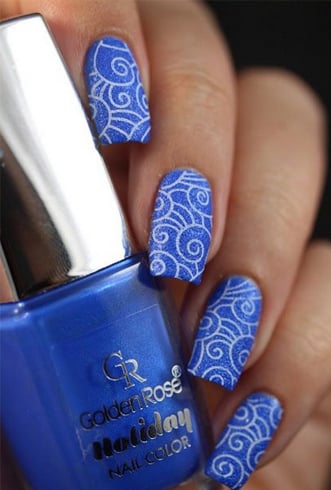 40. Superhero Nail Design
Having a blue nail polish as the base coat would be perfect to draw the logo of superman.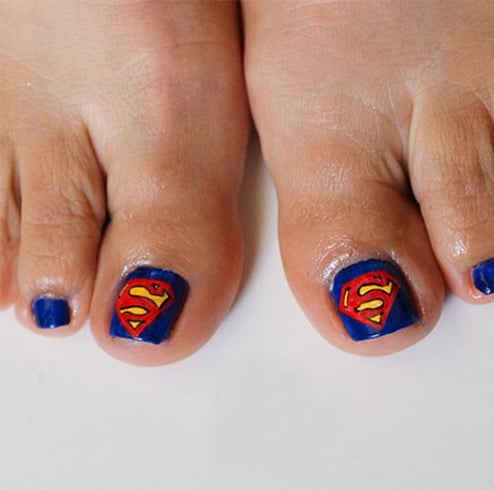 There you go! Some amazing blue nail designs. Try them out and let us know!
Images Source: pinterest.com