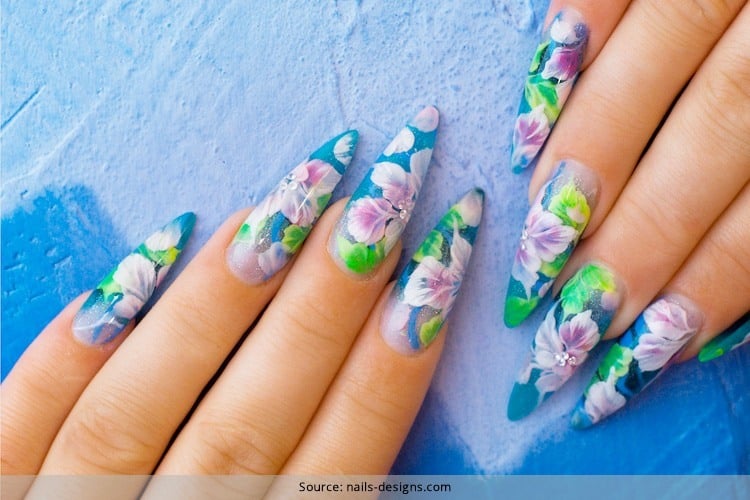 Two things are always popular among ladies and girls – lipsticks and nails. Of the ones that is turning on the heat of late is Stiletto Nail designs, which is meant for those who would give their right arm to try on something new and unusual.
[Also Read: Cute Christmas Nail Art Ideas]
So What's All The Hype About Stiletto Nail Art?
'Stiletto' is a Latin word and stiletto nail art hails from the Middle and Far East. Over a period of time, it became a fashion fad in Europe and the USA. In fact, 'Stilus' was a knife-like gun which was so sharp and pointed that it even broke through the armor of the enemy. Some steel it has, eh?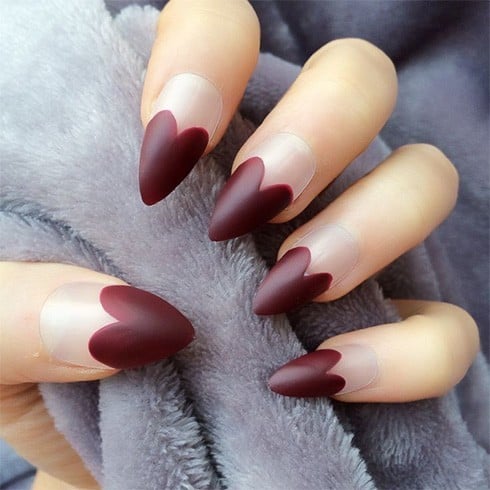 How much of stiletto nails designs is shouting loud on the fashion radar? Well, ask Rihanna, Lady Gaga and Fergie who have been sporting Stiletto Nail designs since the 1950's and '60s only to be followed like a mass rage by the regular audience. Which means one can safely put stiletto nails designs in the bracket of 'daring and dangerous', an apt definition for this fashion hottie.
Think Marilyn Monroe and such bombshells who loved sporting solid red stiletto nails for that classic Hollywood look.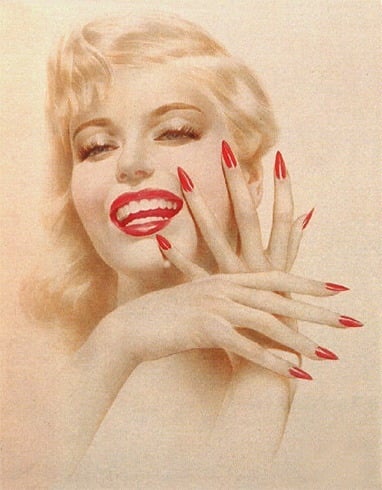 What Is So Unique 'bout Stiletto Nails
Stiletto Nails have helped bring in that extra spice to the nail world which was all along cluttered with the standard square and oval nails. It can make your nails look slimmer and longer when done in a right way, or else it can make your fingers and nails look shorter and stubby.
When you see long oval shaped nails that are extremely pointed at the tip (instead of being rounded) you bet it has to be stiletto nails. Long and tapering, this could be one reason why stiletto nails are termed as 'cat claws' and wolverine-man like.
Considering their length, they can be considered as fake, but at the same time they are thought to be cool and extreme.
Like all new fashion innovations and hangovers that come and barely go, you have to be a bit cautious while wearing nail designs for stiletto nails since they can get to be injurious at times. But this isn't anything to lose your love for them as they put you in a different league from the boring and the conventional look.
[Also Read: 50 Beautiful Nail Art Designs]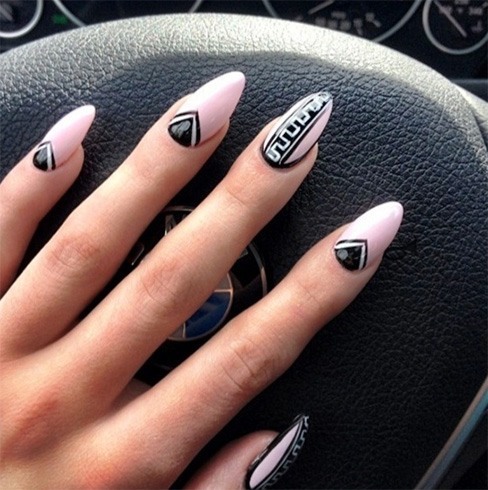 How To Turn Your Nails Into Stiletto Nails
Here are a couple of things you need to keep at the back of your mind while going for simple stiletto nail designs.
[Also Read: Long Nail Designs]
1. Solid colours are very much in vogue. In fact, things like the length and the shape of your nails go about accentuating the flawlessness that solid colors have on stiletto nails.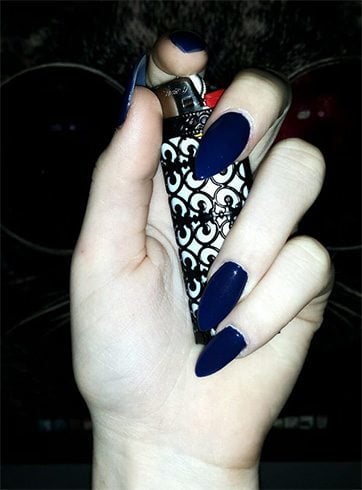 2. Yet another element of popularity is matte nail colors. To make your nail stand out, just add a peppy design element on regular nail polish.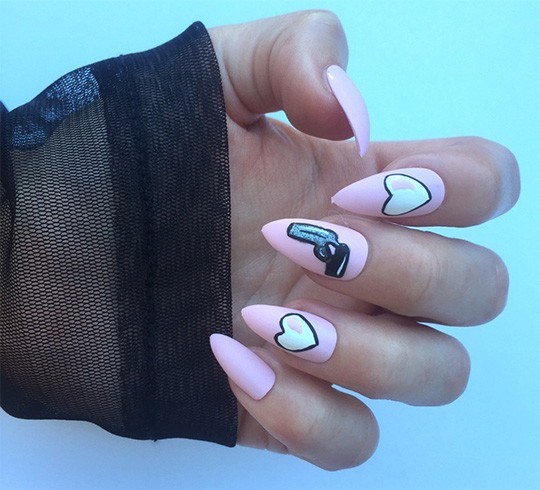 3. Whenever you are on the trip to wearing black stiletto nails, then paint the underside of the nail in a different color. This surprise splash of color would prove to be striking, especially when you chose a bright red under black.
[Also Read: ballerina nail designs]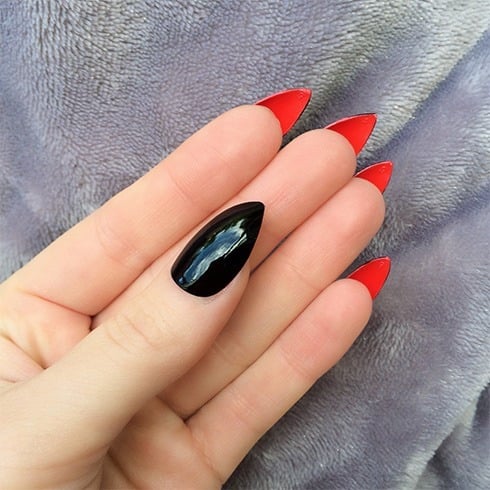 4. Stripes and dots are thumbs up when it comes to nail designs for stiletto nails.
[Also Read: Fake Nails Designs]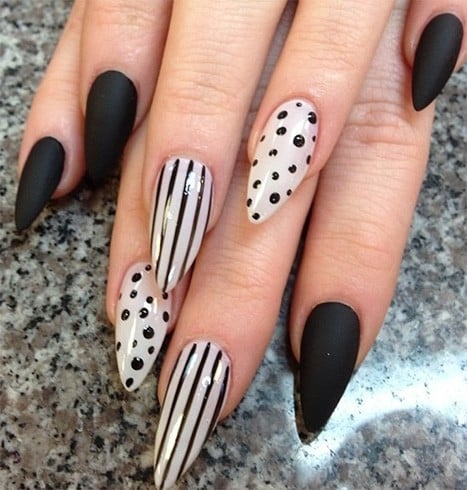 5. Eager to sport a bold look? No harm in wearing a different design on each nail. It will perk up your nails and get eyes drooling over your nails.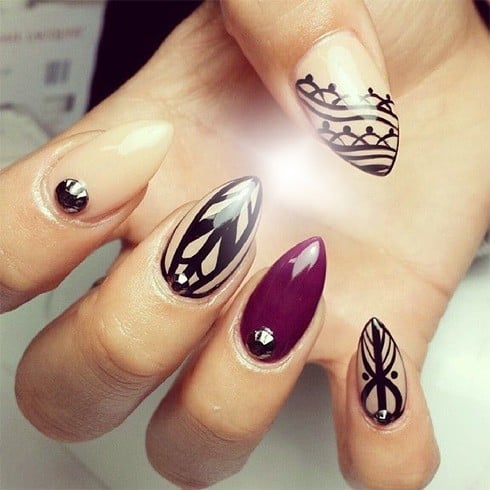 [sc:mediad]
6. Want to add a variation to your stiletto nails? Go add gold or silver tips to any solid colour of your choice.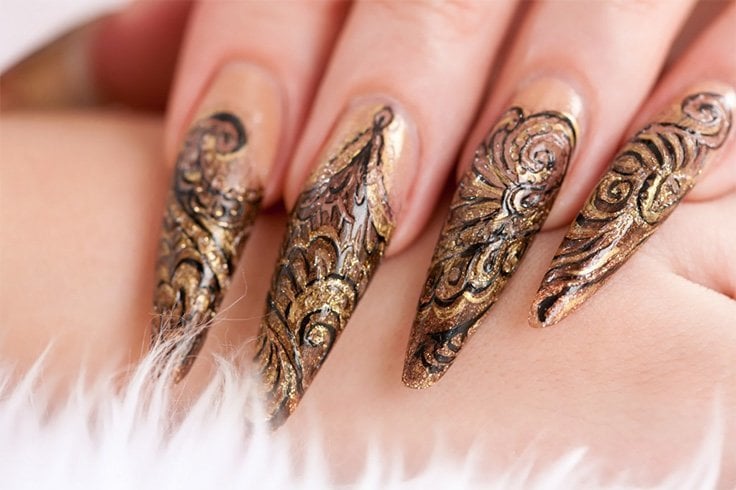 7. To further go the experimental fashion route in stiletto nail designs, chose one or two fingers of both your hands (it can be ring finger or your middle finger or even your thumb) and paint the same stiletto nails designs on both these fingers. This is a great step towards acquiring simple stiletto nail designs.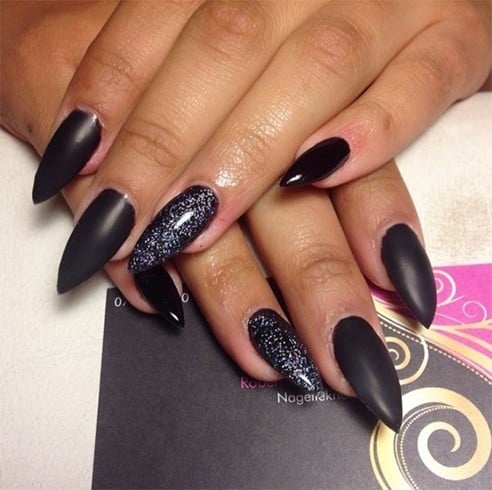 8. Rhinestones on top of the stiletto nails are like the icing on the cake.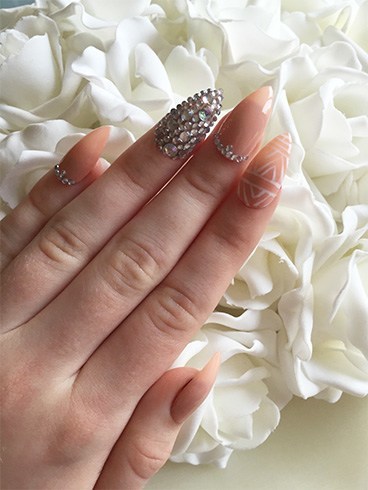 9. Floral prints make simple stiletto nail designs look stylish than ever.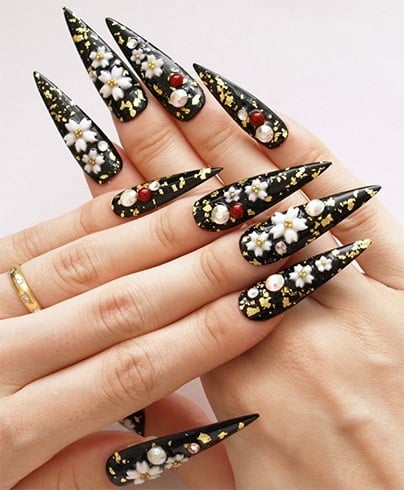 10. You can try a holiday or seasonal theme to get into the spirit of stiletto nail art.
11. Don't miss the 3D nails. There are tons and tons of stickers and accessories that can be glued on to your nails.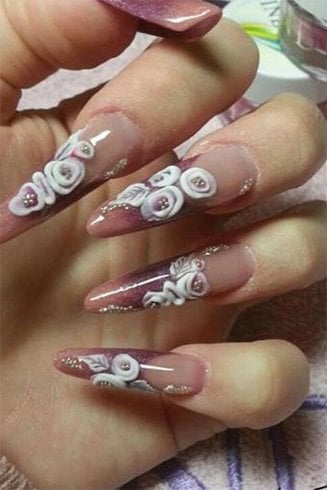 12. Pixie dust fairy nails bring the electric neon yellow tips to life in a fashionable manner.
13. How picturesque do these stiletto nails look? A splash of all colours with a touch of glitter is what nails yearn for, and this couldn't be more perfect.
14. Keep it simple yet classy in these quilted mocha matte stiletto nails.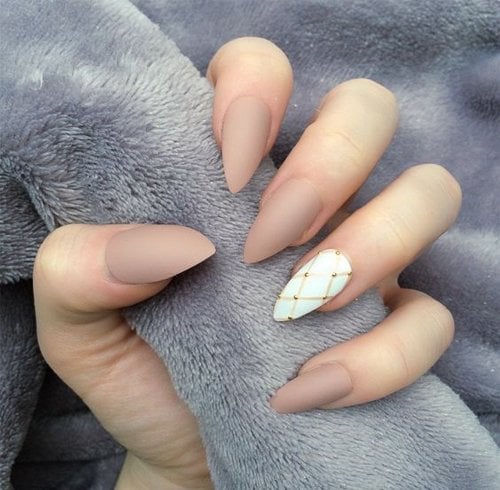 15. Do you have a inner crazy? Yes? Then here's a bold one in a million look you might want to try.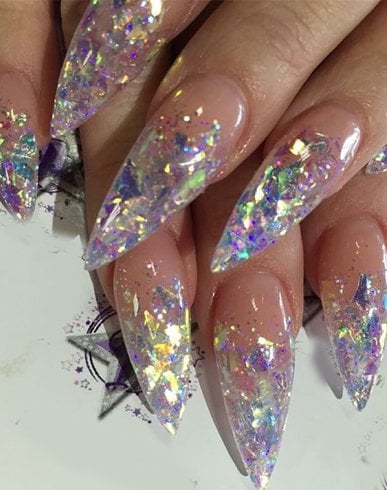 16. This truly mesmerizing design with a smooth finish and a high shine is a clear cut winner.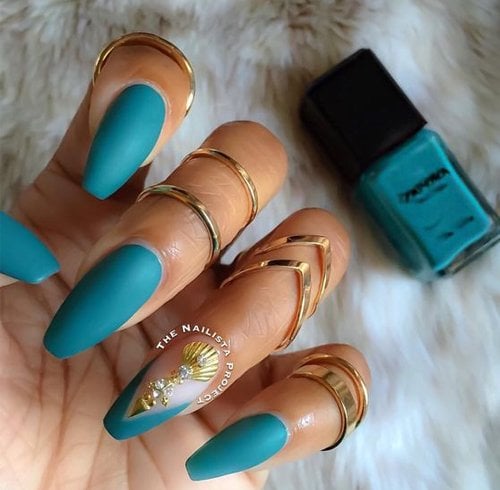 17. Santa Claus is coming to town! So your nails must be Christmas ready too.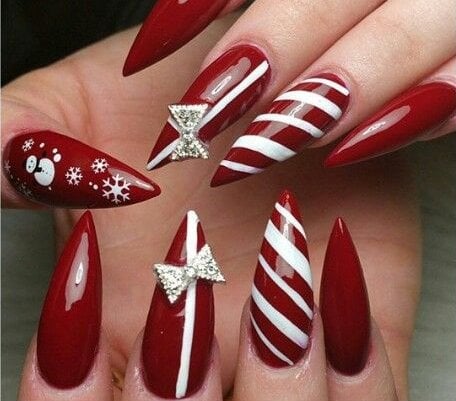 18. Animal Prints are the new in town. Why not have leopard print nails too and be the talk of the town?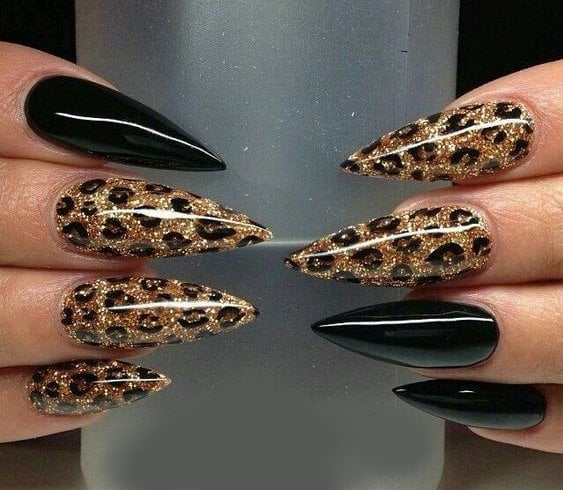 19. Stiletto Nails can deviate from the normal, taking a tribal twist to your pointy nails.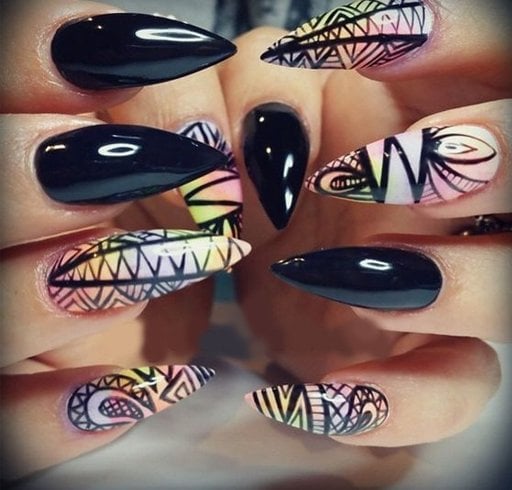 20. This colour combination is so in sync that we are in love with the stiletto shaped nails.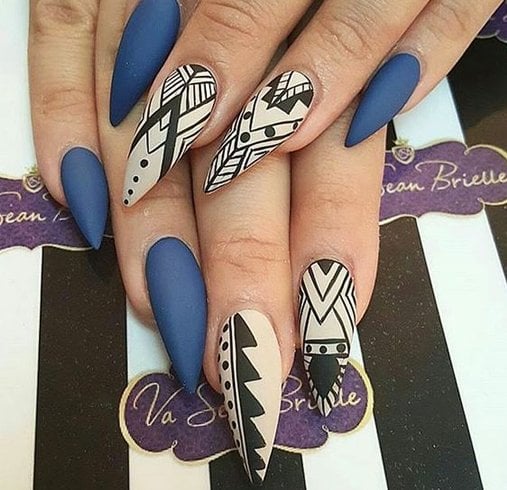 21. Take your stiletto nails beyond imagination with lines and triangles creating your perfect moment.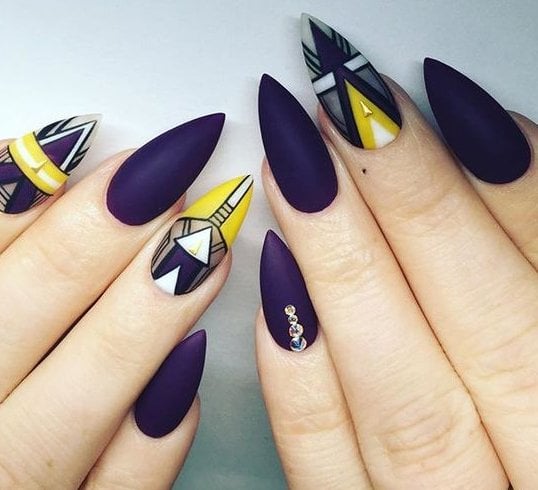 22. For the cute soft-hearted romantic in you, is a heart your favorite shape? Then this is your favorite design too.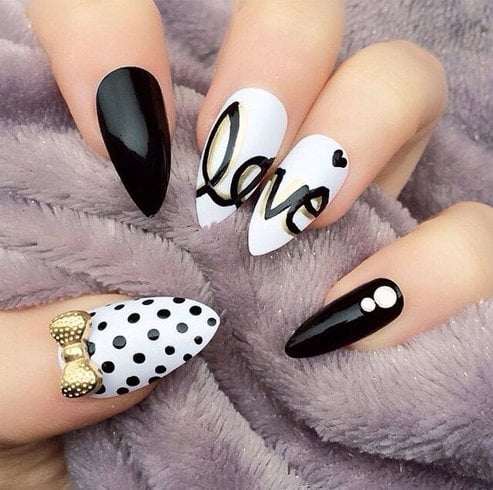 23. Dream catchers can never look bad. Always a safe option for a design.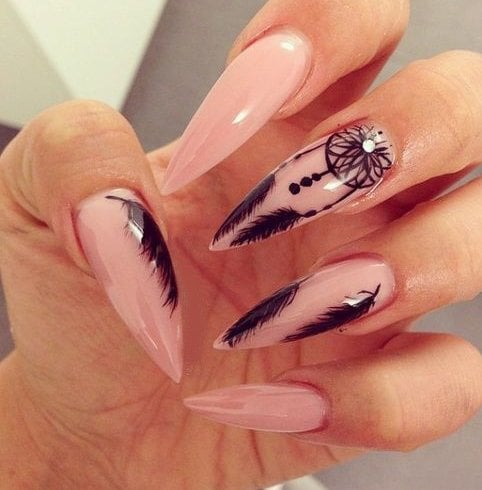 24. These contrasting nail colours duo are bringing back a bolder look that stands out.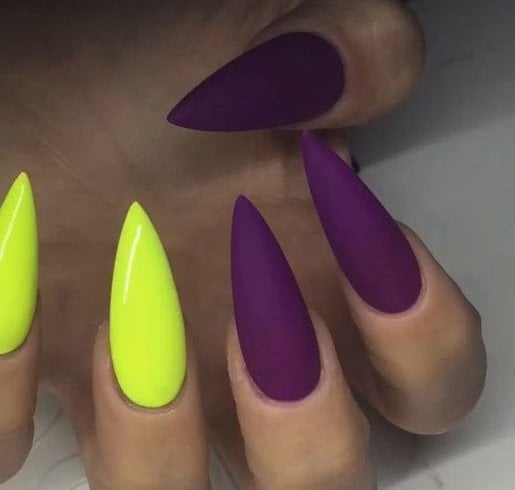 25. The goth look is back, but only better and more beautiful. For medium sized stiletto nails, your perfect go to solution.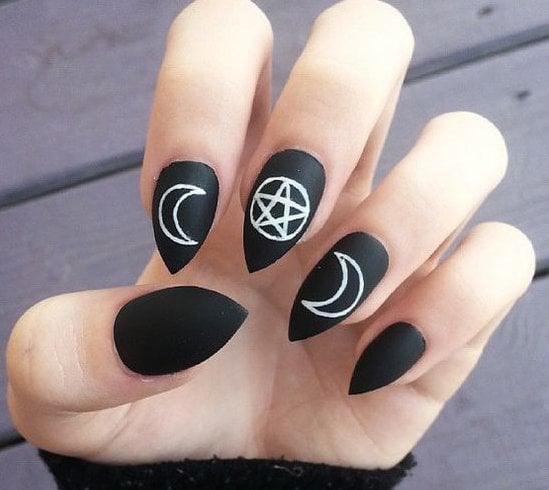 26. A little bit of everything. Here we have a little bit of glitter, tribal design, stones, aztec designs coming together creating a beautiful design.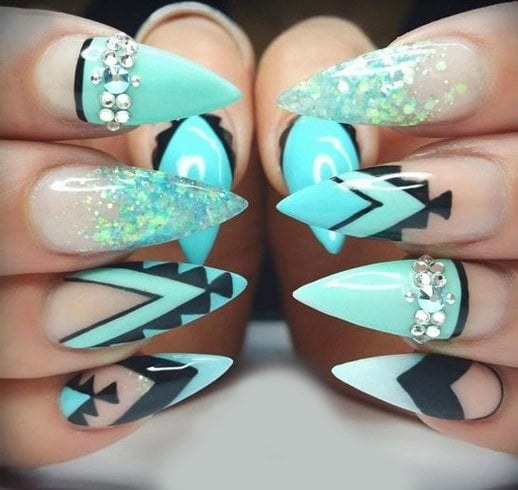 27. Matte Nails, keeping it monochrome and simple. Your way to elegant delicate looking hands.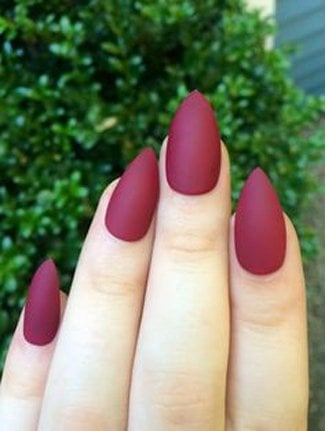 28. Spice up those dull looking nails with some unicorn nail art to feel your high.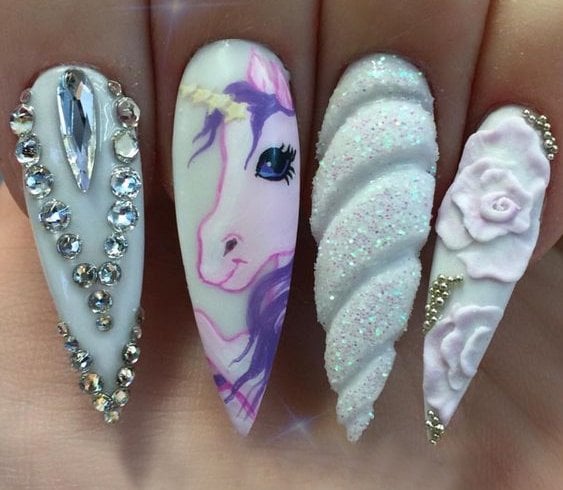 29. This attractive monochrome theme of black and white nails is a true winner. Keeping the rest of the nail simple with just black and white manicure.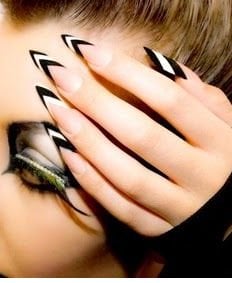 30. Looking gold, feeling gold?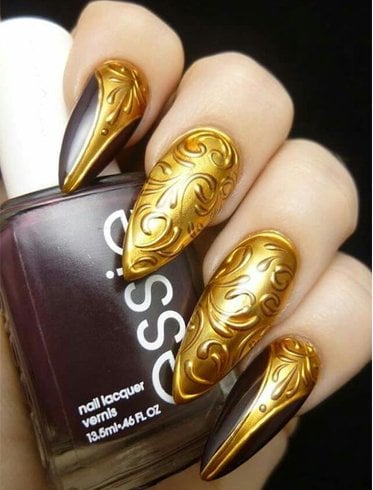 31. White will always have a charm that is unbeaten. Glitter adds on to the charm.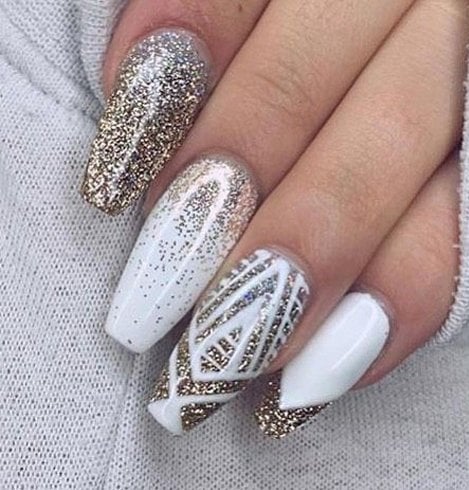 32. Keep an eye on those gorgeous nails, the simplicity of the design with immense meaning takes this design to a higher level.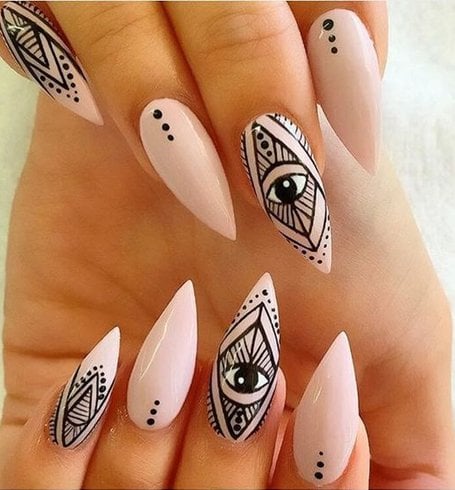 33. How many times have we stepped out with cameras just to see how beautiful the moon looks in its various forms? It's time for you to stay indoors and admire it as well. On your nails, darling!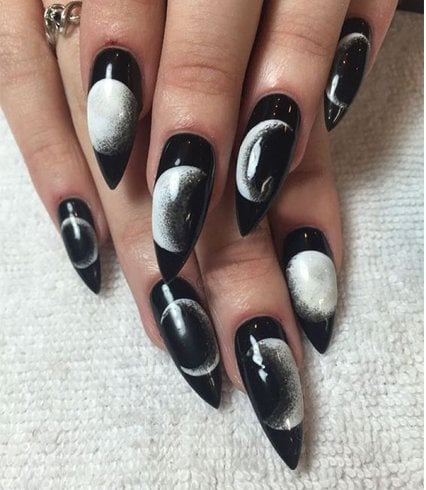 34. Nude Stiletto Nails with gold gems to make you feel like a queen.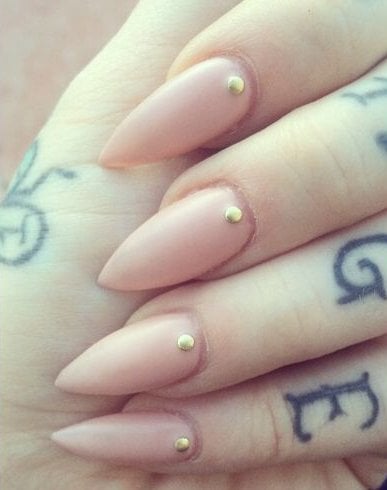 35. I mean, who comes with such amazing concepts? Stiletto nails with the broken mirror concept.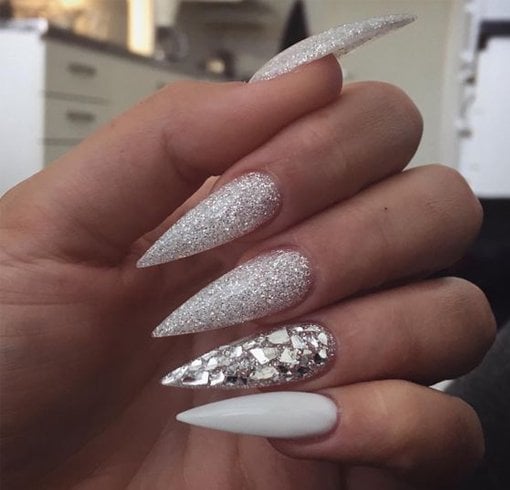 36. Bring out the diva in you, with these bold neon colours and stones spelling out sassy.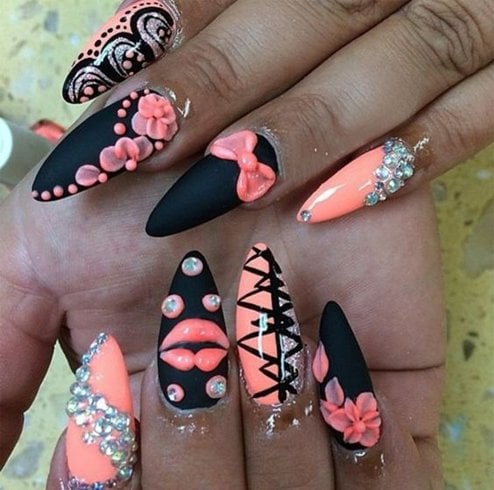 37. Some matte black added to a few stones and 3D flowers gives us the best stiletto nails.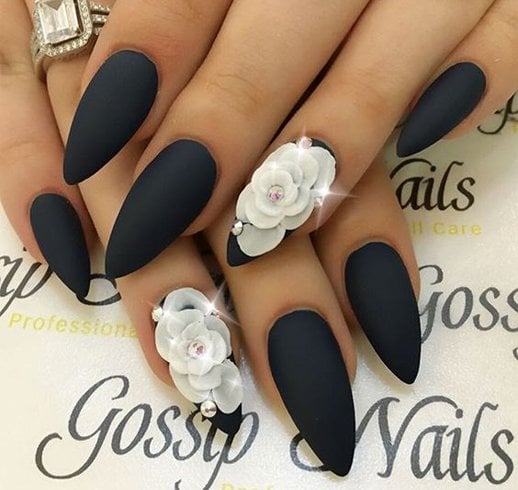 38. Keep it the usual with just a shade of nailpolish and no design.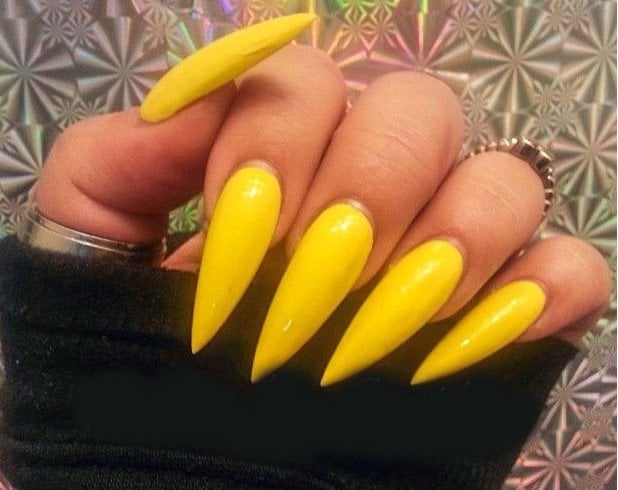 39. Stiletto nails for Halloween? Look at this, we've got the perfect one for you.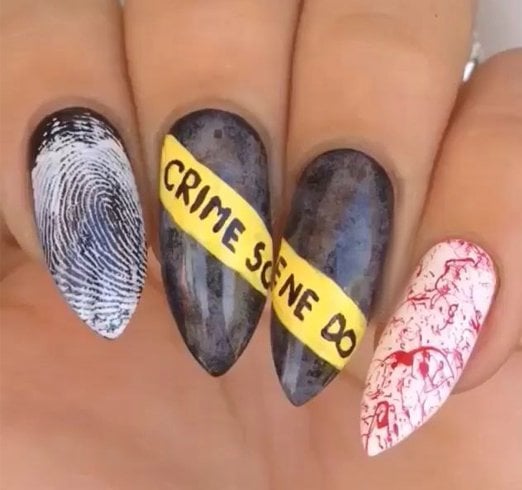 40. Gamble your way through life with these cards on your side.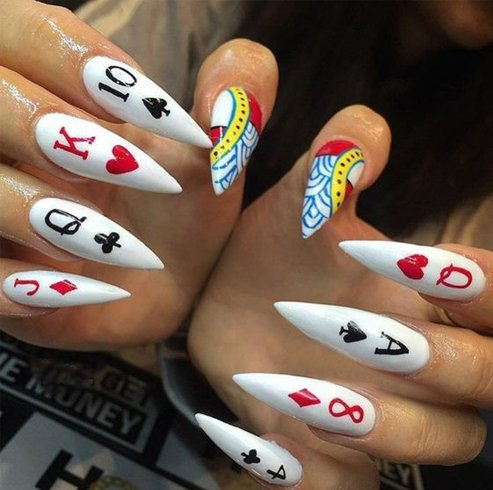 Getting Stiletto Nails
Now that you are almost convinced of the fancy world of stiletto nails, how to get them done is the next step.
1. Go to a nail salon and get a nail specialist to do it for you who has the knowledge and art of doing nail designs for stiletto nails.
2. The second feasible option is to do it yourself. In doing so, you need to buy a fake nail kit in the oval shape. Then file the nails to the length and shape you want by making it pointed or rounded. But whatever the case, stiletto nails largely come to some type of tip.
The fake nail kit comes with nail glue so make sure it is there. If it is so, glue the shaped nails and then file them again and then start nail painting.
So you see the options in stiletto nail art are so many. Just copy the designs shared here and get your nails to look fab this time of the year.
Do write back to tell us the stiletto nails designs on which you have a big crush.
Images Source: pinterest