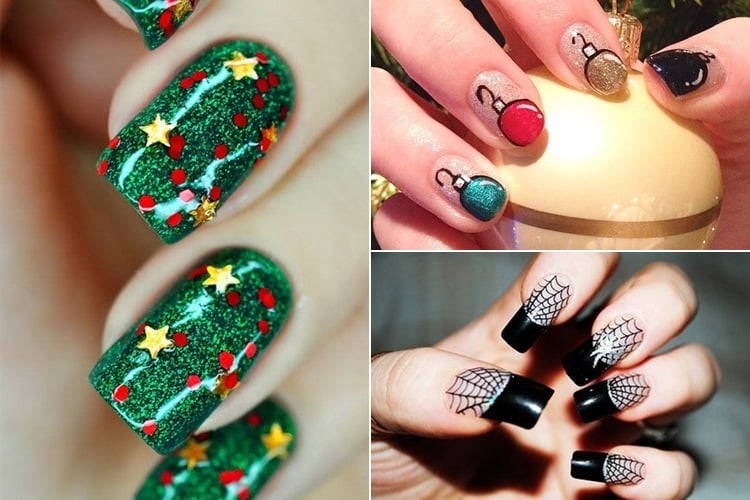 If there was another reason as to why one should decor their nails, it would be Christmas. While the twelve days of Christmas are on, and there would be plenty of gifting and receiving, sharing and donating, we would like you to try one of the many Christmas nail art designs. Put your best hand forward to meet and greet.
The aim is to not ignore the nails, while mingling with people or just about attending the Christmas gatherings, the lunches and dinners included. You could wear these Christmas nail art at a wedding too and flaunt your sassy style galore.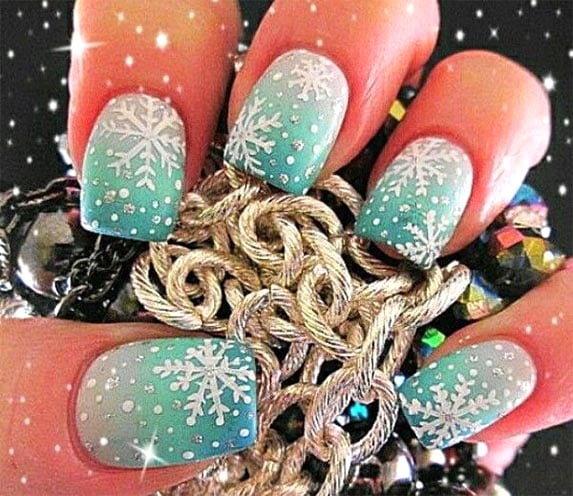 TAKE A LOOK AT THE CHRISTMAS NAIL ART DESIGNS WE HAVE FOR YOU
Get into the spirit of the season and dress those nails with the cutest colours, here are a few options to choose from.
1. Shimmery touches on red nails which can be worn with any ethnic or western ensemble for a party night with friends.
[Also Read: Christmas Nail Art Designs For Beginners]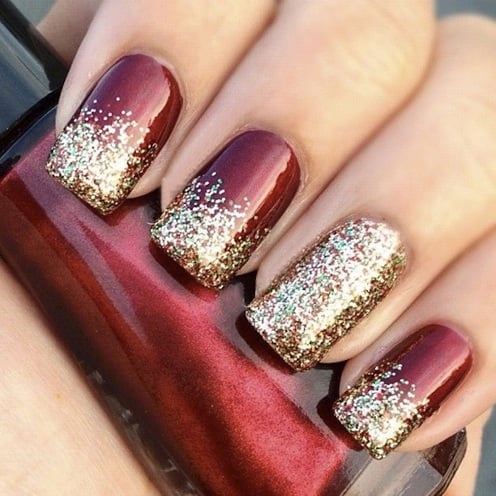 2. Teens can quirk it up with penguin designed nailart and flaunt their sassy style!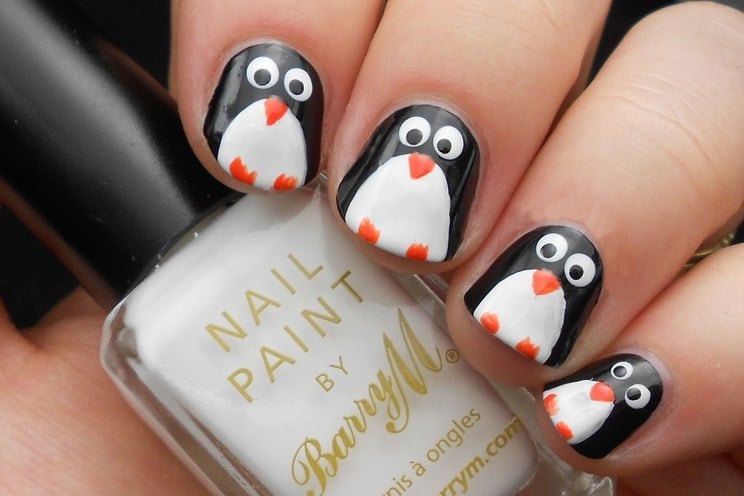 3. Colours of Christmas running amok on your nails, and these cutest numbers would be showstoppers for the onlookers around!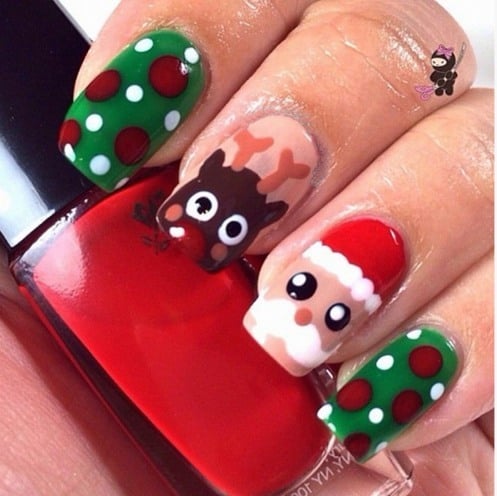 4. Matte frosty nails so chic, who wants the shine and shimmer when pale blues and whites can dress those nails up!
[Also Read: Nail Art Designs]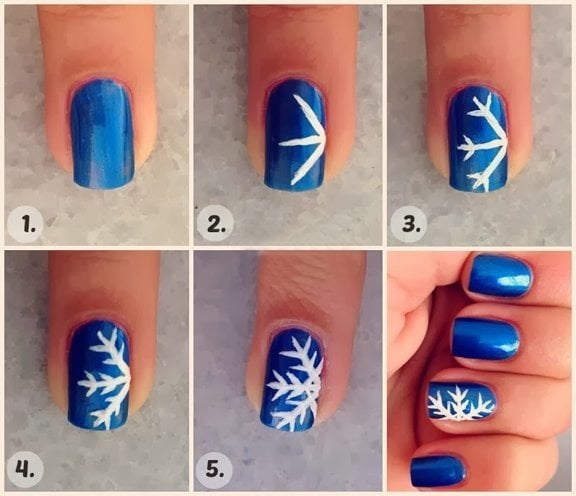 5. Nude nails with Christmas trees embossed on them, add in a little snowflake to each nail and make it a quirky affair.
[Also Read: Nail Art Trends]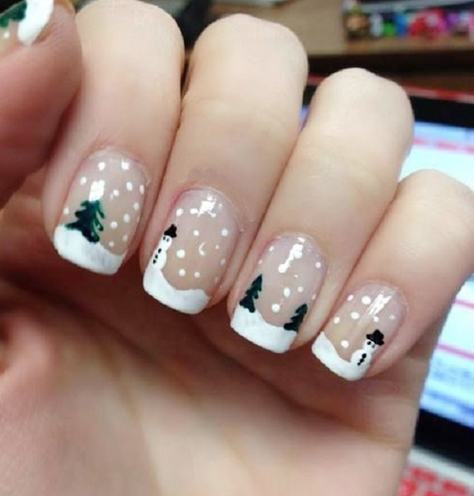 6. Snowflakes on red base nails are haute trends doing the rounds this year. You can emulate the look and keep it cute too.

7. A very divaish touch with glossy red nails bathed in embossed stars and twinkling touches.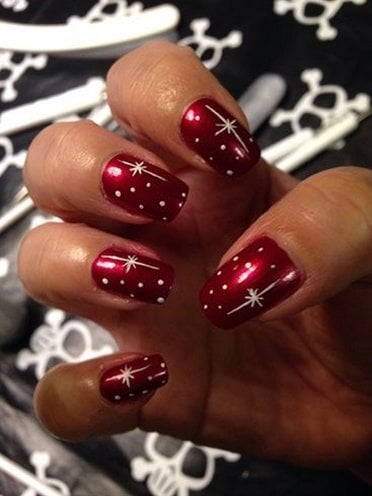 8. For the show stopping effect, try dressing up just one nail from the five on your fingers and make a stunning statement.
[Also Read: Long Lasting Nail Polish]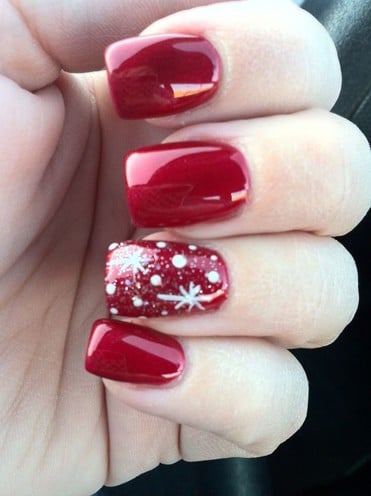 9. Burn the jealous PYTs green with envy with the perfect Christmas touch on the nails this season.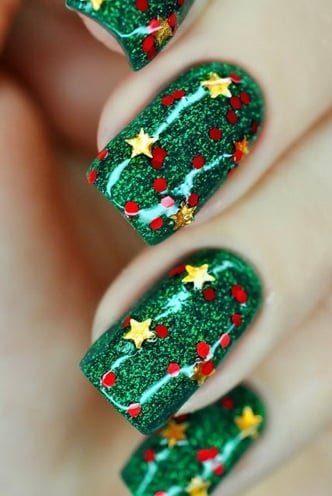 10. Shimmering balls on the matte nails, they look cute and make a statement too!
[Also Read: Christmas Sweater Nails]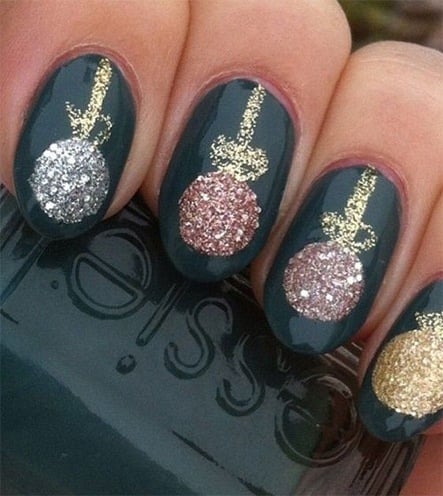 11. Ring in the season of carols and snowmen, embellishing your nails with cute white nail art.

12. Rudolph the red nose reindeer needs his prominence place on your nails too!
[sc:mediad]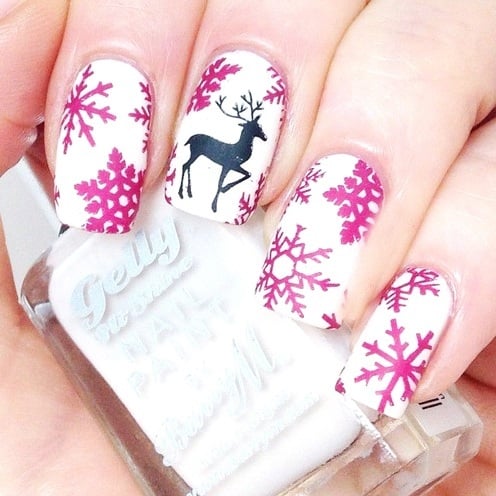 13. Pretty and very cute nail art in bows, dressing them up in white, red and green for the show stopping effect.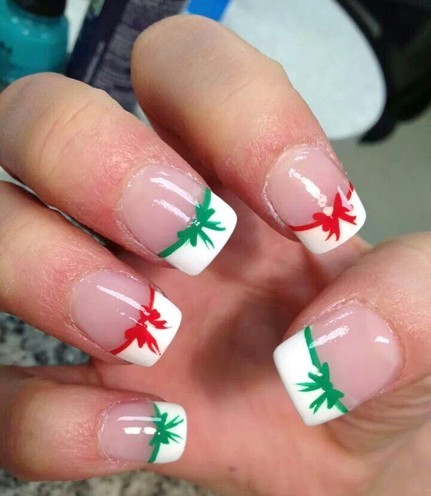 14. Tinsels aren't meant for the Christmas tree alone. They can be placed neatly on your nails for the season too!

15. Santa needs an invitation and since you have been a good girl all year round, show him a welcoming touch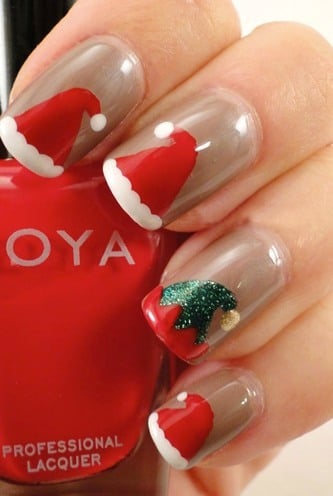 16. Try out the monotone Christmas eve nail art statements this time!
[Also Read: Frosty Nail Art]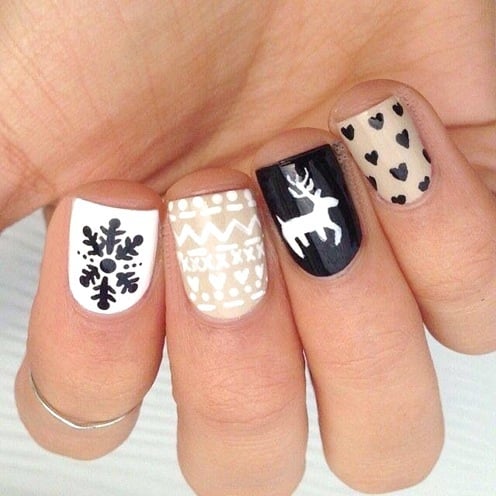 17. Mistletoe easy nail art designs for Christmas makes for an elegant touch and a sassy cool effect to wear at the parties!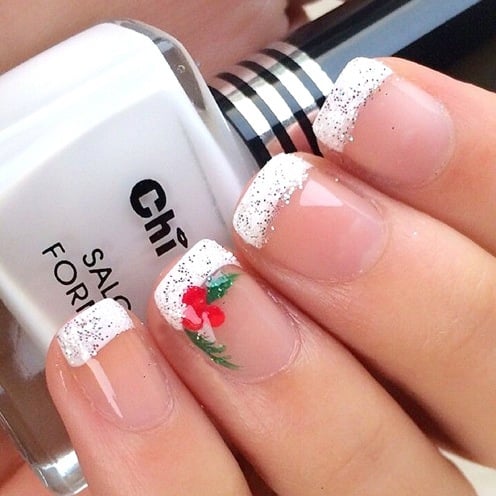 18. Rudolph loves a monotone touch too, and he doesn't mind flaunting his red nose as well, when you wear him cozy on your nails.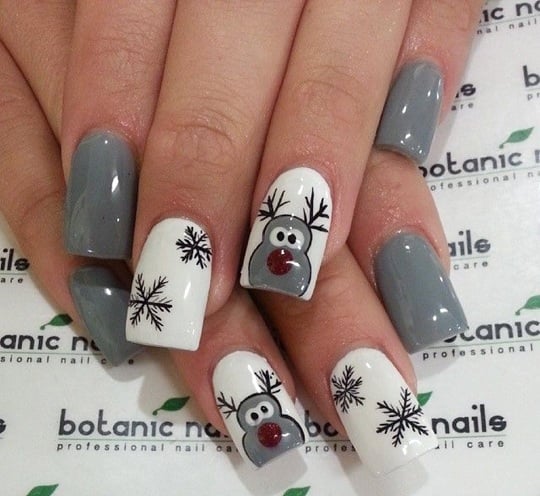 19. Polka dotted nail art in red and white, so Christmassy we say!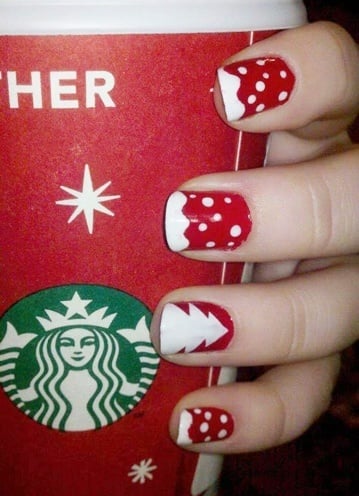 20. Elves are to Christmas what the wise owl is to Diwali, so why not have the elves on our nails this time?
[Also Read: Zebra Print Nails]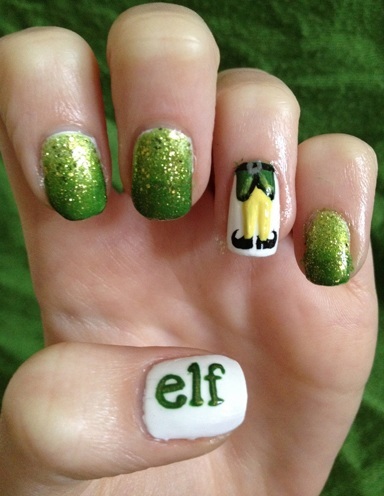 21. Cute Santa watches us all year long and he's back to party with us tonight, so wear him right!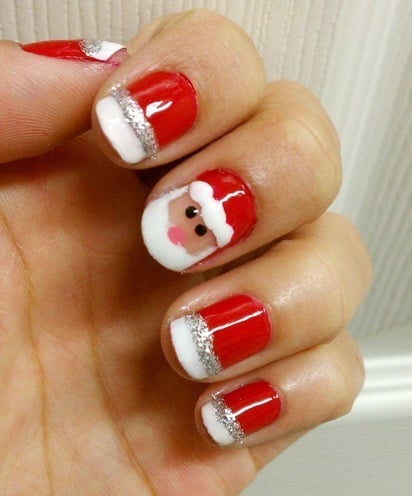 22. Hollies and mistletoes for the nail art designs are trending this year. Practice from now to emulate the look.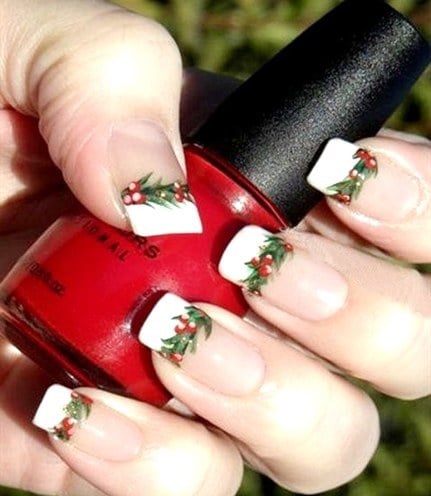 23. Minion Santa's' look so cool and are a sassy playful bunch to wear around!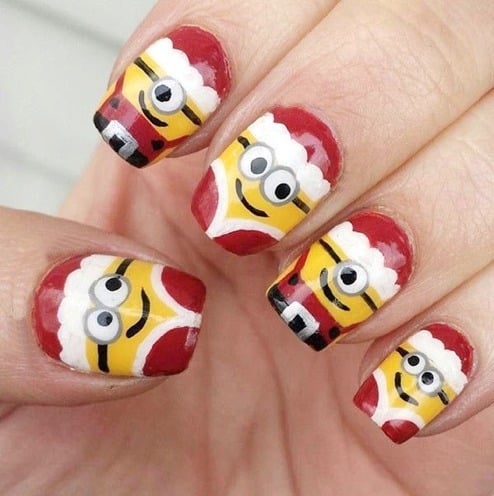 24. Resplendent Christmassy effects; one per nail and these DIY Christmas nail art ideas can make you the talk of the town!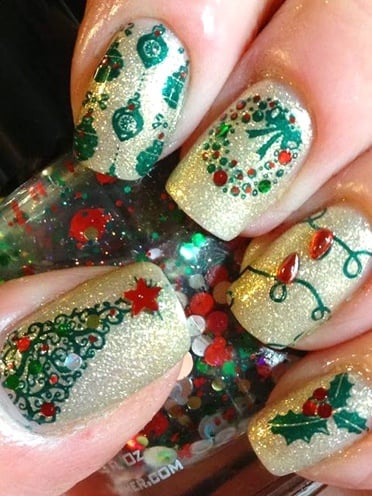 25. Snoopy wants to have a little more fun, on your nails this time!
[Also Read: Black Nail Art]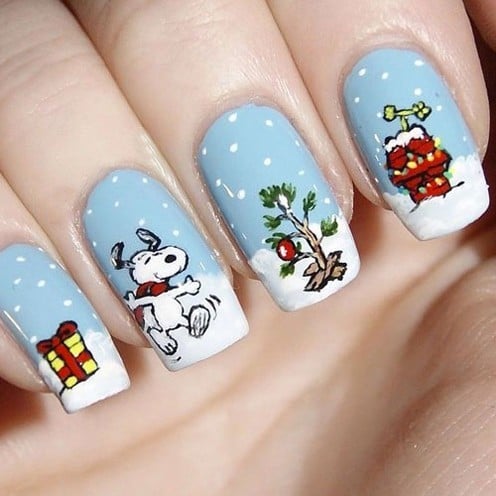 26. Use black and white combination for your snowflake nails and break the monotony of red and white.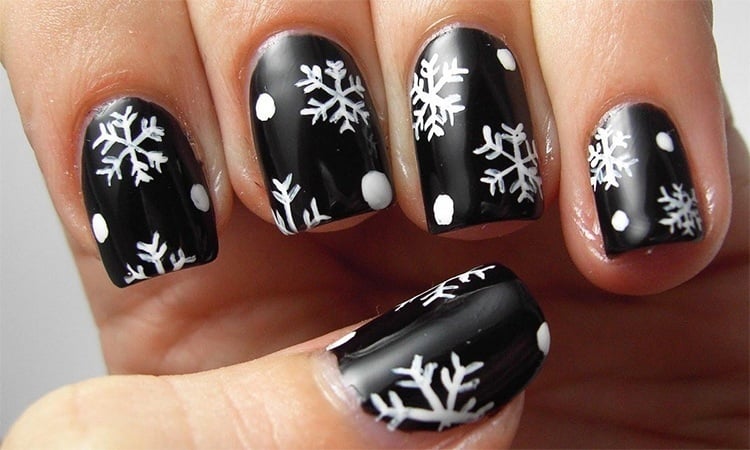 27. No time for elaborate designs but still want to grab attention? Use Christmas nail stickers and get the party started.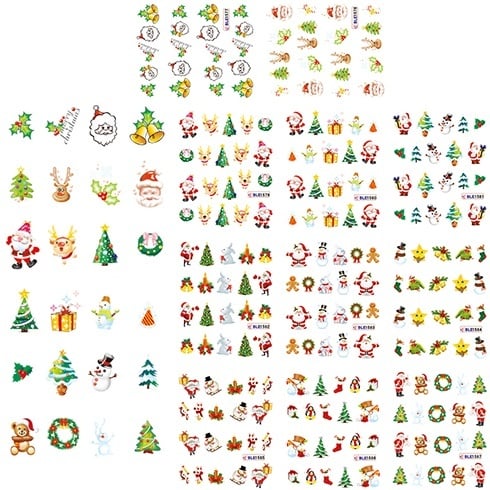 28. Go bold! Try this glittering Christmas tree nail art with some embellishments and you are set to be the glam doll.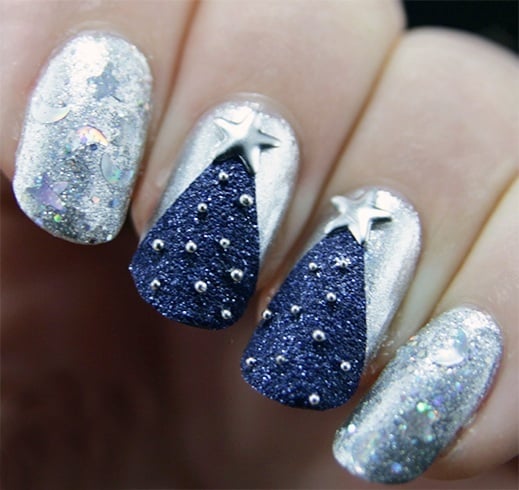 29. If you are a nail art beginner, then you should try this simple Christmas nail design to get into the holiday mood.
30. Don't forget your toenails! Get this cute toenail Christmas nail art and dazzle your family and friends.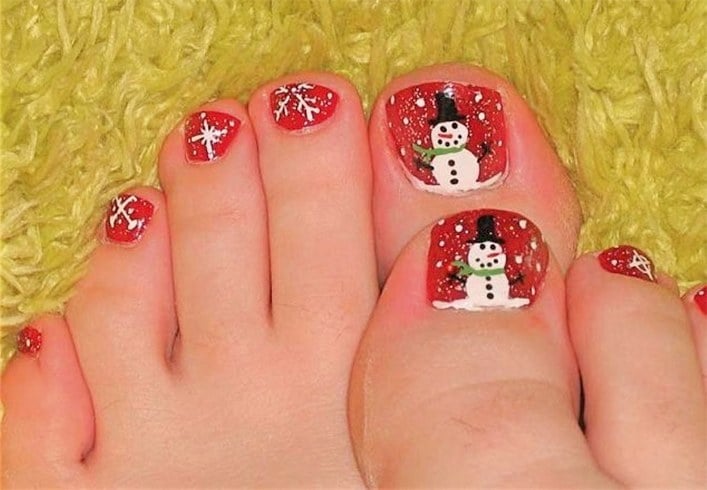 31. Who said that you have to stick to the traditional colors for a Christmas nail design? A steel gray base coat can provide a beautiful backdrop for your snowman and snowflakes.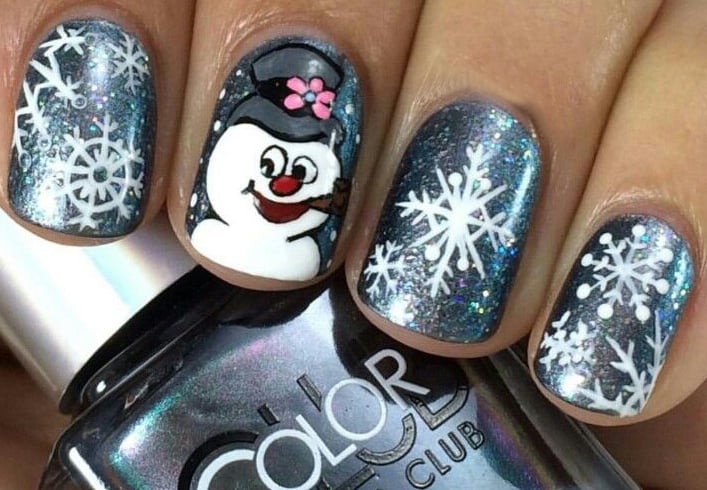 32. Play around with red and white nail colors for a unique Christmas nail art like this.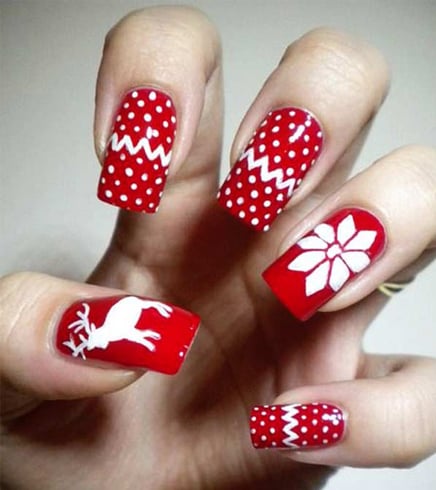 33. What's a nail art for Christmas without some cutesy Santa hats to flaunt!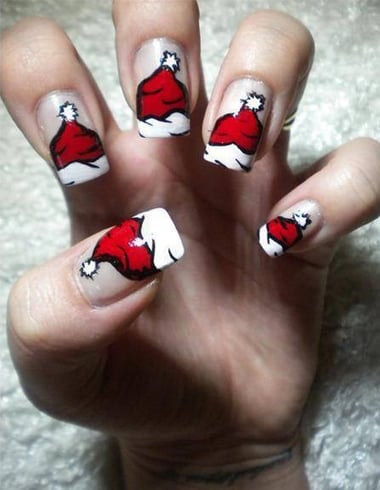 34. Get a professional's help to rock this unique Christmas nail art design and impress your friends and family.
[Also Read: Christmas Nail Art]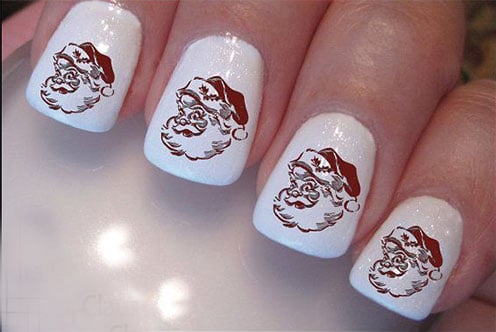 35. Here is a fun Christmas nail idea that you can try out. The best way to optimally use your nails!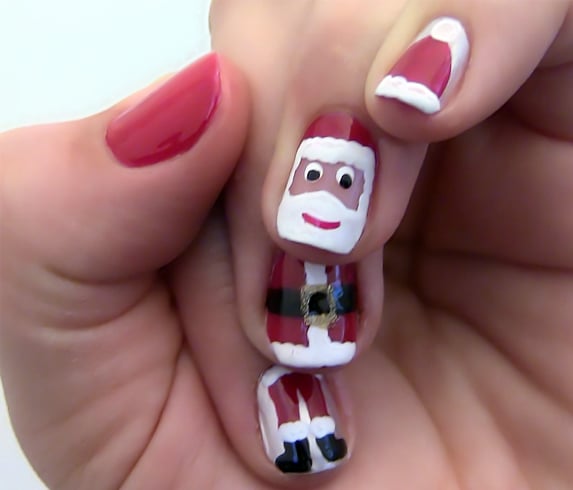 36. For those of you who are running around at the last moment, you can save some time by opting for this simple yet a pretty Christmas gel nail design.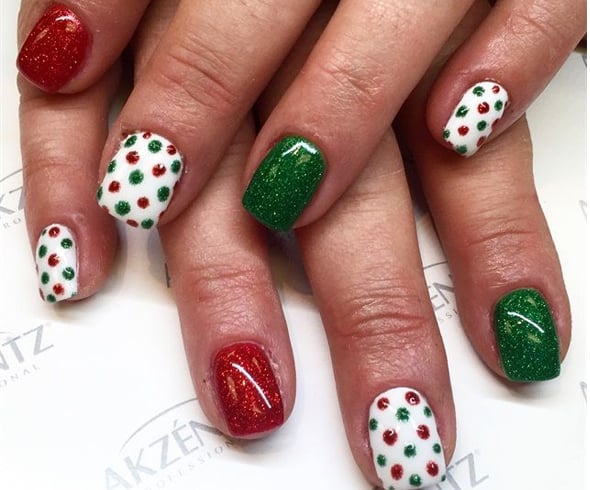 37. Reds, whites, gold, blues, greens; a vibrant and colorful festival like Christmas needs a Christmas nail colors art design like this.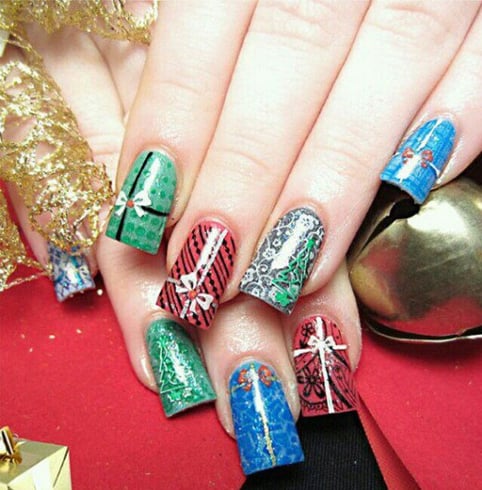 38. Not artistic or patient enough to go through the nail art ritual? Check out this Christmas nail art gallery where you can choose and stick on some fake nails of your choice.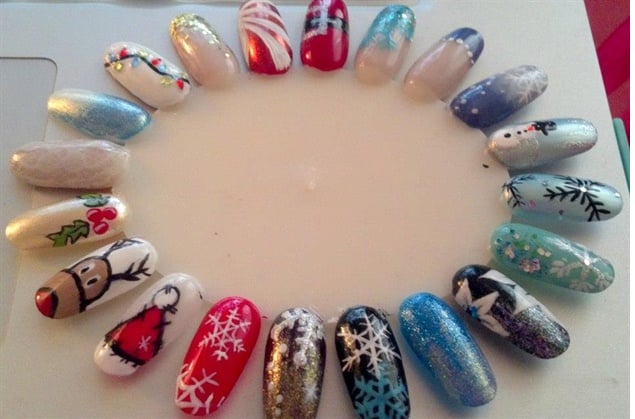 39. Show the world your love for Christmas trees with this beautiful Christmas tree nail design.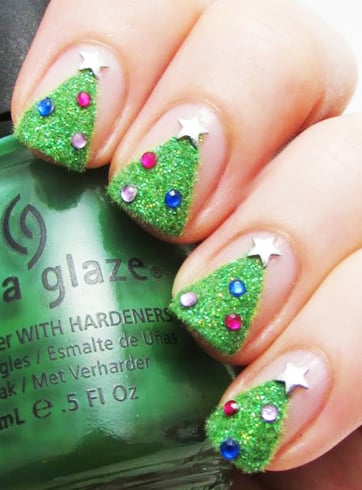 40. This blue Christmas nail design with snowmen gazing at the starry night gives you some instant Chirstmasy vibes!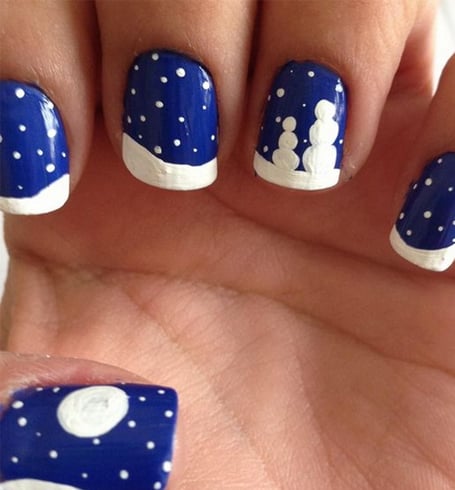 41. Christmas instills a deep sense of tradition and this red Christmas nail art is something that would appeal to your traditional sense.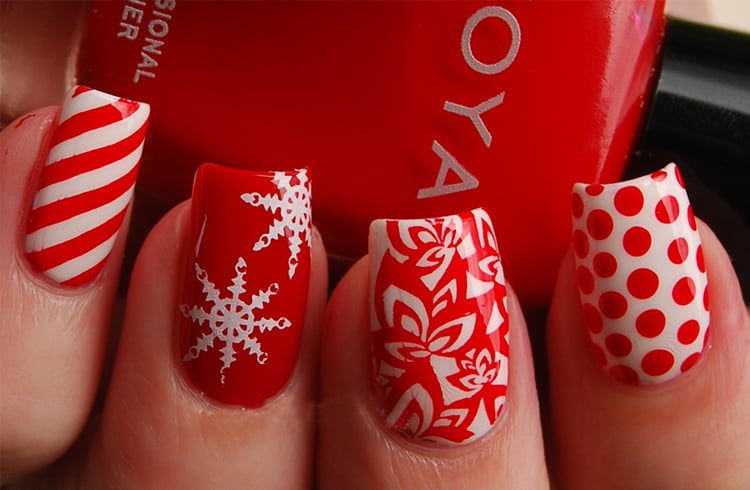 42. Loyal to your short nails? Then try this Christmas nail design for short nails with Santa and his loyal elves!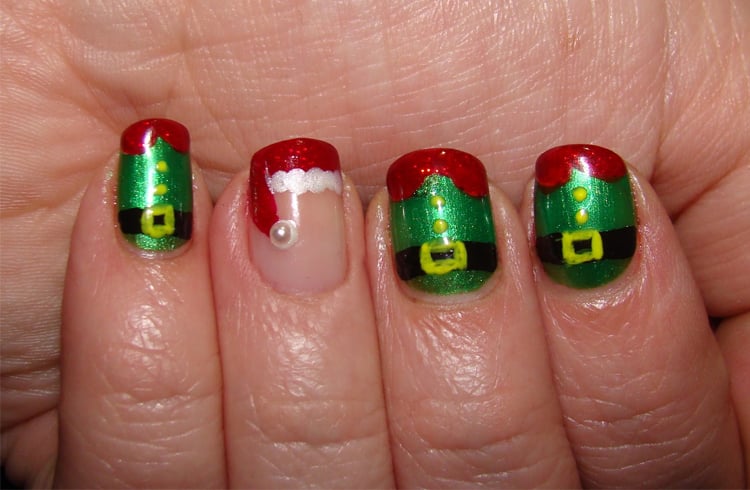 43. A string of colorful lights would be the perfect ornaments as your Christmas French tip nail design.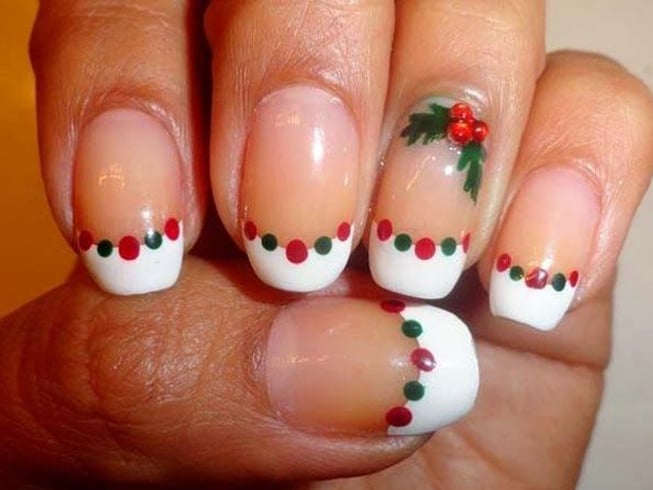 44. Your search for cute nail designs for Christmas ends here. We guarantee you won't find a cuter nail design than this! Don't those reindeers pulling Santa's sledge look super cute?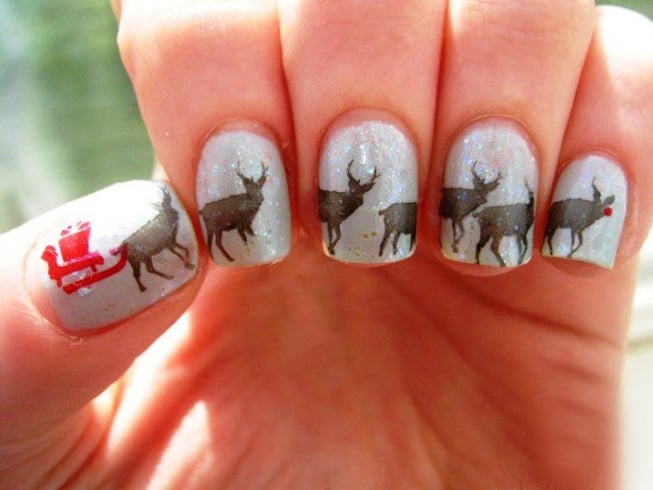 45. If a simple Christmas nail art is what you are looking out for, then you should get this Rudolph the red nose reindeer on your nails. Just follow the tutorial shown below.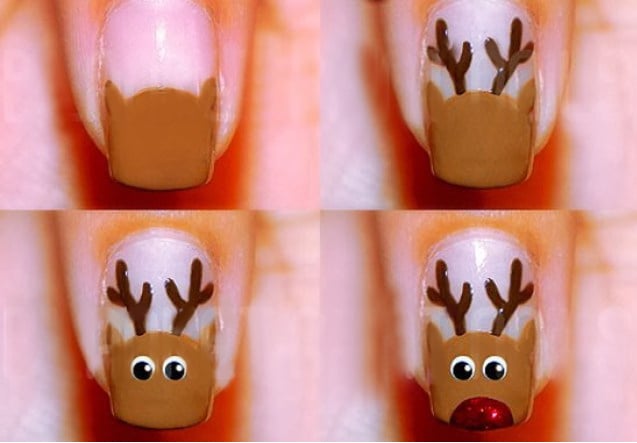 46. The Christmas season is not here unless and until you have some cute Christmas snowflake nail designs. Now whatever color combination you choose, the below tutorial will show you how to get the perfect snowflakes!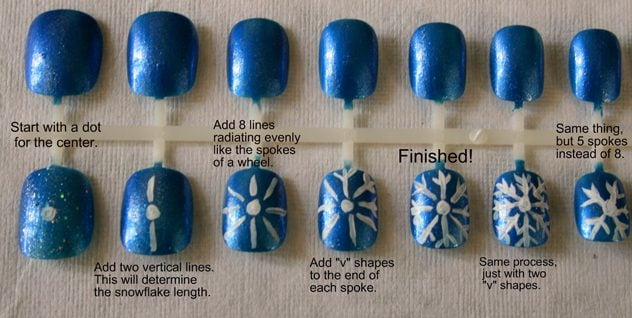 47. Add a twist to the way you wish people this Christmas with a simple Merry Christmas nail design like the one shown below.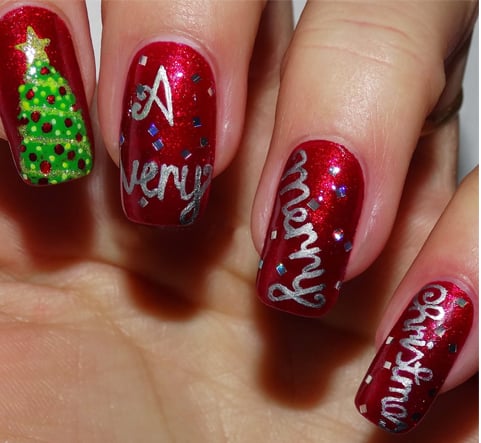 48. Here is a cool Christmas nail idea which is definitely OTT but hey Christmas comes just once a year, right!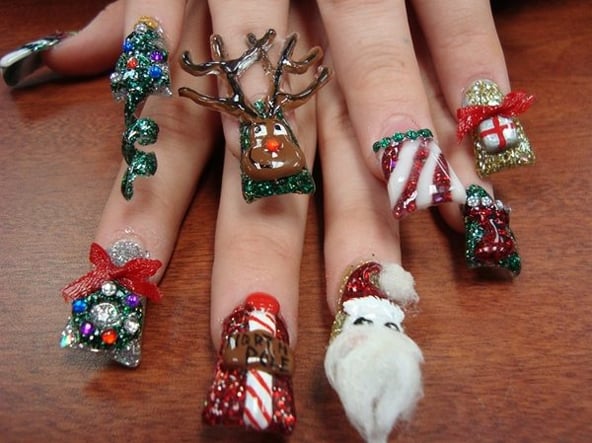 49. If elegance is what floats you then try this glittery Christmas nail deisgn with a black base coat.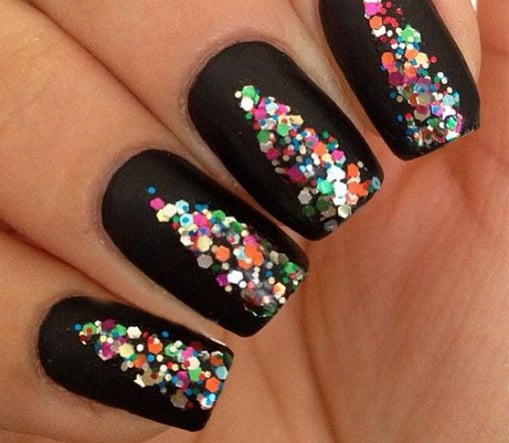 50. Just like how a Christmas tree is incomplete without the ornamental decorations, your Christmas nail designs are incomplete too without some of those ornamental decorations.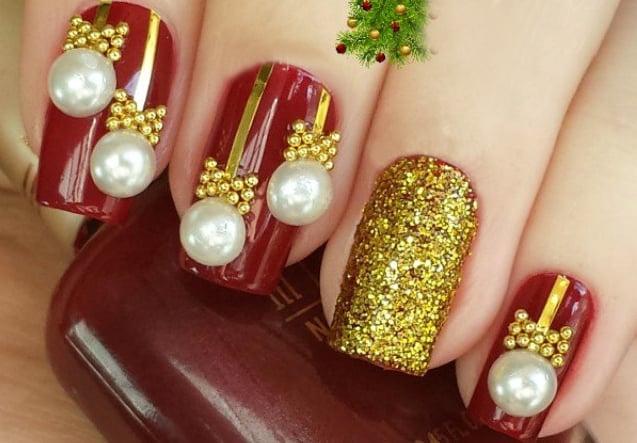 51.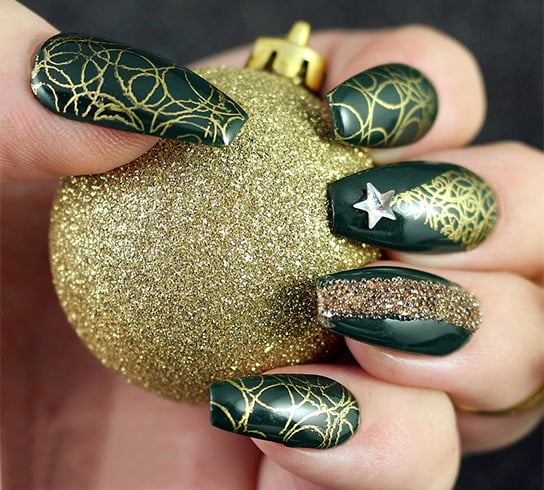 Here were 50 of the best Xmas nail art designs and very simple Christmas nail art styles you could choose from. Hope you loved them all!
Image source: pinterest