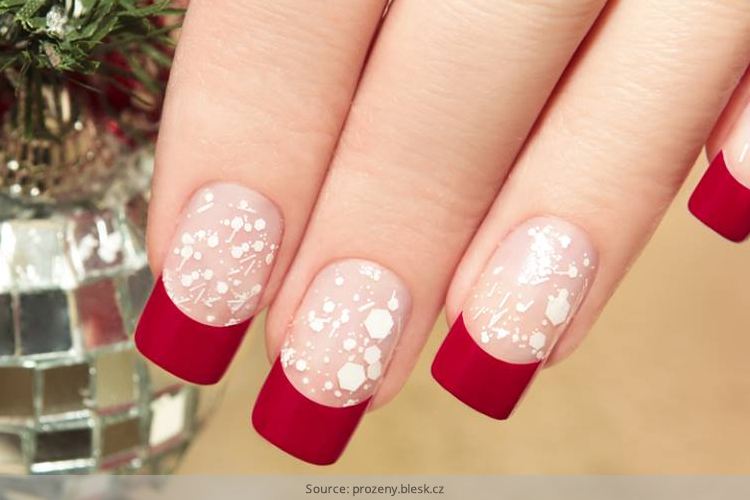 'Tis the season to eat, drink, make merry, and for all you know Christmas-ify your home and your jolly self.
There is so much to indulge in the Christmas season that it becomes kind of a memoir to be shared with loved ones. But if there is anything that immediately catches the attention other than Christmas delicacies and dancing, it is Christmas nail art.
There are gorgeous nails and themed nails too. But the beauty of Christmas nail design is individual and exclusive. In fact, the options you have in nail designs for Christmas are truly upbeat, bubbly and festive. The Christmas nail ideas can be broken down into Christmas acrylic nail designs, Christmas gel nail designs, red Christmas nail art.
[Also Read: Festive Hair Goals From Celebs For Christmas Party Hairstyles]
So let's read and enjoy Christmas nail art, apply it on our young and pretty nails and share it with our friends and on social sites. Here we go!
Icicles
This Christmas nail art is a subtle nod to winter chill and more so when silver pops against the ice blue. Saw the thin streaks of different shades of gray in the design below which look like dangling icicles? I think this passes off as a salute to gradient manicure which is a popular form.
Sparkling Center
If you have fondness for basic white nails but wants to add a bit of fun quotient during the Christmas holidays, just paint one middle nail in silver or gold metallic polish. It will give you the much needed pizzazz.
Pine Tree
A deep hunter shade is bound to look evergreen when it comes to Christmas nail design. In order to get the gold-pine tree effect in nails, use a toothpick to sketch put bold and even lines.
Metallic Marvel
Red is a colour that always attracts eyebrows. And this red Christmas nail art stands testimony. Paint a classic red nail polish, and don't forget to add golden beads on your accent nail to get a little more texture effect.
[sc:mediad]
When Matte Goes Merry
The red Christmas nail art looks stunning when combined with green shade. The shiny French tips look sophisticated too.
Midnight Blue
Don't be under the impression that Christmas means just red and green. A rich navy blue with a silver shimmer is the holiday-appropriate colour you can wear it to town and celebrate glittering X-mas.
Half Matte
Well the Christmas nail design can be made to look easy as in the design shown. All you need to do is start with a glossy nail polish, then put a swipe of gold in the middle, and give it a finishing touch by applying a midnight matte shade.
Double Magenta
Feel nice, cosy and warm in this pink sweater nail art. See the marvelous knit pattern coupled with matryoshka doll accent. The double magenta shades give you a pleasant pink surprise in nail art.
[Also Read: Best Perfume For Christmas]
Pudding Nails
Christmas pudding is a sight to behold and eat but wear it on nails? Ah…this sounds yummy. Go impress your foodie instinct by going or this deliciously fudgy nails that are as good to eat as much to wear.
Glittery Nails
Take nail designs for Christmas one notch up by sprinkling red and green glitter on your nail tip.
Shimmering Snowflakes
Match your purple cocktail dress for Christmas with purple tones in nails. When you put delicate snowflakes on your double accent nails, one thing is surely going to shimmer – you.
Tree Stamping
Make a tribute to the season of Christmas by going for nature on your nails. You can achieve it by going for stamping. It is easier to do rather than hand painting each tree.
Gold Accent
Nail art enthusiasts love to sport metallic texture on nails. But you can give it a unique touch by putting tiny gold accents at the bottom half of your nails.
Gold Moon
Talk of winter style and deep cranberry is the nail polish to fall for. Add some gold polish to the moons of your nails and see how modern they look.
Christmas Sweater
You might have a pile of woollens this winter. But how about warming up your nails too? Get this glittery green and ruby red base on your nails and top featuring reindeer stamps.
Snowfall
Needless to say, snow is the biggest thing to happen when it comes to enjoying holidays. Get a few snowflakes done which makes for an excellent Christmas nail ideas.
Santa Claus Hats
When you paint a lil Santa hat on the accent nail of each hand, it would prove how much you love Christmas without the glitter, shimmer and stripes.
Triangle Twist
The lines are sharp and the angles are crisp. What more do you want out of Christmas nail design? Make sure to decorate one of your tree accents with little dotted ornaments.
Tied Bow
Why not mimic the wreath – the most popular of Christmas decorations. Get the red holly and scarlet bows add flair to your half moon manicure.
So which are the nail designs for Christmas and Christmas nail ideas that you loved the most. Write in your comments and replies.