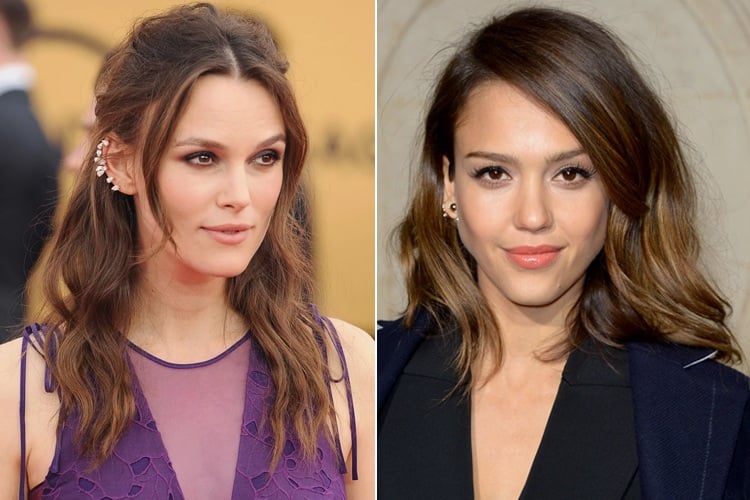 Party season is officially here. And, we all have too many things to plan out – guests, costumes, celebrations, decorations, gift hunting. Why leave out your hair sweetheart – Christmas party hair to be precise?
One of the hardest part of Christmas celebrations and outfits is the hair. Our wish list for Santa Claus might be growing each day but it is high time we keep a style check on Christmas hair styles, Christmas party hair styles, Christmas hair clips, Christmas hair accessories, Christmas hair ideas, hair stylist Christmas ornaments, even Christmas hair color and Christmas hair bands.
[Also Read: Christmas Party Dress Trends]
Gosh! So many things to be looked into but I will try and make it easy for you. So here we go exploring Christmas party hair celebs have worn and sworn by.
Christmas party hairstyles by celebrities
Emma Watson
Check out this lovely demo of beautiful updo sported by Emma Watson. You can see plenty of texture added into her hair before she concludes it with the messy bun. To bag this Christmas party hair styles, tong your hair first and then use a dry shampoo to get some matte texture.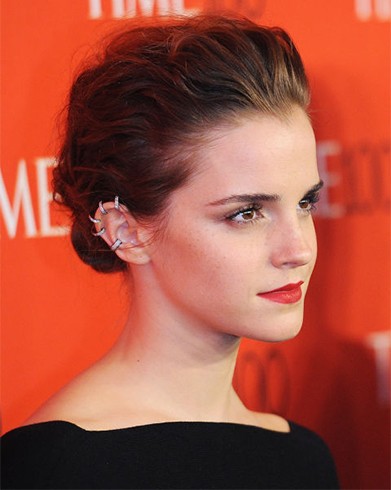 Gigi Hadid
This Christmas hair styles worn by Gigi is nothing short of a slicked back vamp look. See how the volume looks much sexier than a flat-to-the head look. Just straighten your hair by lifting them away from the roots, then backcomb the sections to get height.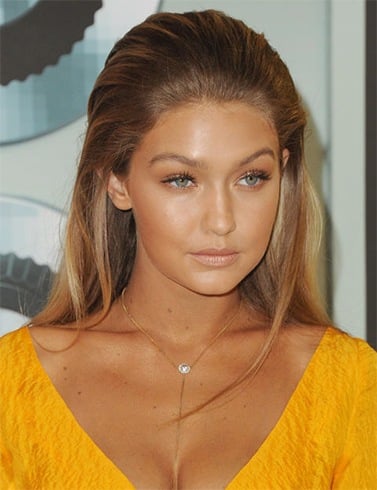 Heidi Klum
Sleek bun as Heidi Klum models is the uber cool Christmas hair styles. To get your hair sleek and shiny you need to use straightening iron. Then put half of your ponytail into a bun and with the remaining half wrap them around it in opposite directions. Add the finishing touches using a shine spray.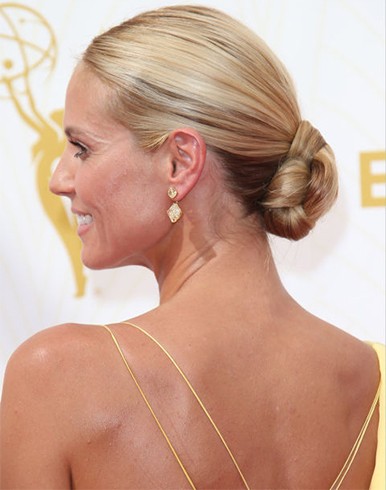 Kate Hudson
Half-up hairstyle seems to be the first love of Kate Hudson. All it needs is some backcombing at the crown, loose hanging waves at the back and a grown-out fringe.
[Also Read: Christmas Hairstyles]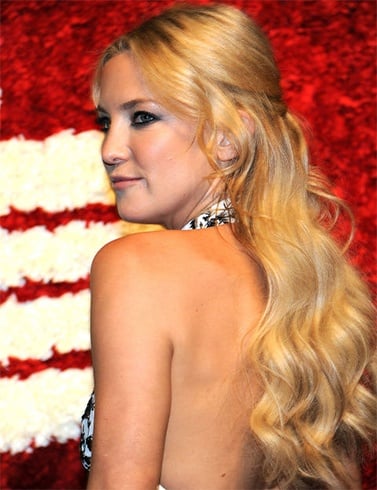 Kate Winslet
Braided bun worn by Kate Winslet seems to be screaming pure sophistication, isn't it? You just need to plait three sections of your ponytail and roll them into a bun.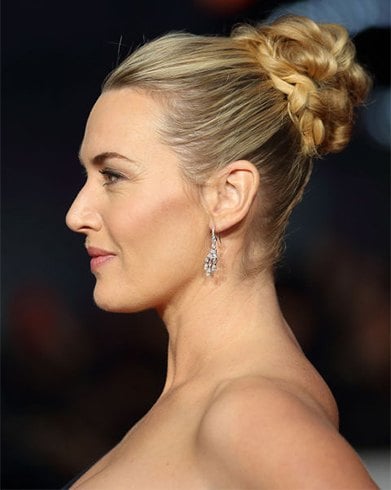 Rihanna
Pile up your hair like Rihanna with random curls tumbling down from a ponytail and pinned back to the head. Use a volumising powder to get that instant oomph appeal.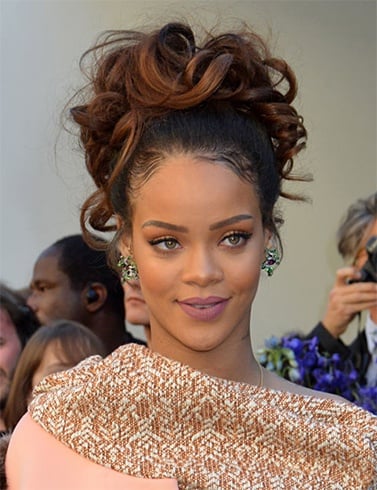 Nicole Richie
Nicole's bob hairstyle is something that would take your Christmas spirit to a new high. See how she has slicked back her hair using heat styling. Just proves that the wet trend looks on point.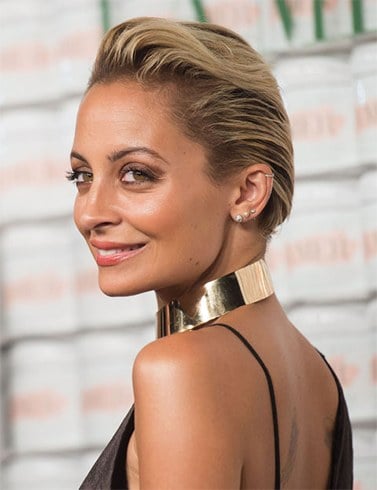 Allison Williams
Faux bobs are like a common ingredient you will find on red carpets. All you need is a styling serum in order to tame the flyaways and clip the curls under the chin.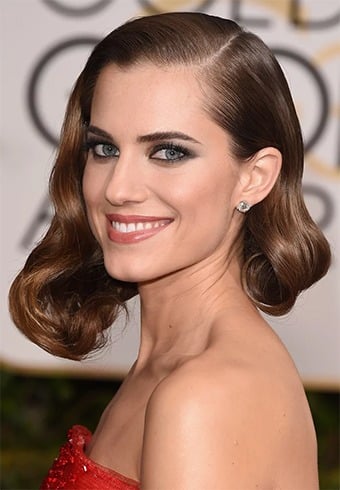 Solange Knowles
It is nice to dress up your natural hair during holidays. Get the lovely looking wavy loose texture worn by Solange by first blow-drying your hair. You can stretch your hair strands without making them look too straight. Just wrap the hair sections around a large barrel curling iron to get the festive waves.
[Also Read: Stylish Christmas Party Makeup Ideas]
Blake Lively
Side swept hair dos always score a point in family dinners and they do for Christmas too. Take a cue from Blake Lively by wrapping hair around a 1-inch curling iron and brushing the curls into S-shaped waves.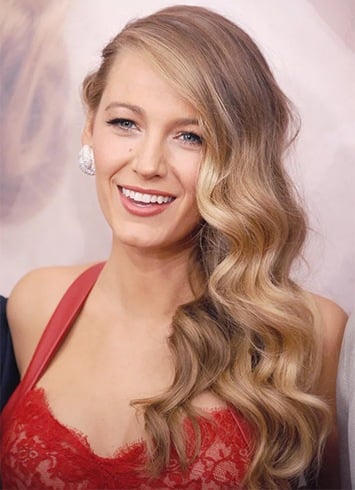 Kate Beckinsale
No way you can miss out on the perfect curls of Kate Beckinsale. To get the similar hairstyle, set your hair in pin curls and leave them overnight. Or else if you have just half an hour before the cocktail hour begins then use hot rollers.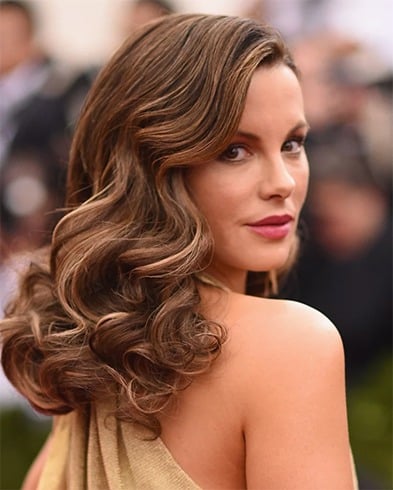 Well, we all know that our celebs are surrounded by their stylists who ensure that the celebs look absolutely amazing but alas that's not the case for us. But relax! This Christmas you can look like a star too with these easy hairstyles for Christmas. Scroll down to see how to do Christmas hairstyles. These easy to make Christmas hairstyles will ensure that your hair gets some well-deserved attention too!
Cute Haircuts For Christmas
1. The Beanie Hairstyle
One of the easiest Christmas hairstyles that you can sport is this beanie hairstyle which requires no advanced skills whatsoever. Just do a messy braid on either side of your head, let loose all those soft tendrils and just wear a cute beanie cap. You can match the beanie to your outfit or opt for nude colors. Your Christmas hair style for a night of carol singing is ready.
[sc:mediad]
2. Christmas Bow Hairstyle
Young girls who are looking our for some cute hairstyles for Christmas need just one accessory to nail the look. A bow is one hair accessory which can be used in a number of different ways. Take a look at the below image to get some ideas on how to flaunt a Christmas hair style with bows.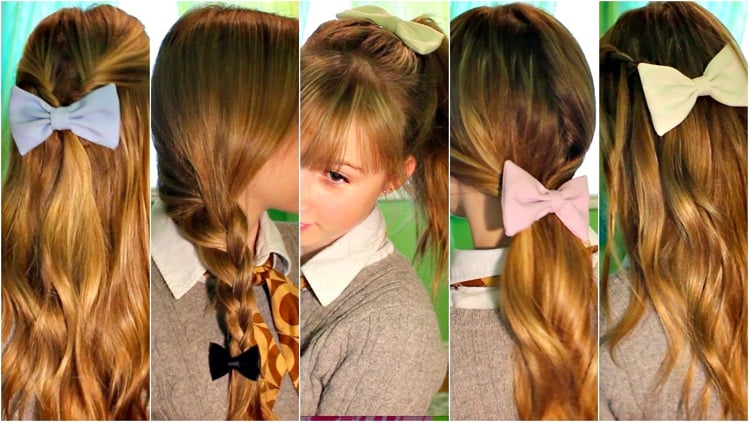 3. Corset Ribbon Braided Hairstyle
For those of you who know how to work your magic on hairstyles, the below corset ribbon is the perfect Christmas party look hairstyle. The Christmas tree hairstyle using a green ribbon looks like a piece of art.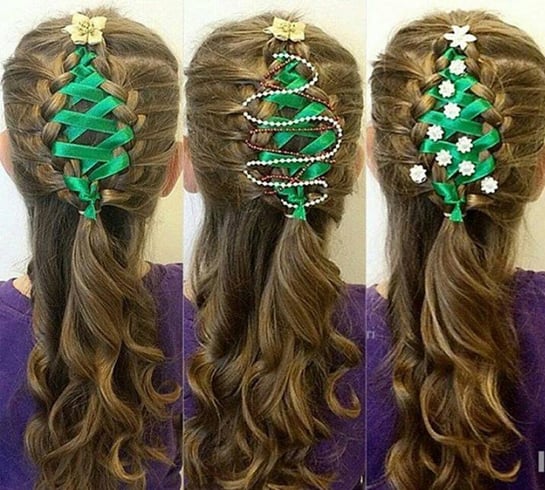 4. Side Updo
A Christmas updo is the perfect choice for women who have thin hair. Not only does it eliminate your worries on how to style your thin hair but it also gives off a very elegant look. Make a side bun behind one of your ears and enhance the Christmas hairdo by placing a chunky hair accessory in the middle of the bun.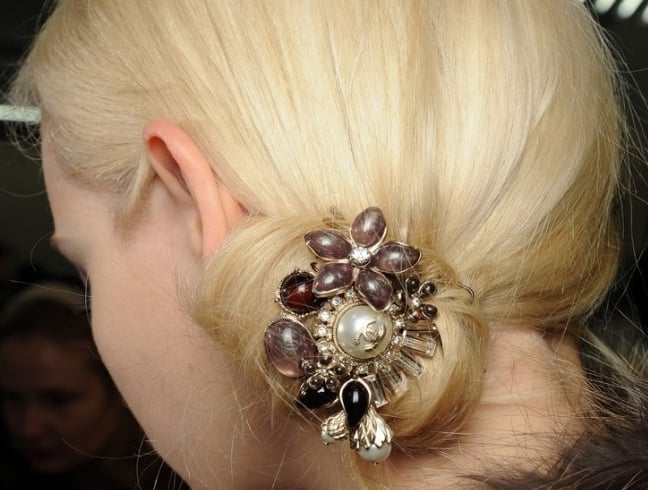 5. The Backwards Tiara Hairstyle
While going through Christmas hair ideas especially Christmas hairstyles for short hair, we found this unique and a very fun looking hairstyle. We girls love our tiaras, don't we? This hairstyle too is styled with a tiara but instead of wearing it in a regular way, you need to wear it from backward. Confused? Check out the image and you will know what we are talking about.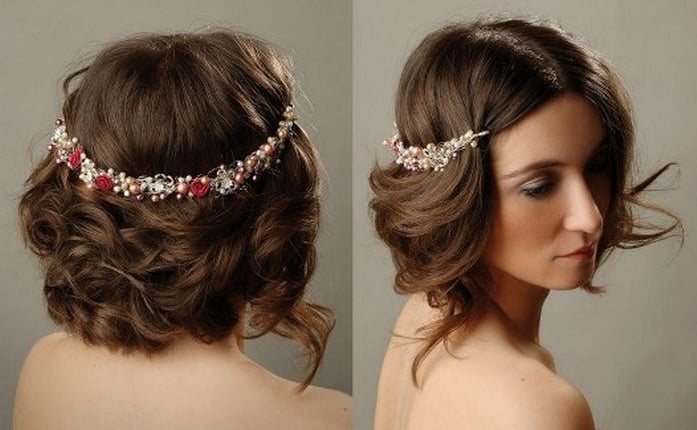 6. The Christmas Tree Hairstyle
This is by far one of the best Christmas hairstyles that we have come across and we are sure you would agree to it too. We would definitely vote this as the perfect Christmas dance hairstyle. The use of pompoms is the USP of this Christmas hairstyle.
7. Chignon Hairstyle
Messy updos, braided hairstyles, top knots are great hairstyles for Christmas party and are often the most preferred Christmas part hair styles. But going to a formal Christmas party is entirely different and if you are going for a ball party then you need to have the perfect Christmas ball hairstyle. Nothing can beat the chignon hairstyle when you are aiming for a sophisticated look.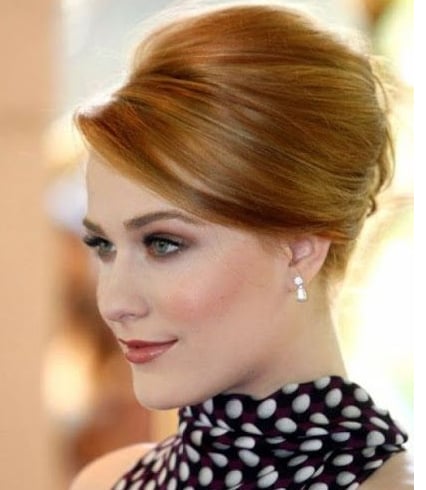 8. Straight And Wavy Hairstyle
Christmas is the time to sit and enjoy the festivities with your family and friends and you don't want to have your attention keep slipping towards your elaborate hairstyles. We would suggest to go easy and keep it simple for a Christmas dinner hairstyle so that you can enjoy yourself without worrying about your Christmas hairdo. So just take a deep side part, straighten the hair till mid-length and then use a curler to add some waves at the ends. A shiny hair accessory will complete your look.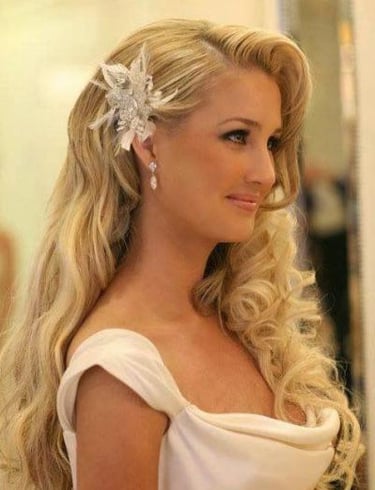 9. Girly Hairstyles
Take a look at these cute and easy Christmas hairstyles that your daughter would love to flaunt. They may look complex but are super easy to do and you can always add your own twist to the hairstyles and come up with new and unique girls Christmas hairstyles.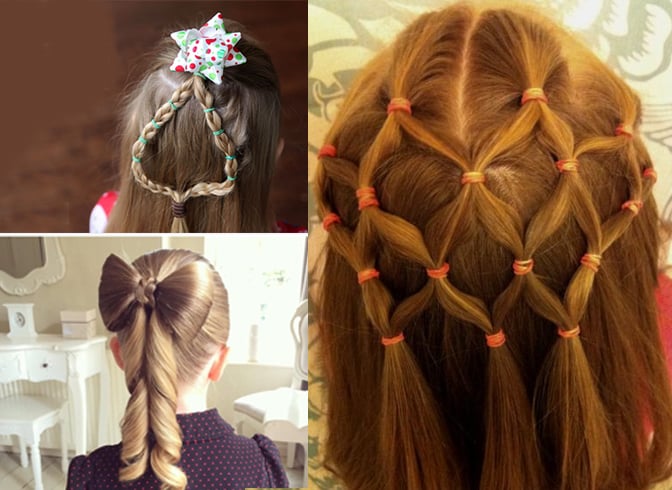 10. Glitter Bun
What is Christmas without a little bit of sparkle, shimmer, and glitter? No, we are not talking about your shimmery dress! What we are hinting at is a Christmas glitter bun that would bring in the required sparkle to your Christmas look.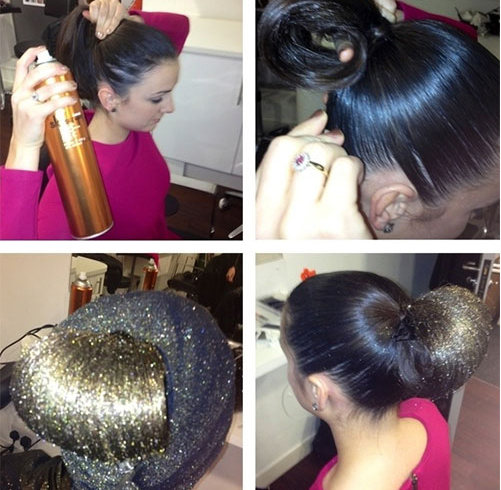 So which of the Christmas party hair is your first choice? Pour in your replies and comments below.
Images Source: pinterest, cosmopolitan.co.uk