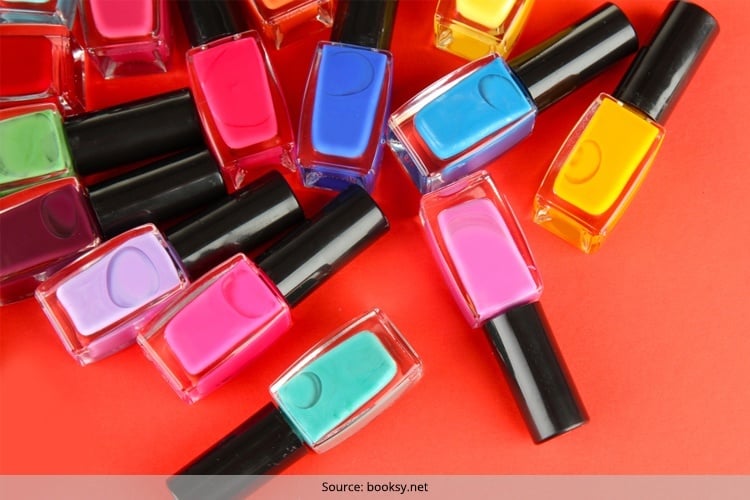 Okay, so you have an evening date to catch up to, or an afternoon conference to mark your presence at. Yeah, it makes sense to put on the best attire from head to toe and a bit of jewellery but aren't your nail paints going to ditch you mid-way when they chip off or give you a nail-ditching formaldehyde experience?
Long and sharp nails are any lady's best kept secret to enhance the loveliness of her nails. But what use are they when the fabulous nail paint you had dreamt of wears off in no time.
Long Lasting Nail Polish Brands
This is where long lasting nail polish creates a difference. Here we go sharing with you fourteen of the best long lasting nail polish brands that will have everybody giving flying kisses to your nails, besides you of course!
1. CND Shellac
This is the best amongst long lasting nail polish brands that needs neither introduction nor any base coat. Long lasting it is that dries within minutes without requiring any UV or LED lights. Lasts for upto 14 days which you can use once every week to shade the nails. Mind you, CND Shellac comes in 73 different shades.
2. NARS
Yet another leading and best long lasting nail polish in the world, NARS is of top notch quality which comes with UV protection to protect it from discolouration.
Some of its popular nail shades include night series, shimmer, opaque and more. Long wearing, durability and chip-resistant finish are some of the other attributes.
3. L'Oreal Paris
We all know L'Oreal is a seasoned player in cosmetics, skin care and hair care. Its longest lasting nail polish is yet another feather to its cap. An absolutely intense and luxurious shine nail enamel L'Oreal Paris is which comes in gorgeous shades and styles to match with your personality and mood.
4. Revlon
From nail enamels and lipsticks to hair colours and more, Revlon has carved a niche in the cosmetic market. Its high quality nail shades are backed by exciting colours at competitive prices. This helps revolutionise the nails of your hands and toes immensely without feeling a pinch in your pocket.
5. Sally Hansen
This classic and best long lasting nail polish is extremely soft to apply to your nails. Since the brush is a little shorter than other brands, it gives you the benefit of better control in shading and quick drying without any distortion. Sally Hansen nail polish also comes with a nail art tool kit that helps you do nail art at home easily without any professional help.
6. Zoya
Long-wearing and healthy nail lacquer, Zoya is a long lasting nail polish which is toxin-free. It gives you celeb style looks which makes it truly special. With new nail shades coming up each season, expect variety untold from Zoya.
[sc:mediad]
7. Orly
If you are in the habit of getting salon style nail shades, then Orly would be the perfect pick. No matter the occasion or reason, Orly is yet another of the long lasting nail polish brands that gives you long-lasting chip-proof finish.
Experience long lasting and durable nail shades from Orly that looks great on acrylic and nature finger nails.
8. Essie
Rich imaginative colours and long lasting nail polish is the perfect description of Essie. Easily available in the market, it has a stunning collection of nudes, light colours and creamy shades. Impressive and exclusive, it doesn't chip off for more than a week.
9. China Glaze
Excellent and top-notch nail enamel, China Glaze gives you best result. Long-lasting and chip-resistant colours make it one of the preferred longest lasting nail polish brands.
10. OPI
Whenever the subject of discussion is best long lasting nail polish, then OPI occupies a permanent spot.
[Also Read: Nail Polish Colours for Different Skin Tone]
OPI specialises in making professional salon polishes in innumerable shades that are non-toxic and can be used multiple times.
By the way, OPI is sold in nearly 50 countries. This could be one reason why it is expensive than other nail enamels.
11. Butter London
Well-pigmented and long-lasting, Butter London comes up with gorgeous nails colours and top notch quality. In fact, just one coat of it gives you a complete opaque manicure.
12. Deborah Lipmann
This is a nail lacquer to pine for. Apply it thin on your nails and you will notice the mess-free experience it gives. In short, Deborah Lipmann is a best long lasting nail polish that is rich, trendy and worth the investment.
13. M.A.C. Studio Nail Lacquer
As good as a manicure, smooth and long-lasting is the word for this nail enamel. The quality, the edgy colours and chip-free experience is the best one can ask for from M.A.C.
14. Sinful Colors Professional
This top-rated quick drying nail enamel comes in vivid shades in cream, matte, shimmer and glitter versions. Full colour coverage without the use of formaldehyde makes it a sinful nail experience.
Now that we have shared with you, some top of the pops in nail enamel, we will be happy to know your favourite long lasting nail polish brands in your order of preference. Hope to hear from you and soon!