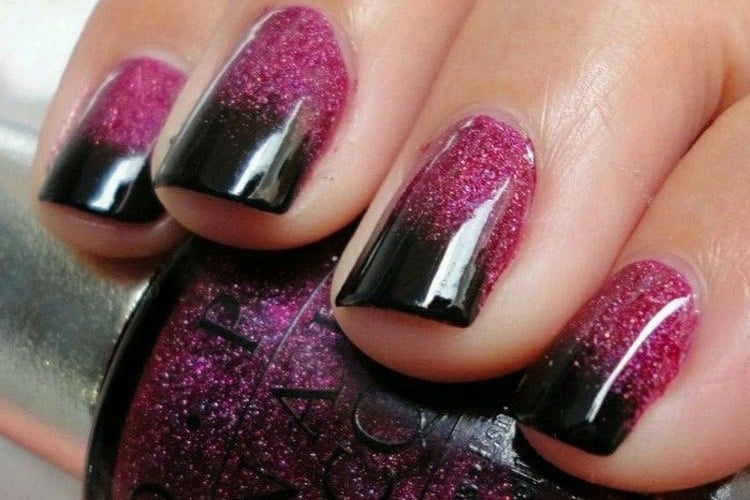 If you thought only red, pinks, greens, blues and yellows are meant to be the nail polishes that trend around and make waves, you were wrong. These days, PYTs are splurging on nail art in black nail polish, and making fashion statements on their frail tender fingers too. So jump onto the bandwagon as we show you a range of gorgeous black nail polish nail art and ideas to behold. Each one of the black nail polish is so chic and trendy, which would make you want to try them out all. Here goes!
Gorgeous nail art in black nail polish
[Also Read: Nail Art Designs]
1. The Black Holo Witch Nails
Trendy and perfect for a party, you would have to sieve a little colourful shimmer on this beauty.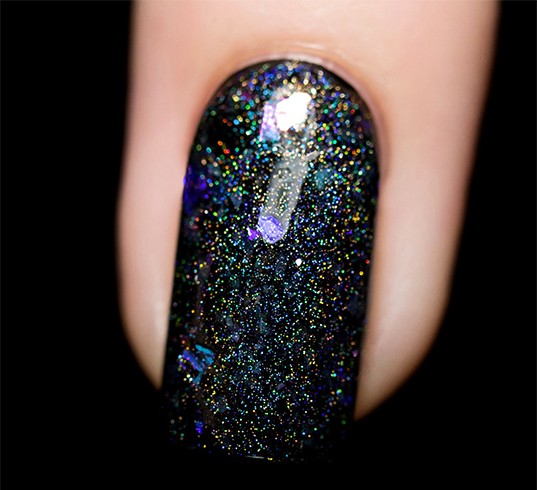 2. Elegant Black Nails
Base coat should be painted with black matte nail polish and the rim of the finger nails should be lined with matte gold. Lovely and elegant black nail art for you to enjoy!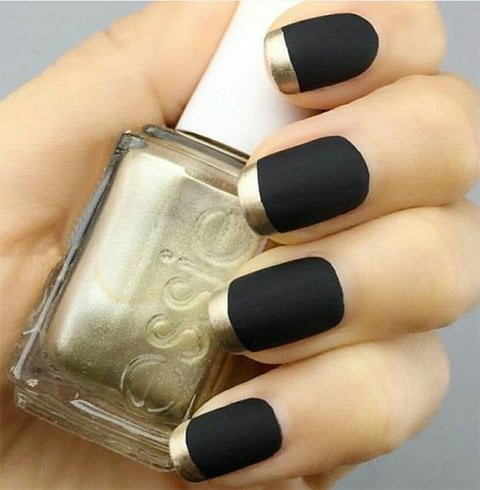 3. Starry Nails
On a base coat of glossy black nails, you should sieve white silver shimmer for the starry-starry effect to come through. Perfect for the winter party nights this is!
[sc:mediad]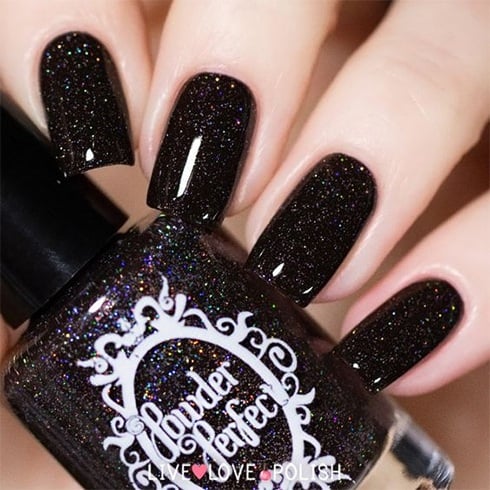 4. Psychedelic Dotted Black Nail Art
You can have a psychedelic touch to the nail designs with black polish you choose to wear. The base coat should be matte black nail polish and dots in blues and pinks with matte touches should be embossed on the nails.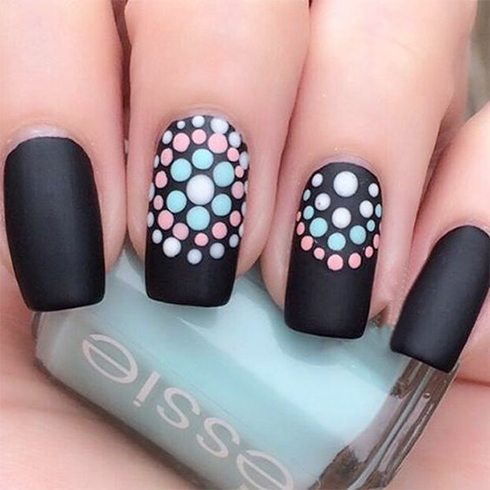 5. For The Christmas Effect
A shade of green as a tree branch can be made on one of the nails painted in black, with the rest of them being glossy black! A little Christmas nail art in black to ring in the cheer is so needed.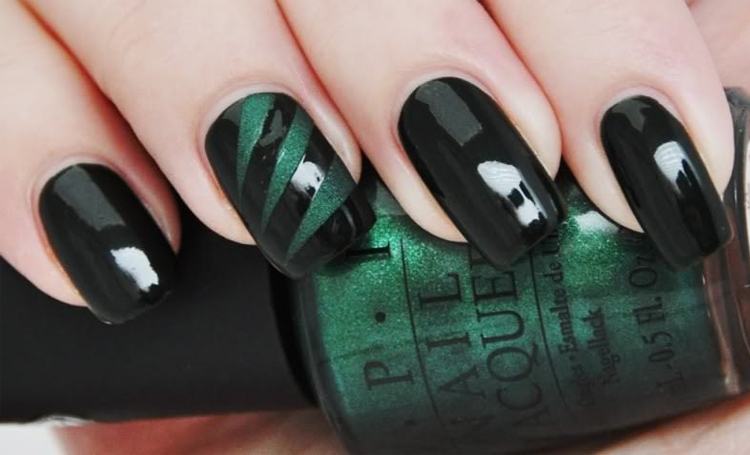 6. Glitter Slides On The Nails
Paint the nails in hues of black and add a dash of glitter to them in slanting curves and slides. This is a look meant for the late night parties whilst the Christmas week is on; customise with glittery shades that speak of Christmas.
[Also Read: Christmas Nail Art]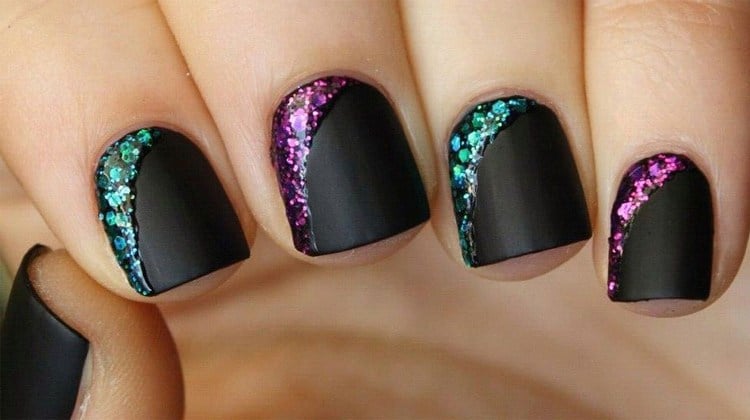 7. Striped Nails
Paint the base of the nail with a black glossy nail polish coat. Apply strips on the nails as per the design you want. Over the strips, paint the color you desire in matte tones- reds, greens, yellows or blues- make it bright and vibrant.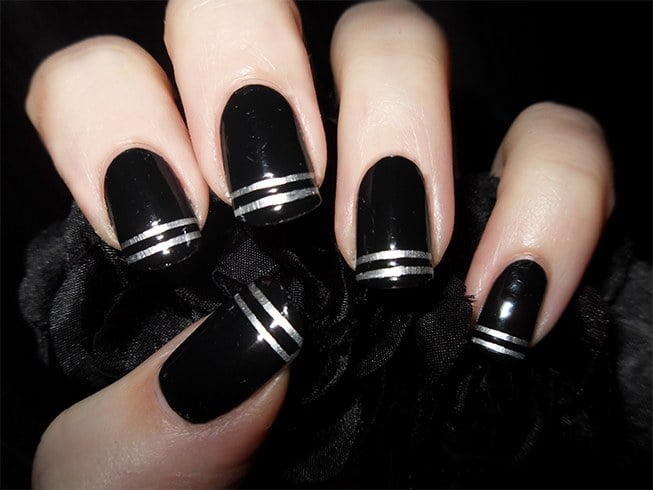 8. Studded Nail Art
If you don't want to flaunt black holographic nail polish, or cannot afford the same, you still can make nail art fashion waves with studded stones and crystals in cool toned hues. Paint the base of the nail with black nail coatings, and top of it place a stone.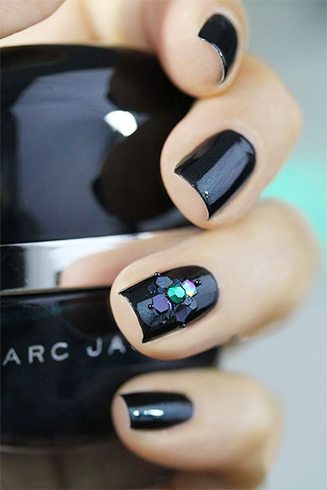 9. Ethnic Black Nails
Grab a long with a bottle of black diamond nail polish some nail art netted designs that have desi or very ethnic tones to them. First paint the nails with black nail coat and then apply the net on it; spray white top coat on the same and wait for a minute. Remove the net and apply nail gloss.
[Also Read: Marble Nail Art]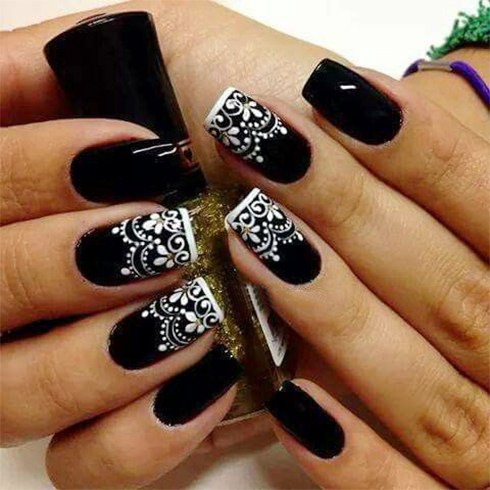 10. Bubble Black Nail Art
For this design, you would need the right azature black diamond nail polish and a transparent nail coat. Once the base is painted in black, use a pin to drop the transparent nail coat in circles on the nail! Let it now sit and set.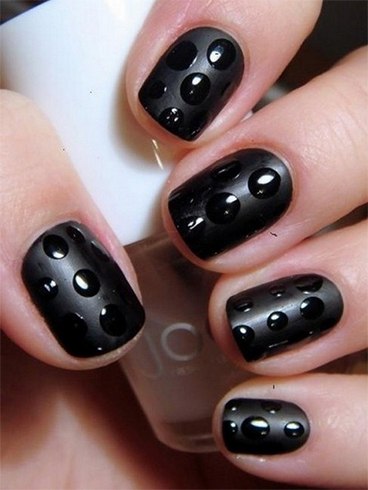 Do write in with your own nail art ideas that you think you can use for parties and possibly to work this winter season; they have to have a black base coat though. The idea is to get creative and trendy with amazing nail art ideas. Pick up a bottle of matte or glossy black nail polish and start working out the creativity from now. Do let us also know how it went using black glitter nail polish, black nail paint and shimmer or glitter or nail nets on the nails?
Images Source: pinterest