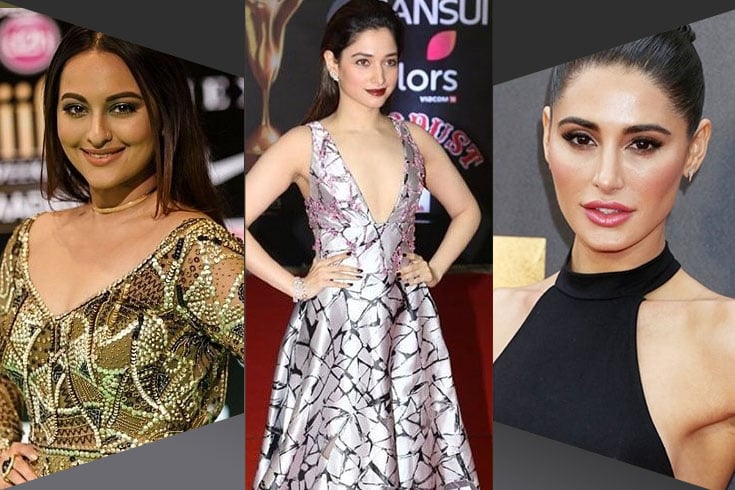 Now that the year 2016 has served its time, exciting plans must be brewing in your minds for bringing in the new year with great joy and happiness. Though we have also made our plans, we couldn't fix our mind on the trend that we would like to close this year with. Have you?
Utterly perplexed with the assortment of apparel choices that the year has brought to us, we seek your insight and thoughts on these two competitive styles that the B-town flaunted in excess.
Is it the plunging necklines or the deep backs that will spike up the hotness quotient? Let us ask the B-town ladies.
Tamannaah Bhatia
The visible cleavage style is clearly a challenge. It needs one to be absolutely comfortable with the skin show, just like Tamannaah Bhatia. All round the year for every other award ceremony, Tamannaah experimented with this trend and aced it. She kept her neckline bare by keeping the attention rooted to the sensuality of the plunging neckline. But we can add sparkling chokers or layered neck pieces to fill the void.
Here are the details of her outfits.
L – Peter Langner gown, Aurelle earrings, and Jet Gem bracelets
C – She looked fairy like in Gauri & Nainika gown
R – glittery and glamorous in Rami Kadi gown
Clearly, this trend is not for ladies with a heavier bosom.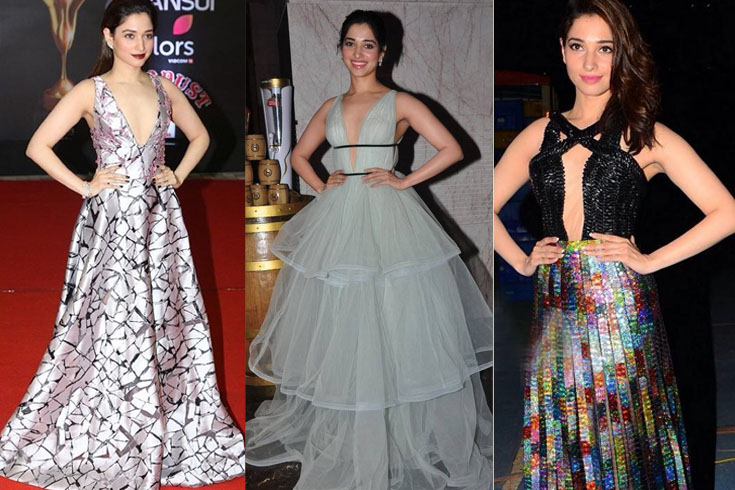 Nargis Fakhri
At the IIFA 2016, when we spotted Nargis, we were surprised with her choice of pantsuit for the grand event. But the moment we savored her attire, we fell head over heels for the diva. Totally boss-like yet sensuous with the plunging neckline, she sizzled in a Monisha Jaising outfit. Get comfortable in this crazy pantsuit for the new year eve and set the party on fire.
[ Also Read: Check Out The Fashion Of Our Bollywood Celebs At The Dangal Screening ]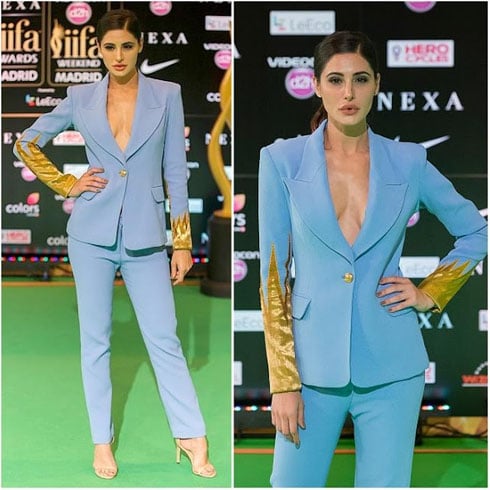 If you have seen Nargis at the MTV movie awards 2016, you will end up confused all over again. As comfortable as she looked in the plunging neckline trend, she was equally at ease in flaunting her flawless back in a Forever 21 bodysuit and Jonathan Simkhai skirt. Which trend did you find interesting and adaptable?
[sc:mediad]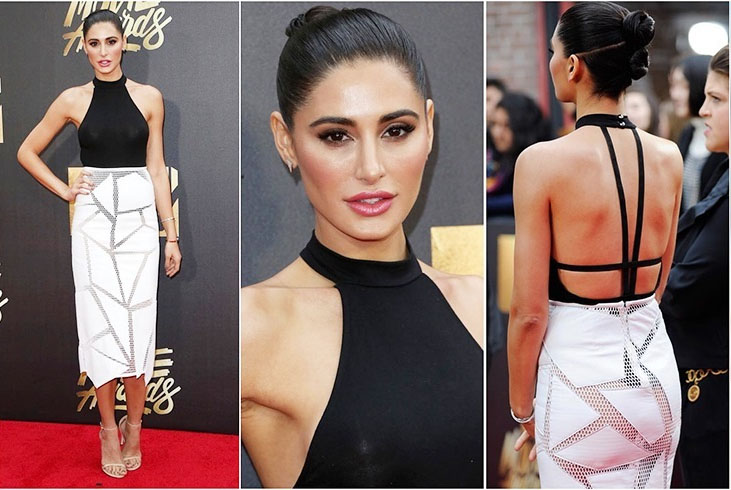 Deepika Padukone
The one person we don't miss looking up to for some inspiration is obviously Deepika Padukone. The diva rolled out a series of heart-throbbing looks this year and drove us insane. But let's see how she embraced the visible cleavage and deep back neckline challenge.
The pajama suit style has created a powerful impact on the fashion world. Influencing us all to pull off this trend was Deepika in a Chloe pantsuit. With a barely visible layered chain, she looked hot!
It's an art to carry this bold look with great confidence and panache. And Deepika pulled off this sultry style with great elegance in a Swapnil Shinde gown at the IIFA 2016 and set a great example. Unsure about the flare? Skip it by going with a mid-length dress style.
Just when we almost made up our fickle mind on going with the visible cleavage style, we stumbled upon Deepika's look at the Filmfare awards. The diva flaunted her sizzling back in a Ralph & Russo gown and killed the look grandly. With back necklines that deep, you have to opt for hair updos to keep the feel.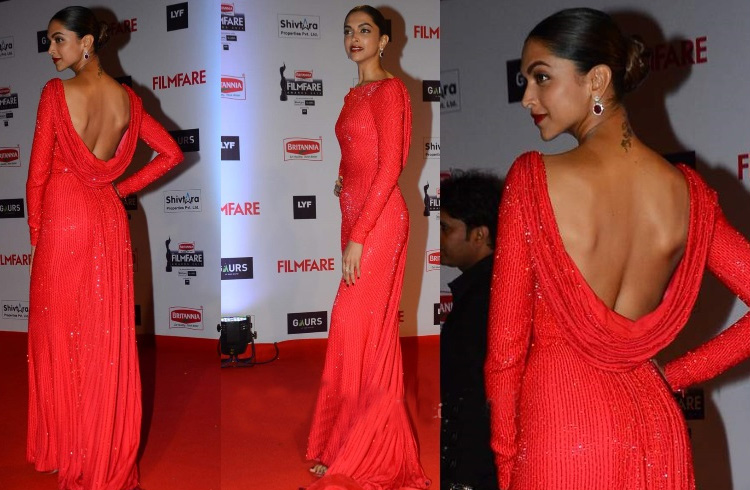 Richa Chadha
Affirming the plunging neckline style with her most fashionable foot forward was Richa Chadha in a Phillip Plein outfit and Louboutin heels. The additional feature in metallic hue along the neckline balanced the skin show well. Take a look here.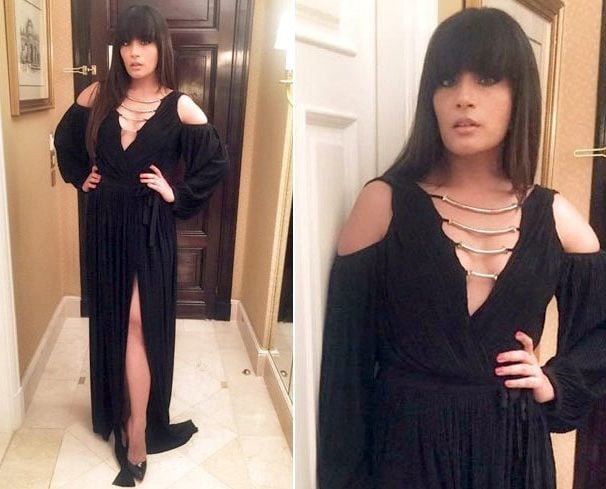 Radhika Apte
Black is the color to play with when you are trying out a new trend. Radhika Apte with her Rohit Gandhi & Rahul Khanna outfit showed a smart way of embracing the trend yet dodging the focus. She added sparkling Amrapali choker piece to keep the attention above the neckline. Smart, isn't it?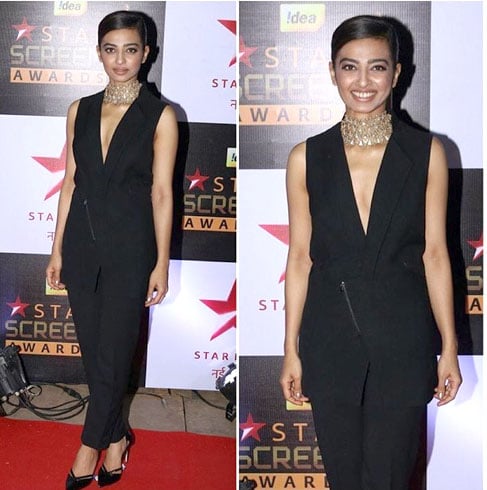 Parineeti Chopra
Working the same concept like Richa and Radhika, Parineeti flaunted her chiseled silhouette in a Shivan & Narresh gown. She distributed the attention of her audience with the waist cut-out and thigh-high slit and a quirky clutch effortlessly and that's the cue to pick, don't you agree?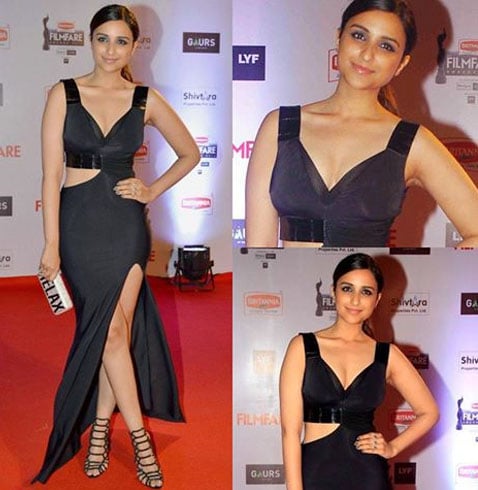 Sonam Kapoor
Who better than Sonam to convince us with the plunging neckline fashion. The fashion mentor deeply obsessed over the plunging neckline trend all over the year but the latest tip that we picked from her is mind-blowing. For both Manish Malhotra's birthday bash and Stardust Awards, she dazzled in Yanina couture. The sheer skin toned feature of the neckline made it bold yet comfortable.
Sonakshi Sinha
If you hold a heavier or wider frame, skip the plunging neckline and move on to the bare back fashion. A subtle skin show always adds charm and narrows down your look. The Zara Umrigar outfit that Sonakshi stunned us in, at IIFA 2016 makes for the perfect example of our thought.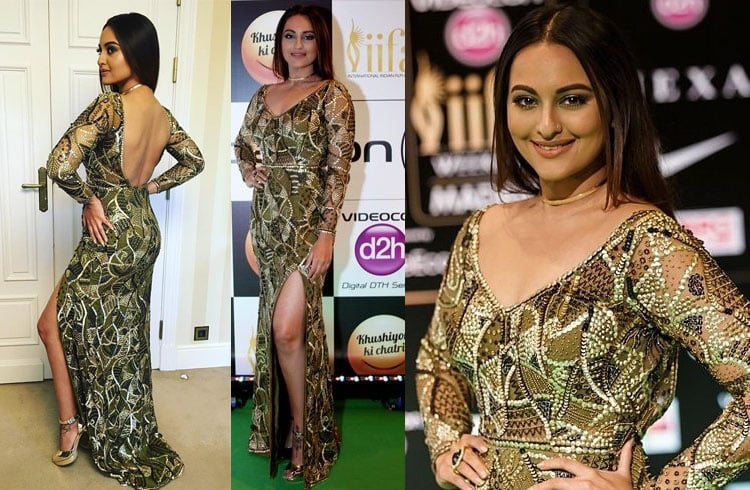 Equally captivating and inspiring was her look in a midnight blue embellished gown by Nadine Dhody at Zee Cine Awards 2016.
[ Also Read: What To Wear For New Year Party: Make It A Night To Remember! ]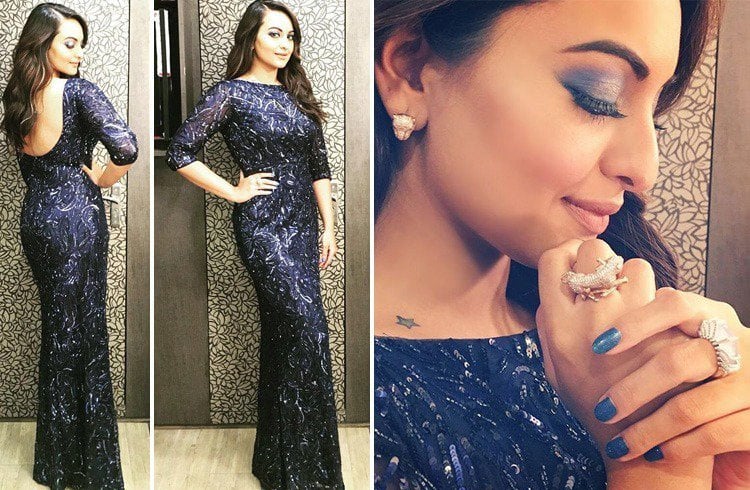 Shilpa Shetty
Setting sparks in the air and raising the heart rate of millions was Shilpa Shetty in Shantanu & Nikhil outfit at the IIFA 2016. The electrifying bare back look was what set the show on fire.
Kriti Sanon
Kriti got our hearts to do tukur tukur in a Hamda Al Fahim ball gown at the Zee Cine Awards. Unlike Sonakshi who left her hair open and wavy, Kriti opted for bun style to flaunt her toned back.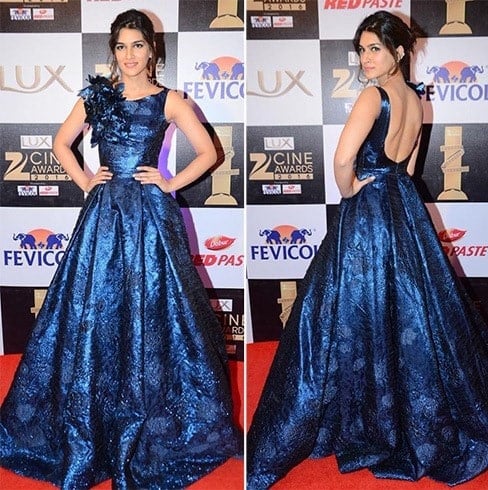 Kriti pulled out another look from her fashion tote and we went gaga over it. At the Star Screen Awards, she looked smoking hot in a Swapnil Shinde gown. With this look, she left her hair open and brushed to the side and killed the style with elegance.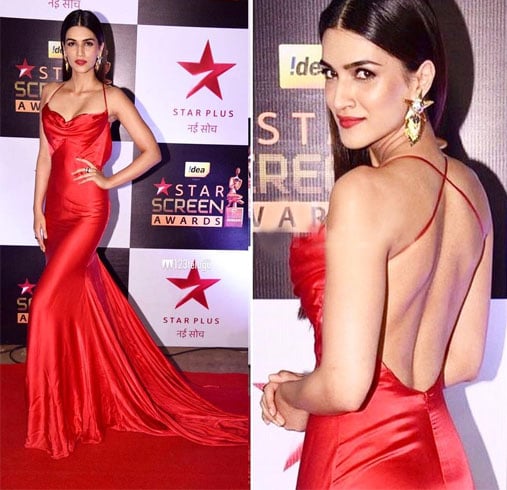 Kajol
Our all-time favorite, Kajol also favored the backless style beautifully in a Manish Malhotra ensemble. She chose to tie her hair into a bun without any hesitation to flash her sexy back.
Esha Gupta
Gorgeousness overloaded was Esha Gupta in a white Rami Kadi gown. If you have an alluring tattoo on your back, flaunt it like the diva gallantly.
Sana Khan
Sana undoubtedly flooded the Instagram with her fashionable avatars and here is the one look that we majorly crushed on. The Nandita Thirani gown that she adorned held our hearts for a second with the enticing back pattern. Isn't that stunning? Let your hair loose like her and count the head turns at the new year party.
With such endless possibilities, we are bound to get confused. So ladies take your time, sip through every look, pick the cues and make up your mind. We would be glad to know which trend you favor the most in the comments section below!
Images Source: instagram.com