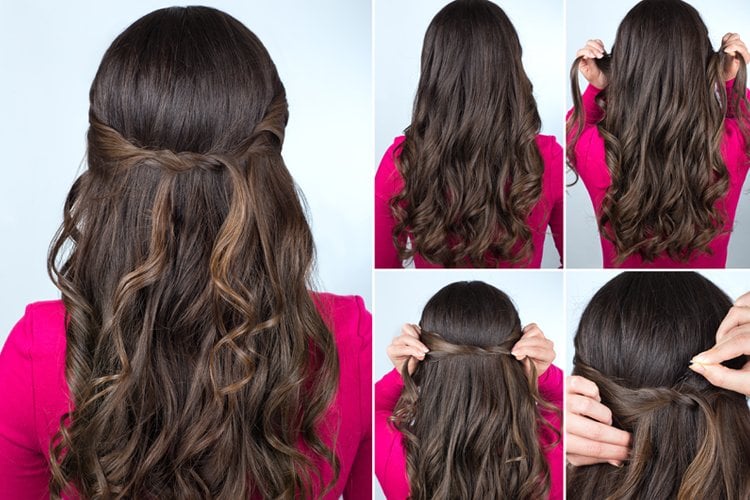 Hairstylists love long hair, as they can pick any style they want. But then sometimes, long hair becomes a process that eventually ends up into a messy bun to either escape from the heat wave or simply due to 'not-in-a-mood' feeling. Don't let your asset be overlooked. In this post, we offer you top knotted hairstyles for long hair that will only inspire you to groom your locks with more care and love. Do have a look!
[Also Read: Selena Gomez Hairstyles]
Time and again whenever we have shared grooming tips, I have always emphasized on hair styling as it always defines the overall appearance. So, if you love your long hair and enjoy the limelight, go through these top knot hairstyles for long hair and stay inspired!
1. Knot hairstyle with a bow
This is quite an innovative knotted hairstyle that you would have hardly come across while surfing ideas for your long hair online. This hairstyle is certainly a head turner and the major highlight of this half-up half down knotted tie back hairstyle is the crown design that it creates. And a bow just adds feathers to this hairstyle.
[Also Read: 5 Hair Styles for Your Office]
Here is a step by step tutorial:
Divide the hair into two sections
Take small portions of the hair and like the doing the French-braid, make a knot
Now create a second knot and repeat the same process as of above
Now after you're done with the braids, you will have to join them both by creating a few knots without adding any more hair
Use a hairspray to hold the knots in place and also to set the loose hairs
Now secure the braids with an elastic and complete the look with a bow
2. Single Celtic Knot or the Infinity Knot Hairstyle
Here is another masterpiece that you can effortlessly carve out of your long hair. This, unlike the above one is not innovative but it is centuries old and was traditional, to be precise. The celtic knot, which was found on religious sculptures is now back in the stylebook and has for sure taken the beauty world by storm.
[sc:mediad]
Here is a step by step tutorial for single celtic knot
For this tutorial, please look at the video. The tricks to make the infinity knot here is by using bobby pins to make sure it comes out perfectly.
3. Side French braid pulled-back with a bow Hairstyle
Well, a side French braid is a common hairstyle but how about pulling it back with a bow?
[Also Read:10 French Braid Hairstyles for Long Hair]
This pretty style won't take more than 5 minutes. All you need to do is a simple knot and keep it easy
After you are done with the French braid, pull it back and set it up using bobby pins
Tie a bow and finish the look with hairspray
So, those were the top 3 knot hairstyles for long hair to inspire from. If you wish to learn more easy knot hairstyles, then do let us know in comments below. Hope you enjoyed this post!