Bangs frame our face and give an opportunity for change. And you can still have them while keeping your natural length intact. It's like finding your middle ground without breaking your devotion to long, lustrous locks and desire for going short.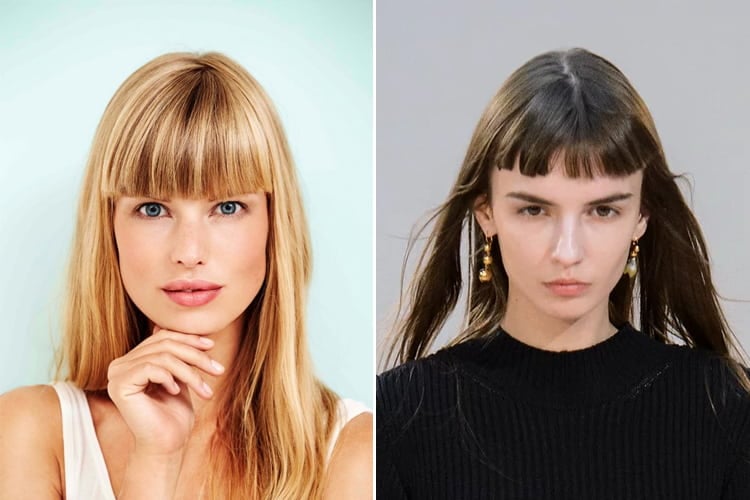 Long hairstyles with bangs are here to stay. So keep scrolling to find 30 stunning examples of the trend. Just a note of warning: you may end up making a spontaneous appointment to a hair stylist (you won't regret).
How To Create The Perfect Bangs:
Here are the steps to create the perfect Hairstyles with bangs.
Things you require:
Directions for straight hair:
If you wish to create a full center bang, take front section of your hair using a rat tail comb.
Section the hair in a triangular shape and cut it proportionately.
If you want to go for a tapered cut, then trim a little below eyebrows.
Directions for Side Bangs:
Create a side parting towards the right making sure it aligns with your eyebrows.
Once you are done with the first step, start cutting the fringe a little longer giving a tapered look.
Directions to add fake bangs:
Aren't comfortable chopping your hair but want to create bangs? Well, we have this solution for you! Try experimenting with extensions or faux bang.
Things you will need:
Directions:
Begin by tying your hair in a ponytail. Then, tie the rest of the ponytail into a messy bun. Secure the bun using hair tie.
Take the hair ends and use the pins to fix at the front. Curl as you go about.
How to take care of your hair:
Wash your hair every alternate day using shampoo suitable for your hair.
Trim the hair every three weeks (as bangs grow faster).
Massage hair using warm oil and leave for one hour before washing it off.
Coolest Hairstyles With Bangs for 2019:
Here are the 30 Long Hair with bangs 2019 for women:
1. Boss Girl Bangs:
The boss girl bob cut is a perfect hairdo without looking restricted. The texture isn't poker straight but rather undone. A similar cut is represented by singer Dua Lipa. Girls are already vying for this hairdo and it's just the start of winter!
2. 90s Blunt Bob With Bangs:
The hairdo looks perfect with a middle or side parting for showing off oodles of layers. Ask your hairstylist to work with the hair length depending on your bone structure. But the 90s blunt cut works well with all types of hair including straight and wavy. The highlight to this style is keeping the interior and exterior style blunt as it brings out the best of the hairdo.
3. High Ponytails With Bangs:
The vintage inspired high ponytail is making a comeback and alongside (surprise) the scrunchie. Reason is we're seeing a 90s influence in all the hair trends. Wearing it with bangs is a match made in heaven.
4. Thick Curly Bangs:
We love the big curly bangs. If you are tired of poker straight hair, then you know this is the hairdo to try out.
5. Undone Tousled Bangs:
Proving that curly hair works perfectly with a fringe, singer Ciara's tousled tresses are so 2019 ready.
6. Micro Bangs:
We are totally in board with this micro fringe. How cute are these micro bangs? Absolutely cute.
7. Blonde Micro Fringe:
One of the latest hair look is going blonde with micro fringe. We are totally fans of this cool look.
8. Curtain Bangs:
Curtain bangs are flirty and structured. The ever-so-major curtain bangs looks absolutely beautiful with a high and neat ponytail.
9. Straight Bangs:
The straight Bangs is a perfect hairdo for those with high forehead. But if you're not ready to go all the way, you can always opt for a side-swept style.
10. Side Bangs:
Layered hair with side bangs are great as they can be simply be styled sideways. Or, you can even try a middle parting for easily framing our face.
11. Baby Bangs:
Baby bangs were partially seen at all major international shows including the likes of Miu Miu and Prada. Expect to see more of the trend ahead in 2019.
12. Long Layers With Side Bangs:
One look to die for is long layers with side bangs. The cut strike the right balance. To create long hair with side bangs, you may simply use heat protectant, straightening iron, and smoothening serum. Straighten the bangs for a sleek look. And finish with serum for smooth glossy finish.
13. Wet Look Bob With Bangs:
Dare to give a major chop to your hair. A short bob with bangs is the newest hairdo to pull off while keeping up with a wet look and tousled texture.
14. Eyebrow Skimming Bangs:
Eyebrow skimming bangs are suitable for all types of hair length including super short, super long, and medium. And it looks amazingly well on straight hair and less difficult to style, as well. Depending on your hair type, eyebrow bangs can be kept wispy or thick with volume. You can wear the bangs cut straight from the side or cut it in a style that the hairdo angle from the end your brows.
15. Wispy Curl Bangs:
Wispy curl bangs are an amazing style for framing your face. And those bangs look awesome! Go for highlights at the bottom to accentuate the wispy curls even more.
16. Soft and Feathered Bangs:
Proof that no style is better than soft feathered bangs like this one here. Bring the trend back, we say.
17. Choppy Micro Bangs:
You can never go hair with the hair trends with choppy micro bangs. And we love the combination of waves and micro bangs.
18. Middle-Parted, Face Framing Bangs:
Proof that face framing bangs can be worn on a middle-parted hair, as well. This should be definitely be on your ultimate hair goals for 2019.
19. Thick, Side-Swopping Bangs:
This is quite a refreshing change, and we love it. The thick side-swept bangs are fairy iconic.
20. Wavy, Graduated Bangs:
Wavy, graduated bangs are more soft and trending these days. An edgy hairdo with bangs is a hairstyle we all adore.
21. Curly, Baby Bangs:
Dabble in the world of bangs by sporting the curly baby bangs in the New Year. This style is the ultimate in the curly waves style. Talk about major hair envy.
22. Blunt, Choppy Bangs:
Blunt, choppy bangs are versatile and accentuate the face frame perfectly. The long hair with bangs and layers are also a perfect method to add interest to a simple hairdo. Request your hairstylist for a lot of hair texture and movement especially towards the hair ends and fringe.
[sc:mediad]
23. Short Shag Heavy Bangs:
Do you want to shag up your hair? We literally are counting ourselves in. Many hair stylist have reported it as the coolest look of the year. The bang trend is getting thicker and there is no better than example than this heavy fringe. The popular hair trend looks amazingly well on both poker straight and curly hair.
24. Under Side Swept Bangs:
If you are currently having side bangs, then you should try the under side swept bangs for adding more jazz. To create this look, create a triangle shaped middle parting. Take the hair to the center and trim it. The hairdo looks absolutely amazing with heavy layers.
25. Blonde Hair With Traditional Bangs:
If you love blonde hair, then go for traditional bangs to strike the right balance. Full bangs on blonde hair blends well to make a statement at work or party.
26. Retro Bangs:
Have long hair and bored of the straight cut? Then the retro bangs is perfect for you. Spray water on your bangs for a medium hold. And make use of a comb and hair dryer for turnig the edges of the bangs inside out.
27. Feathered, Middle Parting Bangs:
The centered bangs are clean and hassle free. This is perfect to carry off during work meetings, photoshoots, and party. Try a slight wavy hair with front bangs that are thin from the middle.
28. Feathered Bangs With Bun:
If you are looking to style your bangs, then go for this. Take few hair strands and cut it in a tapered style. Wear a bun with the feathered bangs for the perfect blending.
29. Long Tapered Bangs:
Long tapered bangs are a complete #hairgoals. If you have a high forehead, go for this tapered bangs. It shifts the attention away from the forehead and highlight the cheeks.
30. Balayage Bangs:
Balayage bangs are here to stay. And it works well on both straight and wavy balayage hairstyle. It also gives your face a slim look.
These are our favorite Haircuts with bangs and layers. Try anyone of these cool hairdos. And accentuate the look by using accessories like scarves, decorative pins, hair clips, beanies, and combs.
Let us know which one was your favorite.