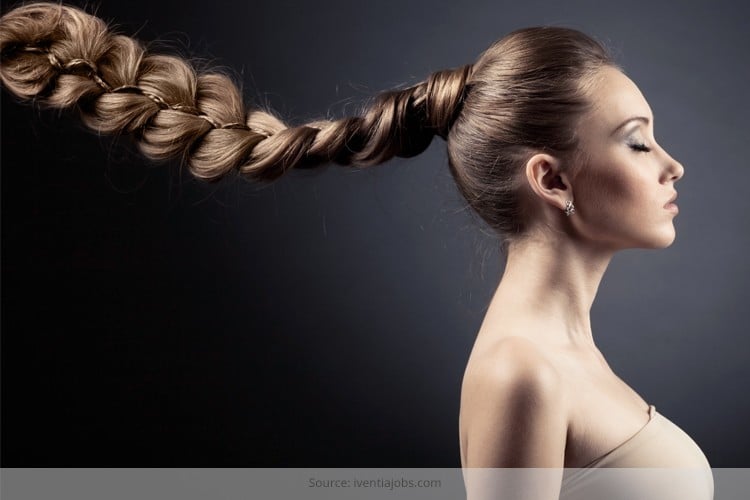 Say one classic hairstyle that remains in fashion always and 'braid' will be the answer for most of the women. From managing a bad hair day to giving our locks an elegant makeover, braids never fail to impress us. But come on gals! Just interlacing those three hair strands in a regular manner is so yesterday. Why don't we try something easy and chic on your hair that can glam you up instantly?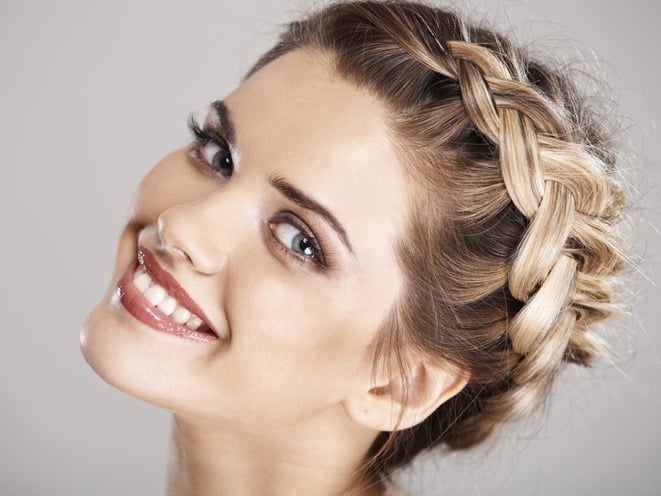 Let's look at different ways to braid your own hair
I will tell you two simple ways to braid your hair. Just try them out and you will look absolutely fresh and beautiful. These are tried and tested ways. When I was wondering how to braid my hair, I stumbled on these and decided to share them with you.
[Also Read: Cute Braid Hairstyles]
How To Braid Your Hair Into A Headband
If you want to follow the hottest hairstyle trend, you have to braid your hair into a headband at least for once. This Boho chic style is not only easy to do, but also creates a cute and carefree look in minutes. You can even add a twist to your braided headband by opting for a French braid instead of a regular one. Let's help you decode the hairstyle here:
At first, make your hair tangle-free by combing it with a wide-tooth comb or a detangling brush. Smooth, knot-free hair always turns into a gorgeous braid and the task also becomes much easier.
Comb and flip all your hair to one side as you need to create the braid across your head. Make sure that you tilt your head to that particular direction so that the job becomes effortless.
Now, take a section of hair beneath one of your ears and start French braiding it in the upward direction. Go towards the forehead gradually and keep adding 1"-section of hair every time you interlace the strands.
Continue braiding along your hairline until you reach the other side of the head. Be sure that you braid up to the underside of the ear on that side in order to maintain a balance in your look.
Tie off the braid with a transparent elastic band. Also, tuck it beneath the loose locks with the help of 1-2 bobby pins.
Finally, secure your braided headband in its place by spritzing a good-hold hairspray.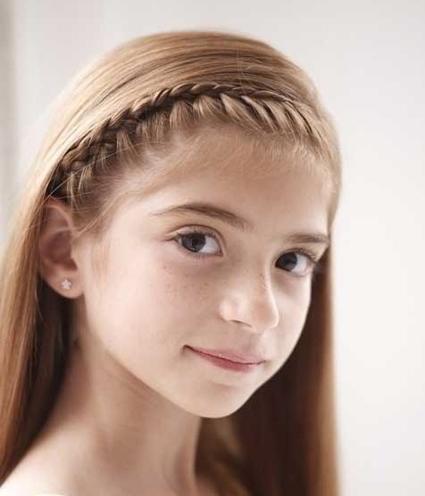 Here is another tutorial on how to braid your own hair. Simple braid hairstyles can turn out to be so classy, right?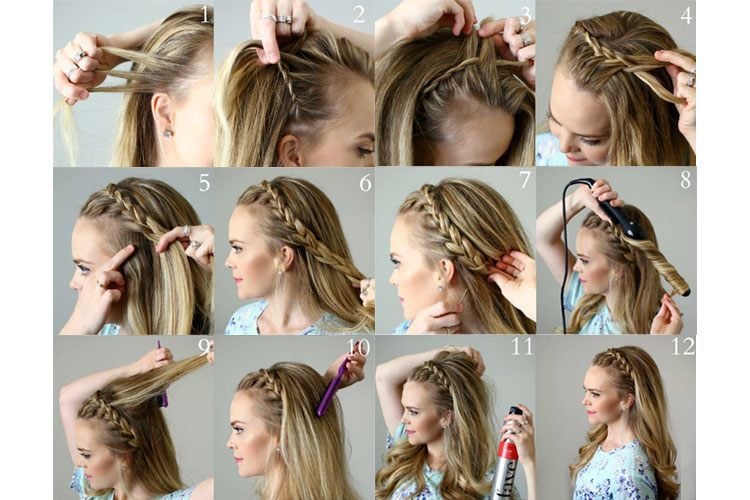 Those do not know how to do a French braid and make a headband out of it, here is a normal braid that runs like a headband. Do you see how the braid looks on curly hair? Sweet, isn't it?
[Also Read: French Braided Hairstyles for Long Hair]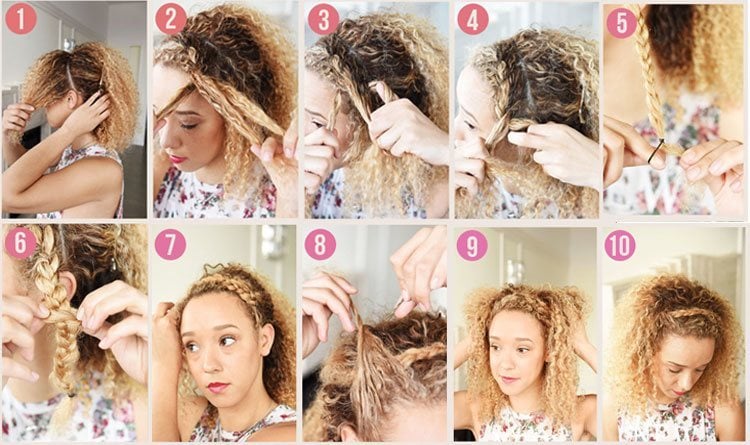 How To Braid Your Hair For A Sew-In Weave
Who says that you can't try a sew-in hair weave by yourself at home? If you can master the art of creating small, flat and ultra-tight braids, you will be all set to create smart, long-lasting and completely natural-looking sew-in. Here we give you the stepwise breakdown of the procedure:
[sc:mediad]
Start with sectioning off your hair. Whether you are going to wear a ponytail or a high updo, you have to leave at least 1" of hair out along the perimeter of the head. In addition, leave at least 3"-4" of hair as front bangs.
Keep some small clips handy and use them to keep different sections of hair separated from each other. This way, you will be able to come up with a neat and clean braid.
Begin your braiding from either the left corner or the right corner of your hairline, keeping the bangs in the front.
While making your first part, be sure that the front braid remains absolutely close to the hairline. This is very much important for putting the tracks out of sight, especially when you will comb it over the sewn-in locks.
As you are done with your very first braid, continue making others by following a pre-determined track. You may follow a zig-zag path or do it in a serpentine fashion until you reach the nape of your neck.
However, you may also braid up all of your hair. For this, you need to begin the braiding from right over any of your eyebrow arches and work all around the head approaching the crown gradually. But it will only allow you to pull the braid behind the ears instead of brushing it back off your face.
Points To Remember
And now, here are a few important points that should be kept in mind while braiding your hair into a headband or for a sew-in weave by yourself:
Always wear a braid on clean dry hair. Make sure that you wash your hair and dry it up completely prior to braiding.
Do not apply any hair styling product on your locks before braiding as they will prevent you from getting a good grasp and you will end up making loose, bulky braids.
Try to make your braids not too tight around the hairline. Otherwise, you may experience serious hair fall.
If smaller fragments of hair are visible from here and there on your braid, simply push them behind the larger pieces of strands by using the round end of a bobby pin.
So, when are you going to try out these different braided hairstyles? Don't forget to let us know how they worked out for you.
Hope this article on how to braid my hair is helpful to you.
Images Source: pinterest