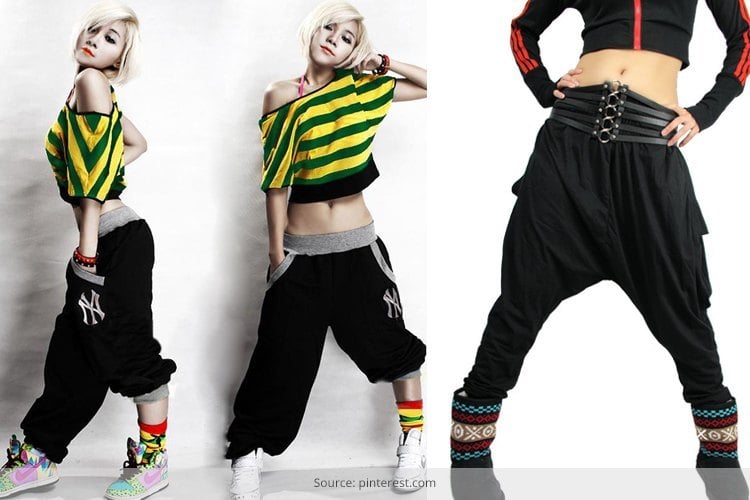 Remember the good old 80s and 90s, when we went all baggy? From denims to trousers; all things puffed and the pants and baggy jeans for women, growing up back then was fun. Hair crimped and permed to finesse, plenty of hairspray and of course, matching those bright yellows and green tops with sky blue baggy pants, ooh la la! Where have those days gone?
[Also Read: How to Style Patterned Pants]
These Women Loose Fit Jeans Must Have a Place In Every Girls's Wardrobe
Here are 15 sexy ways on how to wear relaxed fit jeans that have been kept in the attic for over a decade- bring them out and flaunt them in style. And if you don't own a women loose fit jeans already, buy one ASAP.
Corporate Baggy
Look stunning on a Monday when arriving at the clients site for a very important deal to strike. Chunky waist-belt in gold, steals the show!
An All-White Baggy Ensemble
Says who you cannot be in all-white in Indian climes and yet have your dose of diva fun while being out there, at work or at play!
Make Them Go Green With Envy
Doll up in baggies and a crop top, make it monotone and let the world of divas out there go green with envy on a bright summerish day!
Street Style
Leopard slippers and baggy bottoms for a day out with the girls, or maybe shopping out with MIL for the party needs this evening- stay cool while the hot summer winds hum, and fashionably too!
[Also Read: Flared Pants Are Back With a Bang]
Sexy At Winters
Harsh winds blowing around and the best way to stay comfy, warm, toasty and with a touch of sexiness would be the long overcoat and a pair of relaxed fit jeans for women, what say?
Go Commando
Ahem! Quite cheesy yes, but going commando in baggy pants with combat boots and the sleeveless black top, makes for a chick that knows her ways with her boys around!
[sc:mediad]
Ralph Lauren Voyage
The Ralph Lauren Voyage style collection with baggies in a myriad range of fabrics cannot be ignored, especially for the summerish climes we live in. Pair them up with crop tops, a loose kurti or a simple tee, and you would be a stunner on the street!
Comfy Day At Home With The Girls
Girls want to have fun, in style that too and with utmost comfort while the winds out there blow humid and hot. What best to do that than to have a loose cotton top and baggy cottons for the bottoms?
Hip-Hop Girls Night Out
Adventurous and daring for the Indian climes, dark baggy pants with horizontal colourful striped crop tops are in vogue for 2015, the harem style rocks!
[Also Read: How to Wear Dhoti Pants This Summer]
Luxe Asian Korean
Luxe Asian Korean baggies in vertical pin stripes and a sexy white crop top to flaunt with, makes the pool party sagas a fun and memorable event to attend!
Baggy Aladdin Pants
Bring back the nights of Arabia and with a stylish oomph when you party out with the girls this weekend. Linen baggy pants with a white linen crisp shirt and chunky accessories would help steal the show
Tokyo Baggies
Street style inspiration, all the way from Tokyo! You wouldn't want to say NO to this luxe and yet so comfortable womens baggy jeans, while the monsoon months are on, now would you?
Inspiration From Paris
Paris street style to draw inspiration from, and wearing it for the winters ahead, why not? Baggy pants with a shirt, a double breasted coat for warmth and a printed scarf to embellish with! So chic we say!
Androgyny By Diane Keaton
Celebrity Diane Keaton shows us how to make the baggy trousers don an androgyny statement. Use your imagination and you could top this up!
The Ultimate Party Diva
Elegant, sexy, graceful and with an attitude not to mess with- match those baggies with lace-up heels and a black full-sleeved top for the show tonight!
Loved them all, there are more styles on womens loose fit jeans and pants to flaunt, and that we shall tell you the next time!