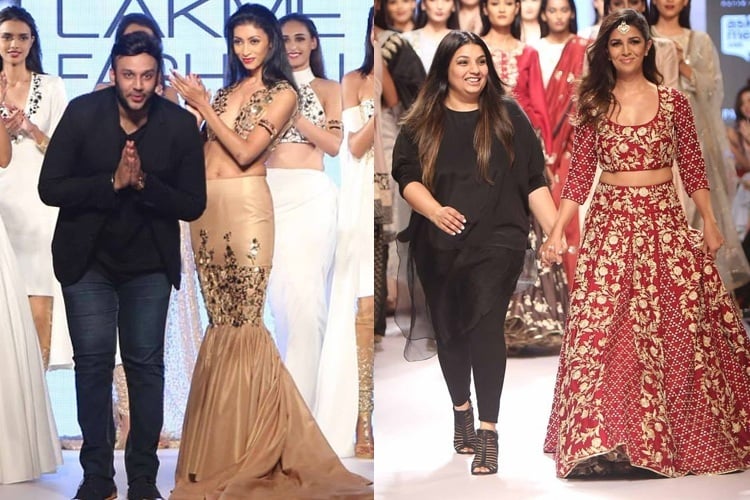 The celebrations at the Lakme Fashion Week have begun! At day 0 the LFW 2015 – Winter/Festive Collection was opened by a display of grand clothes by Abu Jani and Sandeep Khosla.
[Read Here: LFW  Day 0 – Check Out Abu Jani and Sandeep Khosla's Spectacular Designs]
Yesterday, the real deal started and we were nearly killed by the sheer gorgeousness of the fashion presentations.
Lakme Fashion Week 2015 Day 1, Show#4
Day 1 of Lakme Fashion Week Winter/Festive 2015 had a total of 8 shows. Yep. EIGHT shows!!
Can you imagine the magnificence of these shows?
Show#4 displayed designs from Nikhil Thampi (Nikhil Thampi – Label) and Payal Singhal (Payal Singhal Inc.). While both their designs were extreme opposites – when it came to colours, designs and textures – we couldn't help but fall in love with both of them!
Let us show you a breakdown of LFW 2015 show#4
Nikhil Thampi – Label
For Nikhil Thampi – Label collection, the colour variation was mostly focused on whites. Then the show slowly progressed towards outfits with gold tones, reds and yellows. The collection's major focus was on golden glitter and every outfit had a bit of golden glitter or shimmer.
Let's take a look!
A Halter Dress That Ends With Glitter Work
Cut Outs Are Nikhil's Favourite! Notice The Transparent Bottom
We Love Frills! What About You?
In Case You Are Feeling a Bit Bold
Or a Bit Dramatic!
Now, This Is Perfect For a Bachelorette Party!
We Would Totally Wear This Gorgeous Yellow Outfit For a Haldi Function!
Ah, Wonder How Deepika Padukone Would Style This Outfit
Between these two, we can't decide which one we love more
Here's The Man Himself!
[sc:mediad]
Payal Singhal
The Payal Singhal Inc. presented an array of outfits which reminded us of olden days. True to the theme, when checked, her collection was inspired by the Mayan civilization. Her earthy hues and zardosi embroidery had a touch of Egyptian civilization.
Without any further ado, let's take a look at what she presented!
Isn't This a Nice Twist?
I Need These Pallazos!
A Gorgeous Lehenga Skirt With a High Low Top!
Here's Something For The Chic Fashionistas
Here's Something For The Modest Fashionistas
LOVE This!
Here's An Olden Twist To Her Collection
Are You The Patiyala Kinda Girl?
Nothing Beats a Sexy Saree!
Another Ombre Lehenga
A Perfect Festive Wear
So gorgeous!
Get This For Your Trousseau Ladies
Nimrat Kaur – The Showstopper Killed It!!
Here's a Close Up!
And Here's The Creative Head!
So, now the question is – which designer would you favour? Nikhil Thampi or Payal Singhal?