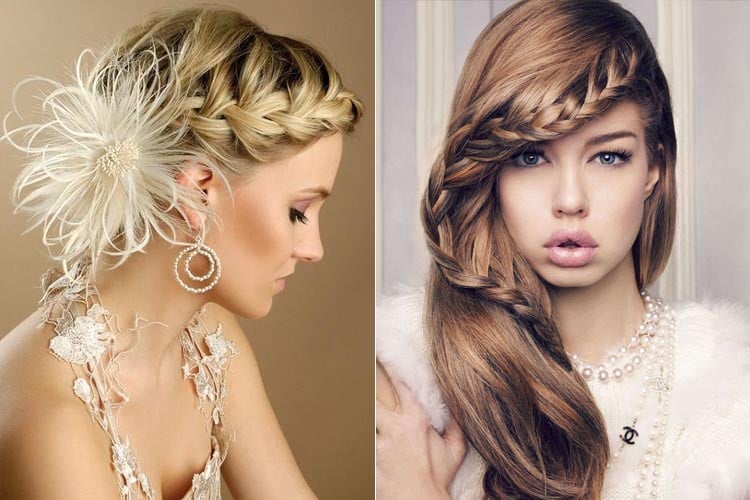 Did you know there are over 100 braid hairstyles trending across the globe? No matter how far the world of hairstyle receives an update, the braids or plaits can never go out of fashion.
I have thus gathered top 5 cutest braids that are totally fun, fashionable and above all ideal for beginners. You can either just use a simple black tie of match the tie colors with your tops and dresses.   Do have a look!
[Also Read: Black Hair Braid Hairstyles]
#1 Fishtail Braid
Loose and lovely around the face with just a whisper of subtle plaiting which culminates in the perfect fishtail braid at the ends.
Do you know what's common between Eva Longoria, Blake Lively, Selena Gomez and Kendall Jenner? All these lovely Hollywood style icons prefer fishtail braids which they feel perfectly suit their personalities.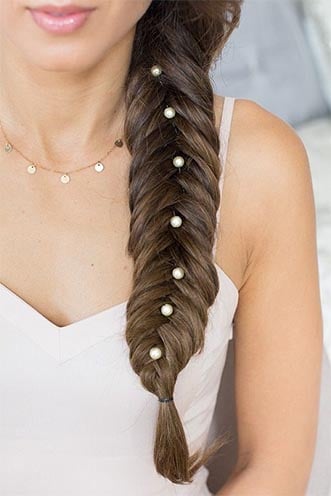 This is also a huge hit among the VS angels these days. Victoria's Secret angel Behati Prinsloo aces this look.  The fishtail braid is also known as the herringbone or fishbone braid and are simply incredible with simple twists and turns.
They might look elaborate and time-consuming, while it's the other way round. Click here to check out the simple tutorial on how to make fishtail braid.
Even though getting this fishtail braid hairstyle is easy, I recommend you to go through the tutorial from the above link, as improper finish can ruin your look.
#2 Side Braid
Lately, Hollywood sensations Zoe Saldana and Blake Lively are hugely promoting the cutest braid hairstyles. Side braid, which is undoubtedly one of the easiest hairstyle trends, has become one of the hottest red carpet hairstyles these past few years.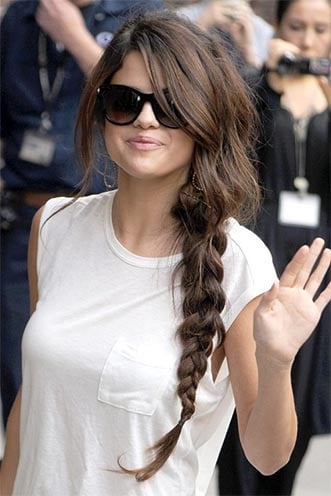 This versatile hairstyle can go with your fishtail, French, regular and even Dutch patterns. Besides, this hairstyle can go with any face type and occasion.
Here is a quick 8-step tutorial for the side braid –
Step1: Brush -Firstly, brush your hair to remove tangles and knots
Step 2: Decide position -Now decide where you want your braid to sit on your head
Step 3: Use hair from base – After determining the position, grab the hair at the base of your skull
Step 4: 3 sections – Now divide your hair into 3 sections
Step 5: Create plaits – Cross the right section over the center section, while keeping the right section with the index finger on your left hand
Step 6: Criss –cross the sections – Now use the left most section with the index finger on your right hand
Step 7: Repeat the process of crossing of the right section of hair over the center, followed by left over the center until the braid moves down the length of your hair
Step 8: Finally, tiewith a hair tie at the bottom
Voila!! You're done with your simple side braid.
#3 Side French Braid
French braid was indeed the hottest hairstyle a decade ago. This side French braid has refused to take a back seat ever since it has been adopted by the celebrities.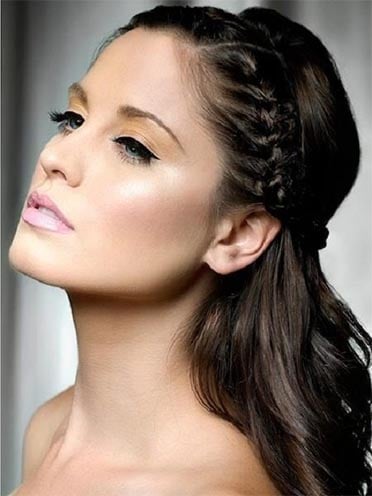 Whether it's the young Kristen Stewart, Cara Delevingne or the matured Jessica Alba; the elaborate French braid pulled into the side looks great on women of all ages.
Two reasons why you should go for side French braid –
[sc:mediad]
Badass look – This intricate French braid makes you look badass, adding dramatic elements to your look irrespective what you are wearing.
Look young – This stylish braid gives your face a fresh take, making you look younger and perfectly in-line with the 21st century trends.
Side-swept French braids really rock!!
#4 Halo Braid
The halo braid has a long list of elite fans especially from the showbiz. Actresses from Jennifer Lawrence and Scarlett Johansson to Vanessa Hudgens and Sienna Miller, this braided hairstyle is a hit in the Hollywood. And even today the most preferred bridal hairstyle is the halo braid.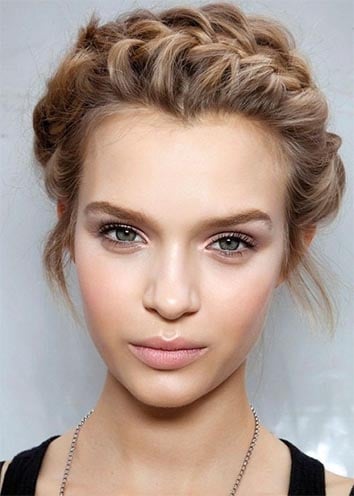 While I admit it's not like those easy braids to play around, but a flawless halo braid can make you look no less than a diva.
The secret behind getting a perfect halo is starting with the right section of hair.
Here is an easy 5-step tutorial for halo braid inspired from Vanessa Hudgens' wrap-around plait –
Step 1: Apply dry shampoo or one that has volumizing effects for the best results.
Step 2: Make two loose braids on either side of your head, leaving out some shorter pieces in the front.
Step 3: Keep it loose – Now gently tug at each section of the braid. This will give a fuller look and a bit more tousled and loose.
Step 4: Wrap each braid – Wrap each plait over your head, while criss-crossing them at the top and tucking each end underneath.
Step 5: Secure the look – Now use bobby pins to secure the look.
#5 Braided Bun
Now if you are not interested to let down your hair due to various reasons or just want to flaunt a bun, then this ultra stylish bun can add an edge to your overall look. Now give a passé to the typical bun and instead go for this glamorous cute braid bun hairstyle.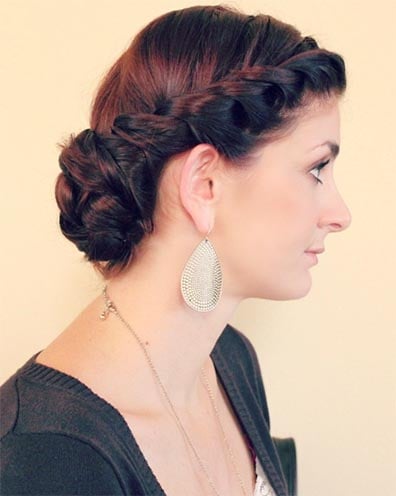 The braid bun not only adds volume to your humdrum updos, but even turns heads whether you're heading to office or party.
Tip: Do not forget to leave some hair loose when creating the pony tail at first place. You can use those loose strands to create an adorable braid that will wrap around.
So, these are my top 5 cutest braids hairstyles that will rock your look this season! Do let us know which braided hairstyle you're counting upon!