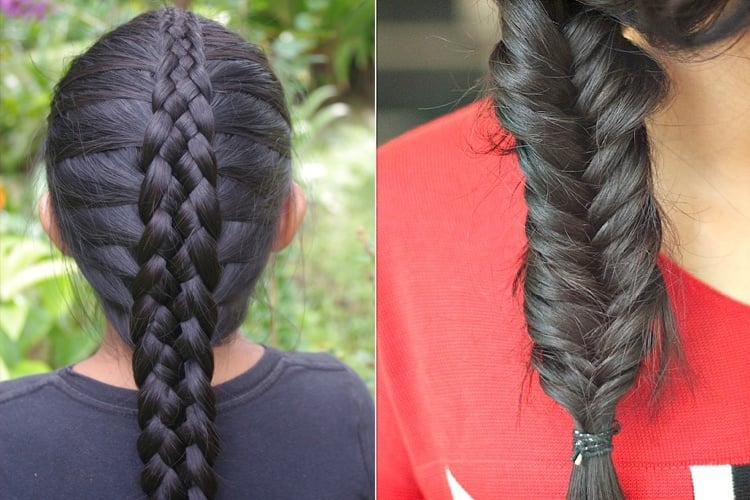 Braids can look seriously awesome when done in black hair. Be it a messy braid or a neatly done intricate braid, black hair and braids go really well together. Apart from the traditional three-strand braid, which has been popular with Indian women for ages, there are a number of other styles of braids for black hair that you can try to give your hair a fancy look.
[Also Read: Braiding Hair Tutorials]
If you have glossy black hair, then why not flaunt it with our pick of black hair braid hairstyles?
Black Hair Braids Styles
Black hair braids styles are easy and are seen on women and girls of all ages. School going girls in India have to wear their black hair braids styles with ribbons while older women can wear them in fishtail, Dutch and different braid styles. Here, take a look.
Fishtail Braid
When it comes to black hair braid hairstyles, our number one pick is the fishtail braid. It is simple enough that you can do it yourself with a little practice but the end result is a complicated looking braid that works well with both dressy attire and casual wear.
Side-Swept Mermaid Braid
Another absolute favorite of ours is the side-swept mermaid braid. If you are blessed with long, silky straight black hair, then this hairstyle is a must-try. You might want to rope in someone who is good with braiding to do this on your hair. Trust us, the final look is so worth all the effort. This braid would look really nice with ethnic wear.
[sc:mediad]
Waterfall Twist Braid
How can we not mention the waterfall twist braid when discussing black braid hairstyles? The waterfall twist braid can be a little time consuming, but if you want a braid that looks out of this world amazing, then it is the one for you. You need to have long, straight hair to get this hairstyle right.
Relaxed French Braid
The relaxed French braid is perfect for those of you who feel that a regular French braid is too tight. This cousin of the French braid incorporates the basic French braid technique albeit in a very relaxed, loose manner. If you have thin hair and want to give an illusion of thickness, then the relaxed French braid is the one for you.
[Also Read: Pretty Haircuts For Long Hair]
Dutch Side Braid
Black hair braid hairstyles are great for hot summer days when you want the hair to be pulled off your face and neck. This Dutch side braid is one such hairstyle. It is elegant enough to be worn to work and comfortable enough that you won't have to worry about your hair getting in your way.
French Braid Pigtails
Sure a French braid is cute. But you know what's cuter? Two French braids! The French braid pigtails are so adorable that you'll want to do them over and over again. They go really well with casual wear and are great when you want to engage in physical activities such as running, working out and other such strenuous activities.
Basket Weave Braid
Let's start with a disclaimer: This braid is by no means easy to create. In fact, this is one of those braids that frustrates most people because it is so intricate and complicated. But if you can find someone who is willing to invest the time and effort to try this out on your hair, then we say go for it! This is hands down the ultimate braid hairstyle that one can do.
Quick Tips:
If you have curly or wavy hair, then it makes sense to straighten it out before attempting some of these braids as they work well on straight hair.
You might want to try out the braids when your hair is still a little damp from the shower. Damp hair is easier to braid than dry hair.
If you want a neat braid then using a little hair gel to keep the hair in place and ensure that there are no fly-aways will help your cause.
If you want a messy braid then you might want to try using a little dry shampoo or hair spray to give your hair some texture and better hold.
Did you fall in love with these black hair braid hairstyles just like we did? Which of these do you think you'll be trying out?